[Previous Suburban Farmgirl, October 2009 – October 2010]
When a dog is incontinent, blind, deaf, and a bit demented – but still wags its tail and cuddles, is there still dog left in the dog?
How do you decide?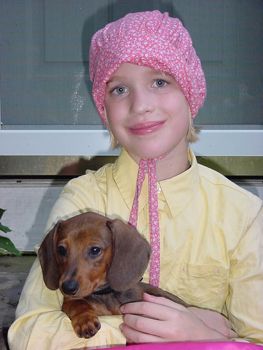 This morning's walk with my walking buddy has me musing about pets and pet partings. Dogs, specifically, since they're the main pet type I have experience with.
(There! That reveals the suburbanness of my farmgirlness, doesn't it?! Allergic to cats, brief stints with newts and hermit crabs, drew the line at guinea pigs and hamsters and canaries, and nary a pony, lamb, piglet, or even chicken on the premises. You can be a farmgirl without the farm animals, can't you? Please?!)
My friend's beagle is the youngest-looking ancient dog you ever did see, so much so that to this day, when somebody meets her for the first time they think she's still a pup. (Look closely and you'd see she's grizzled, not to mention the bumping into things, but there's something so rounded and youthful about certain beagles.)
For months now, our walks have featured updates on the dog's multiple health calamities. She's on more medications than my dad was at the end of his life with dementia, cancer, and stroke. She fell off a high porch, miraculously unharmed. Now my friend's vet is saying that putting down a dog is a matter of weighing the dog's quality of life against the owner's quality of life. And this owner claims that having a dog pee in her and her husband's bed is not an undue hardship. I'm pretty sure that's where I'd draw the line – but then again, I didn't snuggle the dog for 18 years.
As attached as I can get to a beloved pet — yes, even a newt — I'm always a bit surprised to learn about the extent to which people aim to keep them alive.  In the past month I've also learned that two friends give their cats daily diabetes shots, and heard about another paying for expensive surgery on a cockapoo. To them, giving animals available modern medicine is yet another way of showing love. I wonder if the farther we get from pioneering days (or maybe just farm life), the softer our hearts have grown toward our four-legged friends.
Maybe it's because farmers live on more intimate terms with animal life – and therefore animal death — that the ones I know seem more comfortable with the idea that love can also mean letting go. I remember rural relatives who routinely "put down" animals that had outlived their usefulness, for example. A dog whose foot was caught in a trap seldom had it repaired by a professional.
Remember Old Yeller? Poor Arliss comes to love that stray, who proves his value again and again – only to contract rabies while defending the family. Then Arliss, bless his heart, has to shoot him.
Yet I can also appreciate how dearly attached we can become to our four-legged friends. When my teen-years mutt Butch collapsed from old age, my Mom cried for three weeks. (I was long gone from home, but so did I.) My walking buddy's husband likes nothing better than a long weekend nap with his beagle nestled on his chest. "Blissed out" is how she described both man and dog.
Not "pets" so much as "friends."
Euthanasia is verboten for our human loved ones, but does it ever have a place with dogs? It did with Old Yeller – what about a beagle with dementia? How do you decide? My Butch and my newts died natural deaths, so there was no tough decision-making. And hermit crabs surely don't compare to animals who turn their big brown eyes on you with a nuzzle and a lick.
Do farmers living on life-and-death farms make a distinction in the heart between their "indoor animals" and "outdoor animals" ? What about horses, are they different from dogs?
(Some of you know I had a miniature dachshund — that's him below and with my daughter, above, in her "Little House" bonnet — who was later adopted by another family following a marital dispute, but that tale doesn't exactly wag in this discussion.)
So is pet love doing everything possible, or is love letting go? How do you know?