[Previous Suburban Farmgirl, October 2009 – October 2010]
At the risk of sounding very retro (and not in a cool, cheeky pinafores and rolling pins kind of way but a jeez-she's-an-old-fogey kind of way), I'm just going to point out that for all the bemoaning of the loss of newspapers thwacking on the front porch for Fido to fetch, and for all the grousing over the rapid disappearance of corner bookstore and of, well, books whose pages don't glow in the dark, one other one sort of paper experience has already practically vanished without a trace in the digital age.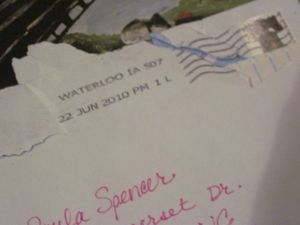 The letter. The lowly letter.
Back when Henry David Thoreau wrote, "A written word is the choices of relics," I'm sure he had a different meaning in mind of "relic" — as in, a sentimental keepsake. Today, though, written words – as in the type that are handwritten, on nice paper, then folded into an envelope, stamped, and handed over to a postman – are also undeniably relic-relics. As in, history.
When was the last time you got one? Wrote one?
I rest my case.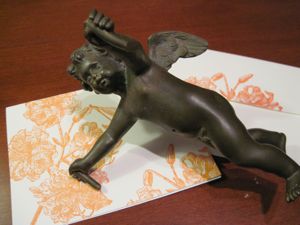 Oh of course on the bright side now we have e-mail, texting, Facebook, et. al, so that your old best friends from first grade can find you just like that (hi again, Therese and Kathy!!!). Cool. And when you have an urgent question for your sister, you neither need to pick up the phone or write the question down and wait four days for a reply. And I think we can all agree here that the instantaneous bonding of the Farmgirl Sisterhood, all of us clucking away rapidfire, beats those chain letters you used to send to a circle of friends, adding your few lines to the bottom and mailing forward so that in a month or two you could receive some nice stale news to chew over before you added your own next installment.
Yep, I'm a digital gal.
But why does my heart leap when I find a letter from, say, Jean, in the box? We could Skype and be done with it, but somehow that wouldn't be the same. Somehow we've fallen back into long letters, like in our post-college days (when postmarks from Iowa, Michigan, California, wherever my pals had scattered seemed to light up my scary New York City existence). I'll pocket a letter and save it for a quiet moment when I can give it full concentration (sometimes a whole day or two later). I study her familiar curling cursive, read and re-read the sentences. Sometimes I pull them out to re-think later. I know that my replies are more deliberate, less glib, because I have to form…each…word…. Lately we've taken to enclosing 25-year-old photos to laugh at. It's just…different!
Are letters are more heartfelt? Well golly. Where would Anne Elliott be without her letter from Frederick Wentworth? (O pierce my soul!) The March girls couldn't curl around Marmee and listen to their dad's war updates. Would we care as much about Abigail and John Adams reading their collected e-mails? And oh yes, Virginia, there is a Santa Claus! (That's a letter, too!)
So here, in defense of the lowly letter (which, I freely admit none of us has any time for!), are my five reasons a letter is better, even today: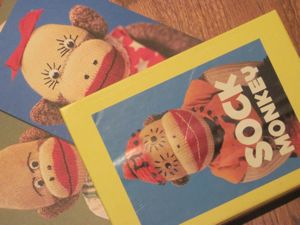 1. The stationery!
Sometimes, the medium is the message. I know just who might appreciate a sock monkey card or cheery Mary Englebreit paper. A whole drawer of my desk is stuffed with stationery collected over the years, one of my weaknesses. I like taking the time to select just the right paper….the right kind of ink….even the right stamp. (Did you know there's a movie-cowboy collection out now?)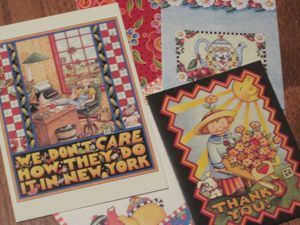 2. The thrill of arrival!
Waiting for the post has mostly become a matter of waiting for bills and Netflix orders (and, beginning this time of year, catalogs galore). Fine. But isn't there a frisson of curiosity, to discover, mixed in, your handwritten name and address?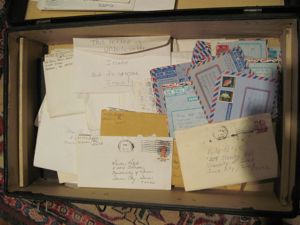 3. The portability!
Stuff it in your pocket, away from prying eyes. Save it in a book or a box. Sneak a peak whenever you like. Display a card on your fridge door or wall (that's  funny card on my bulletin board below).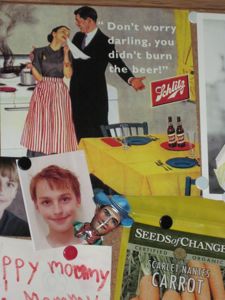 4. The little extras!
How's it signed? "Love"? "As always"? X's and Os? Is the signature scrawled or neat? First name, nickname, pet name? Again, some of this can be digitally recreated but it's just not the same. Is there anything enclosed — a photo? Recipe? News clipping? Check??
Here's a funny message I found recently on the back of the envelope in a box of letters I'd saved since college and just after: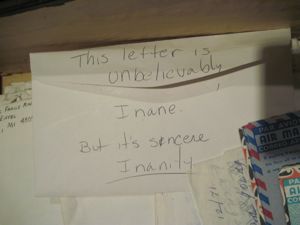 5. The longevity!
That note pictured above was sent to me by my best pal Jo in 1981. And I still have it. I can't even find an email from last week in my overloaded in-box.
(She'd also crack me up with her return addresses: J. Austen, A. Cartwright, and H. D. Thoreau being among the letter-writers who all seemed to share her address.)
Maybe here's a sixth reason for letters' current value: The scarcity!
The ardent letter writers in my family (mainly women of a certain generation) are dying off. I used to write late my mother-in-law every week just because she liked letters – and because she'd write me back! But as more and more penpals disappear or go digital — even my 95-year-old godmother has an email address now! – finding a hand-addressed envelope in your box is as startling as seeing a 25-year-old photo of yourself.
But much nicer.
Right? Write!