.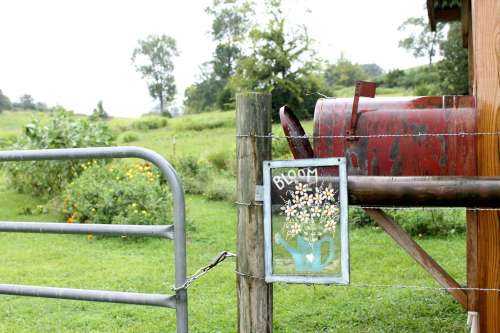 .
We have had such a gorgeous summer of rain, humidity, and beautiful days.  Along with that comes so many flowers that my daughter and I feel like we've been working around the clock to keep them harvested, the flower stand stocked, as well as the garden weeded and mowed.  We've been harvesting sunflowers that are 8 feet tall and our shoulders are just killing us!  BUT… that's not what this blog post is about this month.  It's about CORN!
.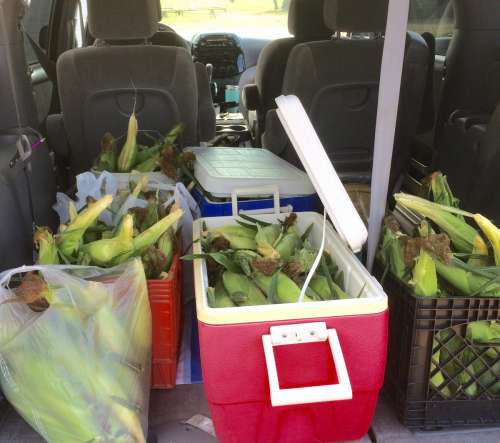 .
My husband and I never have much luck getting our corn from seed to harvest.  We have a terrible raccoon problem and they beat us to the corn every single year.  This year we were determined to win the war over the raccoons.  But guess what?  The cows took care of that when they got in the garden and wiped out the corn!  So this week we drove an hour and a half down the road to an Amish community and we bought 14 dozen ears of wonderful sweet corn.  It was much easier than fighting with raccoons and cows!  (wink wink!)  Plus it was a beautiful drive and is always fun to visit the Amish.  (My favorite thing are the little children!)
.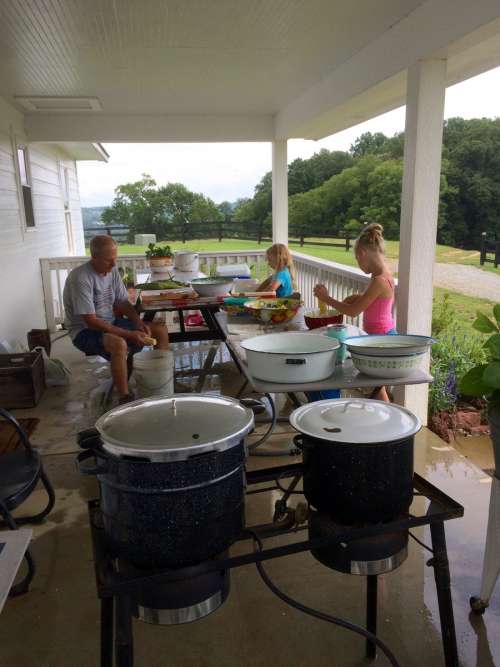 .
When we got home we called our little grand-girls to come up and help and we all got busy on the back porch.  I love canning on the porch.  I've talked about that quite a bit so most of you are aware that I do all my canning on the porch.  And this day was just a little cool with a breeze and it made it so much fun to be outside.
.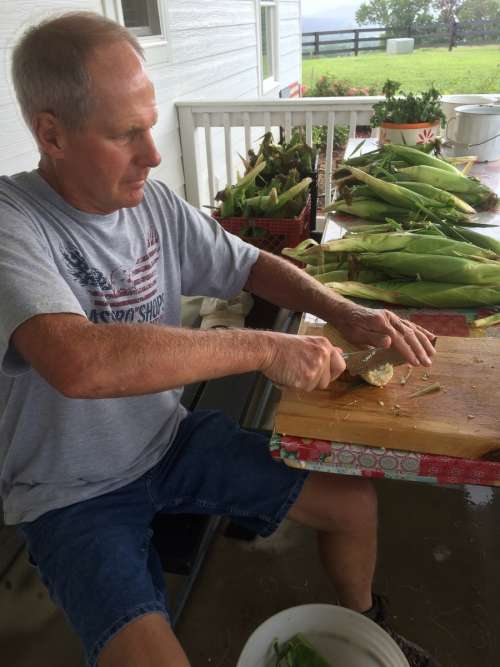 .
My husband Eldon did all the shucking.
.
.
Rosetta did all the washing in her ice chest sink!  It works great for a sink, by the way!
.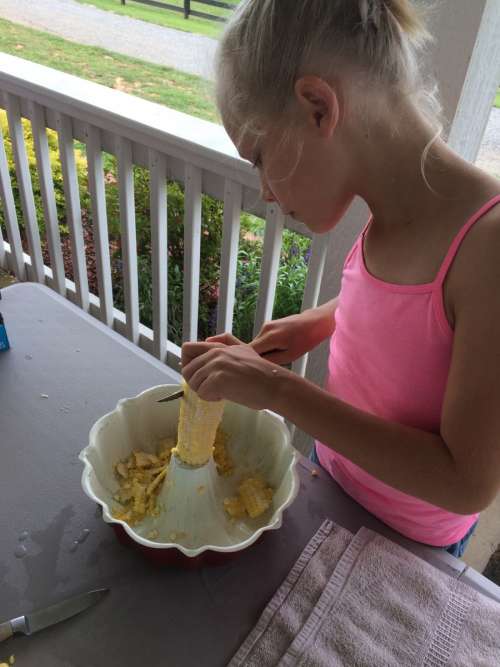 .
Jillian was my right hand girl.  Her momma has raised her girls helping her cook and this little girl is so comfortable with a knife, I don't have to worry one bit.  She cut the corn off of about 8 dozen ears of corn!
.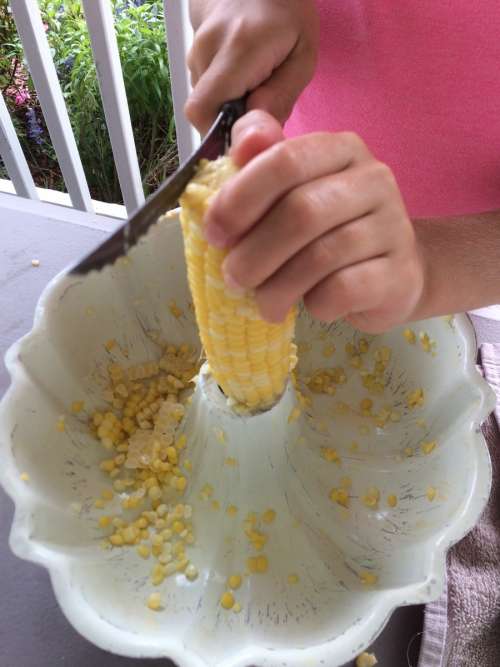 .
Have your seen this trick of using a cake bundt pan for holding the corn while you cut all the kernels off?  It works amazing.
.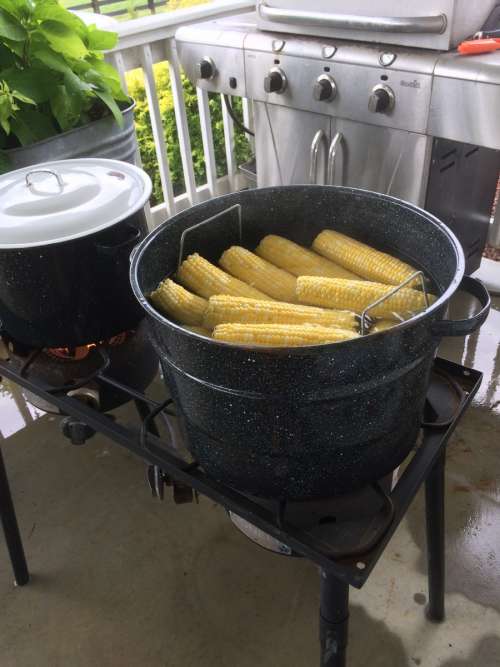 .
I blanched the corn for about 8 minutes in boiling water.  Blanching helps to hold in the nutrients and allows the corn to stay fresher for longer.
.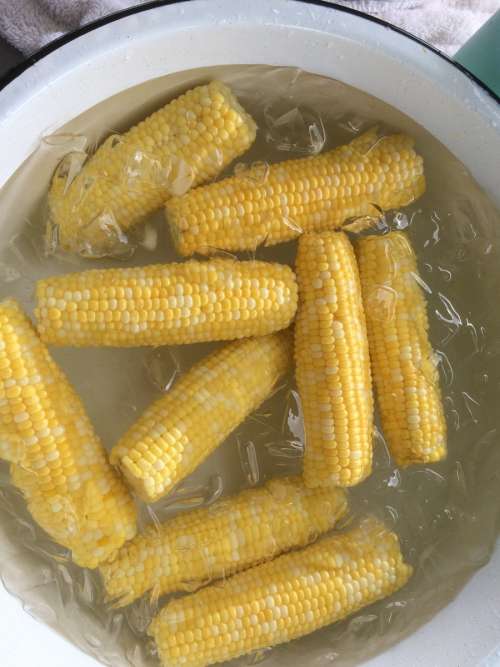 .
Then a few minutes in ice water to do a fast cool down.
.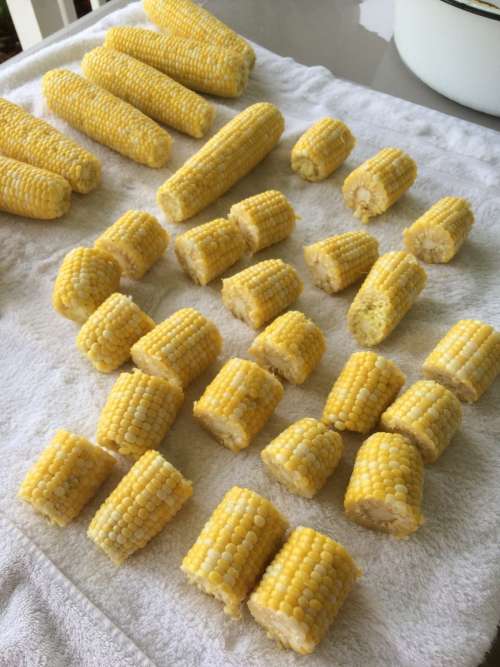 .
About half the corn we cut off the cob and the other half we left on the cob.  I like to freeze some of them whole, and some of them cut into small ears for things like Low Country Boil!
.
.
Jillian also wrote the dates on all the bags for the kernels.
.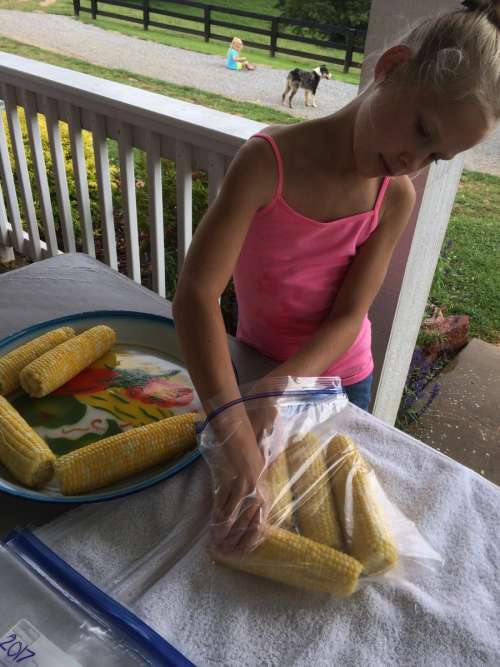 .
This girl never left my side!  Even when Eldon and Rosetta were finished with their part of the job and went on to other things, she stayed right with me.
.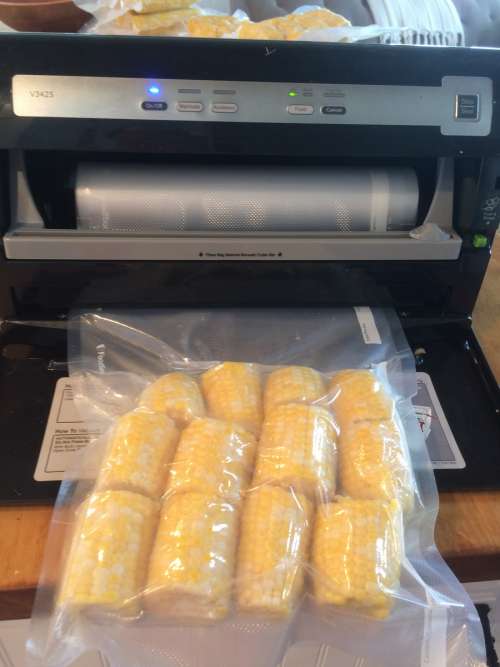 .
I use a vacuum pack system for freezing the cobs.  It keeps them from getting freezer burn and they last in the freezer so much longer.
.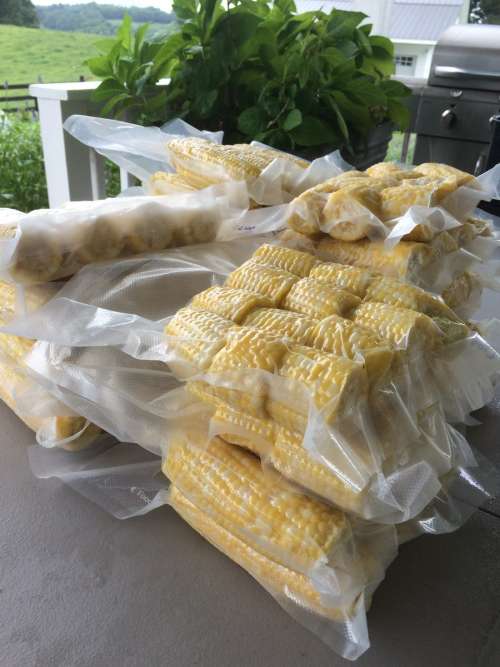 .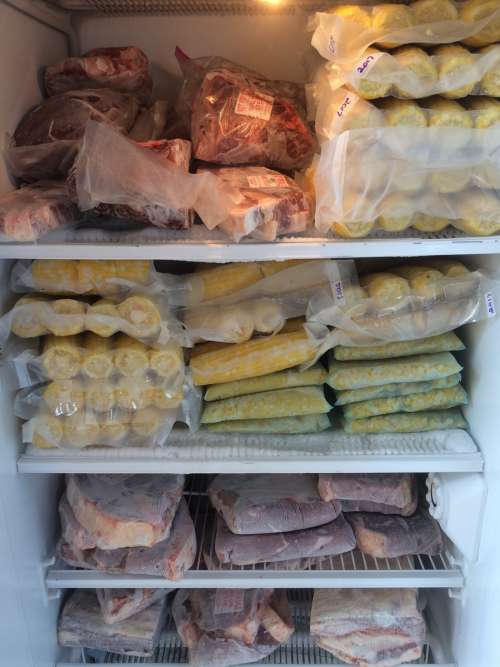 .
And into the freezer went 14 dozen ears of corn.  Honestly, it was such a fast process with all of us working together!  In an email from MaryJane this week she mentioned making pickles with her grand-girls and said they were calling it "Kids Canning Camp… Pickle Camp… Cucumber Camp"!!  So we were calling it "Corn Camp" yesterday! I do love it when little kids have been taught to work and love doing it.  It was a joy to have their help.
.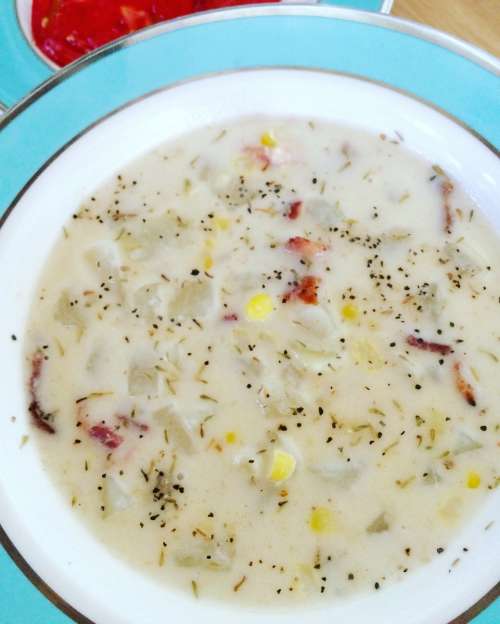 .
Now… the best part of the day was supper!  For some reason all I could think of was corn and potato chowder the whole day.  I would love to have you for supper but since I can't, the next best thing is my recipe!  I hope you'll make it and enjoy it!
.
I'd love to hear what you've been canning.  Or freezing.  Or putting up.  (What do YOU call it when you preserve your harvest?)
.
Until our gravel roads cross again… so long.
.
Dori
.
P.S.  Printable Corn Chowder Recipe below!
Potato Corn Chowder
Servings: 6 to 8
Time: 30 mins
Difficulty: easy
Ingredients
1 tablespoon butter
1/4 pound bacon, diced
1 cup chopped onion
Kosher salt and black pepper
1 tablespoon minced garlic
2 tablespoons flour
4 cups chicken broth
4 cups peeled, and diced potato
2 cups fresh or frozen corn kernels
1 cup half-and-half cream
1/2 teaspoon dried thyme
.
Place the butter into a cast iron skillet and melt over medium-high heat. Add the bacon and cook till crisp. Spoon out the bacon and drain on a paper towel. Set aside.
Keep 1/3 cup of the bacon grease and throw out the rest. Return the reserved bacon grease to the skillet and toss in the onions, seasoning them with a pinch of salt and pepper. Cook until soft and then add the garlic, cooking for 1 minute more. Sprinkle on the flour and mix into the onion. Add the corn, stir well into the onion mixture. Turn off the burner and set aside.
In a large soup pot, pour in the broth and potatoes. Cover the pot and bring to a boil; then lower the heat and simmer for 10 to 12 minutes, or until the potatoes are tender. Add the corn and onion mixture. Cover and simmer for 5 more minutes.
Stir in the half-and-half. Season with the thyme and salt and freshly ground black pepper to taste. Add the cooked bacon bits. Give it one last stir, and ladle it up into soup bowls. Serve immediately.