[Previous Suburban Farmgirl, October 2009 – October 2010]
You've heard the expression "if these walls could talk…" Well mine does – at least, the rectangle that's covered by a bulletin board above my desk seems to have plenty to say.
It's a mishmash of photos, postcards, kids' artwork, buttons and other random bits that have caught my eye. I've always kept a board like that. As I tack things up over time, it becomes less cork and more mirror, a reflection of the gal sticking in all those pushpins.
Want to know what it told me today?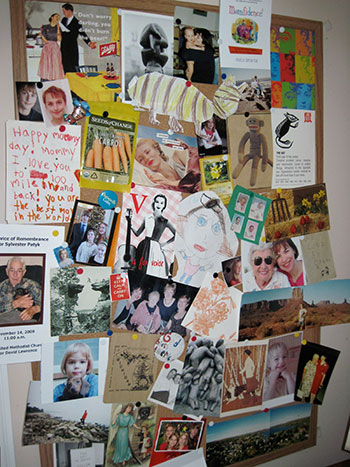 Usually my bulletin board whispers one basic message: Cheer up! That's the simple reason why, as far back as high school, I began tacking up birthday cards, Polaroids, and song lyrics printed in the Detroit News "What They're Singing" column. Looking at this stuff makes me happy.
I was never deliberate or clever enough to put the board to work for me, as does RuralFarmgirl blogger/Farmgirl Sister Rene, who shared her cool "
goal board
" with us when the new year began. Similarly, designers and magazine editors I've known often use "idea boards" that blend images, swatches, and slogans to capture a mood that will inspire a particular project. Not me. I thought I was just sticking up happy stuff.
But today as I was idly looking over the board (which happens, oh, a hundred times a workday, as if I expect to find the next sentence there for the plucking like some ripe blackberry), I heard a chorus of different messages. Not just, cheer up, buttercup, but something more like, You go girl! These pep talks have, of course, been there all along – I'm the one who picked out what's up on the board after all, so the inspirations must have once caught my eye before. Today, though, I must've been in the mood to take their messages to heart anew.
Maybe because I really need them!
So here's what I heard: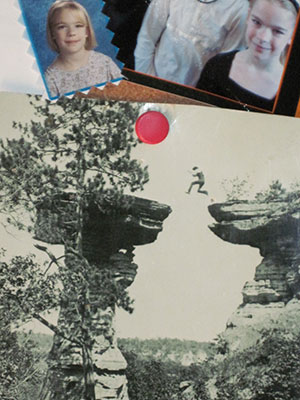 "Keep trying!"
The oldest item on my board, my favorite, was once a birthday card. Given to me by my roommate Kathleen our sophomore year at the University of Iowa, it's been trimmed down over time to a smallish picture. In it, a brave (or maybe foolhardy) figure leaps from one rock cliff to another. He's suspended in midair and, according to the laws of physics (or the angle of the camera) seems unlikely to make it, although you can't help expecting that he will. The card's printed inscription had read, "Who dares not need hope for nothing." Over the years, I've often recited this to myself before hitting "send" on an email soliciting work or before making a risky phone call.
I confess lately to feeling rather hopeless about certain life situations, so my eye travels often to that determined fellow between the cliffs. Kathleen is the unlikeliest person to have given me such a lifelong source of go-for-broke inspiration – she used to be so prim and timid that we nicknamed her "Spike," as a joke. Well, you can't judge a bookworm by her cover! Spike's a teacher now, married to a minister near Des Moines and the mother of an Air Force Academy appointee, so I know she's inspired plenty of people since me.
"Always keep your enthusiasm."
This "happy mommy's day" card from my youngest child brims with enthusiasm. I love the sentiment – but I really love its sheer exuberance. Something worth holding onto.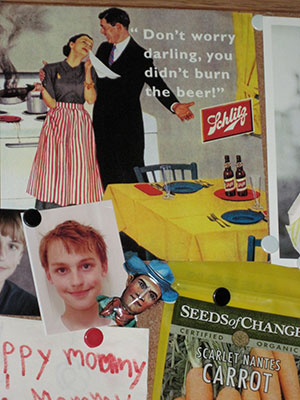 "Pssst… change is in the air!"
I suppose if I were a genuine farm farmgirl I'd be starting these carrot seeds instead of tacking them on a bulletin board! They were a gift, given as much for the brand name (Seeds of Change) as for the delicious veggie they'll become (and in my favorite color!). But if they were sitting in soil already, I might not feel very inspired by them until the first green shoots appeared in the pot. But right in front of my desk, here, now, the package itself reminds me that spring's a –comin', literally and figuratively.
(The message on the card above the seeds is just funny!)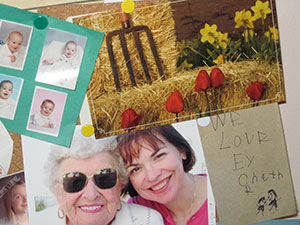 "Never underestimate the power of girl power."
Hats off to amazing women! The big photo is of my godmother and I, taken a few years ago. A former member of the WWII Women Marines, she just sent me a valentine, reminiscing about marching to hear Eleanor Roosevelt speak, in an e-mail from her new computer – at age 94! (I'm thinking she's a whole post of her own!) The little handwritten card next to us says "We love ey cheth r" — sounded out by my daughter as a beginning writer. Love the emotion in those stick figures! (Those babies are my four kids, each at 6 months, and we have our own camaraderie.) And the postcard along the top, some of you might recognize, came packaged inside my
MaryJanesFarm chocolates
. The spring flowers, including my favorite daffodils, deliver the same whisper of promise as those carrot seeds – but I also keep the card in sight because it reminds me of the swell camaraderie and energy I reap from my exchanges here with you all on this virtual farm.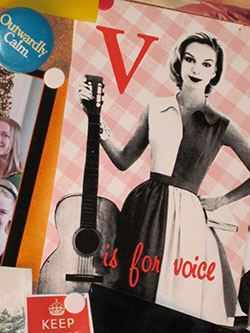 "You deserve your voice today."
I received this last postcard when I wrote a book with a Harvard ob-gyn called "The V Book." (Yes, those v's!) At the time, the coincidental "V" was the interesting part of the card. Now I'm much more interested in the "voice" part.
That's an ongoing interest as I struggle with a new book project.
I think many of us leave messages to ourselves. For some it's on corkboards, for others a Facebook page. We leave trails of clues in elaborate scrapbooks or on the messy refrigerator door. In your diary? Your doodles? Your dreams?
What secret messages are whispering to you? L is for listen!