[Previous Suburban Farmgirl, October 2009 – October 2010]
It's said that there are years that ask questions and years that give answers. I'm not sure which was 2009 for me. More like a year that kept the ground shifting with transition. (Details in a second.)
I'm writing this looking at a lovely teapot on my desk. I own an inordinate number of pots and pitchers. I've always been drawn to them. I never understood why. After all, you can only use so many pitchers in an everyday kitchen. It's not like I have to haul water or keep one handy at every washbasin, for example.
Partly, pitchers and teapots are farmgirly icons: Utilitarian, comforting in their roundness, often pretty, too. But I now think I'm also drawn to the concept of a pitcher: You fill it up, pour it out, and repeat as needed. It's versatile: Tea, water, juice, syrup, cinnamon sticks, bread sticks, a cheering bunch of flowers, a thought-provoking spray of branches. Pitchers brim with the potential of what might come next.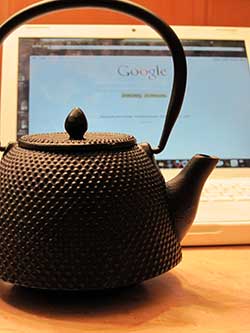 That's my interpretation, anyway, and I'm sticking with it. And I know something of both pitchers and transitions. Here's what's happened, oh, just this past year, for instance:
My husband and I separated and began living apart in March.
My "baby" (firstborn) left home (for a special state-run arts boarding school).
My dad died. (And less than two years after my mom.)
I sold my beloved beach shack — a.k.a. escape, family vacation zone, and writing retreat
My regular house is on the market.
And a column I've written for 9 whole years for another magazine has been axed in a regime change.
Well, these things happen. I know you know that.
Does anyone else ever console herself in times of stress by bringing out and using favorite comfort objects? (And I don't just mean chocolate!) For example, I'll make a point of curling up on the sofa with a favorite old quilt I usually reserve for display. Or I'll eat off "good" dishes and pour a glass of wine into a Hungarian cut crystal glass I inherited from my mom, instead of an everyday Target one.
I tend to drink more tea, too – the kind you have to steep in a nice pot. (I'm partial to Republic of Tea's vanilla almond black tea in the morning, and its honey ginseng green or chamomile lemon herbal by afternoon and evening.) And I gravitate to my collection of pots 'n pitchers in other everyday ways. Here are a few of them and how I use 'em. This one, for example, was my great-grandmother's. Sometimes I find myself talking to her, the lady in the teapot, as if she personifies my late Gram, who also once owned it.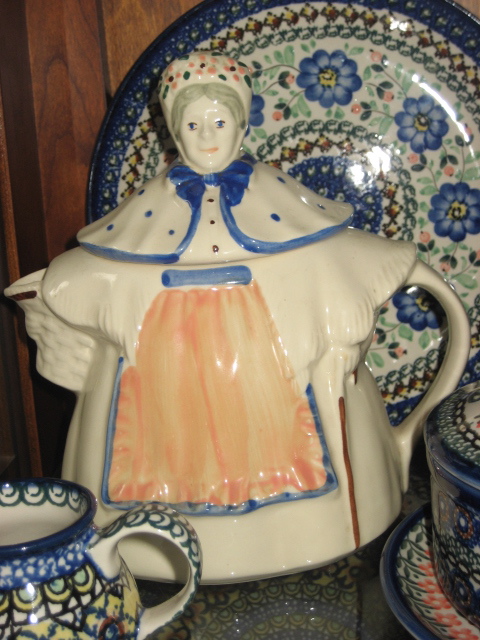 These old blue-and-whites kicked off my fascination. I like to rotate one on my desk with a few sprigs of flowers or pencils — there's one for every size I might need! The one on the front right doubles as a napkin holder.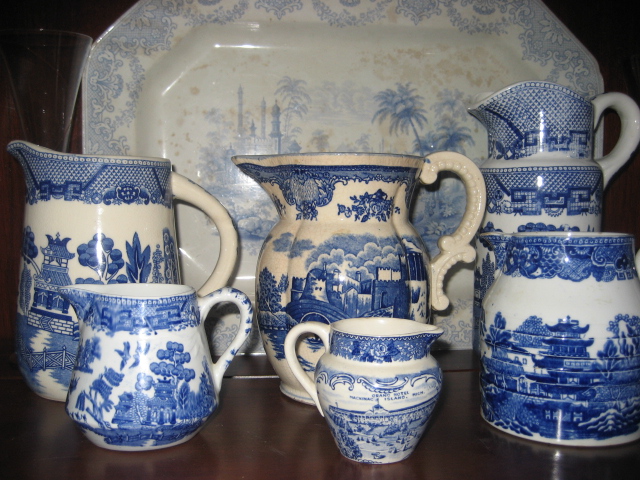 This big Polish milk pitcher (bottom shelf) is hand-decorated. Perfect for iced tea — pour a pot in, add ice cubes, and set it in the fridge. The cheerful folk-art girl (top shelf) smiles over the kitchen table but gets pulled out for bouquets, too.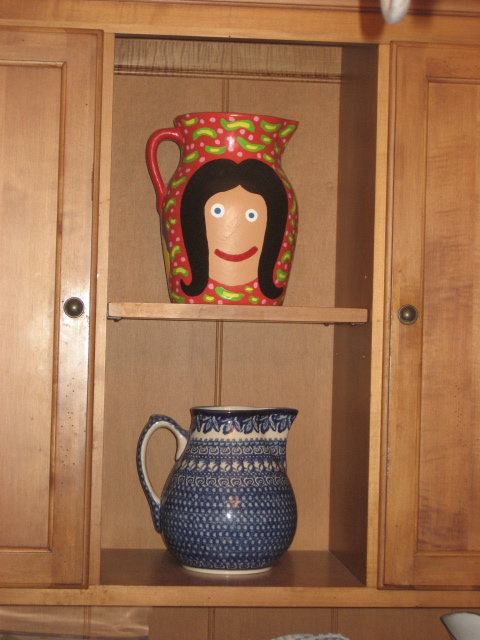 These green McCoy pitchers get lined up in my office (next to a comforting teddy made from old quilts) in my direct line of vision. I bought them one at a time years ago, gravitating to their shape and color. If I found a fourth or fifth I'd gobble it up. Some things you just know you love, and who knows why?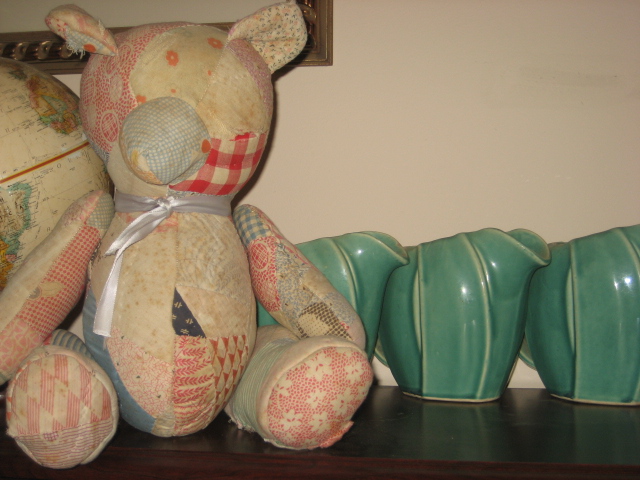 Finally here's a friendly pitcher my daughter made. It pours out smiles every time I look at it (which is often!).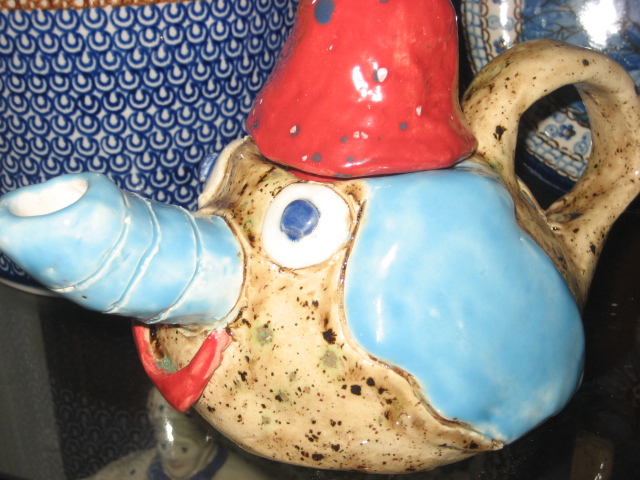 I'll hold details on my many transitions for another day, except for this: Ironically, the subject of the last Woman's Day magazine column I'd mentioned earlier is… trying new things! I didn't plan it that way. But I do plan on trying new things this year. Pour and refill, pour and refill….