"Paris is always a good idea."
Sabrina
(from the movie by the same name. which, by the way, I ain't never seen.)
You know what they say here in the Appalachian Mountains: "I ain't never." Now, try as I might to convince folks that a double negative actually means a positive, I have at last given up and joined in. (If you can't beat 'em, join 'em.)
So, my own personal "I ain't never" is this: "I ain't never went nowhere." Oh, I should mention the verb issue here too. People say "I seen" instead of "I saw." "You was" instead of "you were." I understand that this way of speaking is a hold-over from the Irish and British settlers here.
In any event, back to my world travelling. Why it ain't?
Je ne sais pas. (I don't know.)
Too busy, I guess. Not a priority, I imagine. Too cheap, probably.
Well, it's time for a cool change.
So here I go.
I'm headed to Paris.
No, not Paris, Tennessee. Paris, France! Can you believe that? No, me either. But it is apparently true. My itinerary says that my 16 year old daughter and I are hopping on a plane. We will be having breakfast in Paris before you even read this (I had to write it early.)
For years now we've been enjoying this tea.
It's lavender and vanilla and citrusy bergamot. Wonderful.
(I have to tell you that STASH also has a Christmas in Paris tea during the holiday season. Also unbelievably fantastically wonderful. It adds a hint of chocolate and peppermint to the blend. If you see it in the grocery store this Christmas, scoop it up. It is delightful.)
I have to show you the inside of that cup: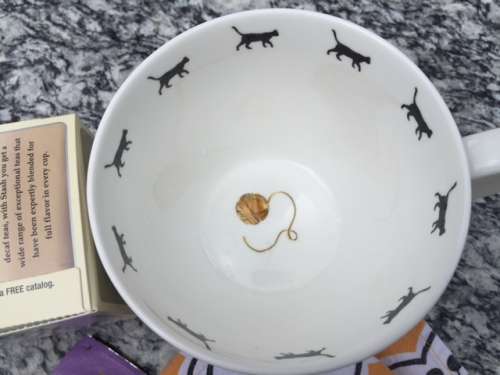 I mean, really! Cutest cup ever.
Ever since I decided to take this trip, people have asked me if I speak French.
I do not.
It is true. Even though I took French for two years in high school, I can't speak, read, write, or understand French. At all. In retrospect I believe that the main problem had something to do with the fact that the teacher couldn't speak, read, write, or understand French either. However, I didn't realize this until I went to college. I was under the impression that I knew French.
So I registered for French 101 to fulfill my foreign language requirement. It will be a breeze, I thought. That didn't exactly turn out to be the case. I sat in French class for a week, completely and utterly clueless and dumbfounded. This didn't sound AT ALL like the French I learned at my public high school in the south. It was brutal. So I dropped French and signed up for Spanish.
Thankfully, my daughter has been taking French in high school the last two years. And she can actually speak and understand and read and write it. A miracle.
But actually going to France? Well, that's so unlike me.
So, so, sooooooooo unlike me.
(Or. Perhaps it is exactly like me now?)
I'm completely unprepared for this adventure. I even had to go buy luggage because the large luggage I own came from Santa Claus many moons ago. And it was made before someone came up with the BRILLIANT idea to put wheels on the bottom of a suitcase. Whoever thought of that—THANK YOU!
My new luggage: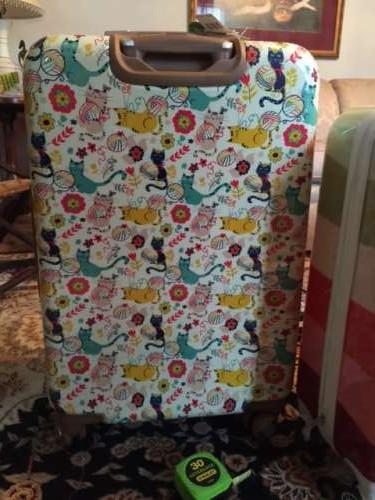 I mean, have you ever seen luggage more adorable than this?! My daughter was jealous of my choice when she saw it. That was my first clue that perhaps my luggage doesn't match my maturity level, in years anyway. But you put cats on something, and chances are, I'll buy it.
For example: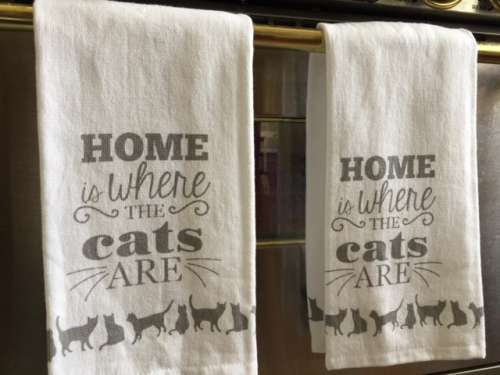 I also picked up some travel luggage stickers BEFORE I bought my luggage. As it turns out, it's plenty busy without them.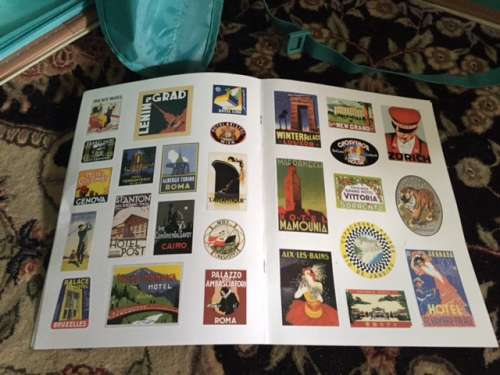 It is just an inch shy of exceeding the size limit. Perfect! Just enough, not too much. I have no idea how to pack light, so I won't even try.
We'll be spending some time in Provence. Ever since I booked the trip, I've been meaning to read A Year In Provence, by Peter Mayle. I've actually been meaning to read this book for about 20 years. I can't tell you how many times I've picked it up and made it through several chapters before it found its way to the bottom of my BIG stack of books beside my bed. I made no progress this time either. While I'm tempted to take it with me for the plane ride, I figure it would just be taking up space. It remains under my pile.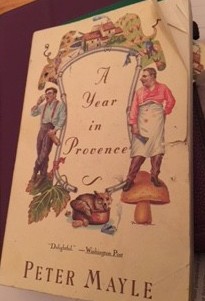 Instead, I'm taking: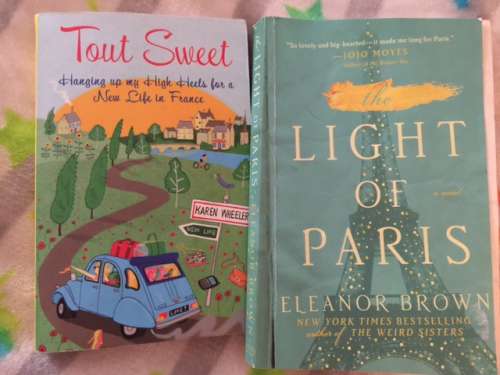 and of course,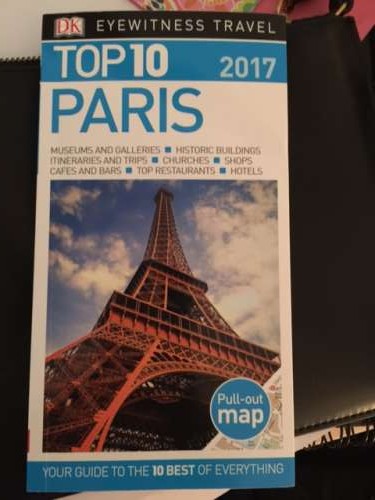 And notebooks to write in. And sketchbooks to draw in.
And our passports in these: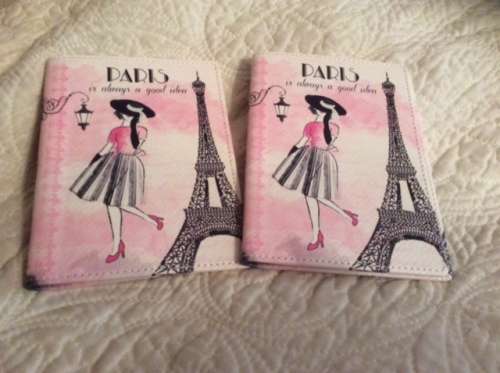 June in Provence is historically lovely. Lavender fields in full bloom. Cool evenings. Starry skies. I received an email the other day that warned us that Provence is experiencing an untypical heat wave. It is supposed to be 100 degrees the day we arrive. The temperature usually caps out at upper 70s to lower 80s this time of year. 100! One hundred! C'est la vie. (Hey, looks like I know another line in French.)
Our schedule is not tightly booked while in Provence. Our time there should be leisurely and stress free. That's the way Provence is to be experienced, savored. You've heard of the SLOW MOVEMENT. Well, that will be our time in Provence. Slow and easy.
In my mind's eye, I imagine our time in Provence to be filled with tours through wineries and olive farms, walking in Van Gogh's footsteps, eating delicious local fare, drinking wine, riding bicycles through the countryside, writing by the pool, shopping, creating some art.
And then on to Paris, the City of Lights. Our Paris time will not be leisurely. There's much we want to see in a very short period of time, so our time in Paris will be more fast paced. Paris is crowded and busy anyway. We'll just jump right in and be Parisienne (to the extent that we can.) We might not go to the Louvre at all (sorry, Mona!) and instead go to the Musee d' Orsay instead. A night boat tour on the Seine is required. We need to eat escargot. Have you seen the movie Amelie? That is set in the Montmartre district. We'd like to spend an afternoon there. I want to attend Mass at Notre Dame. Lots of cafe time and creme brulee time. I'd like to find some of the Julia Childs spots in the city. We'd love to visit the bookstore, Shakespeare and Company. And I've eyed the sidecar motorcycle tours. The sidecar looks like fun! So much to do, so little time.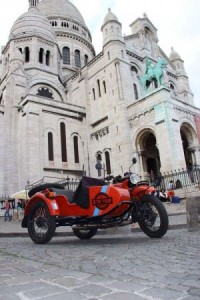 (photo from www.retro-tour.com)
Ugh….As I write those last words, a news report comes across my computer screen…apparent terror event in Paris. Ugh, ugh, ugh.
Okay, well. That's the way it is, I guess. I've had several people alarmed that we are going NOW, of all times, what all the unrest in Europe. Whatever. You've noticed the unrest here in the USA, right? We'll be fine. I refuse to stay home any longer. I won't live in fear. And I don't think anyone should either. Life is full of risks. What are we supposed to do? Build a fort and never leave it?
Thing is that I have a great fear of getting hurt when I ride a horse. But I ride when I can. Fear and all. Why? Because I want to. And because I realize that I can't enjoy the ride unless I get on the horse.
I have a great fear of snakes. But now that I live on a farm, I encounter them often. But I remain living on the farm. Why? Because I want to. And because I realize that I can't enjoy the wide open spaces that country life affords me if I'm afraid of all the things that live in the wide open spaces with me.
Now, in this case. I'm not uncomfortable to travel at all. I have more worry about finding comfortable shoes that don't kill my feet than I do about being in a terrorist event. I have an enormous sense of peace surrounding this adventure. I'm not rushing around, getting ready, stressed out. (I haven't packed the first thing.) Maybe I'll wish I had made lists and spent days thinking about what to pack when I get there and realize I don't have my toothbrush. But there are stores in France. I'll be fine.
You know the old saying, If not now, then when? That. I've waited my whole life to travel. Now is the time. Now.
So when we meet again, I'll have tales to tell you. Adventures to share!
And hey, I'll be able to truthfully and accurately say, "I ain't never went nowhere." Which, really means, I think, when you factor in the double negatives and take out the verb error, "I have traveled."
And then maybe I'll take out the slides of my trip to show you?
Perhaps I'll become a francophile. Who knows?
Bon Voyage to me.
And au revoir por tu, mi amigos.
(Ha! Don't know "friend" in French, but I do know it in Spanish.)
Until next time, Friends, savor the flavor of life!
Lots of love, Rebekah, The City Farmgirl
Now, while I'm gone, I want to leave a little France with you. This recipe is lovely. Perfect for breakfast or brunch. This, with a cup of Breakfast in Paris, oh  my! I don't know if it is really "French," but it does have croissants in the recipe, so it's definitely French-Ish. About like my French class in high school.
(Some people say that breakfast in France means to skip food altogether and instead to have a cigarette and cup of coffee.)
Déjeuner Raspberry Bread Pudding
(I can't believe I didn't notice the chip in my ramekin or the possible bug on the plate BEFORE I took this photo or DURING. oh well. I also forgot to put fresh raspberries on top. Do that. Avoid chips and bugs and put berries on top.)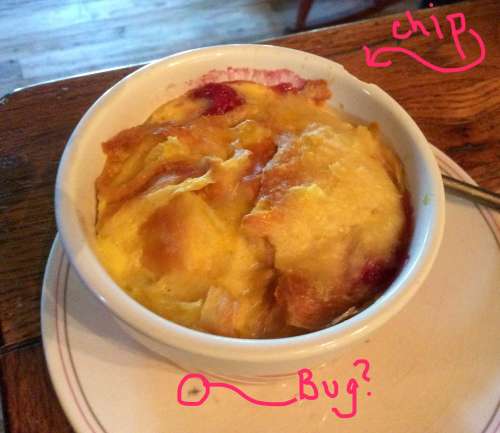 Ingredients
1 TBSP butter
2 eggs
3 egg yolks
1 tsp vanilla
2 cups whole milk
½ sugar
6 croissants, torn into 2" x 2" pieces
1 cup fresh raspberries (plus a few more for topping)
Directions
Preheat oven to 350 degrees.
Butter 6 ramekins (1 cup size)
Whisk together eggs, egg yolks, vanilla, milk, and sugar.
Layer the buttered ramekins: half torn croissants, raspberries (divided evenly among ramekin dishes), the other half of the torn croissants.
Then, pour the custard over the croissants and let sit for 10 minutes.
Cover each dish with foil and puncture the top to let the steam escape.
Put ramekins in a deep baking pan. Pour hot water into the pan until it comes halfway up the sides of the ramekins.
Bake 40 minutes or until custard is set.
Serve warm. Top with a few fresh raspberries.