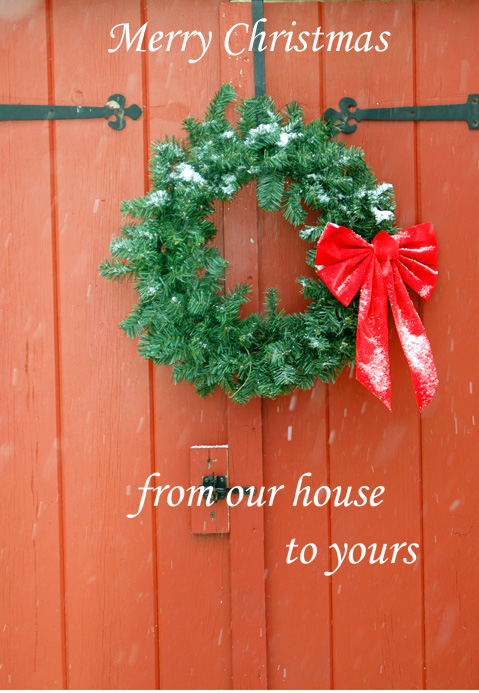 Here we are just a twinkle away from Christmas day! Are you ready? I'm as ready as a busy farmgirl can be on the 23rd of December. There's still a pie or two to bake and stockings to stuff, but that can wait. Today we are having a very special OPEN HOUSE just for you! 
Please come in and join us for some Christmas Wishes and Dishes!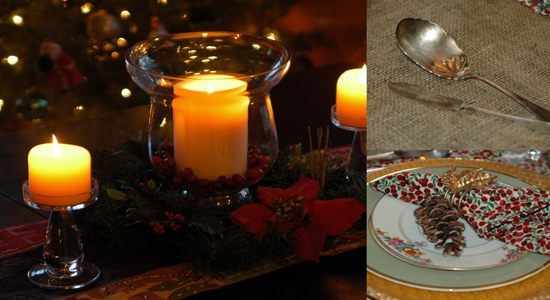 We are so glad you could make it by on this late December day! Make yourself comfy, grab a snack and some Boz Glog ( my hubbys famous spiced apple cider ) and take a load off of your farmgirl feet!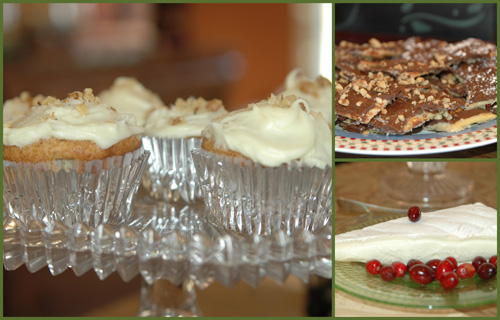 You've got to try one of these Saltine Toffee Cookies.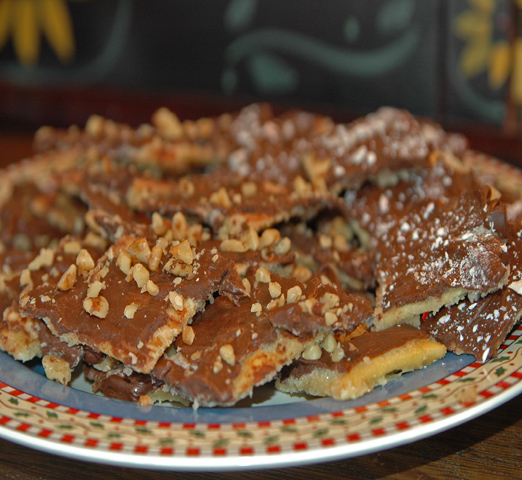 They are so easy to make and will satisfy your salty/sweet cravings in just one bite! Here's the recipe!
Saltine Toffee Cookies
Ingredients
4 ounces saltine crackers
1 cup butter
1 cup dark brown sugar
2 cups semisweet chocolate chips
3/4 cup chopped pecans ( walnuts or hazelnuts or peppermint )
Directions
1. Preheat oven to 400 degrees F
2. Line cookie sheet with saltine crackers in single layer.
3. In saucepan combine the sugar and the butter. Bring to a boil and boil for 3 minutes. Immediately pour over saltines and spread to cover crackers completely.
4. Bake at 400 degrees for 5 to 6 minutes. Remove from oven and sprinkle chocolate chips over the top. Let sit for 5 minutes. Spread melted chocolate and top with chopped nuts. Cool completely and break into pieces and serve!
*Kids can make this too with the help of an older farmgirl/boy nearby!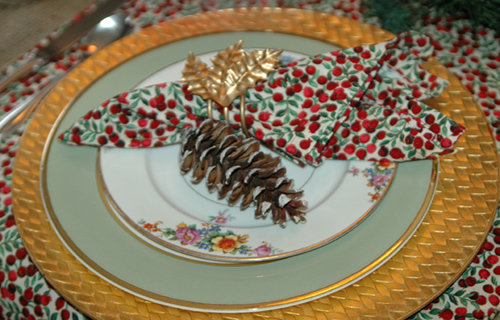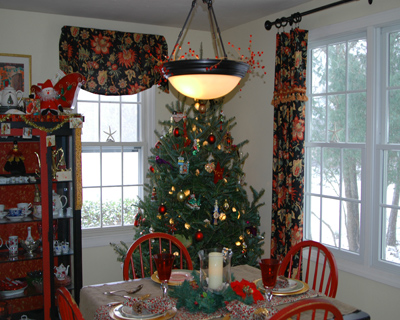 Our tree this year is a celebration of nature. It's loaded with Gods creatures, sentimental ornaments and plenty of seaside winter whimsy.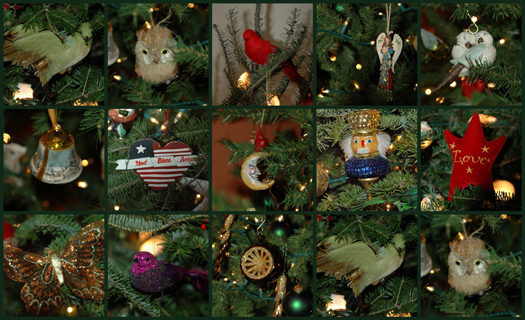 A red cardinal perched at the top of our tree reminds us of the one that nests in our rhododenreon bushes right outside our kitchen door.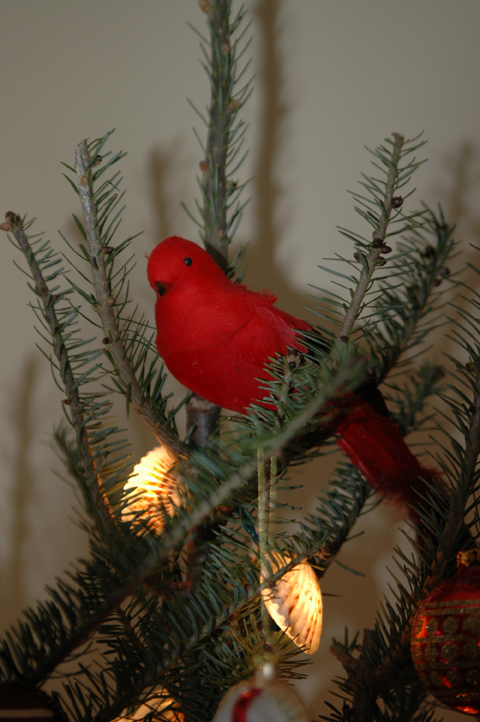 Here's Big Red watching me from the gazebo through the kitchen window!  Chubby fella isn't he?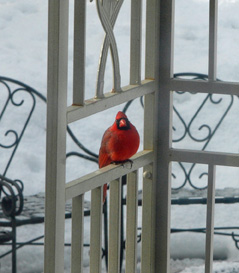 One of the first things you'll notice around our house is that I have a " thing " for Santa Clause.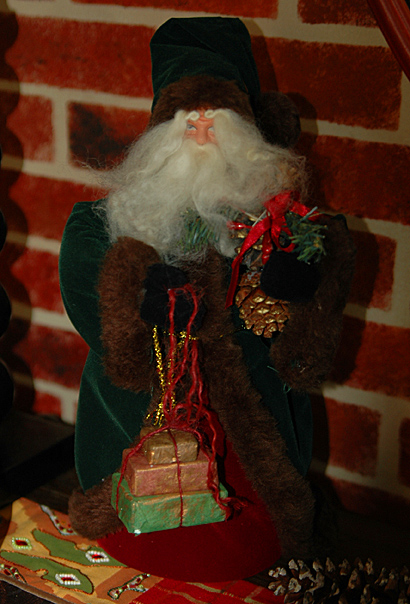 Not because I think he's handsome or because he brings presents ( although, I wouldn't kick him out if I found him sneaking around my house late at night on Christmas Eve) but because he's a cheery old soul who's young at heart! Just catching a glimpse of him and his rosy cheeks out of the corner of my eye reminds me to BELIEVE that wishes sometimes DO come true and that miracles happen every day, not just at Christmas time.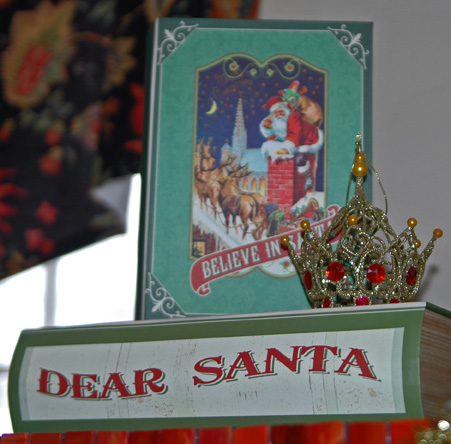 So, I place him here and there around the the house and on the tree so that no matter where I look I always have a clear shot of Santa.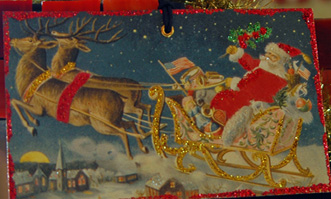 My infatuation with Santa Clause might have something to do with a childhood memory of mine. I remember one very special Christmas Eve when I was six years old staring out the window from the top of my bunk bed hoping, praying and WISHING BIG that I would see Santa Clause! You too? That Christmas Eve I could have sworn I saw him sailing high in the sky through the twinkling stars! In my very active childhood imagination he looked just like he does in the above photo, in color and everything! It was pure magic I tell you! I still feel that way when I look at Santa because I believe!!!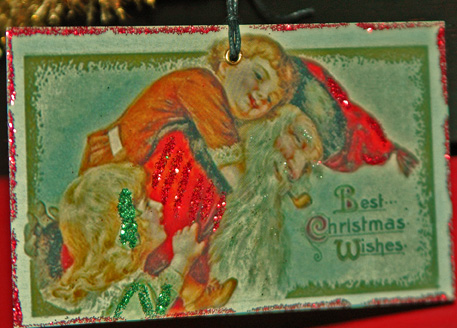 And there you have it, that's why Santa and I will always have a " thing "!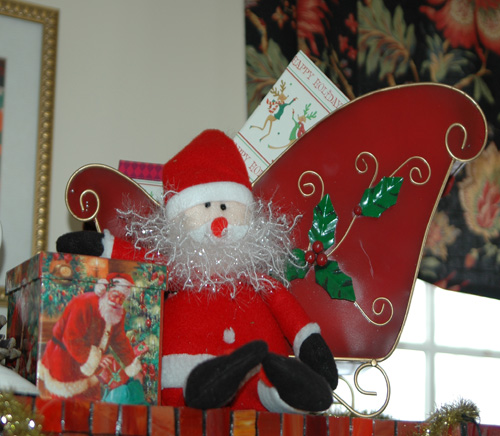 I'm not real picky about the kind of Santas I collect but they all have to have one thing in common. They can be old or new, wooden or stuffed as long as they make me smile.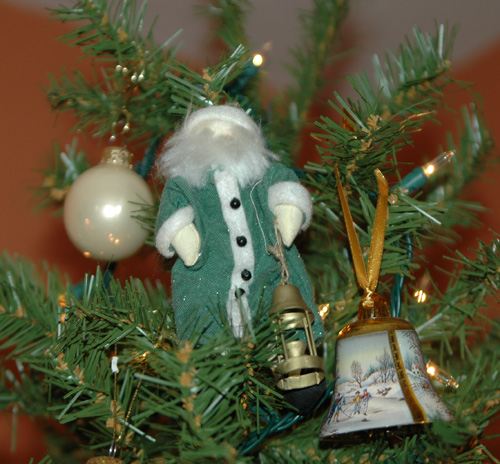 Many of my Santas are quite traditional,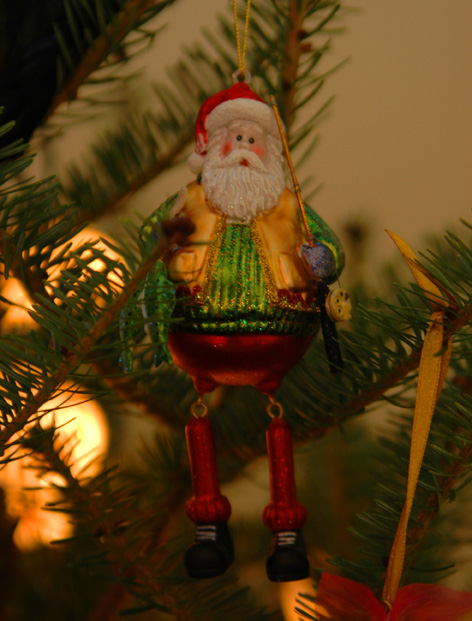 but, others are known for being a little on the unconventional side.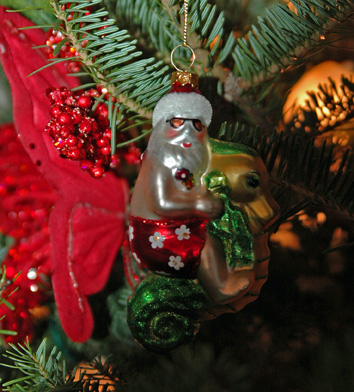 They've been been spotted decked out in their fishing gear showing off a fresh catch, riding sea horses while wearing bright red flower- power bathing trunks, and delivering gifts and a tree by way of a ( VERY over the weight limit ) dinghy.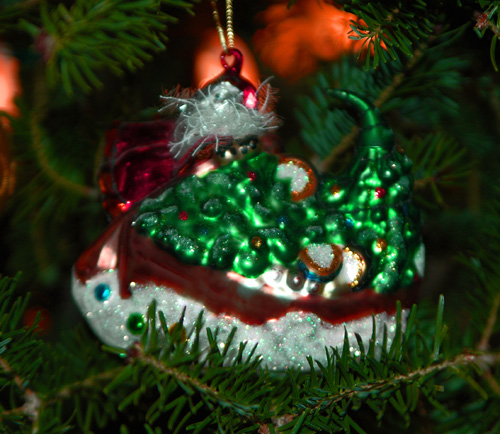 Some of my Santas hold titles of great importance, like my Sea Captain!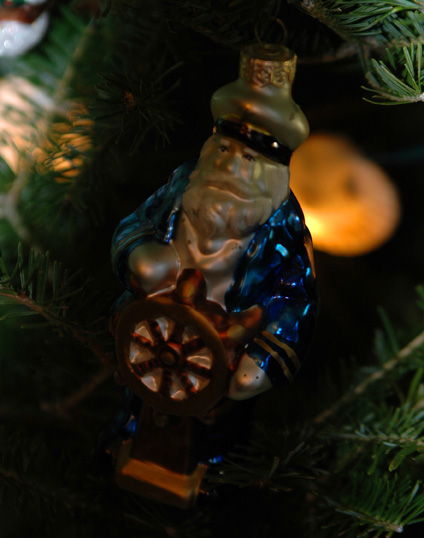 We all know a" top notch " Sea Captains first priority is safety! He would never be without a life preserver or two.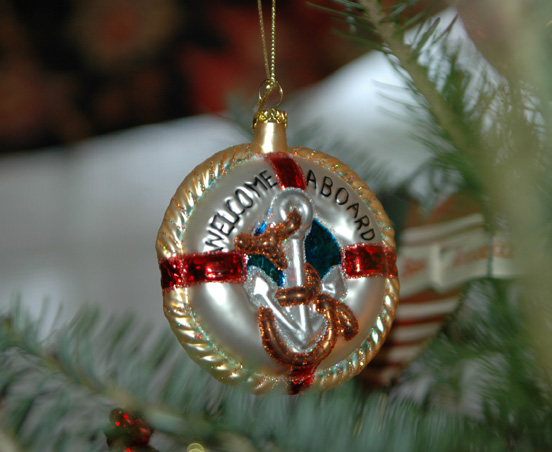 And he always knows where the nearest Lighthouse is to guide him home in stormy seas or pea soup fog.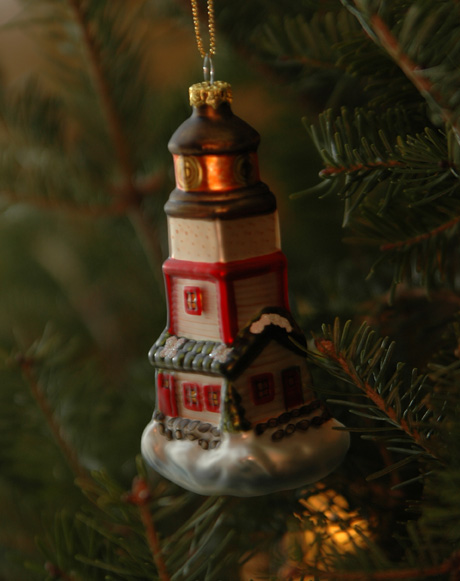 Being out to sea can be a lonely affair any time of year, but it's especially so at Christmas, so I made sure my Sea Captain would have company and a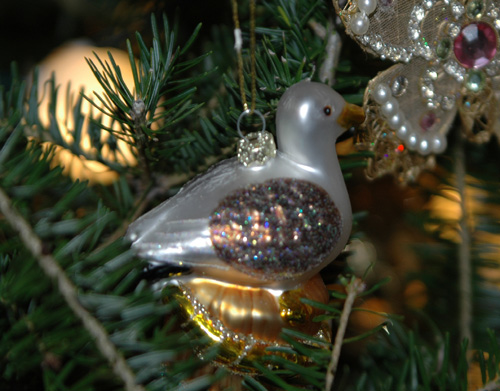 soft place to land once he's back on shore!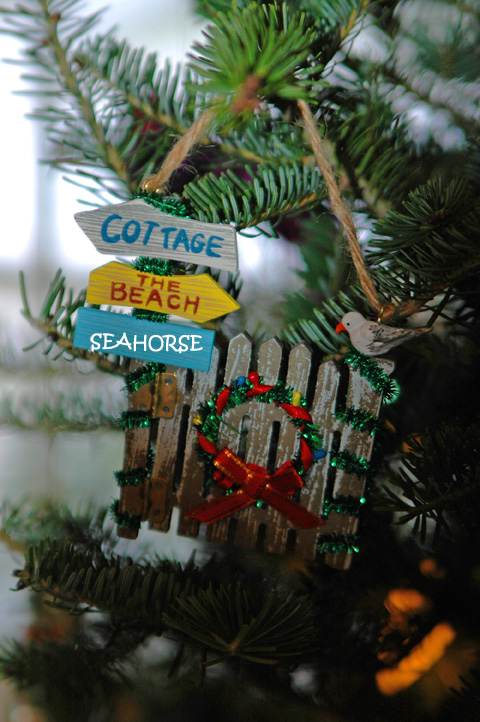 All hearts come home for Christmas. It's so true isn't it?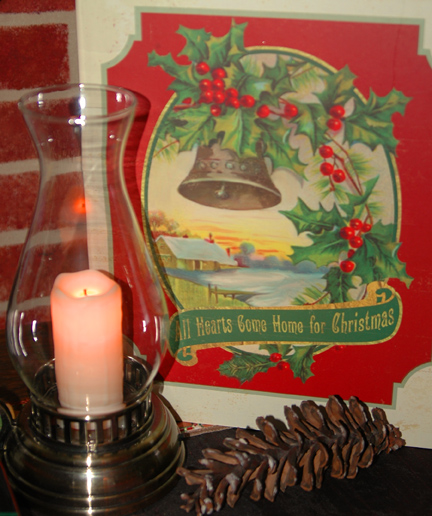 That's where our memories begin and traditions are born.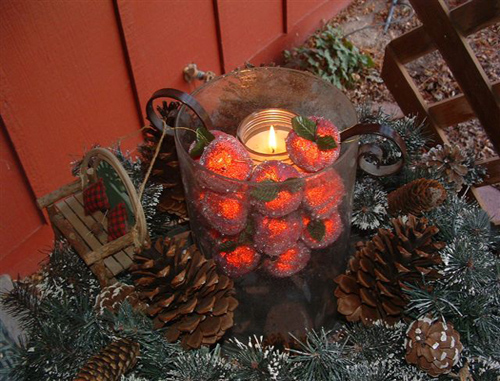 I can't think of a better " Christmas wish" to give you than this wonderful poem written by my Aunt Nan ( Karen Dixon ) last Christmas. She took the above photo too!
A Christmas Wish
It's time for friends to gather,
And to hang the mistletoe.
It's time to sing carols
And for sleighing in the snow.
It's time to recall memories.
And to read the children stories,
It's time to make a wish list,
for the precious girls and boys.
It's time to dress up fancy,
Put on your Sunday clothes.
It's time to wrap the presents,
Al tied up with Christmas Bows.
It't time to have some eggnog,
And toast this blessed season
when all the love shows on your face,
Look around… you'll know the reason.
So I raise a glass to your my dears,
May your Christmas wish come true.
I know that I'm blessed tonight,
Just being here with you.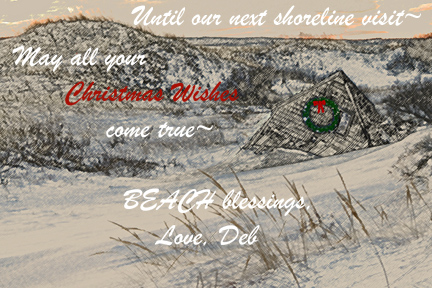 " The Spirit Remains "
by David Bosworth " BOZSCENES "