As I sit in my mother's Minnesota living room with warm, sun-kissed cheeks, it's hard for me to believe that just two weeks ago I was sledding and skiing in Alaska!  A few thousand miles and a couple springtime weeks can make a big difference, amiright? We just celebrated one of the nicest (weather-wise and family-wise) Easter Sundays in recent memory.  The girls searched for Easter eggs–outside and barefoot–with their cousins before spending a good hour or more playing on a nearby playground, bare legs dangling from swings and hands free from the confines of winter's mittens.
In northern regions of the world, many people recognize six seasons of the year, rather than just four. In addition to spring, summer, fall, and winter, they identify two periods of transition: break up and freeze up. Break up occurs when the winter ice and snow cover begin to melt in the longer days and increasing warmth from the sun. It usually lasts from early April until May. Bare ground appears gradually, and travel becomes difficult as snow trails get deep and slushy. Snow melt occurs while ground underneath is still frozen, leading to snow swamps because the meltwater can't drain away. Rivers and lakes lose their hard winter crust, limiting the freedom of movement enjoyed by residents during the cold months. Break up is a season of opening, uncovering, rediscovering. Freeze up occurs just after the autumn trees lose their gold brilliance, as the landscape fades together into a hushed, gray stillness. Beginning in October, the ground slowly surrenders its summer warmth into the increasingly cold air. Rivers and lakes grow colder and slower, gradually becoming stiff as the winter ice sets in. Freeze up is a season of closing, of quieting down and preparing for the long winter ahead.
~Community & Copper In a Wild Land: McCarthy, Kennecott and Wrangell-St. Elias National Park & Preserve, Alaska By: Shawn Olson and Ben Shaine
One of the joys of social media is that I got an immediate glimpse into how other friends and loved ones celebrated their Easter traditions, and I saw that a few Alaskan friends had fun in the slush and huge puddles that form when the ground is still frozen but the snow is steadily melting.  It is "Break Up" time in Alaska.
Break up is a veritable season in Alaska…perhaps it is the least revered and most disliked season of them all. In large swaths of the lower 48 "April Showers bring May flowers." But in Alaska, the bluebird skies peering through our windows beckon us to go outside only to wade through ankle deep slush!  Like many Alaskan things–it is an extreme version of puddle jumping weather.  Ava loves it!
I remember winter being like this when I was a kid.  We loved to put on our tallest "puddle boots" and stomp around in the miniature ponds that formed in low depressions where the water collected, unable to drain into the still frozen ground.  I think that winter in the upper midwest used to be like this (and still is when the winter is snowy), but winter has been fickle for the last 20 years or so and the threshold for the six season year seems to be moving north.  Even break-up in Alaska has been pretty mild for the few winters previous to this one.
When it comes to break up and farming…it's a tease!  The warm day time temperatures have us all hopeful to get out into the ground, but we know the night time temps will continue to freeze into May.  The ground is still frozen, anyway…or it is inches of cold mud on top of frozen ground!  We were hoping to skin the largest high tunnel last week before I left for MN, but the ground was so saturated and wet during the day that attempting to walk on it would compact the soil terribly and ruin our best farming shoes, surely.  Raising and climbing a ladder in that muddy mess would be comical, at best.  So, the high tunnel remains uncovered and the ground remains muddy.  And that's okay.  All good things in all good time, so they say.  It is the perfect time to tap some birch trees for those that have the time and energy to reduce it to Birch syrup. Yum!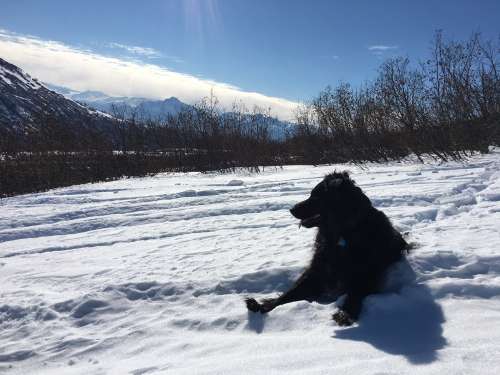 I imagine when we return to Alaska in a few weeks it will be exploding with pops of green in the trees, on the hillsides and in people's yards.  The high tunnel will be covered in plastic and we'll be itching to get some of the little baby seedlings in the still too-wet soil.  If break up is nothing else–it is a practice in patience!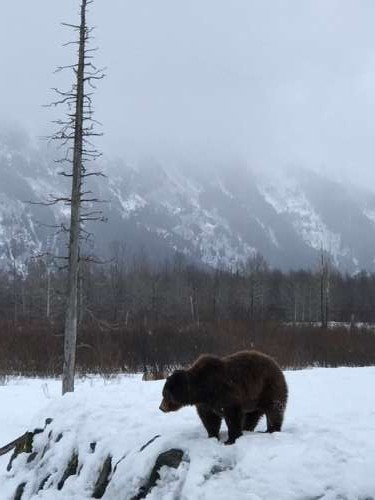 Until next time, Sending you peace and love from AK!
Alex, the Rural Farmgirl