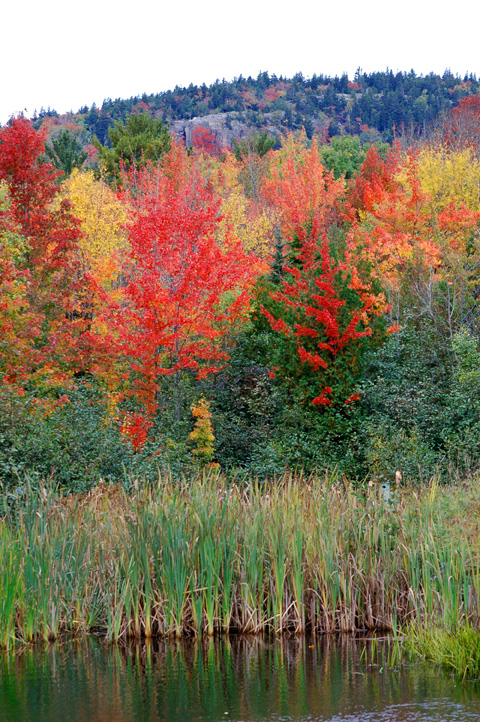 Fiery colors begin their yearly conquest of the hills, propelled by the autumn winds. Fall is the Artist
Howdy farmgirl sisters! Who's in the mood for some leaf peepin'? It doesn't get any better than in our neck of the woods! Connecticut, Vermont, New Hampshire, Maine and Massachusetts receive thousands of visitors every year from around the world just to get a good, long gawk at the leaves. We do our fair share of it too so come along on our virtual leaf peeping tour New England style with a surprise stop along the way! Plus I'll share my top ten favorite  farmgirl  Fall things. Leave a comment and tell us yours too!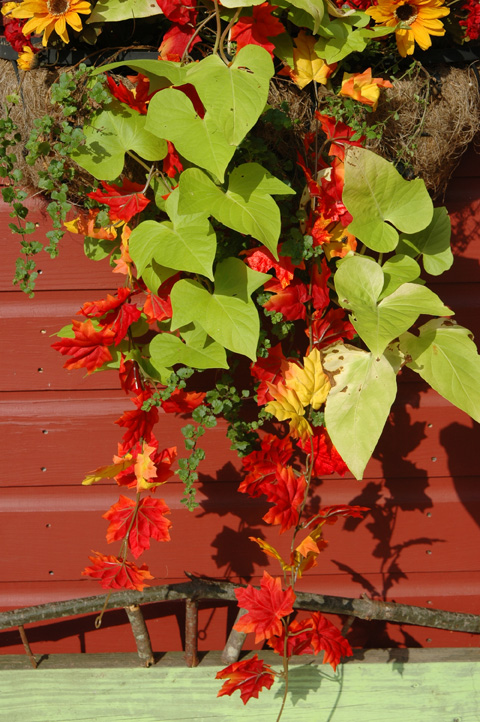 Spring refreshes the soul, and summer nourishes it but Fall is the artist of all seaons. It lavishes us in color, warmth, wonderful smells of composting earth, crisp air, clear blue skies and thoughts of a cozy, happy home. It's hard to believe that the reason for such vibrant gold's, glowing oranges, fiery reds, deep purples, neon hot pinks and rich, earthy brown leaves is the the dying process.
During winter, there is not enough light or water for photosynthesis. The trees will rest, and live off the food they stored during the summer. They begin to shut down their food-making factories. The green chlorophyll disappears from the leaves. As the bright green fades away, we begin to see yellow and orange colors. Small amounts of these colors have been in the leaves all along. We just can't see them in the summer, because they are covered up by the green chlorophyll.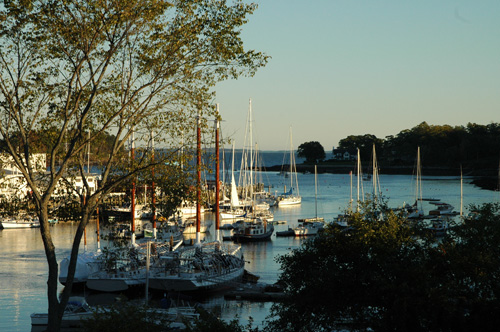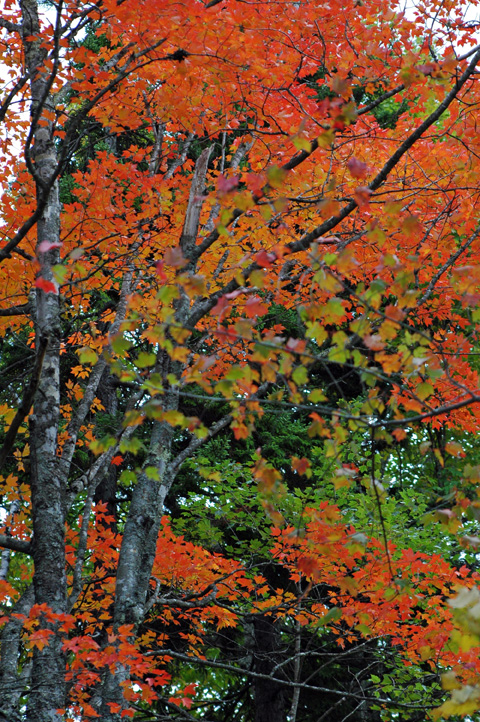 The bright reds and purples we see in leaves are made mostly in the fall. In
some trees, like maples, glucose is trapped in the leaves after photosynthesis
stops. Sunlight and the cool nights of autumn cause the leaves to turn this glucose into a red color.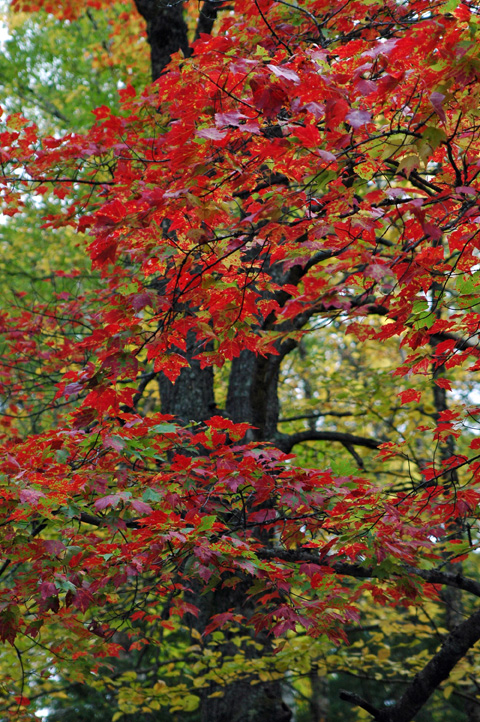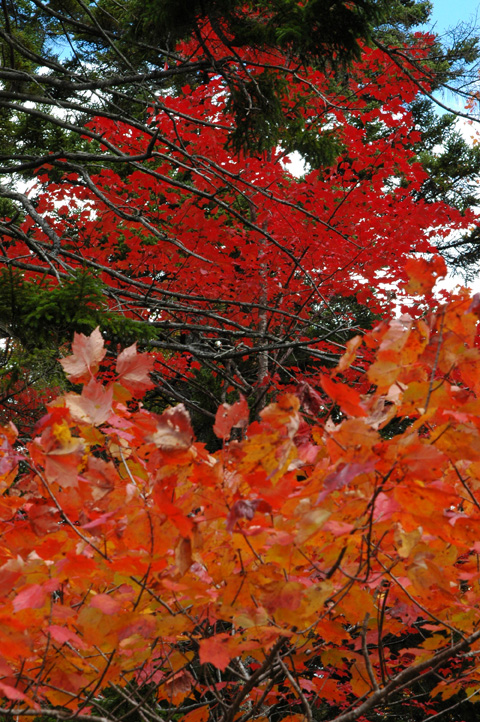 The brown color of trees like oaks is made from wastes left in the leaves.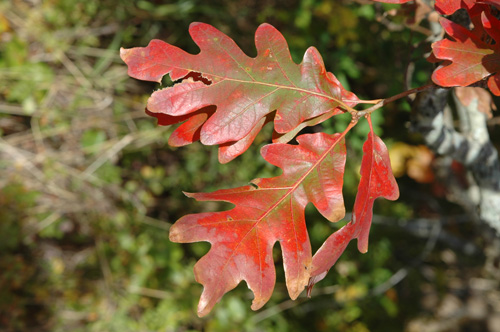 It's the combination of all these things that make the beautiful fall
foliage colors we enjoy each year!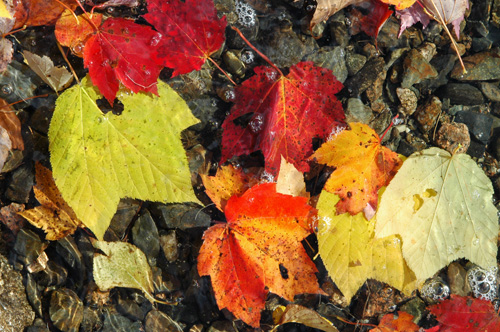 Is it any wonder artists are inspired to capture the beauty of Fall? Photographers, quilters, painters, designers and decorators, sculptors, writers and musicians alike strive to re-create the glory of autumn.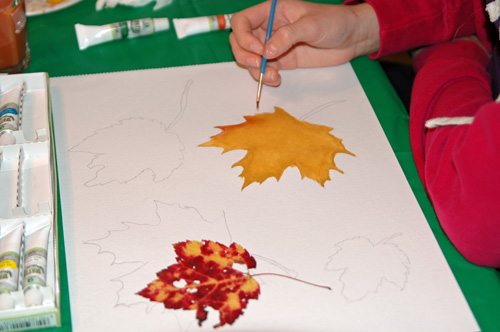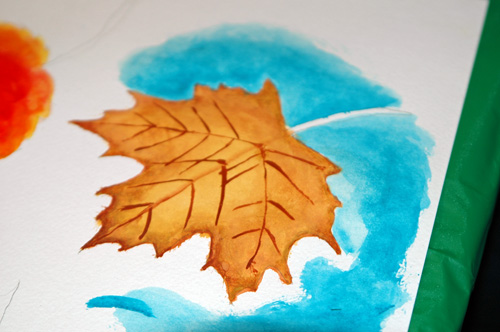 Fall has inspired many an art project in our
homeschool
over the years too! When our children were in their elementary years we took nature walks ( in our backyard ) and gathered natures offerings to create a homemade autumn wreath. Leaves, twigs, acorns, moss, pinecones, and pine needles were glued to a cardboard wreath then hung with pride in celebration of the season. The wonder years of our homeschooling days were centered around the seasons and Fall continues to do her magic on us but in different ways now that the kids are older.
 Our daughter recently performed one of her original piano compositions titled
" The Coming of Fall ".
She invites you to have a listen
here!
 You can friend us on
facebook
to view it as well.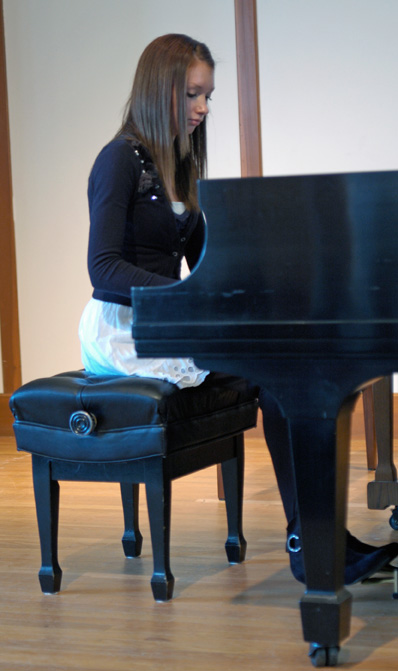 She's a teenager now with much more fun things to do ( and music to make ) than take a long boring ole' drive with her mom just to stare at silly old leaves! Her words, not mine! That's okay; I get it. I didn't let it stop me from going! This year was extra special because I brought my mom, my Aunt ( who was visiting from Nevada ) and my wonderful mother in law along for the ride. With a particular destination in mind we were off to see Henry David Thoreau's very own Walden Pond in Concord, MA. It was easy to see why he fell in love with it and chose to make it his home for a short time away from the bustling crowds of the city where he could conduct his "experiment" in living the simple life which gave us the wonderful book 
Walden Pond.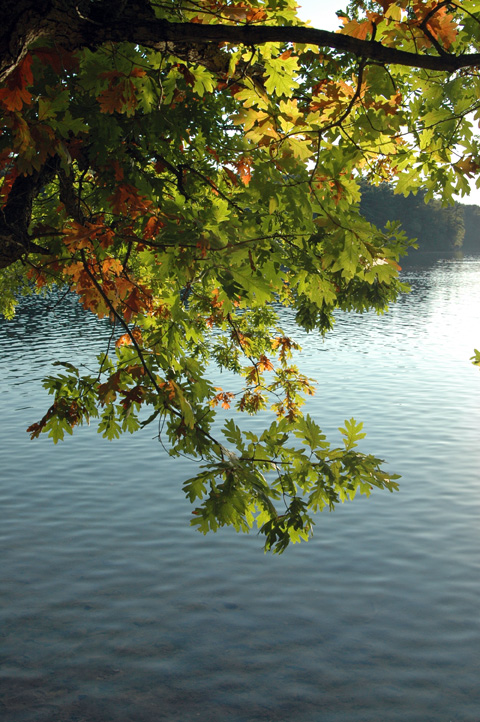 The leaves were tinged with orange, gold and red.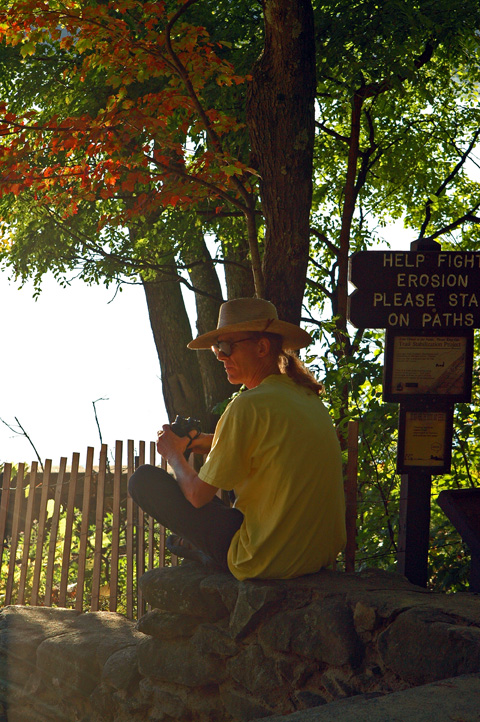 This solitary observer didn't seem to mind all the tourists. He found his Zen spot on top of a rock. The perfect look out!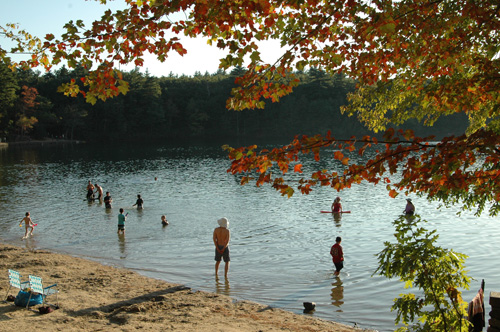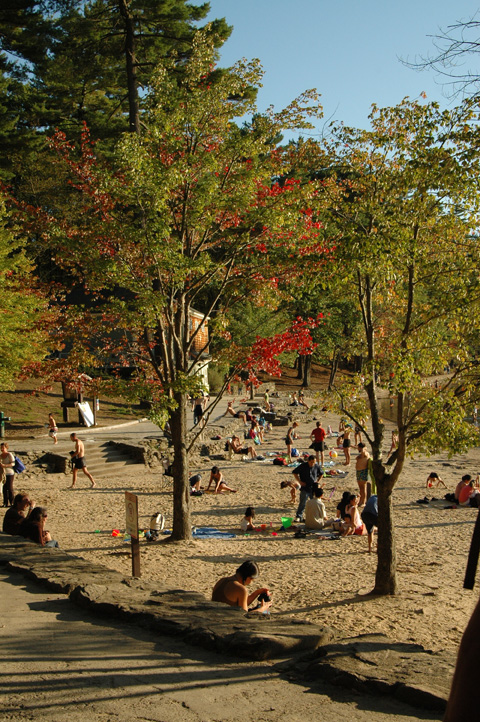 Do you think dear David is turning over in his grave with all these visitors enjoying his beloved Walden? We were excited to see the replica of the small home he built and lived in. It's conveniently located near the parking lot so everyone who visits the park can see it. The real home is about a half mile hike into the woods.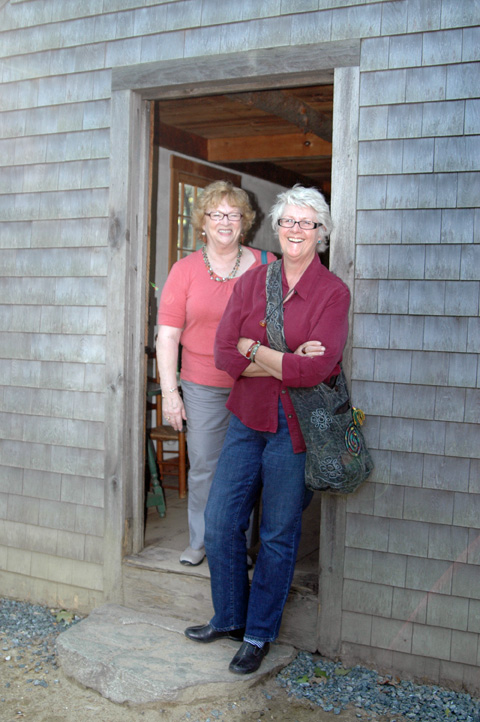 Here's my sweet mom ( in the peach shirt ) and my Aunt Nan standing in the doorway of his tiny house.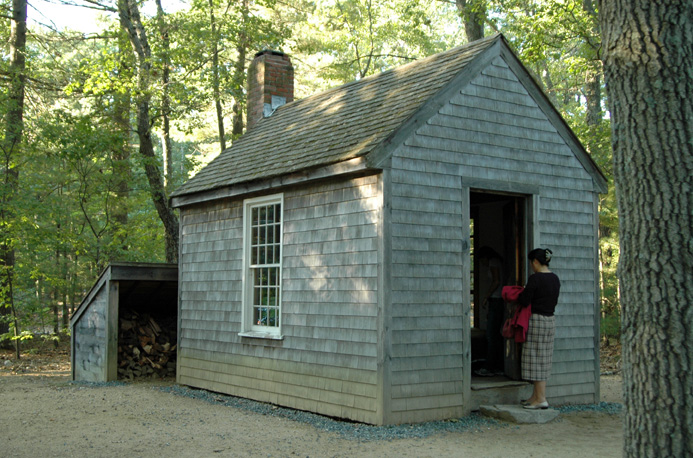 Step inside for peak. It really is sparse and simple. Just as he liked it.
A bed for sleeping. Chairs for various occasions,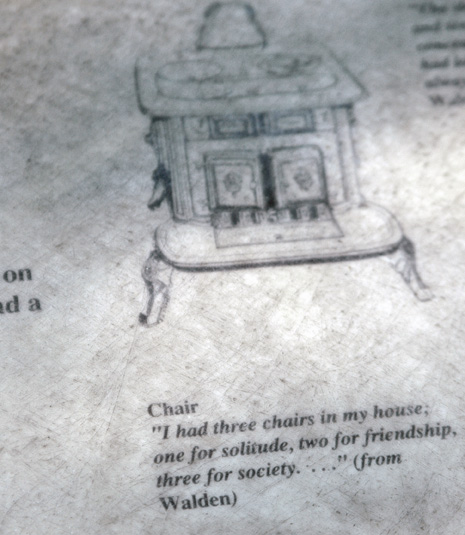 a stove for cooking and heat,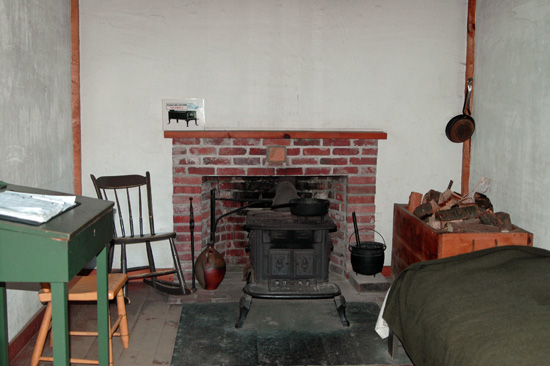 and a desk to lay down his thoughts and observations.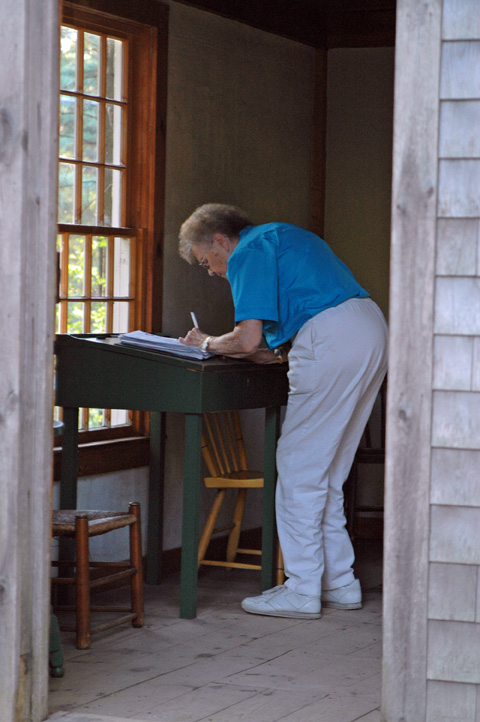 This is my mother in law signing the guest book. She was so happy to finally make it to Walden Pond and check it off of her bucket list!
It was inspiring to be where he once was and try to imagine what it must have been like back then. When I got home I pulled my copy of Walden off the shelf and started to read it again. I was pleasantly surprised to find some fall leaves I'd tucked inside to press ( who knows when) for safe keeping.
 I think H.D. Thoreau was on to something. Simplify, Simplify Simplify! I know Cathi, our Mountain Farmgirl blogger would agree!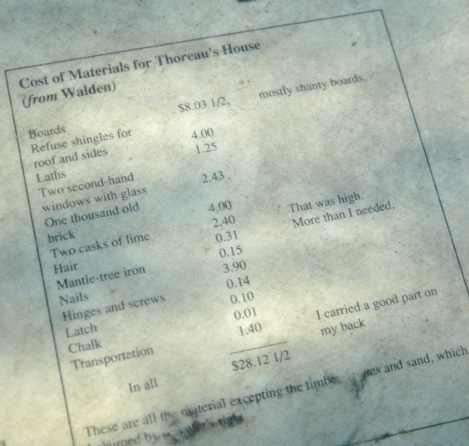 It's easy to enjoy the simple joys of harvest season when you're surrounded by such beauty. Fall on Cape Cod has a completely different look and feel compared to our wooded, mountainous areas.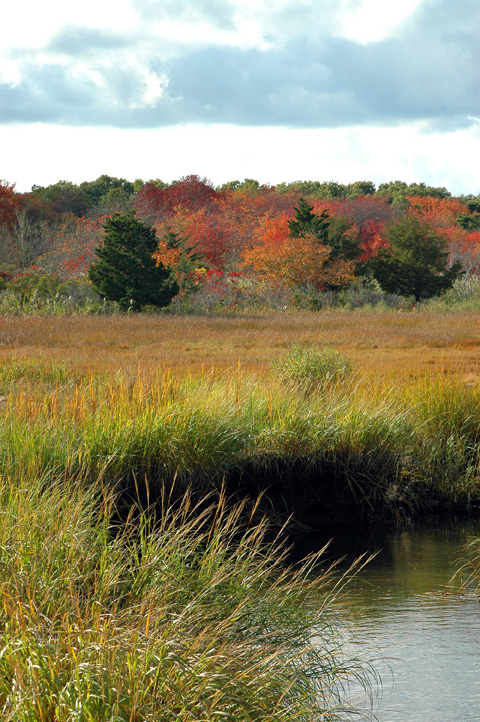 For one thing, the further  " down cape " you go the flatter the terrain. The view gets more wide open and what grows is different too. I love the honey tint in the marsh grasses and just look at these feathery plumes reaching to the sky!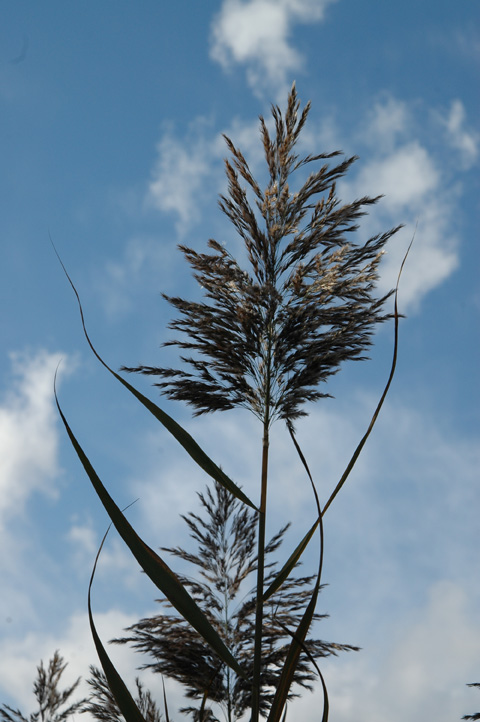 Here's a field of them!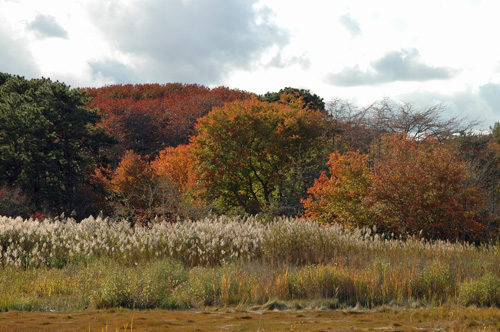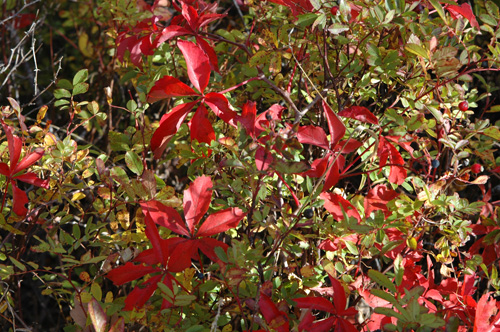 I can't visit Cape Cod no matter the season without looking for a few picket fences along the way!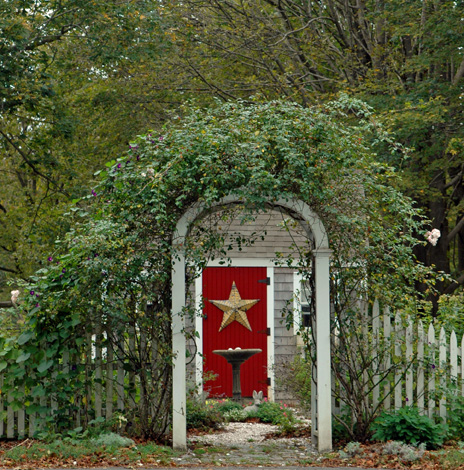 I love Fall
so much
I could stay here and write and share photos with you till the cows come home, but I know you busy farmgirls have things to do so I'll close this entry with my top ten favorite
farmgirl Fall things!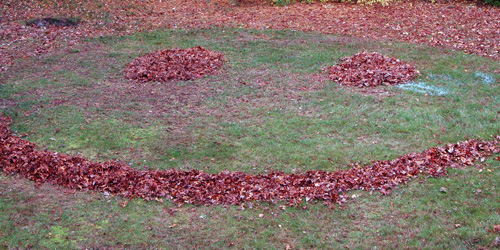 1. Making memories. My husband rakes a smiley face out of the fallen leaves in our backyard every year. It's fun to wake up and look out of the upstairs windows and see all those leaves smiling up at us first thing in the morning!
2. Gussying up The Little Red Hen House for The Cottage Hens.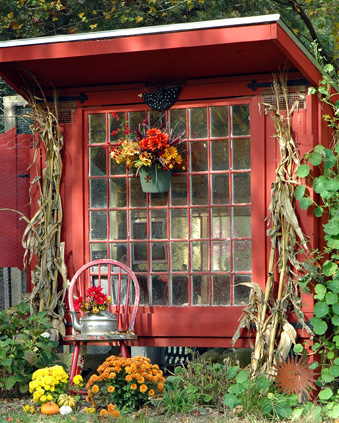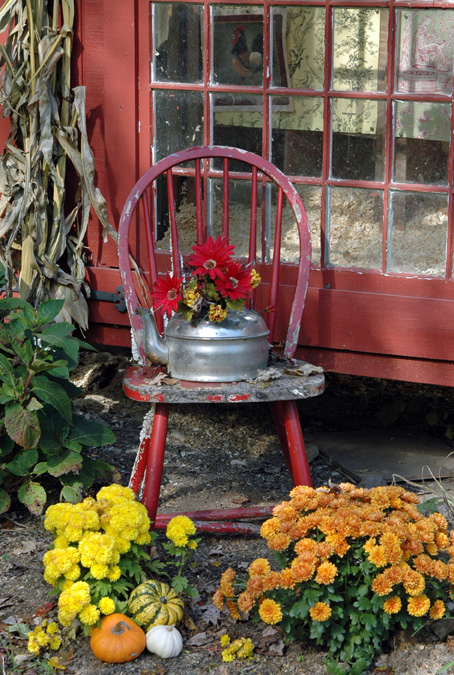 3. Homemade HOT spiced cider simmering in the crock pot on a cool, damp day.
4. Homemade Pumpkin Pie ( I'm going to try MaryJanes Recipe this year )
  5. My birthday! I'm a November girl, so is my mom, my Aunt and my cousin! We LOVE November!!!
6. Sloooooooow Cookin' in my crock pot .
7. Checking off a few home projects before the first snow flies.
8. Bonefire's at the beach.
9. Dutch oven cooking.
10. Planting my dream seeds for next year and leaf peepin' with the " girls " of course! Whoops, that's eleven…
  Your turn!!! How does Fall inspire the artist in you? What are your top ten favorite Fall farmgirl things?
Until our next shoreline visit~
BEACH BLESSINGS and a WICKED HAPPY HALLOWEEEEEEEN!
 Guess I better start decorating!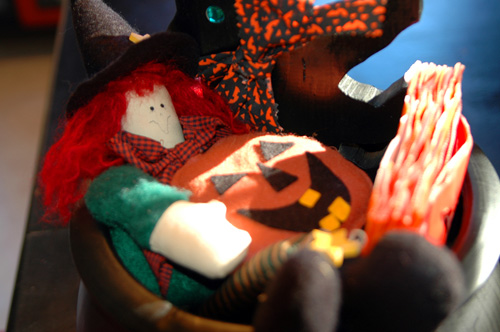 Love,
Deb
 sister # 1199
P.S. More FUN Fall links: Just in case you're planning a leaf peepin' trip of your own sometime!
Yankee Magazine and The Best New England town for Fall foliage!
And, completely unrelated to this post, I'm having my First Annual Hen House Hop linky party on my personal blog Tuesday November 1st.
All chicken keepers ( and wanna- be's too ) are invited to enter!