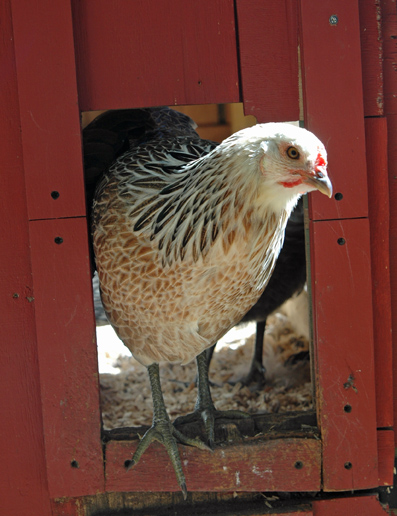 ( Ameraucana chicken )
Oh great! You're here! I've been waiting for you! I'm Gladys, ( named after Deb's Granny ) one of the "younger chicks" at The Little Red Hen House. My little flock and I are getting along fine with the older gals " The Cottage Hens" but those two rogue roosters that were here for a spell had everyone's tail feathers in a bunch! Come on in for a roost and we'll tell you all about it!
Who us? Wha'd we do wrong? All we ever wanted was to make sure everyone in the neighborhood got up bright and early ( no later than 4:45 am ) and that there would be plenty more just like us come spring time! What's so bad about that? We kept a careful eye on the ladies and the run and Rodeo made sure he crowed every time he heard… a pin drop!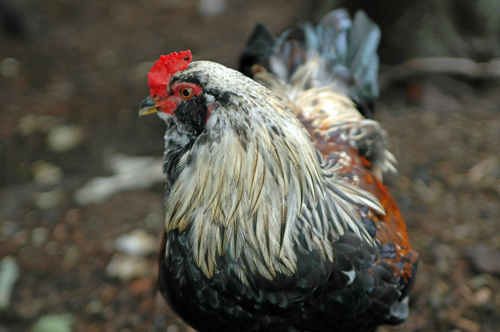 Rodeo and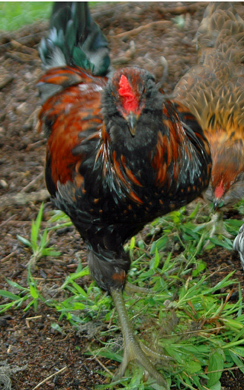 Rudy Roo ( Ameraucana )
If Rudy and Rodeo were still here that's exactly what they would say! Oh, I'm sorry, please allow me to introduce myself. I'm Lacy Lou the head hen of this backyard egg laying operation and I'm here to tell you I didn't want them here from the start. Oh, it started innocently enough; Mother hen brought home a batch of " spring chicks" back in April and two of the girls turned out to be boys. I hear that happens fairly often to backyard chicken keepers who order from hatcheries or their local feed store. Luck of the draw I guess, depending on how you're lookin' at things.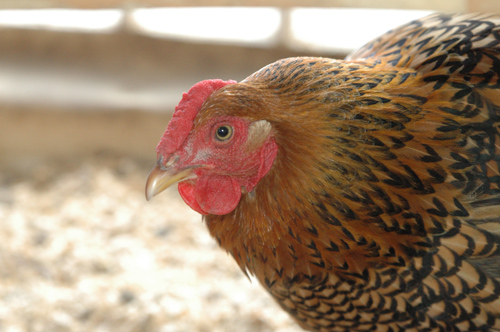 ( Golden Lace Wyandotte )
In the beginning it was nice to have them around and Mother hen was over the moon with happiness that she was going to get to watch roosters grow up. I guess I can't say as I blame her… They do have a certain charm and as the boys grew so did there long colorful feathers. Before too long they were strutting their stuff from one end of the run to the other and taking any girl they chose out for a test drive when ever the spirit moved them! No manners at all I tell you!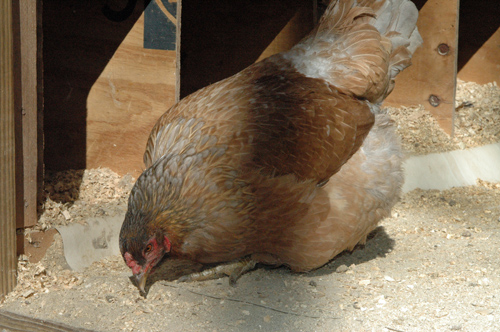 ( Ameraucana Hazel  )
Dear Lacy, let an old girl get a word in edgewise. Howdy ya'll, I'm Hazel. Now I don't fancy myself a beauty queen, in fact, I've always thought of myself to be more of an earthy chick, but those boys just wouldn't leave Lacy Lou or I alone for one cotton pickin' minute! It finally got so bad that when Lacy or I tried to leave the hen house one of the boys would chase us back in. This went on for two weeks or more. Mother hen had to bring food and water every day, special, just for us. To pass the time while we were in solitary confinement we talked about the good old days when we had the run of the place. Why, we could eat and drink what ever we wanted and we could take as long as we liked in the dust bath.
We both agreed, we didn't mind the new girls movin' in…We figured we'd need them around to distract the boys, especially if Mother hen never came to her senses and decided to keep them around for good! Oh, you tell the rest Lacy Lou; it's your favorite part of the story…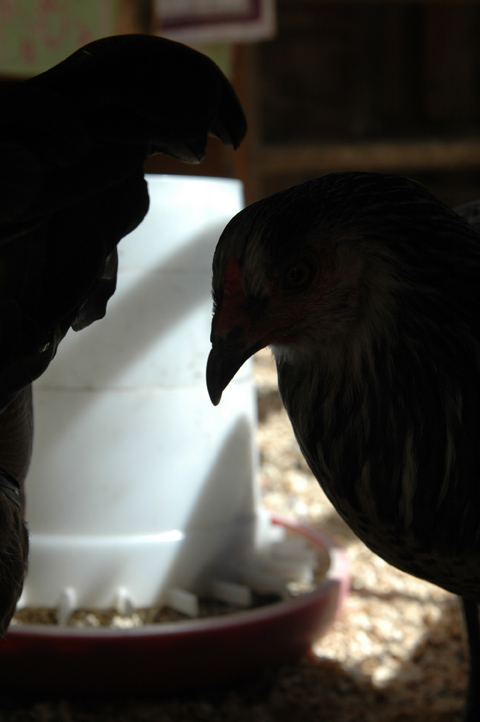 Here's where things get real juicy girls. One day we heard some cluckin' at the feeder. Something about Mother hen speaking to the boys, and tellin' them she loved them and she would miss them, but that it was time for them to go to THE FARM… She said, they were just too bossy and noisy to stay with the girls, and then she thanked them for watching over us. Ha! I'll say!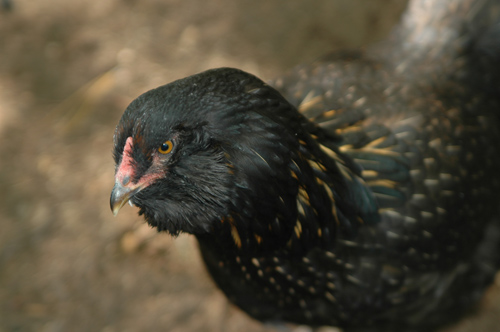 Liza ( Ameraucana )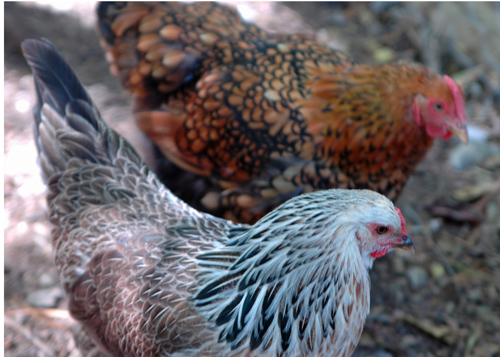 Gladys and Lucy
Oh, we got so excited!!! We fluffed and preened and prayed that it was true! Our prayers were answered that very night! Not long after we turned in, we heard noises in the dark and footsteps coming towards the house. Suddenly the door swung open and a bright light danced around us until it landed! First on Rodeo, then Rudy Roo. We could here voices outside in the run then someone reached in and gently removed both boys from the hen house and in a flash the light vanished and the door closed.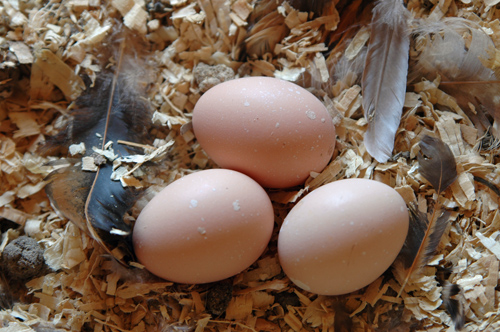 We slept in the next morning and awoke to a calm, peaceful and QUIET little hen house.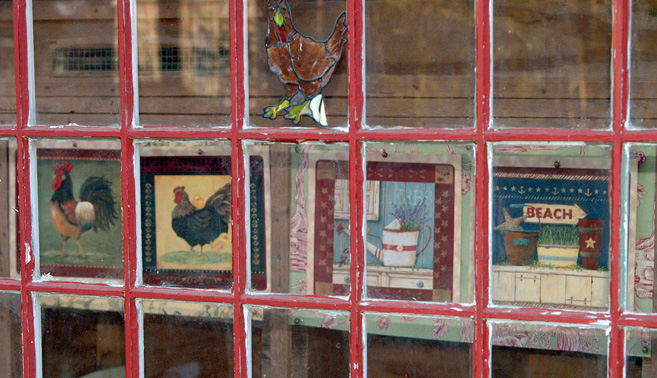 Later that day, we heard the boys were back! Turns out they'd been to THE FARM alright. But only to be "prepared " for a September Sunday Supper! I'll be honest, I miss the fella's sometimes, but I wouldn't trade having harmony in the hen house again for a days worth of chicken scratch!  Right girls?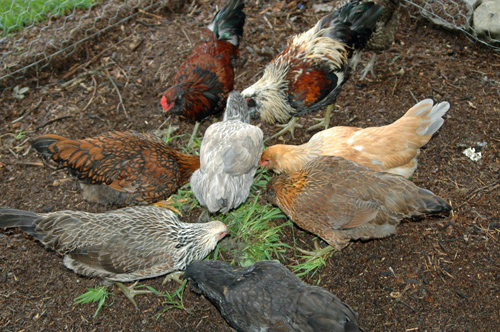 Like my mother used to say, " Some days chickens, some days feathers!"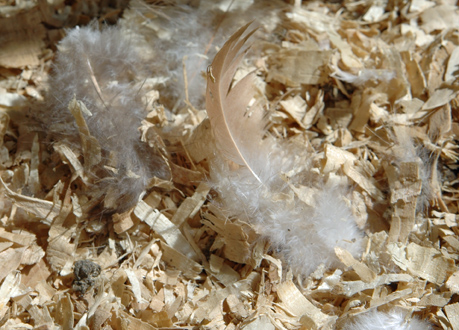 *A note from Mother Hen: Before Rudy and Rodeo arrived on the scene, I was a lightweight farmgirl, but the guys taught me a few things while they were here. Roosters have their place, just not in our backyard chicken keeping arrangement. The charm of their crow wore out pretty quickly and I wasn't comfortable with how they were treating the girls either. The older girls were showing signs of stress. One of the boys was plucking Lacy's feathers out! I just couldn't let it go on… She was from my first flock ( 6 years ago ) and I want her to enjoy her " golden years ". I looked into re-homing the fella's and finally came to the conclusion that I'd rather know how their lives turned out than wonder so we got the name of a local " slaughter house" from the feed store where we purchased them originally and made an appointment! They are in my freezer and I'm just waiting for a nice cool September day to roast them. I never dreamed I'd be eating my own chicken's one day.
 Time to fess up! Do any of you Mother hens eat your own?
I hope you enjoyed this little tale from the coop! I still think the boys were pretty neat, and if I ever had enough space where I could keep them far enough out of earshot of the nearest neighbor and my sweet slumbering husband. I'd give it another try! Until then, The Little Red Hen House is for GIRLS ONLY!!!
Until our next shoreline visit!
Beach Blessings and Happy Hen Keeping farmgirls!
Love, Deb
PS. for a quick study about keeping backyard chickens visit My Pet Chicken.