Farmgirls, I have a confession for you: My holiday season up until about yesterday wasn't all that great. I tried, really, to see the best in everything and be full of holiday cheer. There were definitely very good times had by myself, my loved ones and some great friends, but overall, I was kind of down in the dumps. I even tried a faux Happy New Year resolution excitement in my last post on New Year's resolutions; and you know what? I've already failed at most of those! Have I done yoga once in 2013? No! I did call a good friend; but I called my grandmother and she didn't answer, when she called back I didn't answer and haven't called her back. I guess I have been a bit more organized. But overall, I've been somewhere between apathetic and discouraged.
There are many, many facets that played into this state of mind. Most notably I really miss my family. Another one is ice. It gets to me. I'm afraid of it at times and in total awe at others. We have been living in an increasingly icy world here in Palmer since before Christmas, so I've had a lot of time to ponder ice and its role in my life. Luckily, I'm gaining traction, both physically and mentally.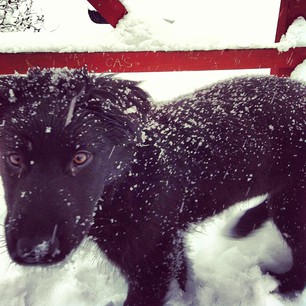 Moki gets a break from the ice in this snow at higher elevations.
As a child of the privileged nineties, these complaints and resolutions and whatnot may seem trivial–they largely are, but they still got in my head and wouldn't leave. In many circles these are referred to as "first world problems". But, bear with me here, it'll get better.
It all started with the wind right after the solstice. Palmer, Alaska has to be one of the windiest places on earth with regular, hurricane force windstorms due to competing cold glacial air feeding the valley from two directions and ocean breezes attempting to come in from another. The wind is strong enough to move all of the snow into huge drifts–leaving bare fields with huge drifts along the edges at times. The wind also carries with it dirt and dust, making the farm look like a moonscape–pocketed and gray. The wind also creates a hard pack on the top of the remaining snow, sintering the snow surface together. The wind spell was followed by about two weeks of freeze-thaw-freeze-thaw-freeze-thaw-you get it due to a winter Chinook which brings warm air from the lower reaches of the Pacific up here. The grand finale of this warm spell was a day of freezing rain followed by a day and a half of plain-ol-rain. Ugh.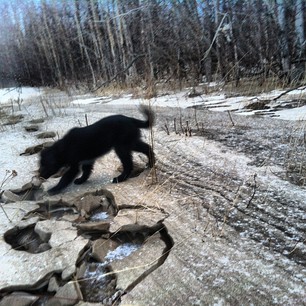 Moki navigates the dirty moonscaped snow drifts.
So, it's icy everywhere. I am in the final stretch of an eighteen day farm sitting stint at Sun Circle Farm (my usual farm sitting gig) and the ice has played a big role in this endeavor. First off, I am watching three dogs plus our new pup Moki. All of these dogs need some walks or they get cabin fever! So, we've been going on some pretty awesome walks around the farm, even if it hasn't been very pretty. We've been hiking all of the trails around here and doing a fair amount of off-trail-blazing as well. The lack of understory in winter forests makes for good wandering. During the walks, I like to stop in the middle of my favorite hay field and do a bit of meditation on the always setting sun. One day during this meditation, I decided to focus on the beauty of situations rather than resorting to the easier, more apparent ugliness of many situations.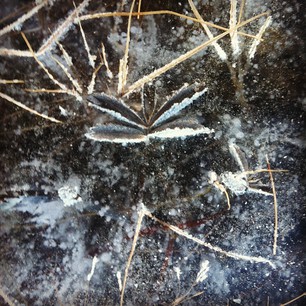 Perfectly preserved plant in the fen.
I had been growing increasingly weary of post-holing through the thick snow crust and gazing over fields of no snow/gray snow. In this meditation, however, I saw how amazing the forces of nature were and are. Some of these snowdrifts are like beautiful sculpted masterpieces, with the silty coating of glacial loess lying in perfect undulating lines. I recognized the great accomplishment in choosing the correct path across snow pack so that I didn't fall through, and I took joy in breaking number-of-steps-without-post-holing records. I discovered that the fen (a wetland) on the farm had frozen perfectly and the snow had all blown off of it. The plants and mosses of the fen were frozen in full view, just under my feet in pristinely preserved greens, oranges, purples and pinks.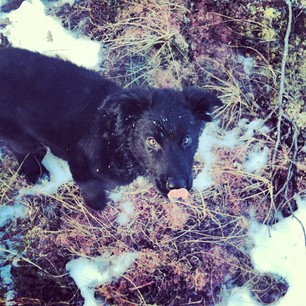 Moki takes a break to lick her nose in the fen–Look at those colors!
I had accepted the harsh beauty of this wind torn landscape, and I secretly hoped that this acceptance meant that it would change soon with snow! Alas, it did change, but with rain.
First came the freezing rain, which put a nice inch thick coating of ice on everything. Even grassy patches were coated. This was followed by almost two days of rain–making the ice even slipperier than ice is normally apt to be. Doing farm chores in this was one of the most frustrating things I have ever, ever, ever had to do. I fell, hard, about twenty times on Monday, once while carrying two five gallon buckets full of water–one of them spilling all over me and creating a nice luge for me to slide down and get soaked (Carhartt's are far from luge proof). Miraculously, the other bucket barely lost a drop. I fell other times too–getting hay, moving between barns, mucking the yard, traversing the short distance between house and barn, playing with the dogs, getting out of and into my car, standing still, blowing my nose (okay, those last two aren't true). Needless to say, I'm a pro at falling on ice now. But, I have been gaining traction.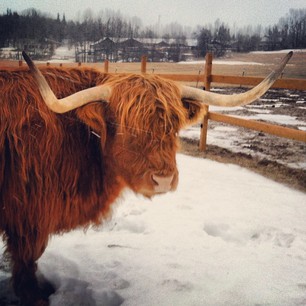 I've fallen all over the ice partially for this guy–Maybe (his name is Maybe). And how does he repay me? with a horn to the jaw. It hurt, and hurts.
My ice-stabilization muscles are in full operating condition, and luckily my hips are still cushioned a bit from holiday eating/overeating. I have picked the best routes to maneuver between house, barn, hay bales, water spout, car, front door, etc.
As a kid, this kind of ice storm was awesomely amazing. The world was my ice rink. I remember, one winter, when all of the branches on the skeletons of the trees throughout our city were coated in ice. They glittered and cracked and were beautiful. But I was a kid then, adults dont like ice storms, right?
This ever pervasive and increasingly icy landscape has me thinking a lot about my brother, Evan, who I already think about daily. He died ten years ago this year when he and his girlfriend, Jackie, were out driving after dark on Lake Minnetonka, near my childhood home. Driving on this lake in the winter is normal and many people partake in ice sports and using the ice roads to cut down on commute distances. My brother's car, however, crashed through a quickly growing hole in the ice. Jackie got out of the hole, but she succumbed to hypothermia about 100 yards from shore, my brother drowned. He was 16 and she was 17.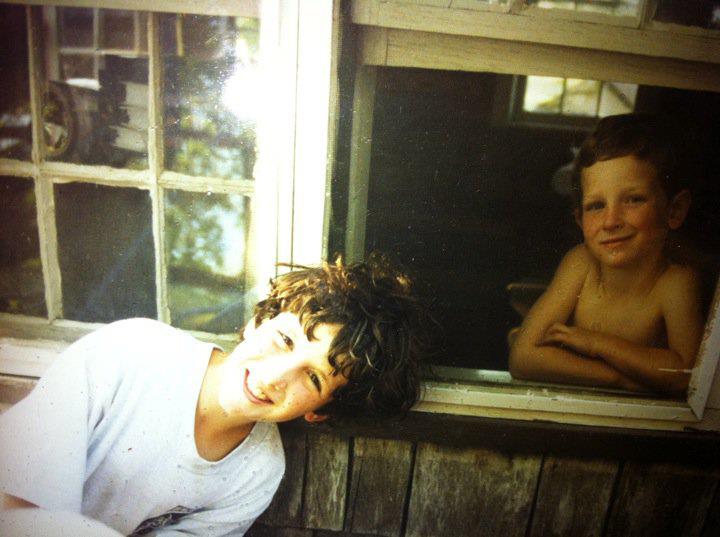 My brothers Evan (dark hair) and Ian (little guy) at a family reunion ca. 1994.
They were amazing young people, and I wish every day that I could see what kind of adults they would have become. He was amazingly selfless, always putting others before himself–even to the detriment of his own progress at times. She was much the same and had a deep love for Bob Dylan. We were all in track and cross country skiing together. We spent time at home together. I wish we had been even closer. The last time I saw Evan and Jackie, they asked to borrow the car so they could trade in Evan's saxophone for a banjo.  It was the day before they died. I was excited for him to play the banjo. I remember it so vividly…
It finally snowed yesterday. The snow over the thick layer of ice is tough to navigate, but snow cushions the fall; and like I said, my ice-stabilization muscles are in full working order. The snow helps, a lot. Just as it quiets the landscape, my mind has been quieted.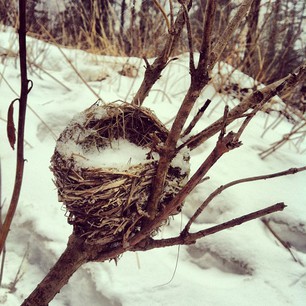 A snowy nest in a high bush cranberry plant.
The walk I took with the dogs yesterday was a long and winding one. We traversed the natural ice rink and I made two snow angels holding hands. We discovered a cottonwood graveyard where years of grazing cows had allowed the trees to grow huge without competition and fall under their own weight. We played between huge stacks of hay bales, and we jumped over the creek, tempting the chilly waters to nab our feet. I finished off the day with some skiing up at the Hatcher Pass road run (the road run is a very accessible, free, downhill ski/snowboard run nearby. It is very fun and very convenient. I did, however, lose my phone there the other day when I fell due to the icy crust on the snow, and Amazing Farmer Amanda came with me, in the dark and sleet/graupel/rain to locate it on a ski slope. We found it due to her help and my fiancee's technological know-how. She and he have been angels the last few days!).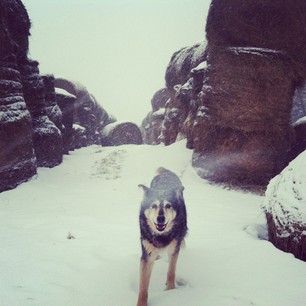 Tilly and the hay tunnel.
So there it is: the icy world I inhabit for the moment. The ice has hurt me in so many ways, but I still am attracted to it. Walking, sitting, slipping or sliding over water is miraculous. Perhaps it is because we are composed of so much water that we are drawn to it, even when it is frozen. Perhaps the frozen nature of ice is even more appealing than plain water. It is water preserved, water suspended in time. Perhaps we want to do the same, we want to preserve special moments in order to thaw them out later. Or maybe we just like the awe and risk involved in trusting such a fragile thing. As I know, that trust can be broken in tragic ways. One might think that I would hate ice, perhaps fear it and avoid it. But, I am still drawn to it.  I think it can be beautiful and fun, I think it can bring the worst out in people, but it can also bring out the kid in all of us.  I know it can change some lives and take others. I am in awe of this icy, winter world; and I'm learning to navigate it as best I can.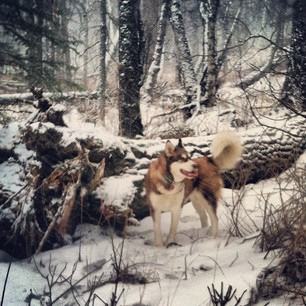 Sorrel (a giant Alaskan Malamute) next to a downed cottonwood.
On one final note, Farmgirls: this winter has been weird, everywhere. The temperatures have soared and plunged and snow has dumped and waned. Ice is powerful and weak. Please be careful, make sure ice that you go out on is clear (white ice has often been weakened by compacted snow wthin) and thick (at LEAST four inches for walking, and at LEAST twelve for driving), Also, make sure the ice has a level surface (dips or bumps indicated active water underneath the ice surface) and know how deep the water under it is. Teach your kids how to diagnose safe and unsafe ice conditions.  Lastly, just don't drive on it if you don't really have to. Walking, skating or skiing pose much less risk.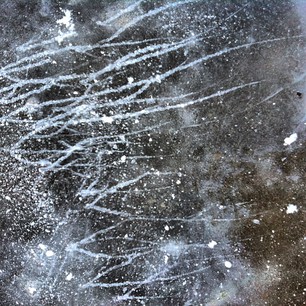 Muskeg's futile attempt to get at the water under the ice.
After a rocky start to 2013, I'm hoping to continue to seek beauty in even the most discouraging of situations. I hope your first weeks of 2013 have been wonderful, and that you, too, seek beauty in all you do.
Sending you peace and love,
Alex, The Rural Farmgirl