In the not so distant past, the main mode of gaining farming knowledge was by growing up in a farming family. The mothers and fathers of little farm kids everywhere imparted their knowledge to their offspring for generations. In this way, families knew their land intimately, the children's knowledge of farming practices was nearly intuitive and land, machinery, livestock and outbuildings were passed down generation to generation. However, the days of the family farm have all but come to an end. People who grew up on farms are increasingly moving from rural areas into more urban centers. The median age of farmers has increased steadily while the number of farmers has decreased. The U.S. census doesn't even list farming as an occupation any more.
So, what is going to happen to small scale American farms?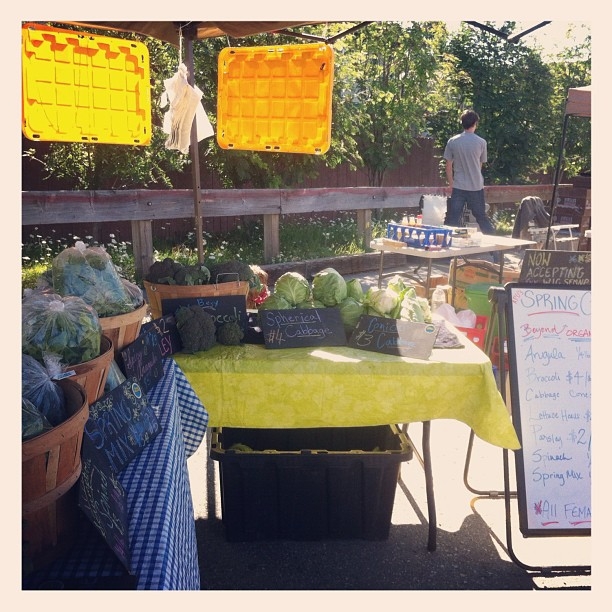 This is what small-scale sustainable agriculture looks like!
I just finished a few days of farm sitting at one of my favorite farms: Sun Circle Farm (I blogged about that farm before,
here
)!  It is run by woman fairly new to the farming scene.  I work for Amanda, a 25 year old farmer who has been learning how to farm and farming for the last four years.  At the farmer's market, about half of the farmers are first generation and have been farming for less than a decade.  These farmers are amazing, and as an educator, I can only wonder, how did they learn to farm without growing up on farms?  The resounding answer is experience!  This experience includes both experience working on farms as well as learning from others' experiences on farms.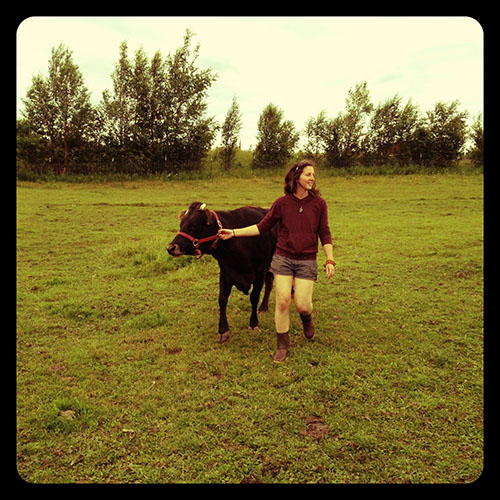 Sasha helping me learn the ropes. 
Beginning farmers are not new, but their numbers are increasing. According to the U.S. Government, they are those farmers who have farmed for less than ten years on farms that are 1/3 the size of the median farm in the county.  More commonly these days, the Beginning Farmer is one who did not grow up on a farm. Just like some farm kids want to become big city lawyers, some big city kids have always had an attraction to the hard work and expansive skies of farming. As the trend of agriculture moves away from the traditional family farm, the role of Beginning Farmers is becoming increasingly more important and support of these farmers is more necessary. While Beginning Farmers aren't new, the rise in interest in farming among young people in recent years has helped reverse a scary trend that seemed to be leading to the end of non-corporate run agriculture in our country.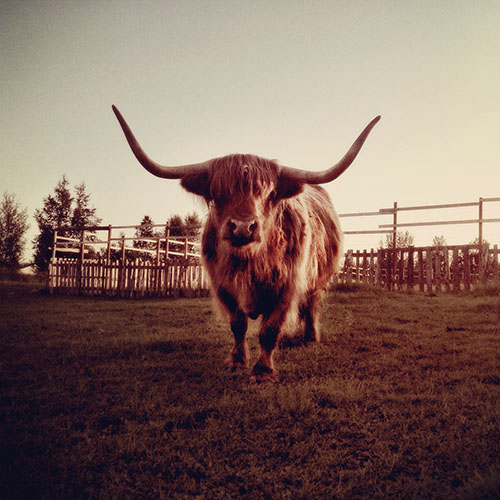 "Small-scale farms foster diversity!" Says Maybe, enjoying open pasture.
All life moves in continuous cycles of growth and decay. Life, both large (think the universe) and small (think amoeba) and everything in between, starts out as nothing–but a twinkle in the eye of an ancestor. Then, it grows to its maximum potential before decaying and dying, returning to nothing. Some cycles are so fast or so slow that change is imperceptible. This same cycle can be seen in individuals as well as groups. It can be seen in physical life as well as intellectual and social lives. Agriculture has also followed this cycle. We can look at it on a farm by farm basis as well as the industry as a whole.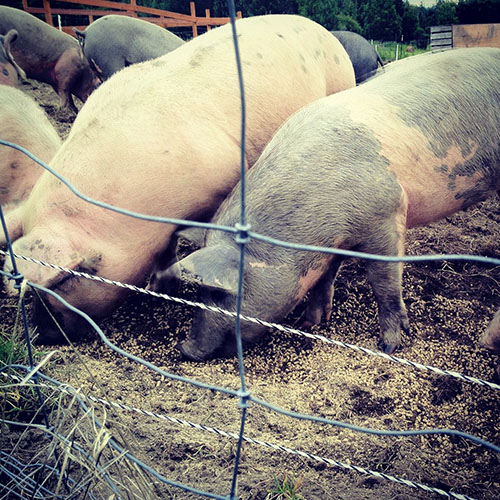 "We prepare great beds for integrated farming methods!" The pigs remind me.
On a farm by farm basis, we can see that a single farm most likely started out as a small enterprise. Maybe a farm started out as a homestead or vegetable garden and then grew to be a farm. As the farm grew, the farmer hired more workers and purchased more equipment. Soon the demand for goods forces a farm to grow quickly to keep up with expectations, this might mean destroying land, water and soil in the name of profit, or buying out weak farmers nearby (lowering the number of farmers as well as the diversity of farmers in an area). It seems like a lot of these farmers get to a point where they are largely run by corporations and are vastly different from the farms they once were. It is no wonder a child growing up in a "farm family" like this isn't loyal to the farm and has no yearning to pursue agriculture. Eventually the large corporate farm moves in a straight line, blind to its chemical outputs, blind to the nutrition content in the produce coming out of the land, wholly focused on quantity and profit.  This Big, Bad, Blind mode of agriculture cannot last, and these farms will eventually perish due to unproductive waters and soils and a lack of interested workers.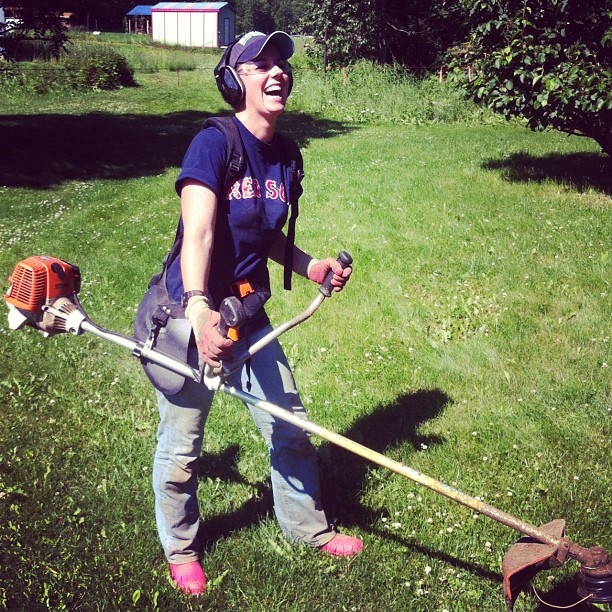 Small scale farms have small scale machinery and enthusiastic interns!
As a whole industry, the size of farms have grown as the number of farmers have decreased and their ages increased. With larger farms comes heavy mechanization of seeding, cultivating and harvesting. I do love a nice tractor, but some of the large machinery used in monoculture crops is scary and irresponsible.  Some of our most productive agricultural lands are being sorely mismanaged (at least in my opinion).  Even organic agriculture is taking its toll on our resources.  This is due to rising corporatization of organic production.  While an organic factory farm is far less damaging to resources than a conventional farm, there is still a lot we can do and ARE doing!  I know I've said this before–but small scale, organic, sustainable farms are the future of agriculture.  The food from these farms might seem outrageously expensive at times, but the taste, nutrients and peace of mind that come with the food more than make up for the price difference. Pair those intangibles with your own vegetable garden, goats, backyard hens or some other home-grown goodies and the cost seems more bearable.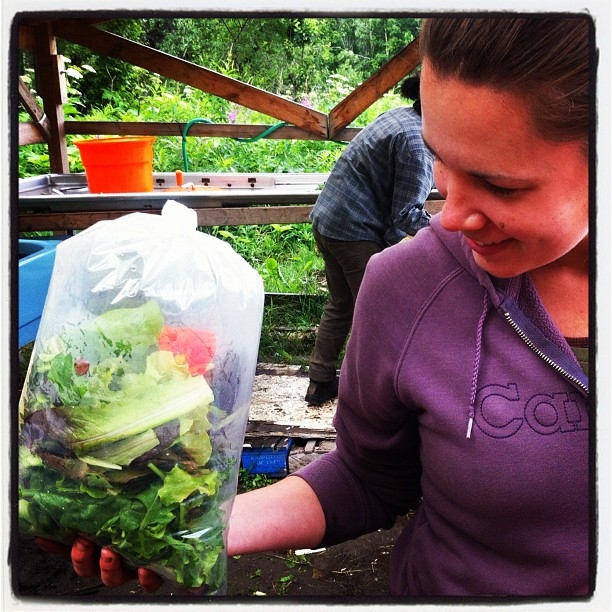 This salad mix is tastier, healthier and prettier than ANYTHING you can get at the grocery.  It also has a flower, does Dole do that for you?
Who is going to manage these farms and how will they learn?  Well, hopefully we'll still have some young family farmers to keep up their families' farms, but new crops of young farmers need to learn and are being taught in increasing numbers.  I for one, did not grow up on a farm!  We did have a larger than average vegetable garden for our suburban town.  My father was the tender of the garden while my mother was the animal lover (we never had much in the way of farm animals, but we heard about them a lot).  However, farming as an occupation wasn't ever on my radar until I went to college. There I volunteered some time on a couple of small farms, took a horticulture class, and worked for a small bed and breakfast with an attached farm.  However, if I had tried to farm after this it would have been a comical disaster.  If I tried to farm on my own, now, it would still be a comical disaster (hopefully a bit less comical).  My present work on Spring Creek Farm has been, by far, the most educational experience I've had on a farm so far.  I think two or three full seasons on a farm are necessary for a wannabe farmer to gain the basic skills necessary for farming.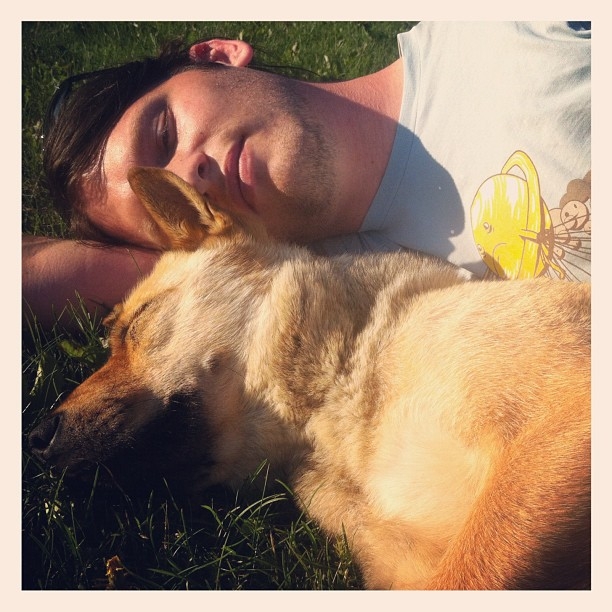 Even farm dogs need sunny afternoon naps once in awhile.
Now, there are farmer incubation programs available for wannabe farmers, there are apprenticeships available nationwide as well as internships and college courses.  The Beginning Farmers I know are incredibly intelligent, self-motivated, strong minded and strong bodied.  Without the intuitive knowledge gained from growing up on a farm, these farmers are voracious readers of books, magazines, journals and others' notes.  They foster community through networking ideas and sharing knowledge with one another.  Because of the smaller size of many of these farms, second jobs are taken or spouses have other jobs to supplement income.  These small farms are really hard work for those involved and the monetary payback is often minimal.  This movement doesn't seem to be profit-driven, rather it is environmentally driven, community driven and survival of our species driven.  It is a beautiful and necessary movement, and I'm happy to be embarking on it with so many other Farmgirls (and boys) around the country.  Let the experiental learning to farm continue!