[Previous Rural Farmgirl, April 2009 – May 2010]
As I start this blog, I thought it would be fun to share some of my quirks. My quirkiness is a part of me that I honestly try hard to hide, but sometimes it just oozes out with no real way to contain it.
Last fall, on a trip to MaryJanesFarm, my youngest son Matthew and I were settling into our beloved soft-wall tent. Our hearts were light, our mood giddy, and Matthew was running from one task to another. Once things were put away and our temporary home set up, we started dinner in our amazing outdoor kitchen. Matthew is a very busy and very funny kid, so when I heard a loud growling noise I naturally assumed it was him being his normally precocious self. Without missing a beat, I continued to dice the veggies for the salad and said over my shoulder, "Hey buddy, good try, but I know that was you." As he began to plead his case that it wasn't him, we heard the growl again. Glancing around, I could see a black hump on the south side of the tent. I gently motioned to Matthew to head for the farm kitchen. Once we were safely in the shack I asked the cook if there had been any bear sightings. There hadn't. Needing to get to the bottom of it, I ventured out to investigate. There it was, right where I saw it before, the biggest black…
COW… I have ever seen.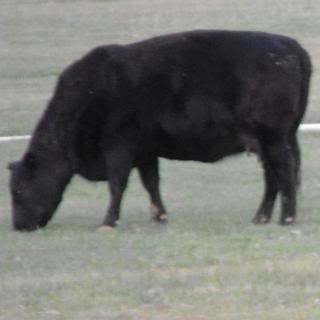 Okay, actually it was an average size cow… but really, A COW! I am a farmgirl, and I can say I have never heard a COW make that kind of noise before. As a matter of fact, when my two oldest boys were two and three years old, we lived right in the middle of 3,000 head of cattle. I would get on the horse with the boys in tow and herd those animals around. I have even been known to throw a calf into the back seat of the van and haul it to town, so I am not new to cattle. I have roped them and tipped them…I know cows!
Feeling like such a loser, we headed back to complete the dinner and settle in for the night. With my farmgirl ego bruised, I sat by the fire my son had built and listened to him taunt me. He was having a ball, as you can image. That story will be something that stays with him. Oh, sweet memories. (Matthew now has named that cow "Bear," and loves to tell friends and strangers alike about the "bear" we saw.)
As if that experience wasn't enough in the humiliation department, as the evening continued so did the torment. Matthew and I had enjoyed walking around the farm, and because of the rain we were wet and muddy. Trying to minimize the mud being dragged into the tent we decided to hose off in the outside tub. Matthew was first, sitting on the back of the tub. He pointed the hose to his feet which were in much need of a good hosing. After he was done it was my turn to follow suit. I rested my sizable tush on the back of the tub, aimed the hose and wham! … the tub flipped over and I was now in the field next to the hot wire. (The same hot wire that was so wonderfully protecting me from "the bear.")
Try as I might, I couldn't fix the tub on my own, and while there are few people more gracious then those that you will find on MaryJanesFarm, few of them had escaped the tale of the bear sighting just a short time before. Now on the heels of that, the tub. If I could have curled up in a ball and died, I would have right then and there. But in true farmgirl "plowin' thru" fashion, I went to fess up. I was thinking that it couldn't get any worse but knowing full well that when the dork in me escapes it is almost impossible to get it re-captured without total humiliation.
Desperate for the day to be over, all I could think of was crawling into bed and pulling that AMAZING bedding up over my head. I got into the tent, opened the flue to the pot belly stove, lit the match, and voila…smoke, lots of smoke, everywhere! I moved the knob, convinced that I must have had it wrong. More smoke, and not just a little smoke, but truly run-for-your-life kind a smoke. There I was, three times in a few short hours, with not an ounce of pride left. While all my co-workers treated me with such honor and dignity, everything in me was screaming, "Hey, dork!" (Or was that the voice of my 11-year-old? I am not 100% sure.)
I had never been more grateful for any one day to end. Feeling like I had the letter "L" tattooed to my forehead, I finally crawled into bed. Just as sleep was right about to hit me, I heard my little man say, "Mom this was a great day, and I am so glad that I came."
As the morning sun lit the tent, all seemed right with the world. The tub was back to perfect. The chimney, now free of pine needles, was allowing smoke to leave the tent freely. We had even made friends with the cows directly outside the tent. Somewhere in the night of sleep the dork in me was satisfied and at rest, at least for now.