I did it. I went on a quest this weekend.
To a Girl Scout Camp.
It was a "Mom and I" experience.
My daughter is almost 14 and is in Girl Scouts by force. Momma force.
I loved Girl Scouts as a kid and enjoyed the summer camp experience. Loved jumping in the lake at sunrise, eating meals in a mess hall, bunking with new friends and old, camp songs, crafts, hiking, earning patches, just everything! Oh, I get nostalgic just thinking about it.
I believe that I must have thought that Girl Scouts would help My Daughter fall in love with nature and crafts and camping and the night sky.
This has not happened. She wants to quit. (I don't know, should I let her quit next year? I'm so torn.)
Back in December I learned about a "Mom and I" Girl Scout Camp experience and thought woohoo! yes! I signed up and have been looking forward to it ever since. My Daughter, on the other hand, not so much.
Now, we love our time together, that's not it. It's the "Girl Scout" and "Camp experience" part of it that she wasn't interested in. If we had been planning a Spa Get-Away, or City Excursion, or a Shopping Adventure, she would have been marking off the days in great excitement.
But this? Camping? She was lukewarm, at best.
We left bright and early, 6 a.m. on Saturday to make it there by check-in time.
It was quite a hike to our accommodations, a bunkhouse.
I soon realized why everyone else had taken advantage of the trailers parked in the parking lot. The camp staff would have brought all our STUFF (called "gear" at camp) to the bunkhouse for us. But no….I had insisted.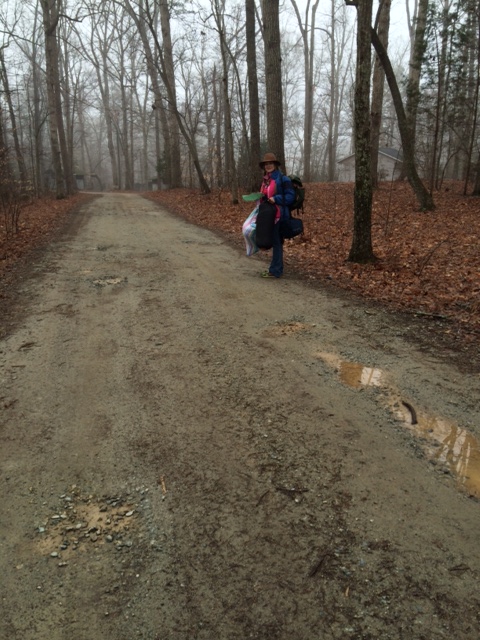 When we got to the bunkhouse, I saw that it was named well. There were 16 bunkbeds, 32 beds in all.
Moms on the bottom bunks; Daughters on top.
I overhead a girl whisper to her friend WHY the Moms were on the bottom: "they all have bad knees and bad backs, can't climb to the top bunk," she confided.
"You are so wrong," I thought. This was when we first arrived. On day ONE, that was my thought. Wrong, the kid is wrong. In fact, right after she said it I climbed up there to the top bunk and lay down to try it out. My daughter was thinking she might want the bottom bunk as she's not a fan of heights. Either way was fine with me. After a few minutes on the top buck, I climbed down a few steps and jumped the rest of the way. Bad knees and bad backs, my butt. Did you see that, Little Girl Scout? Humph.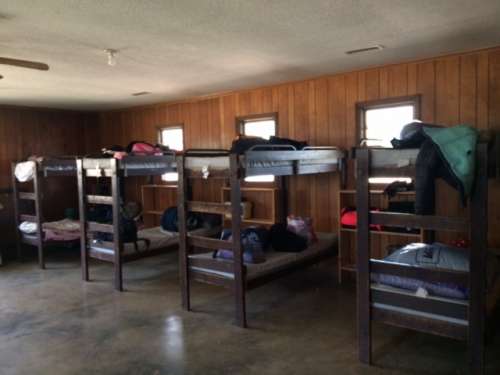 After we claimed and made up our bunks, we headed out to investigate the camp.
We discovered THE Quintessential Girl Scout Lake.
Old metal canoes lined up on shore. Paddle boats.
A dock for fishing. And sitting with toes dangling in the cold water.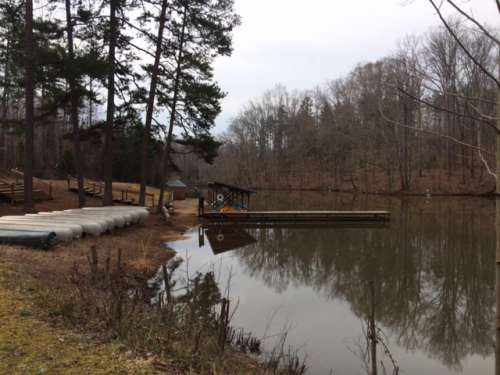 And wildlife.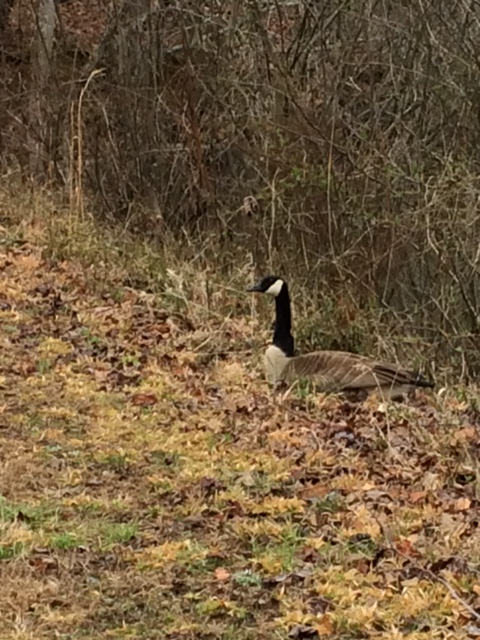 Nesting.
This Canada Goose lived by the lake. She had a fit when we came close. She stood up and charged us as she honked and honked. We wisely fled. (As I'm sure many before us have done. And many after us will.)
And then the activities began. We did as many as we could squeeze in:
archery.
hiking.
climbing tower.
climbing wall.
canoeing.
horseback riding.
We came in second to last in the Canoe Race. But we didn't care. Being IN a canoe (I had not been in one since my own Girl Scout Camp days) and ON the lake was enough WINNING for us.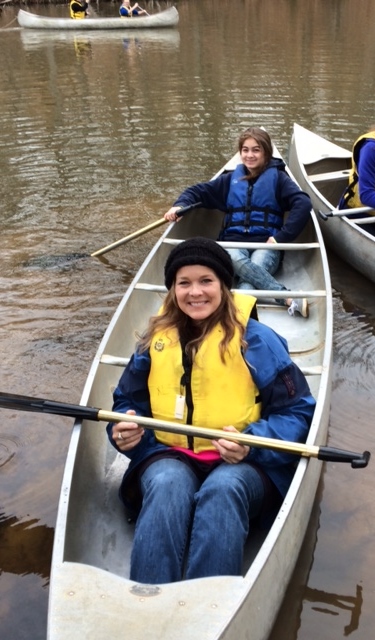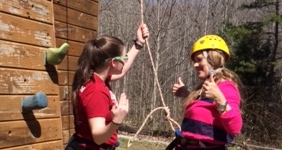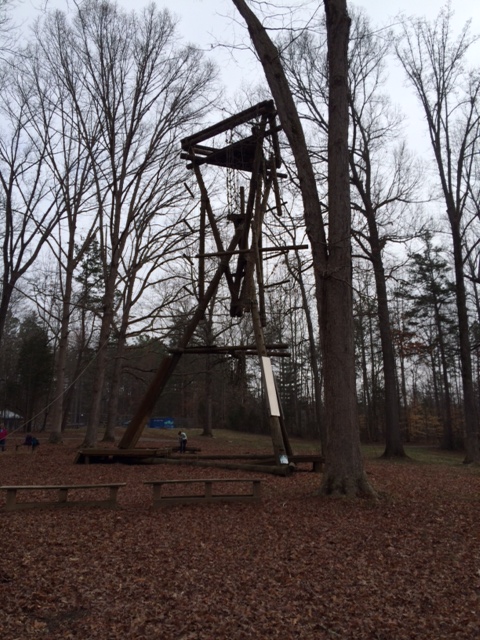 During a hike, we came upon a site filled with backwoods wall tents. They were closed up until later in the season. These look like HUGE fun to me.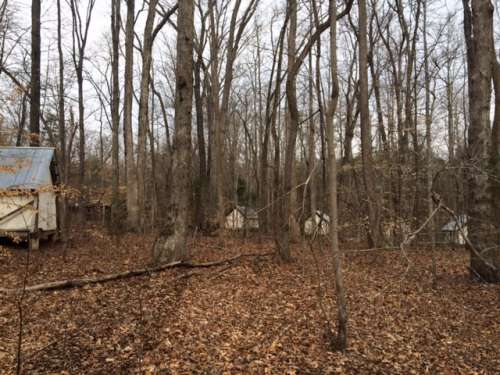 Sometimes, when you are an "older" mother you wonder about what it would have been like to be a "younger" mother. Among the other mothers at any given place, I'm often the only one with grey roots peeking through, the only one beyond 50. Several of my daughter's friends have MOTHERS WHO HAVE MOTHERS my age, even younger. Especially those girls whose mothers had them when they were 17 or 18. So, sometimes we psyche ourselves out, us "older" mothers.
So, on Saturday afternoon, when we made a stop back at the Bunk House to grab a water bottle, I was so surprised. There were many mothers (without grey roots) laying on their bunks, either taking naps or reading a book….
Not this one. We tip-toed in and THIS Mama headed back out for more fun.
When evening came, there was, of course….
A Camp Fire with Camp Songs.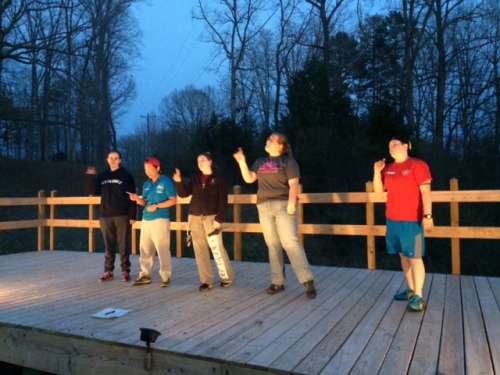 This is a favorite part of Girl Scouts, the evening camp fire.
We sang and watched skits and made s'mores.
The songs were so much fun. Many of them were golden oldies from my own scouting days-flashbacks! Others were new. The camp counselors seemed to enjoy it as much as we did, which added to the fun. They were getting tickled with the words and motions of the silly songs.
After that, we used flashlights and walked through the camp to get to the mess hall before lights out. Arm in arm, we sang Beatles songs on the way. Neither of us knew all the words to any of the songs, but we did our best. When we got to the mess hall, I made a cup of hot (I mean, warm) chamomile tea and we sat outside and talked.
This outing was truly "Mom and I" time. I wasn't interested in joining the tables full of Moms sitting around and visiting with each other. I was interested in being with, goofing around with, having adventures with, only my daughter, Sweet Thing who is about to turn 14. Time is so short.
Lights Out was at 10, so we made sure to be back to the bunkhouse and ready for bed. There was no sleep for this Mom, who is a very light sleeper. Snoring, heavy breathing, other people (31 other people!) twisting and turning on noisy nylon sleeping bags. So that's the kind of thing I considered all night long—wonder why they make sleeping bags so noisy these days? Somebody needs to INVENT a better material. I love my old school, beat up, all cotton sleeping bag. I had to mend a few rips before this Girl Scout excursion, but it is the best. I've had it since I was a kid. Brown on the outside, green stripes on the inside. And a certain smell, of all those camping trips as a kid.
And hey, imagine this: one woman put on her flip flops to get to the bathroom in the middle of the night. Flip Flops! She walked across the long stretch of concrete floors of the bunkhouse at 3 a.m. in flip flops. Flip, flop, flip, flop, flip, flop. I couldn't believe it. I thought about that Mother Teresa quote about how people are stupid, but we should love them anyway. (haha, so that might not be the quote exactly.)
But any way, I just lay there awake ALL night long, thinking about how tired and blessed I am. And how my life is so full of love. I thought of my own days and nights at girl scout camp so long ago. And family camping outings. And I thought about how the camp should say, 'no flip flops' in their informational email. I wondered what would be for breakfast and if there would be coffee available. Hoped so. I wondered if this weekend would help My Daughter want to stay in Girl Scouts. I thought about how I had seen the motto for this camp when I signed up: "Camp Like A Girl." I didn't like that. What EXACTLY does that mean? Do girls camp differently than boys? "Camp Like a Girl Scout" would have been fine. because we would understand, being prepared, etc. Or "Camp Like Yourself" is fine. But "Camp Like A Girl"–why say that? It makes no sense to me. Is camping gender specific? I still didn't know what that meant. But I lay there and considered all our experiences there and decided to quit being offended by it. If you look back at my photo of the camp staff, you'll see some not-so-girly camp counselors. I liked that about this particular camp BIG TIME. Be yourself; it is all good.
I also thought about that Little Girl Scout who said the mothers had bad knees and bad backs. As it turns out, after a day of camp activities, my back did hurt. My knee hurt. My ankle hurt. Even my shoulder hurt. Maybe she was right? Oh goodness, I hoped not. But it seemed so at that moment.
So, NO sleep, but I got a lot of thinking done. And basically wrote this blog post in my head.
Before we left to come home,  my daughter and I decided that we wanted Camp Names. Do you know about Camp Names? I didn't.
The first camp counselor that helped us was named Punk. I thought that was highly unusual, but figured she must have been named after Punky Brewster or something. The next camp staffer who helped us was named Barrette, pronounced like the barrette part of hair barrette. Again, very unusual, but I didn't give it much thought. Then came Challenge, who helped us on the archery course. Hmmm, Challenge? Now that's pretty far out there for a Mom to name her child, but I kinda liked it. Such creative mothers these Girl Scout camp counselors have!
And then came Zen. Zen helped us at the climbing tower. I couldn't help myself, I just LOVED that name. "Wow, your Mom…so cool," I told her. She just stared blankly at me. No reply. As we continued to work on getting our harnesses on for the tower, I kept talking. "I mean, really. What a name. She came up with the absolute best. Do you know how she decided on it?" Blank stare.
I now know that she was trying to figure me out. Was I kidding? Teasing? Joking?
I thought her birth name was Zen and I thought that was the neatest name I'd ever heard in my whole entire life. I admired her mother for giving it to her.
Finally, when she realized that I was serious, that I thought her actual, REAL name was Zen, she told me about Camp Names.
Punk's name was not really Punk.
Barrette's name was not Barrette.
Challenge's name was not Challenge.
And Zen? That was her Camp Name, not her birth name.
I couldn't quit laughing at myself. I should have known! Bahahaha!
So, we wanted Camp Names ourselves.
I picked hers; she picked mine.
I christened her "Everest."
She faced her fear of heights and scaled the climbing walls. Just look at her go. She who didn't particularly want to sleep on the upper bunk!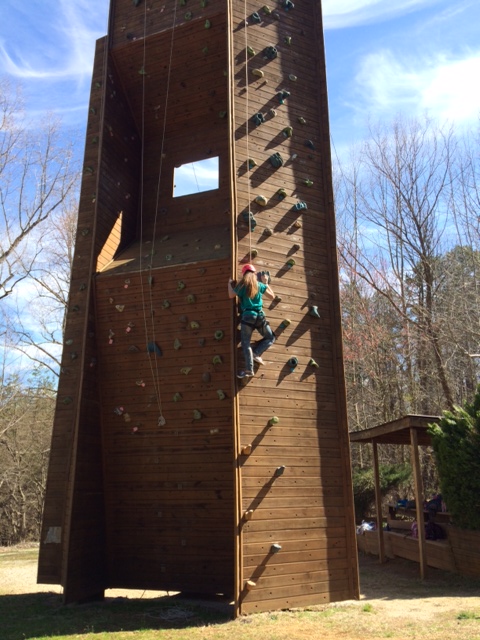 And she crowned me "Quest." Yes, I have always been a seeker.
She and I had a simple naming ceremony in the woods; we made it up as we went along, the best kind.
The weekend we spent at Girl Scout camp together? Wonderfulness.
And guess what? I even earned a patch.
Until next time, Friends, savor the flavor of life!
Lots of love, The City Farmgirl, Rebekah