Do you believe it?
Ralph Waldo Emerson's sentiment that "Life is a journey, not a destination" ?
I was going to wait until I'd fully reached my destination to share some parts of my life with you. I figured who wants to hear about the journey? Ho hum, right? Well, it's going to be a while until I reach my destination. I may never. So, here's my life as is.
Small things are changing with me. Things like what I keep in my front right pocket at all times. I used to keep nothing there. I mean, why would I put something in my front pocket that could actually create a visible pooch? But now. I have something in there that is the first thing in, the last thing out every single day.
What is it?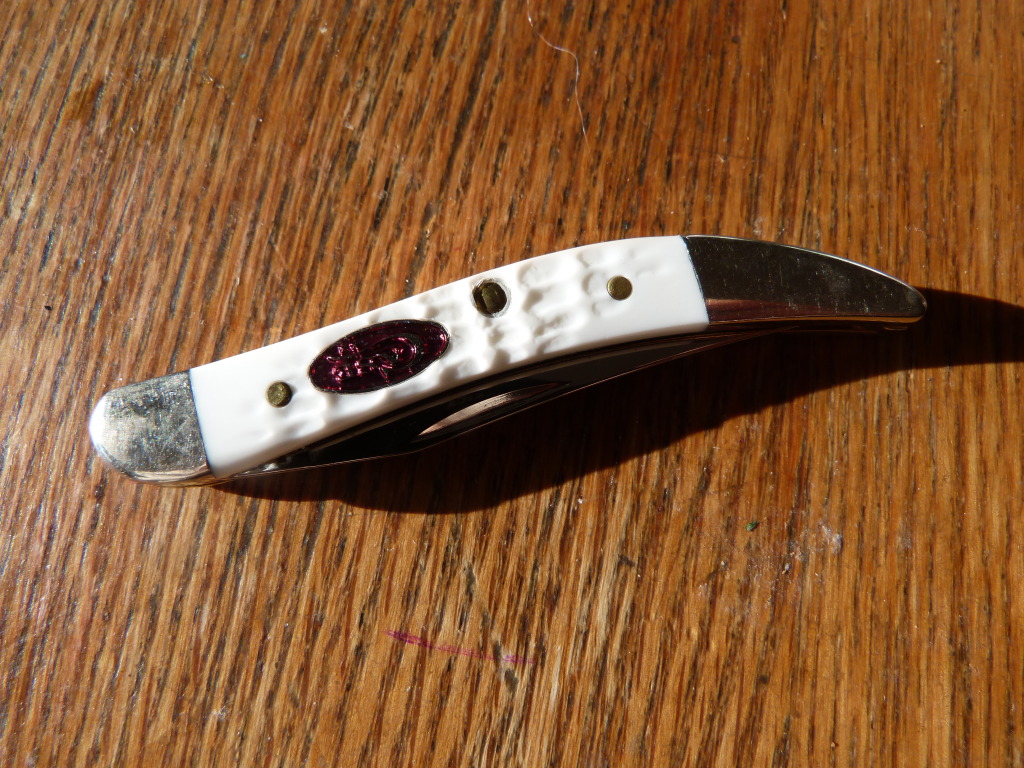 I use this knife many many times every day. When I first moved here, and needed my pocket knife constantly, I learned to put it in my pocket in the morning. I'd put it in any pocket at all….front jeans, back jeans, shirt, jacket, just anywhere. I've now learned to put it in the same pocket every single day. That way I don't fumble for it when I need it. Yep, that's what is in my right front jean pocket, adding a pooch.
I close my eyes and I can see my father using his pocket knife to whittle a wood stick, cut an apple, slice the tape on a gift on Christmas morning. He's always got it handy. The other day I went out to that back small shed behind our farmhouse and saw a piece of wood, carved on the ends, stuck in the hinge to hold the door shut. My Daddy was here a few weeks ago. That's his handiwork. Him and his pocket knife.
I laughed when the truth of the transformation hit me. I emptied out my bluejean pockets one recent night. There was the knife, a guitar pick and crumpled-up hay that had found its way in there. Who is this person?
Part of this journey and transformation is pain. Physical strain. The reality of life in the country is being outside more, moving more, using muscles I didn't even know I had, straining parts of me. Yes, here's the reality.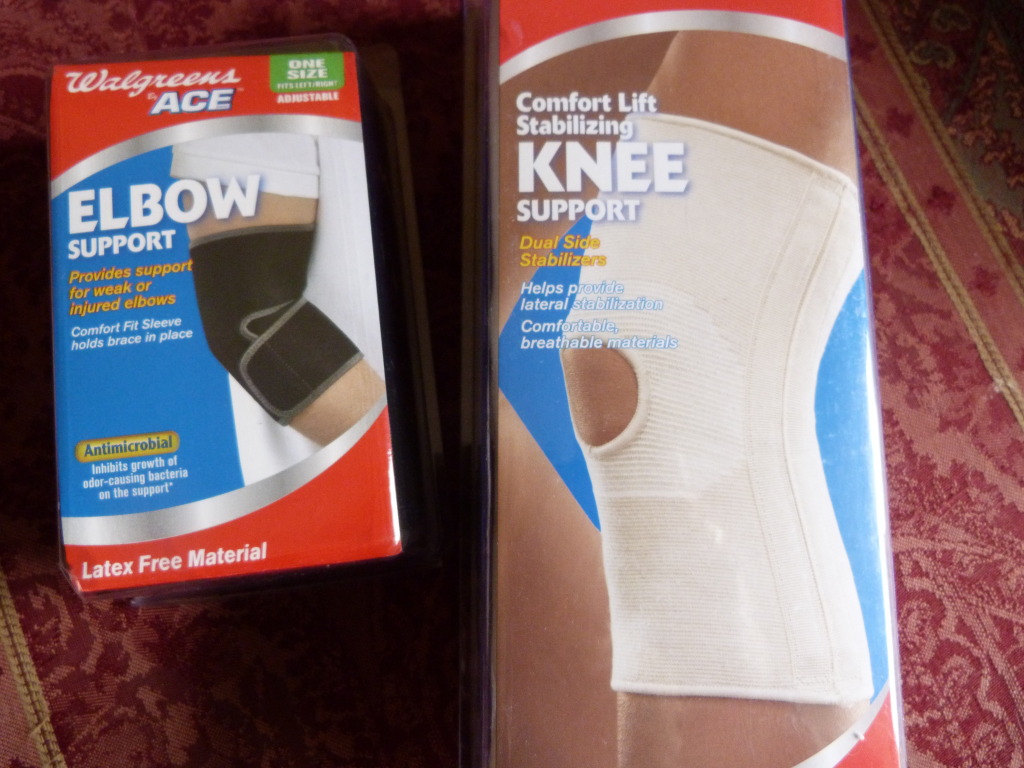 I hope as I get stronger and in better shape, the pain will lessen. In the meantime, I'll take it. It is all worth it.
My farmhouse is also undergoing a transformation. I was planning to wait until we are finished with renovations to show you the house. But since it's all about the journey and not the destination, how about I show you the BEFORE and DURING photos. I'm not sure when there will be AFTER ones.
Remember the upstairs middle bedroom?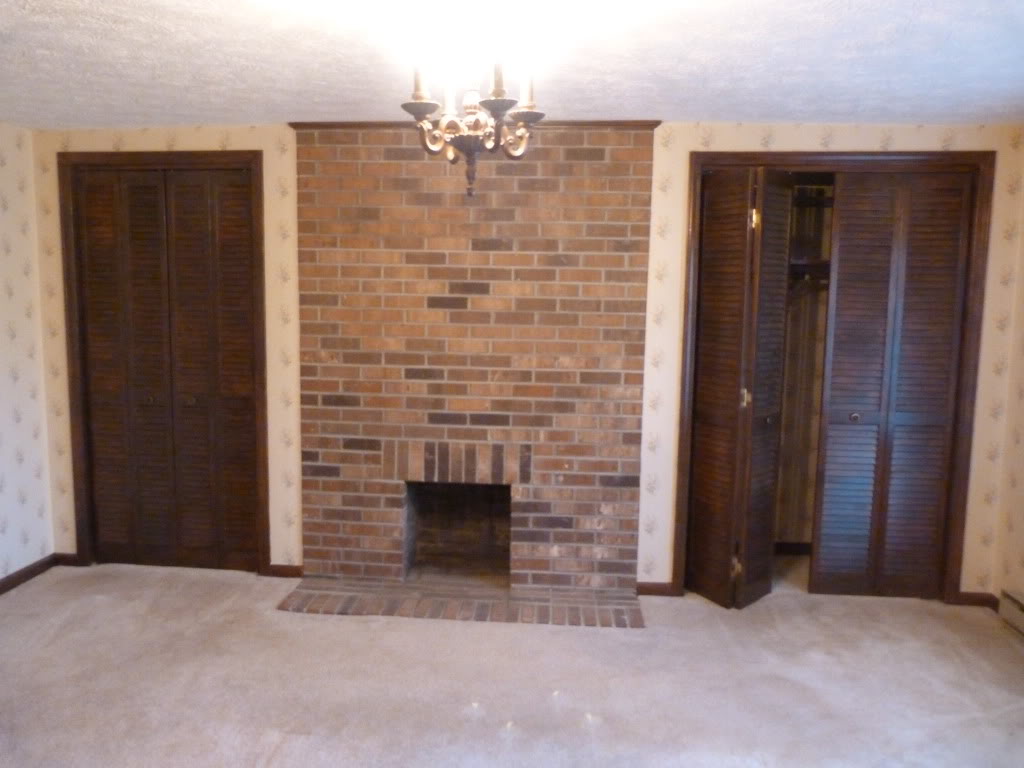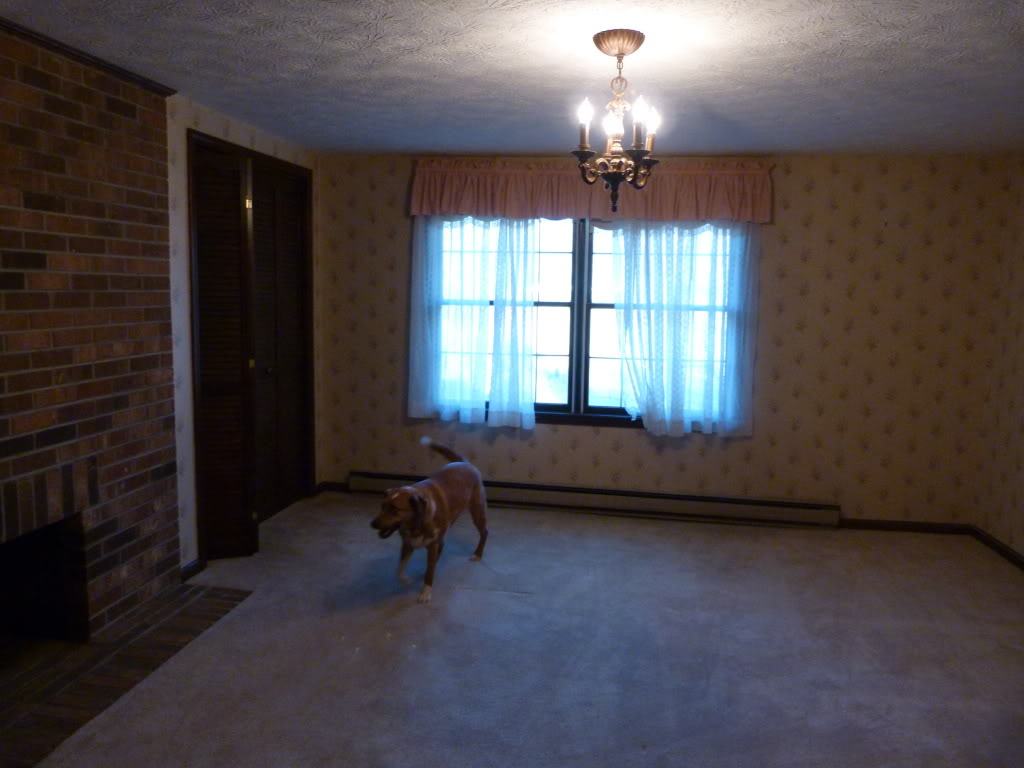 (Blue the Dog checking it out)
We are working to transform it into the master bath. 'Taint easy.
We ripped up the carpet and are putting in hardwood floors.
We opened up the closet to the right side of the fireplace and made it a walk-thru to an adjoining bedroom. We popped up the ceiling and added an octagon trey.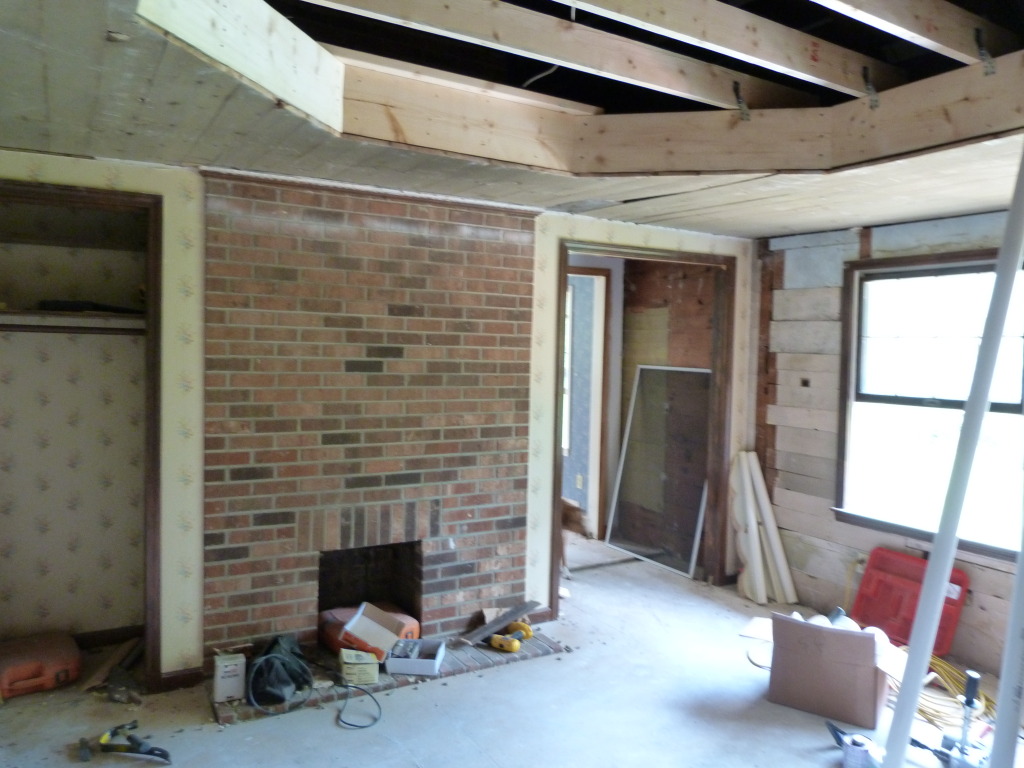 The free-standing tub will go under the window.
And that will be the toilet room to the right.
We created a shower in the other corner.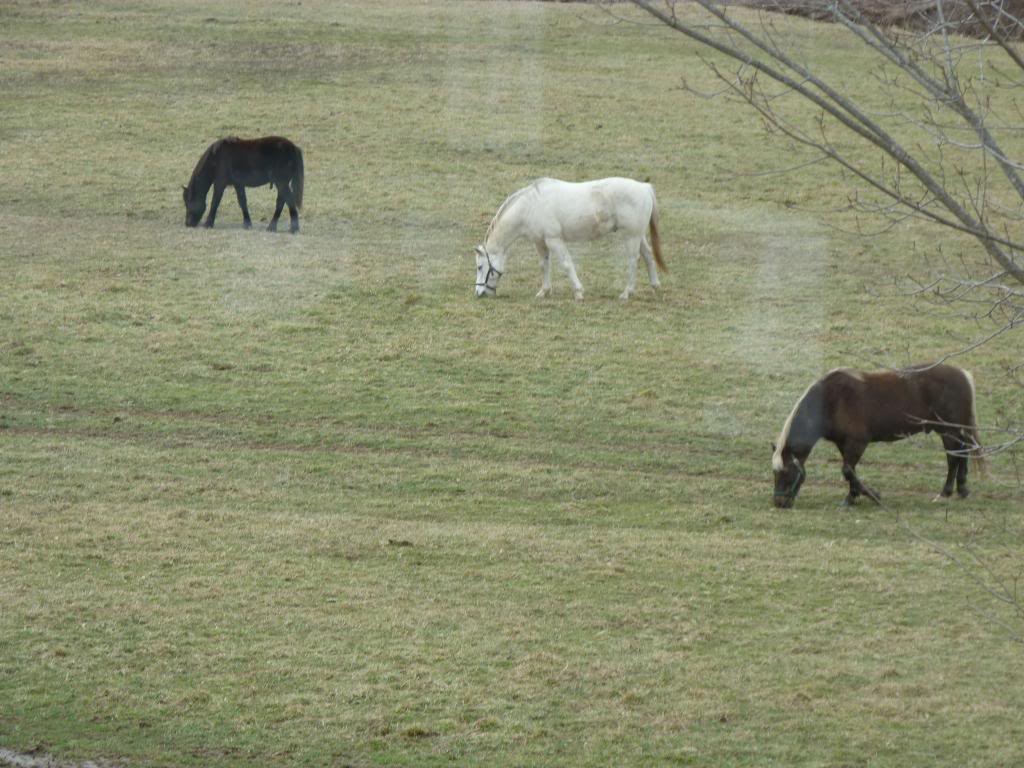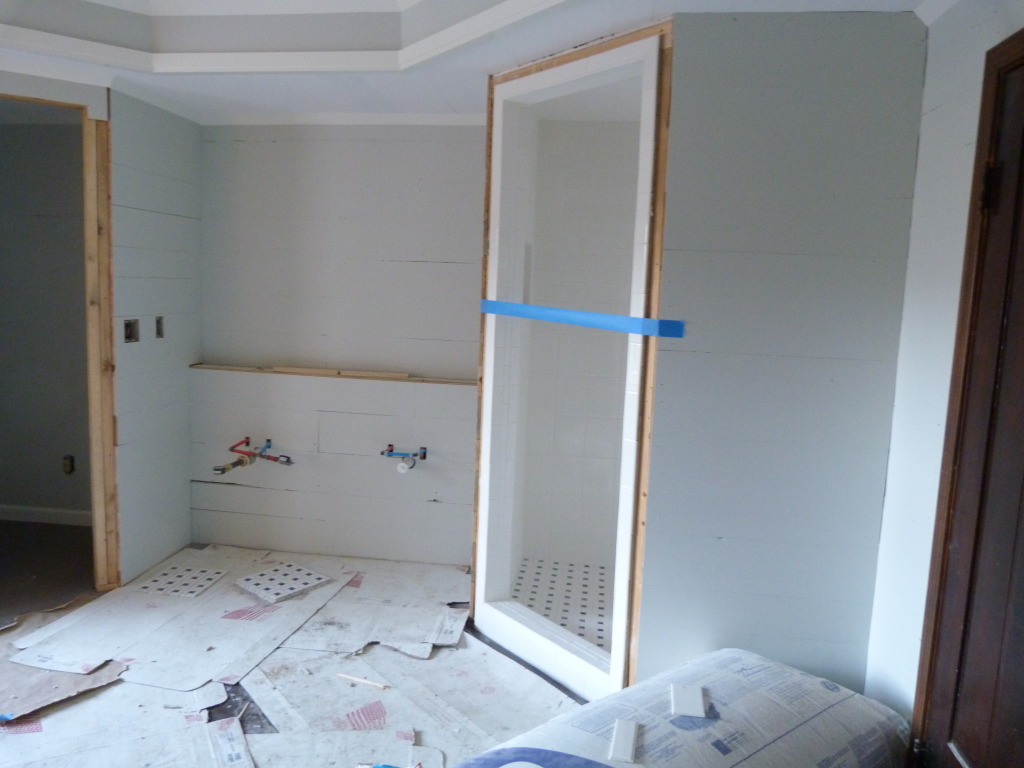 The sink will go here. I'm using an old buffet we bought at a flea market when we first got married. I think we paid $25 for it. And can you see all that beautiful original board on the walls? We found that under the wallpaper and sheetrock. That was truly one of the most exciting days of this project, the day we found those boards. 

I picked out Benjamin Moore's color, Gray Owl. Very calming, very delightful. And I really want to white wash that brick fireplace, but haven't gotten the courage to do it yet. It's so permanent. I'm thinking the browns and tans just look like yuck against the whites and grays though. Courage, courage, give me some courage! Should I?
And remember the other bedroom? The blue wallpaper bedroom? It is one of the adjoining bedrooms.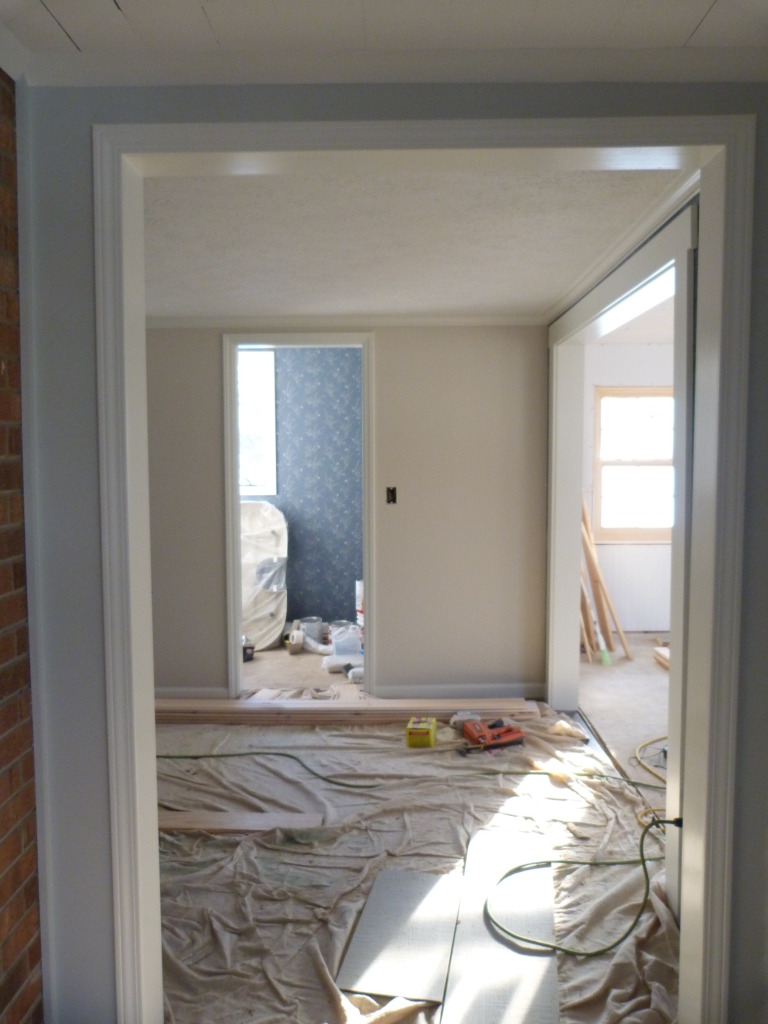 We are transforming that one into a master closet/sitting area. Shooo-weee. This is the journey.
More transformations.
Yes, I am as tired as I look. (Wasn't a good sleeper before, but now I'm sleeping on the floor. I'm a no sleeper now.)
And yes indeedy that was George Jones you heard playing too loudly in my car.
And yes, that is indeed hay in my hair. My hair is like a hay magnet. I went to a board of education meeting and looked down and saw a small piece of straw in my hair. It reminded me of when I crossed my leg at church or a meeting and saw a dried cheerio stuck to my hose. I thought, "Yep! I'm a mom."
And you got that right, I am horse crazy. That's so NOT me. Or, wasn't me. And yet, here I am, daydreaming about riding off into the front meadow on my horse, my husband beside me on his, and my daughter bringing up the read on hers. The mountain stream rushes beside us. And maybe there's snow on the ground. Yes, snow! The sky is so blue it matches my daughter's eyes, and the meadow is a rich green matching my husband's eyes….ayah!….snap out of it!
Several months ago, I shared wtih you my doubts about whether I was tough enough. The answer is yes, I am. I guess we all have it deep within us to accomplish our dreams. Just gotta find the well.
How do I know? I just do. I walk in the dark morning to the dark barn and put my hands on things I cannot see. I would not have walked in that barn alone in the daylight three months ago.
I was in the barn the other day and looked over and looking right back at me was the biggest spider I've EVER seen. I'm telling you, he was the size of a small mouse. Three months ago I would have been screaming and carrying on and would have run to the house to get my husband. Instead, I stood there and thought, "hmmm, can I co-exist with you in my barn?" The answer became clear. "No, I cannot." I don't take that answer lightly because I try not to take life ever. But, since that was the answer, I leaned down and picked up an old board laying beside me and slam. Crunch. (you wouldn't have believed the crunch.) Do you know that I haven't even mentioned that to my husband. Transformation.
Introducing me.
I am on a journey. I learn something new every day. Every morning, I can't wait to get up off the floor (one day it will be a bed again) and live the day. No, I'm not ready to reach my destination, I am ENJOYING THE RIDE too much.
Talk to me.
Until next time, Friends, savor the flavor of life!
Lots of love, The City Farmgirl, Rebekah