I got an email from my husband the other day.
It had five words in it. Just five. And a picture.
"City Farmgirl be real farmgirl. oxo" (five words)
(We use that "be" thing a lot with each other, just so you know. Like, "I be in love with you." Or "I be so happy." Don't ask me why; it's just something we've always done.)
Here's the picture he sent.

What is it?
Well….
It's me! Going down the road on the back of a tobacco wagon being pulled by a tractor. I added that little red circle. Actually, it wasn't me who added it; it was my daughter who did. I couldn't add a little red circle on a photograph if my life depended on it. Aren't we lucky to have our kids to take care of things like that for us? I'm afraid I've been left behind in this age of technology. Oh well. I, frankly, don't mind in the least.
Anyway, I realized that what he said about me was true. I knew it was so the Friday before last.
You see, I had signed up for a Friday morning Yoga class at a community center. A few days before it was supposed to start, I learned that one of my neighbors would be working in his tobacco field. They were cutting and spearing the tobacco. Instead of yoga pants, I donned old blue jeans and work boots and gloves and my bandana and headed out to the tobacco field. I couldn't miss that!
And what fun I had. (five words)
There were several different jobs out in the tobacco field, and I requested the easiest. One person cut the tobacco down, two rows at a time, while another person behind him took a medal bar and pushed them down, still forming two rows. That was team one.
I was part of team two. My job was to hand the stalks to another worker who speared six tobacco stalks onto a skinny, but sturdy post about 4 feet tall. Once a post had six stalks on it, we'd do another one. Then, she'd cross the two posts to hold each other up to form a teepee. I had the easy job. Her job was tricky; she used a sharp spear and would put it on the end of each post as she whacked the tobacco stalk down. All I had to do was bend over and pick up the tobacco stalks.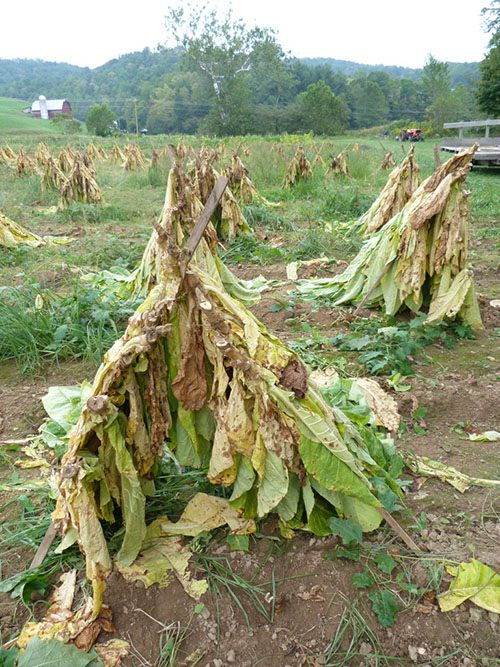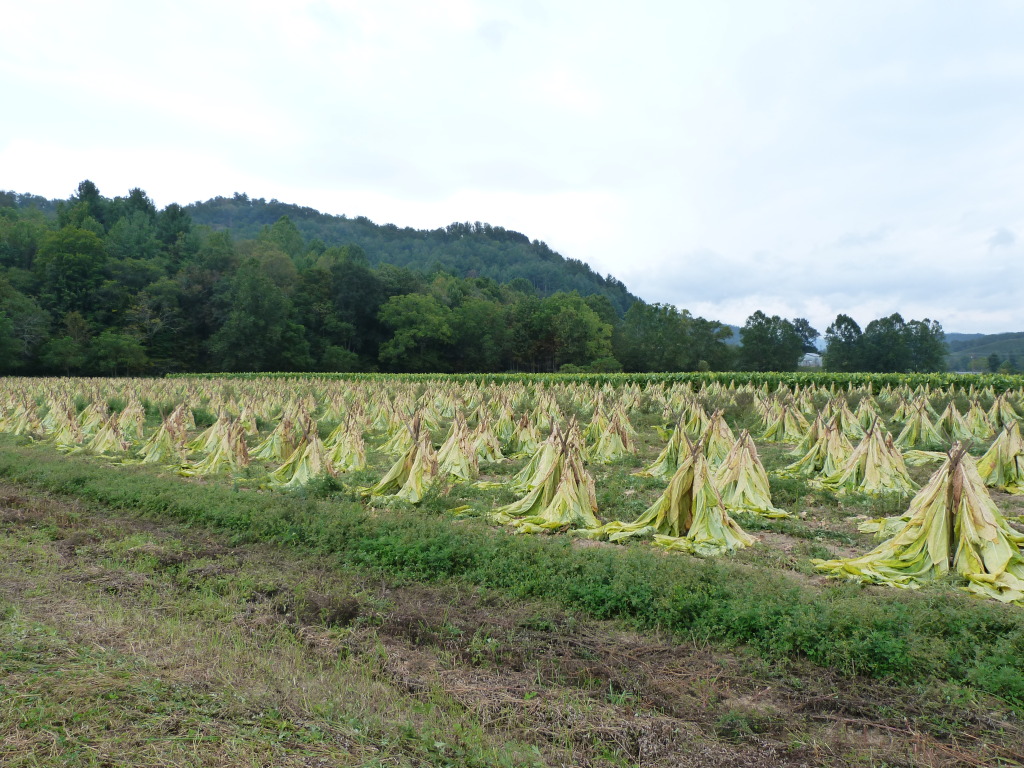 I don't know when I've had so much fun. (Of course, I wasn't out there all day. I was there for only a few hours. And this wasn't my field of tobacco, so I had no stress whatsoever about getting it cut. And further, I didn't think at all about how this particular crop would be used. I was just there to help in any way I could. But I was reminded how tough you have to be to be a farmer. Can you say Epsom Salts bath?)
I worked with a woman who kept me entertained the whole time. She said that her father's tobacco field got her through college. She was an expert at spearing the tobacco stalk. We visited and talked and laughed the whole time. (In fact, a neighbor across the street came by yesterday and said—"I heard some women laughing and cackling in the tobacco field…was that you?" "Yep!" I said proudly. "You'll have to send some pictures to your friends in Atlanta; they wouldn't believe it!"
Actually, they would.
They know me by now. (five words) That's exactly like something I'd do. Hop over to a tobacco field just for the adventure of it.
So that was Friday a week ago. The tobacco dried in the field for about a week. Then we got a first frost warning. CAN YOU IMAGINE? How COOL is that? Autumn arrived on Saturday and we get a frost warning on Sunday. Anyway, that meant that the tobacco needed to go ahead and get into the tobacco barn to be hung.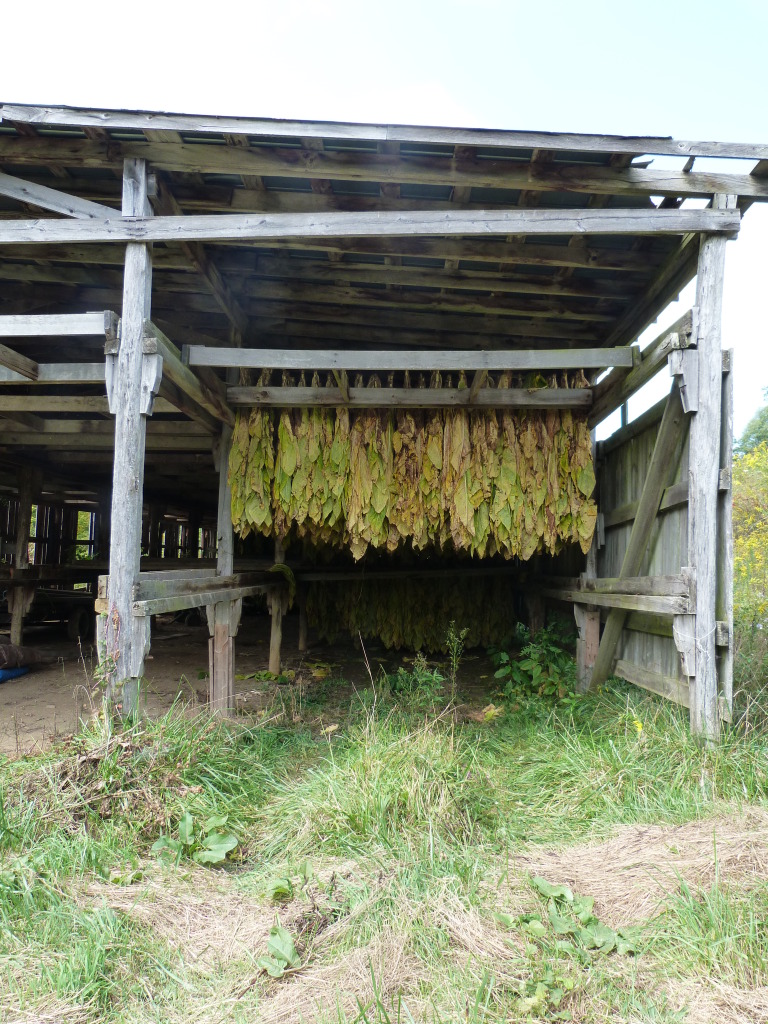 I didn't want to miss out on that. It takes a flatbed wagon, a tractor to pull it, and some workers. Several people take the tee-pees apart, handing the wooden sticks with six stalks of tobacco on each to a person working on top of the wagon. This person's job is to stack them up. Once the wagon is full, you head to the tobacco barn where you hang the sticks up so the tobacco can dry. I was the only woman working on this particular morning. No cackling in the field.
Don't ask me how long it hangs in the barn. I don't know. I do know that when we visited this farm for the first time last October, there was tobacco hanging in all the outbuildings.
So that's tobacco farming. It pays the bills for many a farmer in NC. It was an enlightening experience, for sure. To be a farmer is to be bold. And strong.
So, not to edit my husband's email, but I think what he meant to say is "City Farmgirl be real farmer."
Because I've been a Farmgirl for many years now. Now I'm a Farmgirl with a Farm. But Farmgirls don't have to have a farm; Farmgirls don't have to even want a farm.
You know what I've always "preached and teached"" farmgirls are farmgirls, plain and simple. City or country, indoorsy or outdoorsy, land-rich or land-poor, black, white, pink or purple, skilled or unskilled, blue collar or white collar, republican or democrat, whatever or whatever. Farmer or NOT. Farm or NOT. Gardender or NOT. Knitter or NOT. Baker or NOT. Canner or NOT. We can all be a Farmgirl in our own way.
Yes, Everyone can be a farmgirl. And hey – I've ALWAYS been a real one. And so have you. We are farmgirls. We love family, the earth, simplicity, and each other.
There is one difference with me now, though.
Now. I'm. Having. The. Time. Of. My. Life. (more than five words)
I could not be happier. (five words)
Now, a quick update on everything else.
*That little black horse?  Yes, he WILL; he WILL definitely be fixed when the time comes. Don't worry about that.
*And yes, I resumed my horseback riding lessons. I have a long way to go, but found a GR8 teacher. Here she is with the lesson horses. What a place to learn how to ride, huh? I know! I have a touch of horse fever to have a horse I can ride.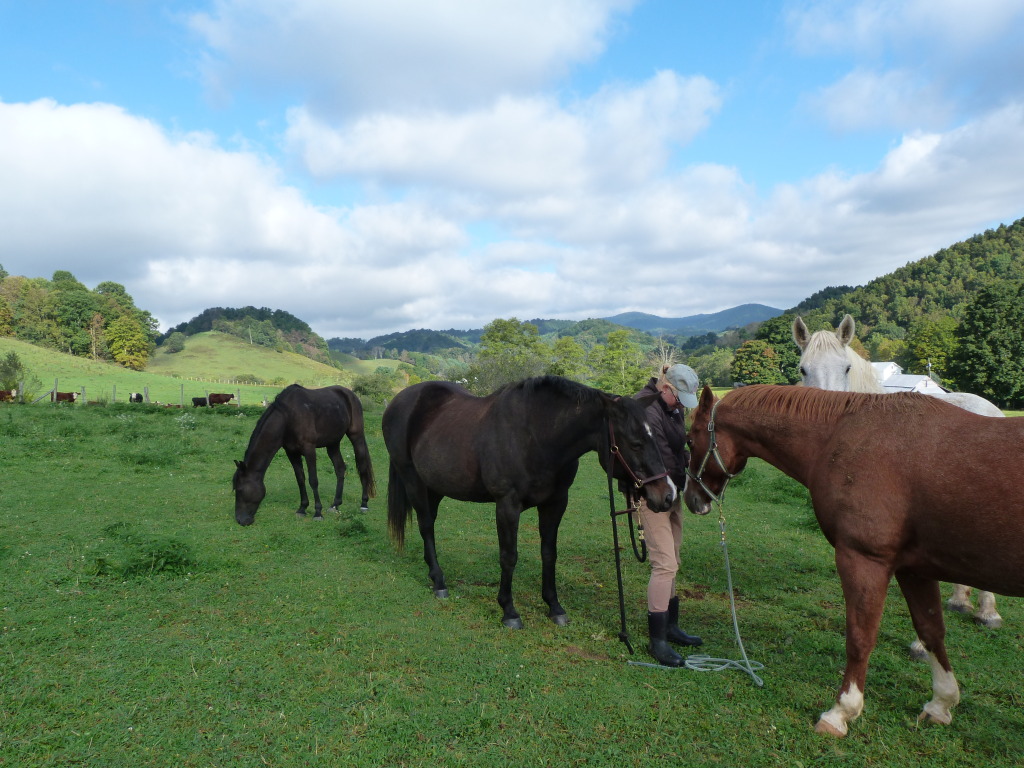 *Those eight unusable fireplaces? Okay, I've got THE fireplace problem-solver coming tomorrow. I'm thinking of him as the chimney whisper. Send thoughts and wishes of a warm fire my way. Please don't make me cry, Mr. Chimney Whisperer. Pa-leese. We had our first frost this morning and I'm ready for a fire. A real one. Smell and ashes and woodsmoke and mess and all…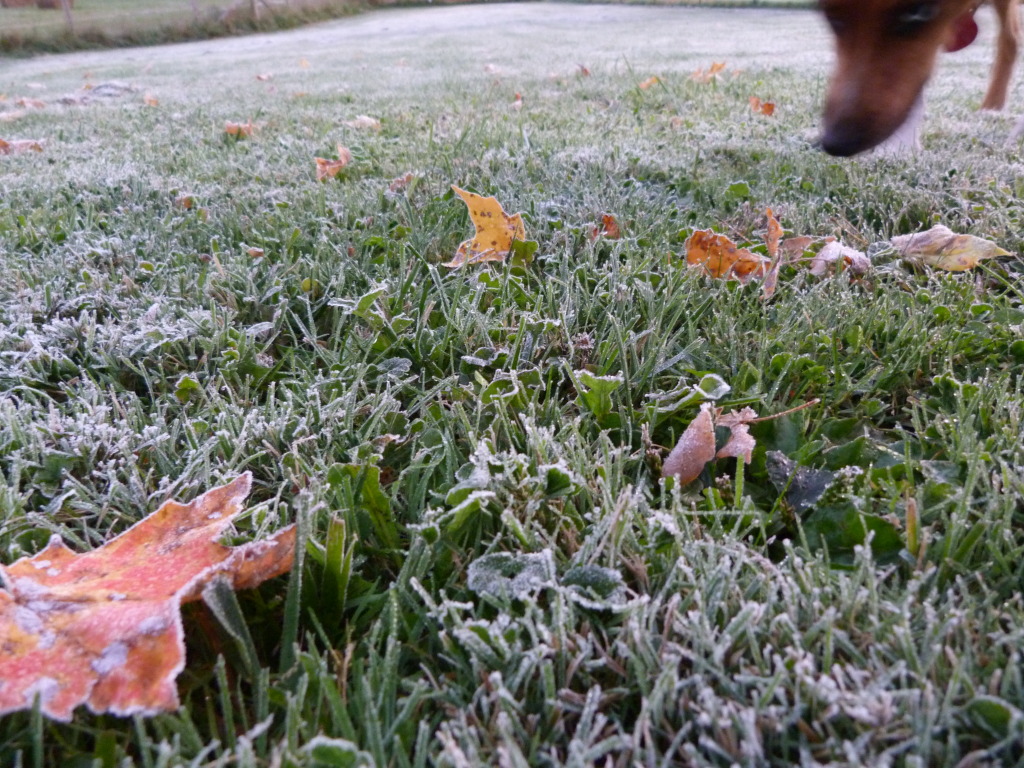 Blue checking out the COLD FROSTY grass.
*And whew. The kitchen floor. MAN, IS THAT SLOW. I didn't want to use chemicals to get up all that pasty backing stuck to the wood. But, I've decided that I have no choice. I have worked and worked and worked and there is still A LOT on the wood. It is time for a trip to a home improvement store.
*The farm remains nameless. We're waiting on it to come to us, that perfect name.
So that's it. That's what's happening in my neck of the woods. What's happening in yours? 
Until next time, Friends, savor the flavor of life!
Lots of love, The City Farmgirl, Rebekah
PS My daughter and I just headed out to dig up some potatoes to cook for dinner. The folks who have the tobacco patch also have a potato patch and offered us some. I took a hand shovel and an empty brown paper bag. I came back with a broken shovel and an empty brown paper bag. We couldn't find any potatoes! Cracks me up. I had the oven preheating and everything. I broke my shovel when I dug up a weed with a long, long root. Thought for sure there'd be a potato at the end. But, nope. Couldn't find a single potato. Bahahaha. My daughter belly laughed. When we got home with the broken shovel and the empty bag, my husband joined her. More bahahaha. Okay, tomorrow I'll pay a visit and try to get some better information on exactly WHERE the potatoes and exactly WHAT they look like above ground. City farmgirl indeed.
PSS Don't know exactly where this path I'm on is going, but I'm taking it! Gitty-up! Thanks for joining me!