I am not ruthless enough to be a good gardener.
If you garden, you know what I mean.
If you don't? Well, listen up because people don't talk about this very often.
Gardening requires ruthlessness. And a lot of it too.
Of course, everybody knows the rewards of gardening are great. I mean, I am loving going out to my garden every afternoon to pick vegetables for dinner.
I come home, put on a t-shirt and head to the garden. In years past I've used a garden basket, but this year it's pretty much been the hat or t-shirt method. The hat is obvious, I take it off and fill it up.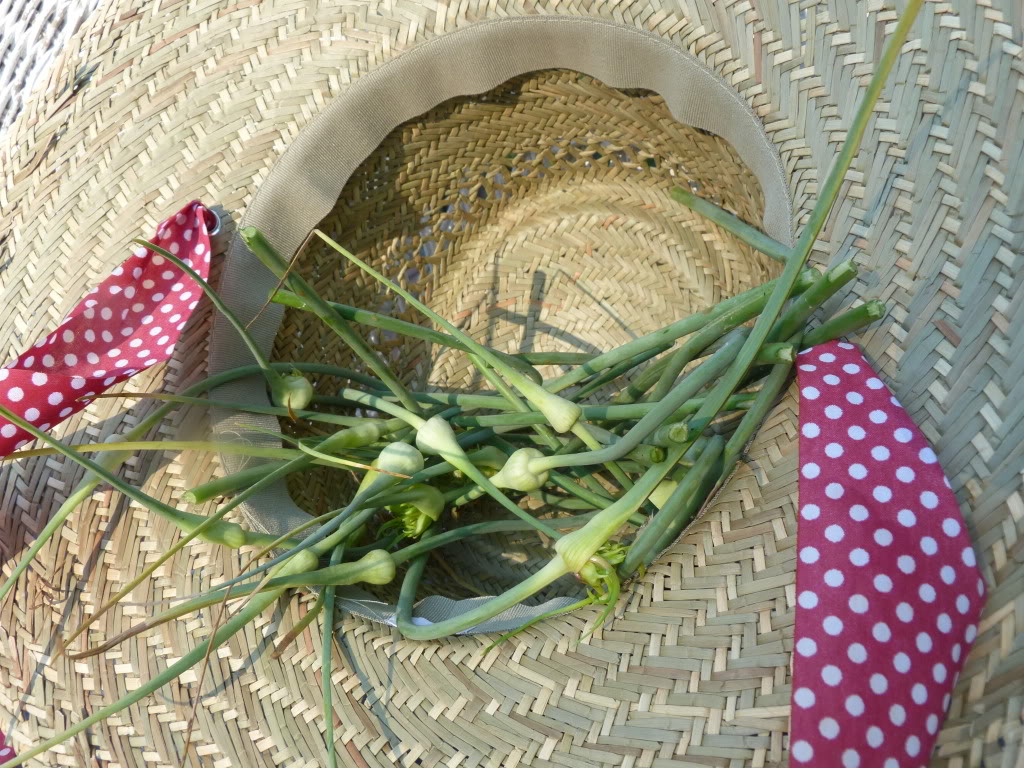 The t-shirt method, on the other hand, is a very technical thing. You see, what you do is put on your favorite t-shirt, preferably a well-worn James Taylor concert t-shirt. Head to the garden and pick a vegetable, let's say a 'mater. Hold out the bottom of your t-shirt away from you with one hand and create a little hammock; then put that 'mater right in there. Keep on picking until your shirt hammock won't hold any more. I always buy large t-shirts so mine are just the right size to hold enough vegetables for us for dinner. In fact I'm thinking about inventing a gardening shirt with a little hook to go around your index finger and a bigger bottom in the front to hold more veggies. And of course, the image of James on it. What do you think?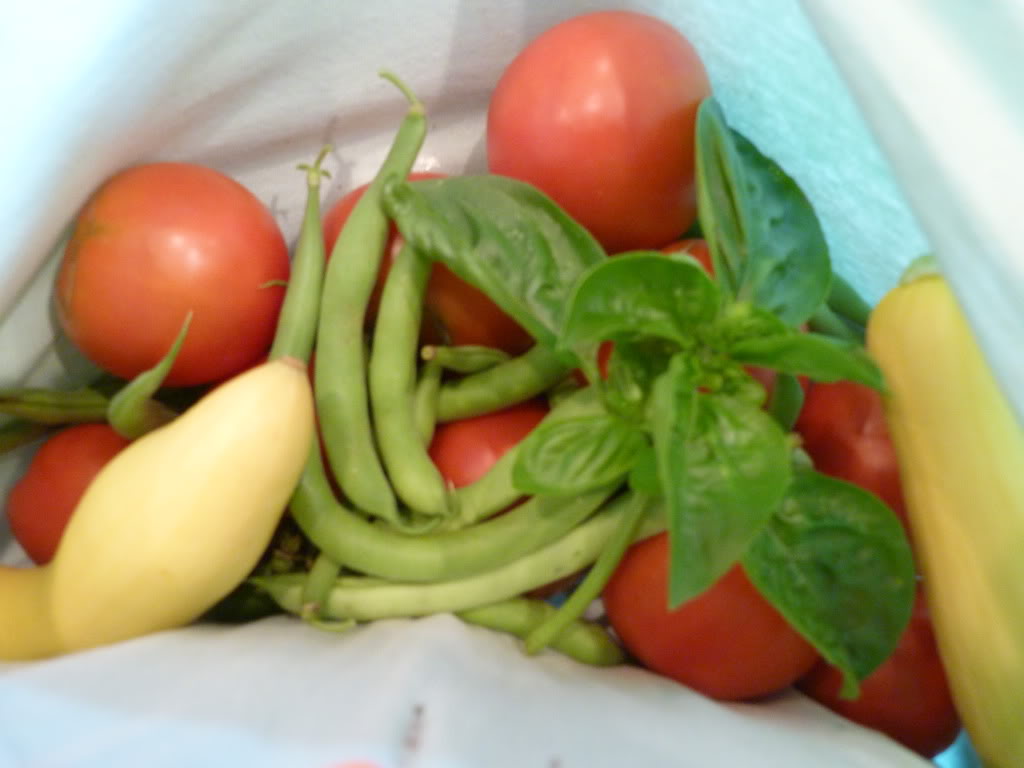 But wait. That's not the ruthlessness. That's not the war. The ruthlessness involves things like…..like……yellow grape tomatoes.
Now, raise your hand if you remember the song, "War! Uh! Yeah! What is good for? Absolutely nothing"
Been a few years for sure, but oh good! There are a few of you out there who know it.
(
Here's the you tube link
, but ignore the comments. I'm so tired of the language on you tube comments. Why don't they clean it up?! Pa-leeze…)
Now, here is my rendition:
"Yellow tomatoes, UH! Yeah! What are they good for? Absolutely nothing."
Truly, I love and adore red tomatoes. Love. Bold Love. BOLD ALL CAPS LOVE.
I am happy when there is a line of them in my kitchen window ready to be savored.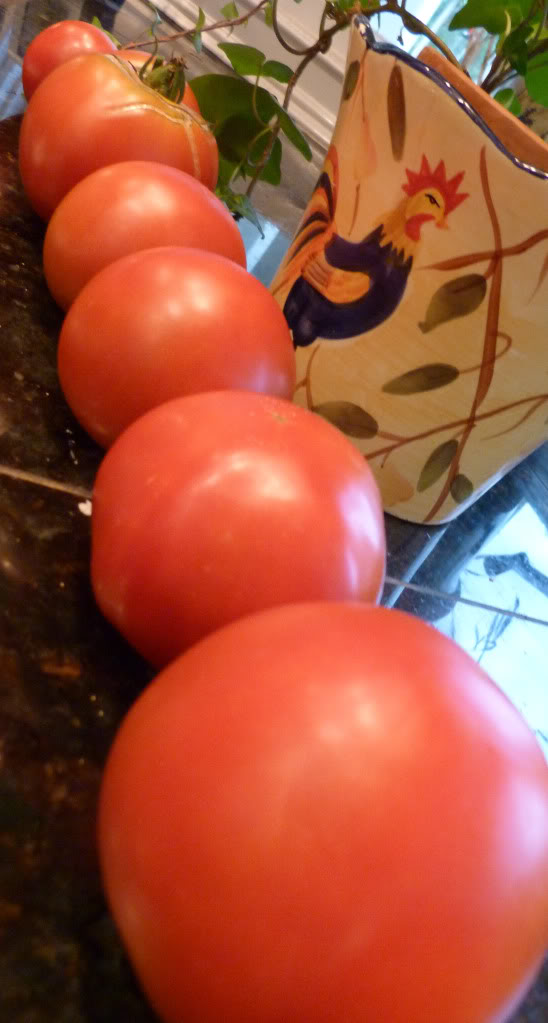 This has been a great year for tomatoes for me. In fact, I think I'll do a tomato week on my blog (www.rebekahteal.com)
, putting up some of the delicious ways I'm enjoying red tomatoes. And there are many! I made a tomato soup that knocked my socks off. It tasted NOTHING like canned tomato soup, which is the only kind I'd ever had before. They really shouldn't even be called the same thing. And oh, the spaghetti sauce I made! So good! I've been having some seriously good RED tomato food.
But. The little yellow tomatoes? What are they good for? Does anyone know? Because I sure don't.
And because I am not ruthless enough to pull up plants in my garden when I need to, I have wound up with about a ba-zillion pounds of little yellow tomatoes. Thinning plants has always been hard for me. I just can't do it. Just ask my squash plants. They are over-crowded and wishing I would evict some residents. They complain about the density of their corner of the garden. (Not much different than what I complain about in my corner of the world.) "There's not enough water and minerals in the soil. We don't have enough room. We can't even breathe. Yank some of us up already! Be ruthless!"
I plant a corner of basil. Well, survival of the fittest, 'cause I don't pull ANY perfectly good plants out of the ground.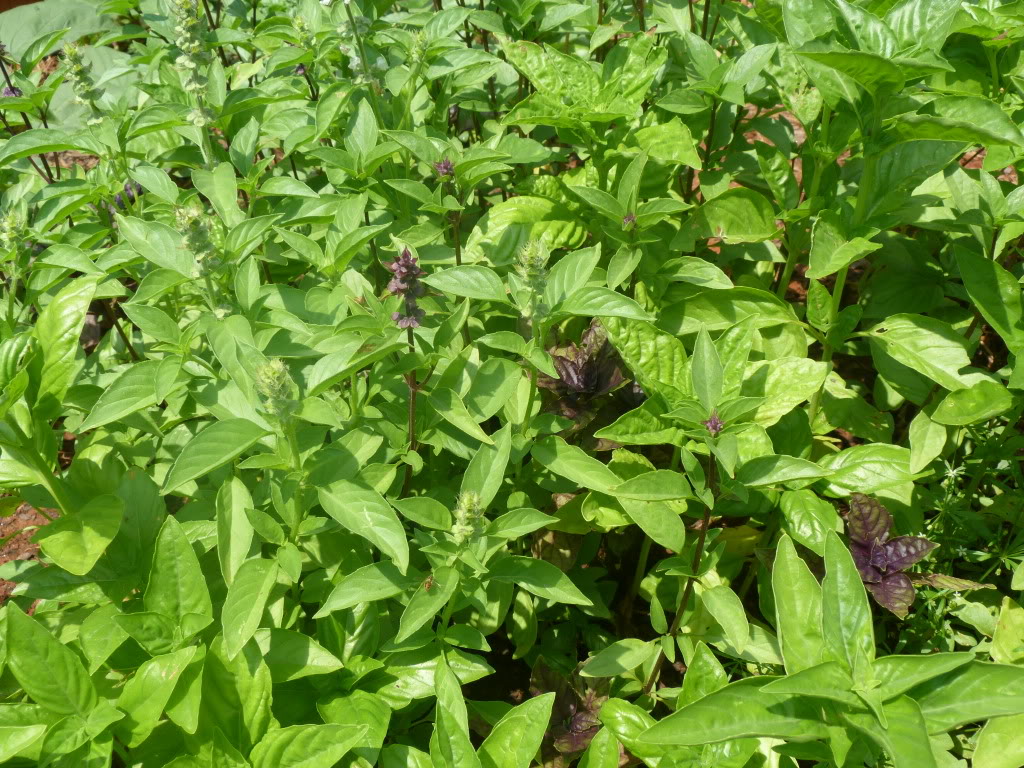 I just don't have the heart. I cannot thin. I know, I know, you don't have to tell me. I already know. But, what can I say?
I think it's the same reason I don't kill bugs. Something soft in me. I don't want to be responsible for the death of another living thing. Don't want to unless it is absolutely required. Like a spider in my shower. Well, it's going to have to die. War. But a spider out in the garage? Not so much; He's okay. Live and let live.
But, yellow tomatoes. What about the yellow tomatoes!?
I planted yellow tomatoes on my porch a few years back. It was when we lived in the woods, back when I had to be a "container gardener" only because I had no sunny earth of my very own to plant upon. So I'm at the farmer's market and an old woman there gives me a small potted plant when I bought some greens from her. She said, "Please, take it." She told me that it was a yellow pear tomato and that I would love it. She said that it had come up as a volunteer and she just had to find it a good home. She was a cute old lady, with her little bonnet and apron. I felt like she was giving me something precious, how could I say no? I hadn't experienced yellow tomatoes before; so, sure, I'll take it. It sounded kinda cool.
But as I mentioned, sunny space was a VERY limited and precious thing on my back porch. (Our yard was full of mature trees and the covenants specifically prohibited taking down mature trees.) I made room; I found a spot for this tiny gifted yellow pear tomato.
It was a profuse grower. Huge in no time. And then they came. Beautifully shaped tomatoes appeared. In fact, one of my all time favorite photographs is of a bundle of those pretty little tomatoes. Yay, I found it. I love this picture, with the little curly caps each tomato wears. And don't you love the shape? Plus, by the way, you can see the challenges of my gardening–you see all those woods in the background, right? Ugh.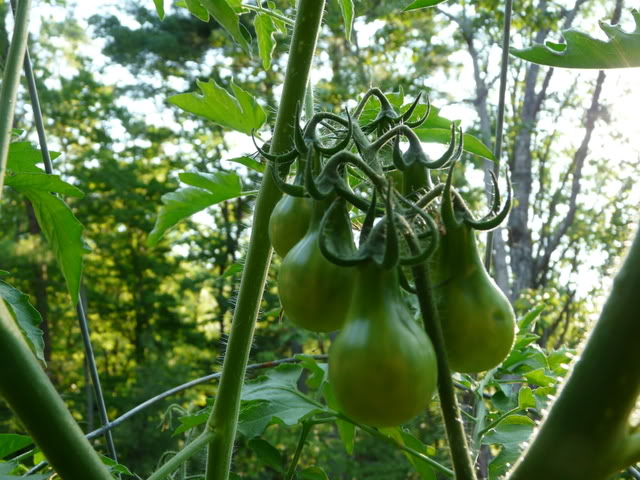 But. That plant 
produced and produced and produced.
I had a glut of yellow tomatoes. And that is when I first started singing the War, UH, What is It Good For? Song about yellow tomatoes. Because. Truly. What ARE they good for? I never could quite identify their useful purpose in life. A few tossed in a salad is excellent, but that was about it. These plants produce 100's, way more than one can eat tossed into a salad. I went crazy with these yellow tomatoes.
Okay, so fast foward to this year. I've got my own patch of earth. And my daughter and I went seed shopping this past spring. She picked out the tomato seeds because of their name: Jelly Beans. I looked at the packet, hmmmm, red and yellow tomatoes. It looked to me like they were all the same stem, from the same plant. Well, okay, that does sound interesting. And the words on the pack say something about kids love them.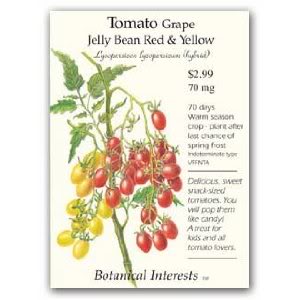 So we planted them in little peat pots in the kitchen window. Then transplanted them in the garden. And bad news. Every single jelly bean tomato plant was yellow. NO RED.
And honey-bunnies, these are p
rofuse producers. Profuse! More even than the little yellow pear tomato plant I got from the lady at the farmer's market that grew in the shade on my deck. So, really! Truly! I should have pulled theseup when I saw we had only the yellow variety. BUT NO.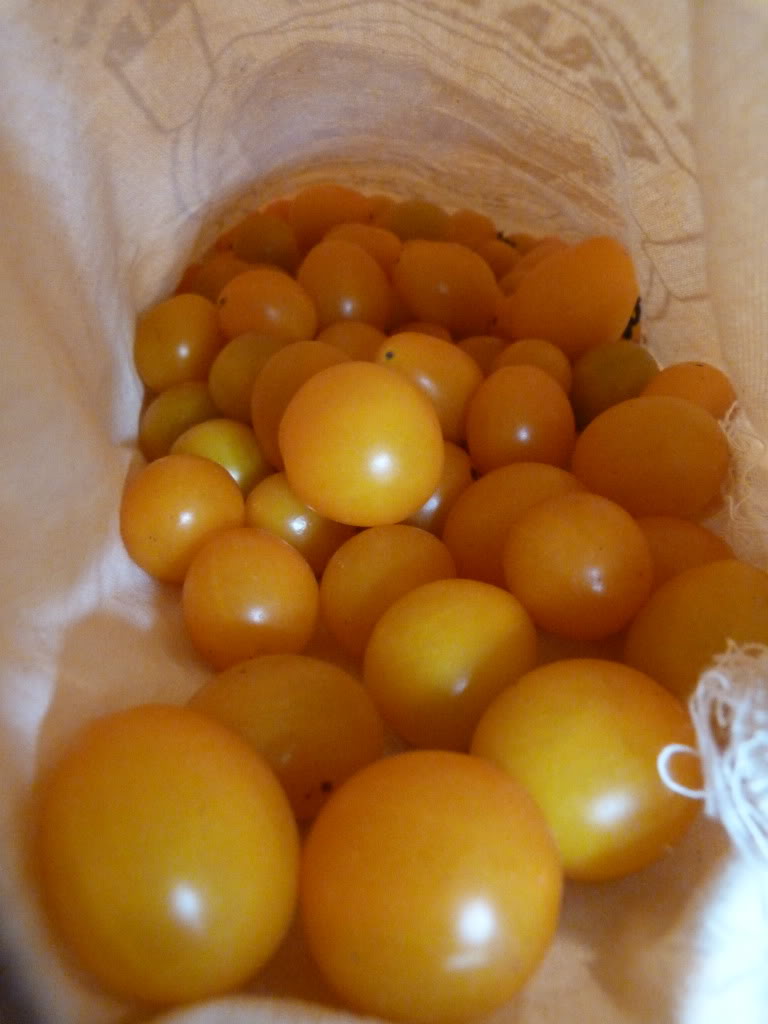 And now I have tons of little yellow tomatoes that I don't know what to do with.
I did a search just now. Nope, no body in the whole-wide-world-wide-web really knows what to do with all little yellow tomatoes you wind up with. Although I did find this. Check out this website for yellow tomatoes.
http://tomatobob.com/Yellow.htm
.
Now, that's alarming. Do you see all those yellow tomato varieties? (Tomato Bob, what in the world do you do with all those yellow tomatoes?!)
Sure, I see recipes for large tomatoes that you peel and chop, but small ones with the peels on?
So I'm making them up. I opened up a can of cannellini Beans and rinsed them well. Cut some of those Little Yellow Tomatoes in half. Added olive oil, chopped green onions, chopped basil and a splash of balsamic vinegar. Oh, and some salt and pepper. Yum. Totally yum.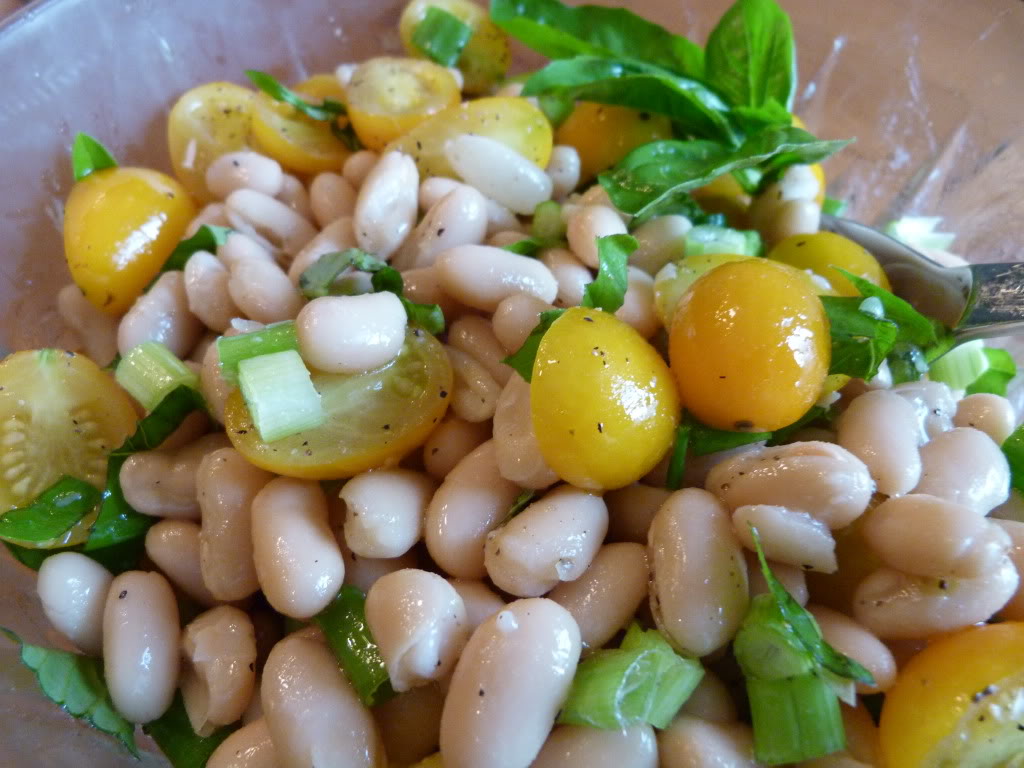 What else can I do with little yellow tomatoes? Any ideas?
And hey, if you see me coming your way, waving you down with a bag in my hands? Well, you better run in the other direction unless you want some little yellow tomatoes.
Until next time, Friends, savor the flavor of life!
Lots of love, Rebekah, The City Farmgirl