Oh yeah, I've got them. Doesn't everybody? Quirky sayings.
"If ifs and buts were candy and nuts we'd all have a Merry Christmas" is one I've been repeating for years. Now to be clear, I didn't make that up. I heard it along the way some where and loved it. I've  said it a million times since.Not everyone gets it to start with, and I've surely gotten some funny looks when I say it. But somewhere deep within those wacky words is truth, a message.
 I like it for its truth, which is: I say "but" and "if" way too often. Just get it (whatever it is at the moment) done and quit moaning about it. I also like that saying because it mentions Christmas, which makes me smile no matter how bad my day has gotten. There's yet another charm to that saying. It harkens to a simpler time, an era when candy and nuts meant something big at Christmas. So what's not to like about that saying?
There's another one I say that gets funny looks: "Are grits groceries?" That's a yes. You say it when the answer to the question is a very, very obvious "yes." Like Q: Do you love your dog? A: Are grits groceries? Or Q: Are you a Farmgirl? A: Are grits groceries?
When I used to work for Ross Perot's company, Electronic Data Systems (EDS) I spent much of the day talking with other employees from all over the country. Now this was on the phone and I have a southern accent, so I took a lot of ribbing. One day I was on the phone with a guy who enjoyed teasing me about being southern. So when he asked me a question where the obvious answer was "yes" I used my saying instead of a plain ole "yes." "Are grits groceries?" I answered. He said, "Um, I don't know. Is this a trick question?"
I thought he was pulling my leg. He wasn't; he claimed he'd never heard of "a grit" before. This was pre-"My Cousin Vinny," so maybe.
"A" grit? I told him it was always referred to in the plural, "grits." And hey, we were working for Texan Ross Perot so he surely needed to beef up on all things southern. The next week while we were on the phone he asked me how to make shortnin' bread. Now, it's true, I'm from the south but I have no idea what shortnin' bread is much less how to make it. I know the song and all, but that's about it. (If anyone cares to enlighten me, I'm listening…)
So I told this guy, no I don't know how to make shortnin' bread, but if he's a real man, he'll learn how to make cornbread. It's just one of those things that guys do in the south, make cornbread. "Real men make cornbread." My mom makes the biscuits, my Daddy makes the cornbread.
And in a minute, guys AND dolls, I'll show you how to make yourself some great southern cornbread.
But first, I have to tell you about this. One of my daughter's friends came over the other day to spend the night. The next morning I served grits for breakfast. The friend looked at me and said, "Where do you get these?? I need to tell my mom!" So I laughed and told her that they are in the grocery stores, that grits are indeed groceries. Then I told her about the whole "Are grits groceries?" saying. She just looked at me, very seriously. Maybe grits are not as main stream as I thought? "Where is your family from?" I asked her. "Texas," she said. Hmmm, maybe I led that fellow wrong so many years ago with Ross Perot and the cornbread…
On to the really, really fantastic southern cornbread. It's "southern" in that there is no sugar added to the recipe; this isn't a sweet bread. I'm lucky to be able to get freshly ground, no-preservatives corn meal. But, if you are using grocery store cornmeal, get the kind that is NOT self-rising and organic is great if you can find it.
THE CITY FARMGIRL'S SOUTHERN CORNBREAD
1 ½ cups white corn meal
½ cup plain flour
1 tsp. baking powder
1 tsp. salt
½ tsp. baking soda
1 egg, beaten
1 ½ cups buttermilk
¼ cup oil
Your favorite well-seasoned cast iron skillet (mine is 8″).
First, Heat the oven to 450 degrees.
Then, Put oil in your favorite well-seasoned cast iron skillet and put it in the oven for 5 minutes.
Mix corn meal, flour, baking powder, salt and baking soda in a bowl.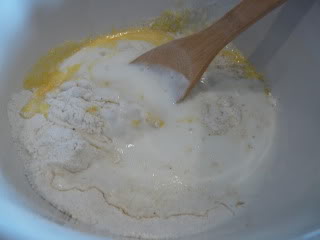 Add the egg and the buttermilk to the mix.
Then pour in the hot oil from the iron skillet.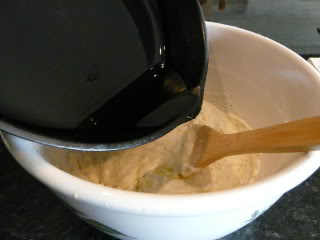 Mix well, but you know, not violently. Go easy for a soft, light bread.
Pour batter into the hot iron skillet and bake 20-25 minutes until lightly golden brown.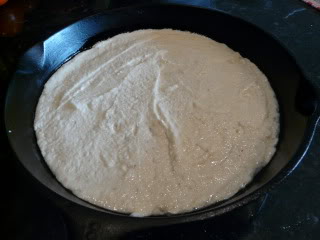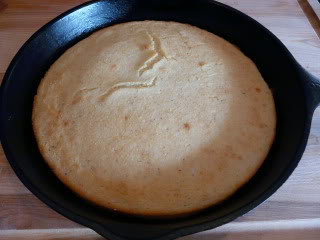 Oh my! Oh me, oh my!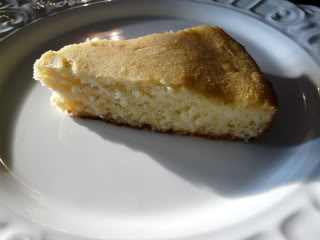 Which brings me to my latest adventure. I'm doing it mainly because, you know, the whole "ifs" and "buts" and "candy and nuts" thing. I learned about an annual Shrimp and Grits Festival that is held every year on an Island off Georgia's southern coast. It's an island with an interesting, groovy history called Jekyll Island. There's a lot going on that weekend and I'm totally psyched to be a part of it. Not only will there be wild Georgia shrimp and freshly ground grits, and famous chefs, and arts and crafts, but there will be three races in 24 hours. Races, as in running, my new…is it a "hobby"? Not sure. Anyway, follow me on my personal blog (www.rebekahteal.com) to track that adventure. I'll be training for the race and experimenting with all kinds of shrimp and coastal recipes. And of course, we'll be celebrating the warm yumminess of grits. I'll be exploring the unique history of the island 'cause I'm a research person by nature. The Shrimp and Grits Festival is in about a month, September 17. WooHoo!
Now won't you share with us your favorite saying or quote with us? It doesn't have to be wacky or quirky, just something you like to say…
Until next time, friends, savor the flavor of life!

Lots of love, The City Farmgirl, Rebekah