Dear sisters,
Happy Fall! Are you ready for chilly mornings, cozy sweaters and pumpkin spice EVERYTHING? I sure am! But, how do I reconcile that summer is truly over when I have a yard full of dahlias still in bloom? I know it's time to go get mums and pumpkins for decorating but, I'm still basking in the beauty of my favorite cut flower. Dahlia days are here again! Come see the " girls " final show! It's been a weird summer weather-wise here in New England. We've had our fair share of very hot days with heavy humidity followed by occasional heavy rains. This is not the kind of weather dahlias like. And I can do without it too! When it's very hot dahlias seem to just stand still. They need lots of water to produce buds for flowering but when it's hot every drop of water they drink goes to keeping them alive and upright, but there's not enough energy left to produce buds for flowering. Once things cool down they start forming buds and bloom like mad until the first frost.
I can squeeze 18 – 20 tubers in a 4 x 12 raised bed. My mom started calling them " the girls " this year because they're flashy and pretty like Vegas Showgirls!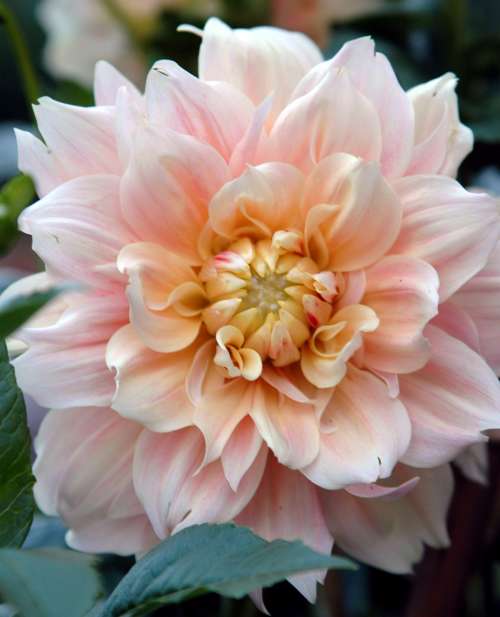 They are the Diva's of all the garden flowers for sure! Dahlias have been growing in popularity for home gardeners over the last several years but this year they're on trend to be one of the more sought after wedding flowers. This makes my heart sing for a few reasons. Generally, dahlias don't ship well from wholesale markets which means as more couples ask for dahlias in their bouquets, centerpieces and floral installations, florists will be urged to seek them out locally and that means more business for local flower farms and a bigger spotlight for my beloved Dahlia. A win-win for everyone! This is already happening on a national level thanks to florists and businesses who are committed to sourcing seasonal flowers whenever possible. This shift in mindset is fueling the momentum of the Slow Flowers Movement and will continue to grow for years to come as more backyards, front yards, fields and greenhouses are filled with cut flowers again.
If you want to brush up on your dahlia growing skills while rubbing elbows with fellow dahlia enthusiasts you can join The American Dahlia Society. Each state has its own society. And if you can't find one for yours, you can start one!
This is one of my favorite images from my first year growing dahlias. I was ( and still am ) amazed that I could walk out my backdoor into on September, 27th and cut flowers as pretty as this! I only wish I would have saved the tubers for that luscious apricot beauty. I've yet to replace that one. Next year for sure!
There are plenty of other equally amazing varieties to collect. American Dawn ( love the name) is a medium-sized bloom on tall sturdy stems perfect for displaying as a stand along in a pretty bud base or in a bouquet. I'm excited to share that she's featured in a large wedding bouquet ( with other dahlias and flowers from the Dandelion House Garden) my first Wedding/Fashion Editorial Photo Shoot.
Emory Paul is a dinner plate dahlia and measures at over 10 inches in diameter. Just try to count all the different shades of pink in this beauty!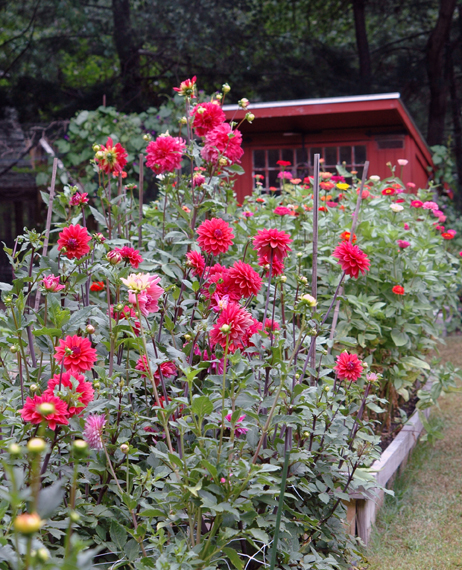 American Dawn ( front ) and Emory Paul dancing up a storm in the garden together with zinnias for backup dancers!
I love the deeper reds and burgundy shades. They add drama and richness to the garden and arrangements. Couples love them for fall and winter weddings. I was able to use some of my heirloom mums with burgundy dahlias last year for a fall wedding.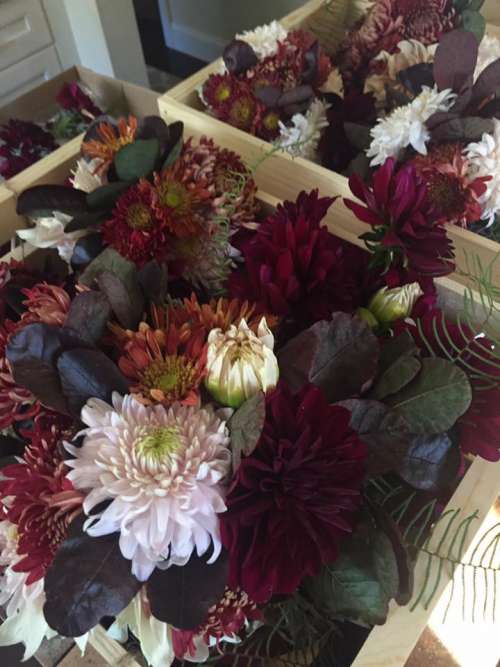 Who doesn't love pink and orange together?
There's a popular trend in the wedding industry right now for large floral installations on walls, stairs, hanging from chandeliers or clambering up and over wedding arches. I love this trend but I haven't had a client ask for anything this elaborate yet. However, I had a surplus of extra blooms after a heavy deadhead a couple of weeks back so I decided to try out the floral wall idea on my chicken run fence. The morning-glory vines were already there which provided a source of greenery even if some of the leaves were chewed and had holes in them.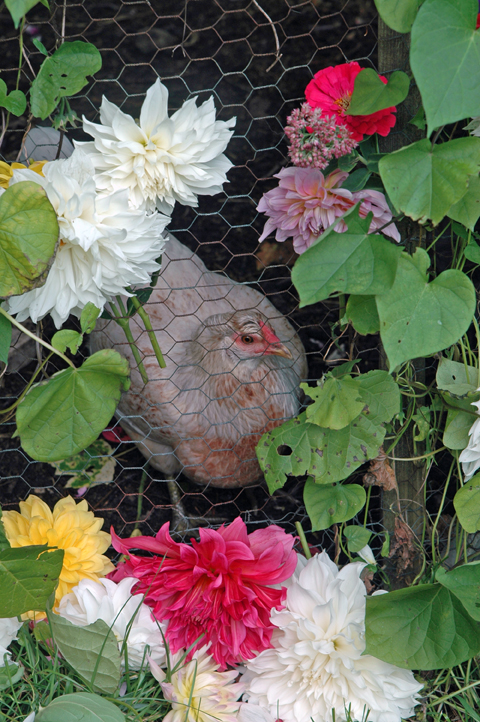 The chickens were very upset with me! As I pushed each flower through the fence they pushed the stems back through at me as if to say, " Hey lady! What do you think you're doing?"  They had me in hysterics with laughter!!!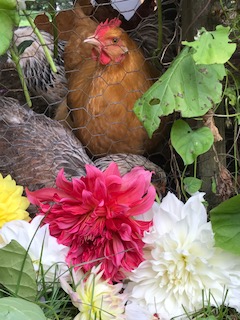 Anyway, It was fun to try something different with my dahlias. In a professional floral installation they would need to be placed into individual floral tubes to keep them hydrated throughout an event. But if you ever get the inclination to gussie up your chicken run with flowers from your garden just for fun, simply cut the stems and pluck them in!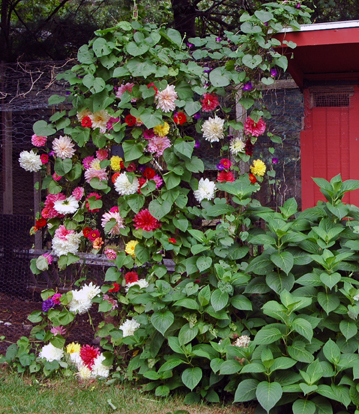 I can't promise your " girls " will be happy, but it will make YOU smile

Isn't that reason enough to grow a garden?
As the last of the dahlias make their final appearance on the summer stage and the leaves begin to turn I'm already thinking about how I'll replace that feeling of aw and wonder during the cold, dark months of winter. Perhaps like all true love affairs, distance will make my heart grow fonder.
Until our next shoreline visit~ Do something that makes your heart smile everyday and then share it with those you love!
Beach Blessings and Much Love,
Deb #1199