[Previous Rural Farmgirl, June 2010 – January 2012]
…and out like a lamb. In our case, it's for real! Come and check out the new babies at the corrals; you'll just fall in love.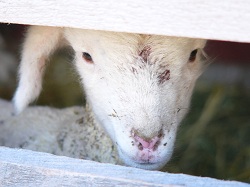 March is a wonderful month here at the farm. Sometimes we lamb in February (too cold!) and sometimes in April (too many flies!), but March is always the best for the little ones. So, this year, we had around 30 ewes that were going to lamb, and as of today, there are only 3 we are waiting for. Since sometimes it seems that sheep don't lamb until it's really cold and the middle of the night, we may need to wait a bit longer!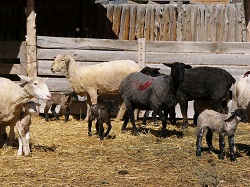 So, you might be wondering what that red spot is on the grey sheep in the above photo. Well, it's a sheep "brand." During lambing we brand the sheep with "sheep paint" with both our brand "JD" (we just use JD because the Hansens had an extra brand, not because it means anything. Funny, I know…) and a number. That way, when there is a big group of babies and mamas, we can match them up if they can't find each other.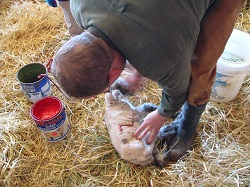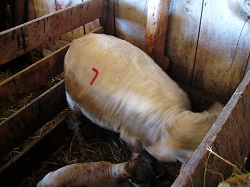 Here are a few of the mamas-to-be. They all looked so uncomfortable at first! Now, most of them have the joy and relief of having had their babes, but those few who are holding out are sure BIG!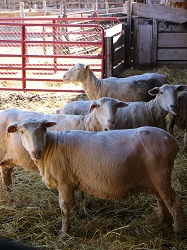 Now, these next two babes are two whose mother didn't have enough milk to support both of them. I was doing a supplemental bottle or two for them both, just so they would be sure to have warm, full tummies before bedtime and in the morning. Still, despite our best efforts, we lost the little white one a few days ago. The little black-faced babe is doing well, however, and I've learned over the years that you just have to do your best, celebrate the successes and let the difficult things go. There is a complete cycle of life here on the farm, and I know it in an intimate way – a way that I wouldn't have known if I didnt' live here. Both joyous and heart-wrenching, life plays itself out and we do our best to be good stewards to the animals that we have.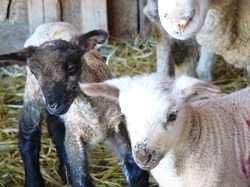 And, last, but definitely not least, I would like to introduce you to the "Dads" of the bunch. This old guy is my favorite. His name is Claudio, in honor of a neighbor. those horns are so impressive! He's a very large, dominant male. You have to admit, he IS quite handsome in sort of a wooly kind of way, but don't ever turn your back on him!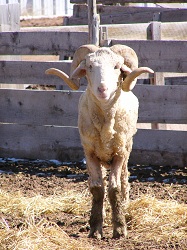 Our other buck is a black-faced Suffolk ram. Now, he doesn't have the cool horns that Claudio has, nor does he have a name at the moment, but all of the lambies whose mothers aren't black, and that have black on them are his. Good job, ram!!!
And the news of the week just wouldn't be complete without telling you all that the weather here has been absolutely crazy! It's been up to 65 degrees during the day, and down to 28 some nights. In like a lion is right, and it's turning out to be out like a lamb after all…
It's time to get outside! Get a breath or two of fresh air and look for the new life sprouting up all over. Robins making nests, red-winged blackbirds back in their home by the canal… It's spring!
The lambs and birds mean spring to me – what signs of the lovely season do YOU look for?