[Previous Rural Farmgirl, June 2010 – January 2012]
…Counting my blessings and implementing the "Attitude of Gratitude." After not being able to wait until October to read the October/November issue of MaryJanesFarm, I am, right away, going to begin acknowledging (in a bigger way) the blessings and sheer miracles that already abound in my life. I would like to share them with you, and hopefully help to inspire farmgirls everywhere, in every situation, to find one — just ONE — thing that you are thankful for (from that last stick of Doublemint gum to our very lives) and just take a moment to say a quiet (or loud, if it's your style!), "thank you," to the Universe for all that we DO have.

After thinking about what I truly love and am thankful for, I went around the farm with a camera in hand, hoping to document to both you and to myself some of the wonders of my world. And with that introduction, here they are:
1. I love that I live in a town where a wonderful package can be addressed like this, and it still ends up right in my Post Office box. I love how small towns are still personal. It's nice to know that the person who puts my mail in its box KNOWS me and knows where I live, and can give personal attention where it's needed. It's wonderful.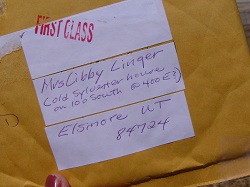 2. I am So thankful for feet like these! I have four of these muddy, darling little (getting bigger!) feet running all over the place around here — inside, outside, upside-down… Heaven. Truly, it's a form of Heaven…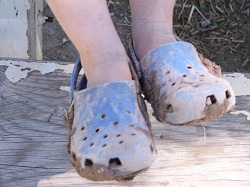 3. How could a mother not just be in awe of letters like these. Some how they just make my heart and soul sing…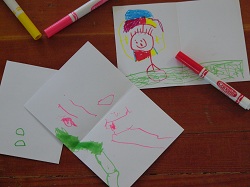 4. And, just look at my boys, ALL of them, and a friend of William's (far right) out in the pasture. I am so happy that my dear spouse takes time to do things like riding, hiking and, in particular, playing a sort of wrestling-type game called "rustle and tussle" with the boys. It's all beautiful to see.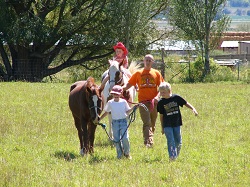 5. And another wonder of our world, I'd like to introduce you to the "carrot cannon". In our case, it's a parsnip (can you see the end of it sticking out of the hose?), but just the same… It's where they stick a root vegetable of some sort down the hose, and, with one boy at the faucet and one at the end of the hose, they turn on the water and "blast" the vegetable out of the hose. It really IS fun to watch – and they LOVE doing it. I think this went on for at least two hours straight the other afternoon.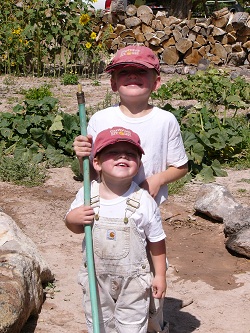 6. And yet again, The Boys… I've noticed that, while intending to focus on all of the things that I am grateful for, what I ended up with was a camera-full of photos of my boys. Maybe it's not an accident. I love them so very much.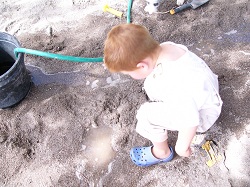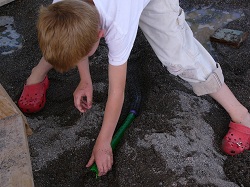 So, tell me, what wonders inhabit YOUR world?