[Previous Rural Farmgirl, April 2009 – May 2010]
Sometimes something as simple as answering the phone can change your ho-hum day into the most perfect one. It is in those moments that a beam of sun is somehow interjected into the drabness of a winter's afternoon.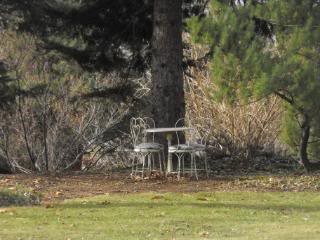 Last fall, as Linda and I were taking another trip down the back roads in search of yard sales, we literally stumbled upon the Sawyer House. The Sawyer House is a 22-room, four-storey Colonial manor complete with vast lawns, gardens and a carriage house, and it houses a quaint English antiques shop. As soon as we saw it, we were drawn into its simply breathtaking scene. As we parked the car in the driveway, it was not hard for my mind to take over, imagining people on the lawn playing croquet and sipping sweet tea.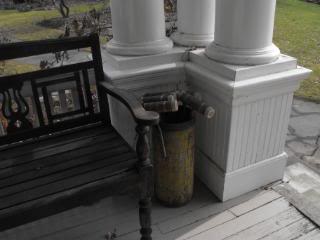 Excited, we rushed to the door only to find that the store was closed. Left behind was a sign that read, "Open by chance or by appointment." Although I was disappointed that the shop was closed, I couldn't help but smile as I read the sign; it seemed to make the place even more endearing.
On our trip back home we vowed to go back again, and a few days later, we did exactly that. This time, we were thrilled to find that the owners were home and happy to open the carriage house for us to meander through. As I look back, I do not know what left the biggest impression on me that day: the amazing historical home, the cottage that now houses an English antique shop, the amazing gardens with their larger-than-life sculptures, or the owners themselves. They all left a mark on me and pulled at my heart in such a way that I knew it would be a place where I would always return.
One dreary afternoon when I thought I could not take another day of gray, the phone rang. On the other end was the queen of Sawyer Mansion, Pat Erickson. Pat had called to ask if I would come for tea. She was planning a centennial celebration for the Sawyer Mansion and said that she would love to just bounce some ideas off me. I felt as if a carriage has just pulled up in front of my home, delivering a handwritten scroll inviting me to high tea at the castle.
As a self-proclaimed brilliantologist, may I just interject that there is nothing like the feeling of having someone like Pat call to ask if she, in all her grace and brilliance, can share some of that grace and brilliance with me. It was as if the sun itself swept down from the sky and handed me a beam, offering me an audience with the queen. It was like the moment when Cinderella looks down and sees herself ready for the ball; I felt that my own fairy godmother had sprinkled me with her magic dust.
Upon hanging up the phone, I called my friend Linda and invited her to be my guest. Even though the meeting was only two days away, I wondered how I would be able to wait that long.
Not that it could have, but the visit with Pat and Fred certainly did not disappoint. They were as warm, open and charming as we remembered. As we listened to her share her plans for their centennial celebration, the spirit of this truly wonderful woman overwhelmed me. Her ideas included the ways in which the celebration could help bring aid to women and children. One such idea was to dedicate the west porch to the theme of the women's suffrage movement, selling cards made by women in Africa and other similar items.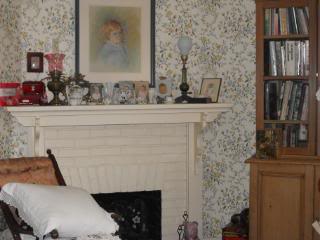 I was equally as impressed to discover the love she had for the house that she and Fred have called home for 40 years. As we toured the mansion, we were struck by the pristine condition of the original wallpaper and how the necessary upgrades had been done in such a way that one would be able to tell it wasn't part of the original home.
As I sat in front of the fire, sipping tea and nibbling on some homemade pumpkin bread, I allowed my mind to wander for just a brief moment. I remembered when I used to ask myself, "Why me?" when these sorts of things happened. I don't ask that anymore, since I now understand that we see the world, and those in it, through the lenses we choose to put on.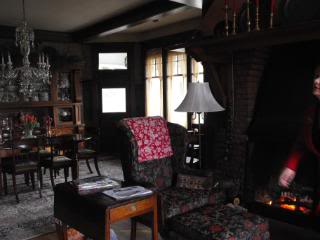 I know that brilliance abounds; I see it everywhere. I am surrounded by amazing women who touch me to the very core. I believe that they have come to teach me something, and I am so much richer with them in my life. I can see them now simply because I am open to seeing them. Pat is one of those women. As I listened to her speak I was challenged to be a better me, for she is a queen with a servant's heart.
As we prepared to leave, both Linda and I were humbled by her invitation to help her with the event. I can't help but to see it as an opportunity to learn from the very best. We do not have much time between now and the weekend of May 15th when the event will take place, so I know how I will be spending my weekends for awhile. After all, when the queen summons, what is a girl to do?