[Previous Rural Farmgirl, April 2009 – May 2010]
I have looked into "the raw diet" for awhile now. Well, actually since 1994, when I was recovering after being diagnosed with lupus. Back then, a friend had introduced me to "blue-green" algae and its health benefits. She also introduced me to some really amazing people in the world of holistic health, which up to that point I had never even heard of. I was a very typical American who ate the Standard American Diet (known in the holistic world as SAD), never considering that what I ate and becoming ill had any link whatsoever.
When given a diagnosis of lupus (an auto-immune disorder), the first question that came to me was, "Why?" Not because I felt that it shouldn't have happened to me, but rather I was curious as to

how

it happened to me. I wanted the science of it. I wanted someone to tell me that A + B = Lupus, and yet it seemed that no one in my doctor's office could. So like a good patient, I jumped into the regiment of medicines that the doctor prescribed…steroids, anti –inflammatory drugs, other "this and that" drugs to counteract the effects of the previous drug, and so on. I really thought I was doing it all "right." I had no idea that there was a whole other world of holistic health. I know now that I am what is called an integrated medicine supporter. I want to hear all of the options when dealing with a health crisis, and then I'm able to make the decisions that are right for me. I want every doctor imaginable on my "healing team." So why then, have we settled for just western medicine and allopathic drug therapies?
Holistic health teaches us that we are body, mind and soul and that all three aspects are intertwined with one other. It also teaches that if any one of the three is out of sort, then sickness is the byproduct of the body's "dis-ease." I was ready to learn about holistic health, and my "teacher" and her teachers showed up just in time. I feel somewhat ashamed to admit that the teacher showed up 15 years ago, and I have still not graduated. I will say, however, that in that time I have "recovered" and am drug free, I have learned to listen to my body more (not that I always do what it is telling me), and the dietary changes that I have made have kept me symptom-free. I have read every book imaginable on the topic of holistic health, and if I had the money I would become a holistic nutritionist…I love the topic that much.
For a lot of years, I prayed that my finances allow for me to attend a natural health practitioner's college that I had discovered. And when they didn't, I convinced myself that "it just wasn't God's plan." I guess it is a self-protective sort of defense to do that…wanting something so much that is always out of your reach, so you invent a reason. I tried all avenues, including financial aid, but because holistic nutrition isn't an accredited study, financial aid wasn't available, which is a whole other frustration of mine. But this year, for 100 different reasons, I decided I was wrong. Okay, there I said it…I WAS WRONG. I don't know that I will ever get the degree, and maybe that is okay, but I do plan on mastering my own health. I was finally able to recognize that I had

somehow

attached mastering my own health to the degree…weird right? So with the help of a friend, I have now moved past it and am actively exploring the world of the raw diet lifestyle.
Timing is everything. I think that something in me just decided that enough was enough. The extra weight that I had put on while taking the steroids, and kept on to buffer life, has become enemy number one. I am tired of it limiting me and holding me back from all I want to be. But it is a complex issue since it has also buffered me from things and people and life. It is like "weeding out" an old, dysfunctional friend—hard to do, yet I know that it will make room for more positive things, which of course includes better health.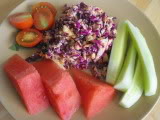 When Bev, my teacher, showed up, she was gracious enough to bring some of her teachers with her. For my husband's job, he and I had just moved to a darling little community on the Palouse in Washington State. Bev's husband and my husband were both in the wheat industry, and we were all attending a wheat growers' convention in Coeur d'Alene, Idaho. Being so sick, I was really reluctant to go to the convention. I couldn't even muster enough energy to go and enjoy the getaway, but wanting to be the supportive wife, I went anyway. I slept all day in my room, trying to reserve my energy for the "meet and greet" that evening, wanting and willing to play the part of the dutiful wife. That evening, my husband asked if I could socialize for an hour, and then I could come back and sleep. I literally prayed that I would somehow find the energy, as the disease and medications made it nearly impossible. I am glad that I did, because that is where I met Bev and the other teachers that I so desperately needed. I look back on that time of my life and can't believe it was my life, and I am so grateful that I mustered the energy that night.
There were so many people that Bev introduced me to, but none that I connected with more than Viktoras Kulinskas. I recall looking into his eyes as he spoke and thinking that I had never seen anyone's eyes so clear. Victoras is known as the father and pioneer of the raw food lifestyle, co-founder of the Hippocrates Health Institute in West Palm Beach, Florida, and the educational and business partner of the raw food guru herself, Dr. Ann Wigmore. I walked away from that encounter knowing more about how my body works, how food works, and the importance of enzymes and probiotics than 10,000 books could have taught me. I can honestly say that Viktoras "had me at hello" as he answered questions that no one had taken the time (or maybe didn't have the knowledge) to answer for me about my body's breakdown. I went home from that meeting willing to look at food differently. The last 15 years have been spent taking baby steps…until now.
Even in my "newly committed, excited for all things raw" state of mind, I know that I won't give up 100% of breads, grass-fed beef, free-range chicken, and raw-milk cheeses. That is where the "rural" part of my title comes in. Those are comfort items, and I couldn't image life with out them. I can tell you, however, that it is vastly different in our home these days. Where a roast, use to be the main part of the meal it is now the side dish. A benefit of living this way is that I can spend money on the kinds and cuts of meats that I want to feed my family, because we are eating much smaller portions. So, all of the sudden choosing organic, grass-fed meat isn't as costly.
The spectrum for those in the raw food lifestyle is very vast. Some commit to a 50/50 diet and see huge health benefits; others prefer a 70/30 or 80/20 diet, and then there are those who live it 100%. For me, I like the 80/20 range; it seems doable. Maybe that will change over time, but for now I feel that I am making changes in the right direction.
While raw may not be for everyone, I hope that in these summer months you are taking advantage of the fresh produce at your local farmer's markets, farm stands or in your garden. Nuts, seeds, produce and fruit are all loaded with vitamins and enzymes.
Hippocrates himself said, "Let your food be your medicine and your medicine your food." Where did we lose track of that knowledge? I am finding my balance between rural and raw.