Autumn pulls me in.
In fall, my trips to town that should take 30 minutes become 45. Or more.
I roll down the windows, turn on the heater, and crank up the music. My old friends, James Taylor and Johnny Cash, and my new friends, The Avett Brothers, ride with me as I take back roads and side roads and dirt roads and curvy roads through the mountain countryside.
I often pause to watch flocks of turkeys or a family of deer graze in fields and pastures I drive by. How can I zoom by a sight such as that?
A farmer on a tractor waves at me. I don't know him, but I am stopped on the side of the road to appreciate his final movement of dirt until springtime. Is he tilling it? Or just turning it over? And why is he doing this in October? Is it something that I need to do with my field? I don't know.
Our grasses are turning golden and brown. Our gardens are no longer green either. And many green plants now have black tops and tips from our frosts and freezes.
I learned my first autumn here that I need to wear waterproof mascara starting in October. I take in the beauty of this place I call "home" and sometimes it leaks out of my eyes. I can't help it. The colors are magnificent. The chilly mornings are invigorating. The fur on my horses has become thick and fuzzy. Is it possible that they are even cuter today than they were yesterday?
There's just something about fall on a farm. Sure, I've always admired the beautiful changing leaves and mums in bloom, but now that I live closer to nature and the turning of seasons, I feel it deeper. The leaves put on a show. They show off their new temporary colors or red and orange and yellow. Appreciate it while you can, because those jewel leaves are just one rain storm away from falling to the ground and becoming litter.
I was washing dishes the other day and a mighty breeze blew into our valley. Suddenly my backyard was filled with leaves swirling and tumbling to the ground. I turned off the water and ran out the screen door without even drying my hands. I chased leaf after leaf, trying to catch just one before it made it to the ground. I've always heard that your wish will come true if you make it while you catch a falling leaf. Barefooted, stepping on small stones and sticks (ouch, ouch, ouch) because I was looking up, not down. I wasn't able to catch a single leaf. The ground was now strewn with leaves. I go back inside and finish washing the dishes, realizing that I didn't have a wish ready anyway.
The thought occurs to me that I need to be a better leaf raker. I jot that down in my mental notes: find time to rake more leaves. Get them out of my yard and into my garden.
Each autumn I have lived here, I've gone a bit deeper on the back roads. One thing that is interesting about back roads here is how so many of them are dirt and one lanes. It makes meeting a car tricky sometimes when you look and realize that you've got nowhere to move over to–you're at the edge of a wooded cliff. There are also a lot of one-lane bridges in my area. Whoever gets there first gets to cross first. That's the rule. No one ever breaks it out in the country. These are your neighbors. You treat them with kindness. No pushing, no breaking in line. A lovely way to live. (I always know when I meet a tourist. They either don't know the one-lane rule or don't adhere to it.)
On Saturday, I'm headed back home from an errand in town. I lollygag, take time to take in the gifts of the day. Isn't this one lane road gorgeous? With that stone underpass?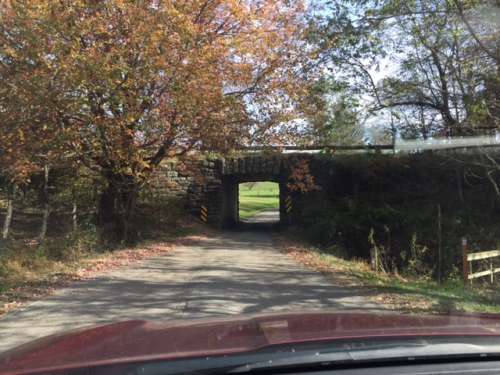 And how about this one lane bridge?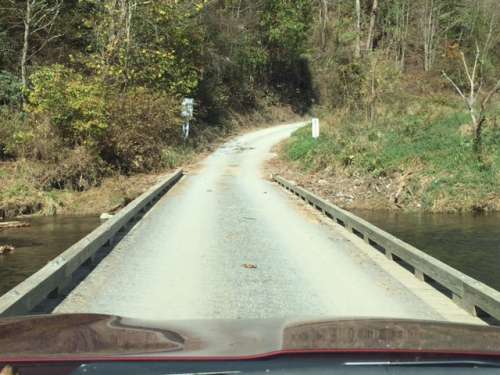 I stop on it to watch the river run.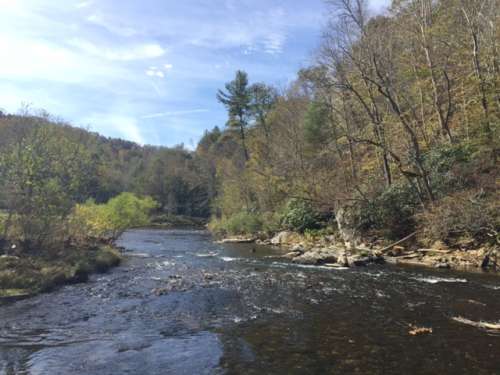 To my right is this beautiful farm.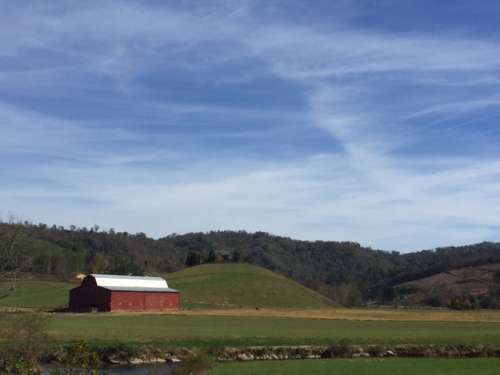 I continue on home and then see this sign.
Two things. That sign. And that white horse. But I drive on. Time is short and I have much to do. Plus, I had been taking the scenic route all morning long.
But before I knew it, my hands were turning around the car. I was headed back to that white horse and that "molasse making" sign. (Was there faint 's' at the end? or not? didn't matter. I was apparently going to the molasse or the molasses making today.)
I pulled in. When I got out of my car, I immediately smelled a sweet aroma–that must be the aroma of making syrup. Some folks were gathered around a large farm table, fixing themselves plates of food. Some other folks were gathered around a large boiler. And some folks were just standing around visiting. I joined the standers-arounders-visiters.
It didn't take long for me to realize that this was a gathering of neighbors and friends. There were a few of us there who didn't know anyone, but for the most part the folks here knew each other. It dawned on me that the the sign probably wasn't an invitation for strangers to pull in (oops). It was to let neighbors and friends know that THIS was THE day, THIS was THE Saturday in October when molasses was being made on the farm.
But, of course, where I live people welcome strangers as friends. So the farmer came up to me and welcomed me by sharing tales of the history of his farm and family. He also explained the syrup making process. I was fascinated. I had always heard my Dad talk about making syrup when he was growing up. He grew up on a large, self-sufficient farm outside of Atlanta. They grew sorghum cane and took it down the road to neighbor who had a mill and a boiler. There was a time, my friends, when you couldn't just run to the local grocery store and buy anything under the sun you ever wanted no matter the season. There was a time when those is New England got maple syrup and those in the south got sorghum syrup. If they were lucky, that is.
As I saw it, making syrup on the farm had 7 steps.
First, the cane has to be planted. The farmer explained that he had grown the cane in an adjacent field on old family land. The cane field is off in the distance. Farmers here call this "sugar cane," but it's not the same "sugar cane" that crystallized sugar is made from. This is sorghum cane. I know the farmers here call the corn they plant to eat "sugar corn" (the corn they plant for cattle feed is simply "corn."), so I think this may be how sorghum cane became referred to as "sugar" cane in this region.
Then the cane had to be harvested. They become thick stalks and must be cut. Most farmers do this by hand, with a machete or other tool.
Next the long, green leaves (reminded me of the leaves on a corn stalk) have to be stripped from the canes. This was a job that all the kids joined in on.

The thick canes were fed into a mill in order to extract the liquids. The mill was powered by his PTO on his tractor. (As an aside, I learned that PTO stands for power take off. Never knew that before.) Horse power–REAL horse power–is still sometimes used to run mills, but using a tractor is apparently quicker and easier. The mill squeezes out the juice from the cane. Now, that little cane he is feeding into the mill here is not an example of the thick canes they use to make the juice. He was simply showing me the mechanics of the mill with a little scrap he picked up off the ground. Even this little scrap produced a few drops of cane juice though.

One the juice is milled out of the canes, it is taken to be cooked in a gigantic rectangular open boiler pan. This pan was probably 6ish feet long by 3ish feet wide. Big! The cooking process is a combination of science and art. The syrup must reach a certain temperature and then stay there for hours. Too hot of a fire ruins it.
During the cooking process, friends, neighbors, and family would take turns skimming off the top of the syrup. Do you see the skimmer to the left? It is a metal perforated skimmer on a long broom handle. The green that they are skimming off is chlorophyll and other plant matter.
It is cooked for hours. After which, it is bottled in jars.
(If you're interested, I found this video that shows the syruping process I saw. https://www.youtube.com/watch?v=8CSZ6-GH_sI)
Molasses making was a community activity in the "old days" and it still is now, in the "new days." Relatives, first cousins, second cousins, friends of cousins, neighbors, friends of neighbors, cousins of neighbors, friends, friends of friends, facebook friends, etc. come to the farm on syrup making weekend in October every year. While I was there, the farmer would bring someone over to me or take me over to someone and say, "Introduce yourselves." Instantly, I became part of the group and part of the syrup making fun. They even asked me if I wanted some of their feast of food spread out for the workers. (The people where I live are even sweeter than their syrup. For real. Their kindness touches me every single day in some way.)
At my request, my husband made pancakes Sunday morning just so I could open a jar and try the sorghum syrup from the farm. It has a very distinct flavor, one my husband didn't love. (Of course, in truth, he likes that fake syrup junk that I refuse to eat.) For me, each bite came with a mouthful of thoughts about the sweet moments I shared while I watched it being made. It was delicious! I added even more syrup after I took this pic.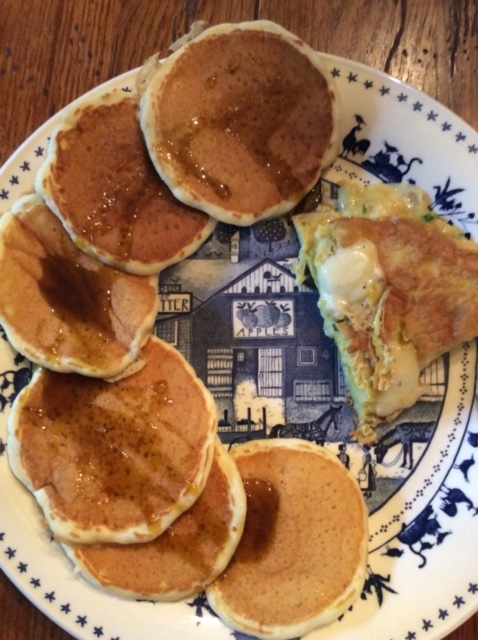 I've lived in the south my entire life, but I don't think I've ever tried sorghum syrup before. It tastes like nature, earthy and grassy. It tastes authentic and real.
And to be clear. Around where I live, in the Appalachian Mountains, sorghum syrup is called "molasses." (So there was probably an "s" on that sign–maybe their pen ran out of ink.) But it isn't what we city folk know as molasses, that rich, thick, dark, bitter-sweet syrup that is a by-product of making sugar (so not a farm thing.) The darkest and bitterest molasses is "blackstrap." That's what I've always used in my gingerbread and gingerbread cookies.
And if you want to sound like you are from around here, you need to know how to correctly pronounce it. It is not "sor-gum" like you would think. It is "sog-rum."
Here's one recipe I'm trying next week. We are hosting the community ATV ride, with smoked BBQ and a big bonfire afterwards. I think home-made ice cream would be a fantastic addition to the menu. Especially this one that screams autumn.
Sorghum Ice Cream
Ingredients:
2 cups heavy cream
4 cups half & half
½ cup cane sugar (I might change this to brown sugar)
1 cup sorghum
12 egg yolks
¼ teaspoon sea salt
Directions:
Heat cream, half & half, sugar, and sorghum in sauce pan until steaming.
Gradually temper in yolks and then add sea salt.
Thicken mixture over double boiler until it coats back of a spoon.
Chill in refrigerator until it reaches 40 degrees.
Freeze in ice cream maker according to manufacturer's directions.
(I found this recipe at http://thelocalpalate.com/recipes/sorghum-ice-cream/)
Sorghum butter is another thing I've heard about, but never tried. I'm going to make that too. It's just whipping together 1 cup of butter with ½ cup sorghum syrup. I bet that's unbelievable on biscuits. Or cornbread. Yum.
Making syrup is more than just a farm process. It's an autumn tradition on the farm that brings together family, friends, and community to lend a hand and even more importantly, to just spend the day together and visit.
Every day in autumn is sweet, but syrup making day is SUH-WEEEEEEEET!
Until next time, Friends, savor the flavor of life!
Lots of love, The City Farmgirl in the Country, Rebekah