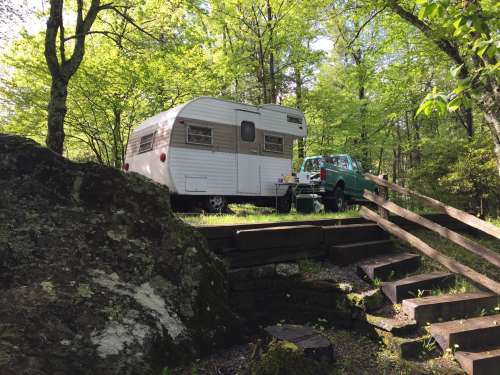 Now that I've camped a few times, I thought I had figured it all out–that I was an expert. HAHAHAHAHA. Not so. My first trip of 2017 taught me many things.
Camping Lesson 1. You know when you are frustrated and want to throw up your arms and give up? That's the exact moment you shouldn't.
"This camping trip seems to be ill-fated," I told my husband as I was deciding what to do next. Here's what happened that led me to make that statement.
I made the campsite reservations last December for our first camping outing of the year in May. We spent last week scrubbing and cleaning out "Colette," our little 1964 camper, for May 19th-21st.
Camping Lesson 2. Make reservations early. The state park campsites fill up fast. And, it's fun to have a specific date so you can plan and dream. Planning is half the fun.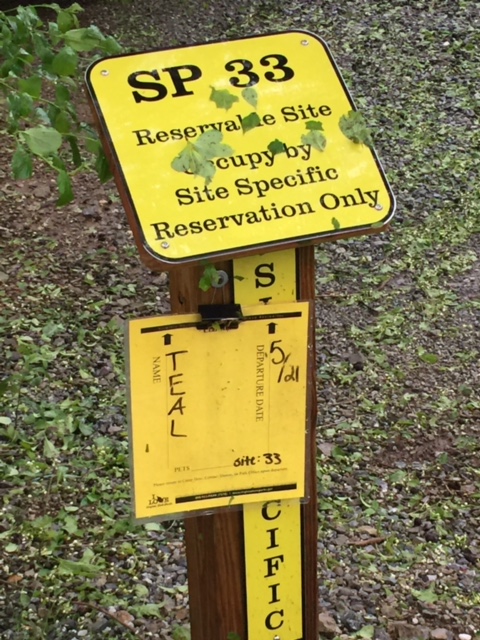 Now, camping is not my husband's thing (Camping Lesson 3. Do not force non-campers to become campers. This is a camping lesson I learned a long time ago when I was camping in our backyard. And a variation to that: do not force non-hikers to become hikers. And in fact, a life lesson I've learned is to not force people to be or become things they aren't.) So anyway, camping is all about daughter and me. It has become a great mother-daughter time away from it all. She's a teen, so that means it's one of those rare occasions when she's unplugged.
The plan was for me to haul the camper through carpool to pick her up from school last Friday and then hit the road for a weekend of fun in the woods. I had it timed just right. We should make it to the campground in time to set-up camp before dark, build a fire, and have a yummy camp supper of Camping Chicken Nachos (recipe below.)
But, then, you know how plans go sometimes. As I drove the 30 minutes to pick up my daughter from school, I had some car issues. The transmission was freaking out. I had never hauled the camper with this vehicle before, but it was a big engine so there shouldn't be a problem. Oh yes, as it turns out, there was indeed a problem. I started getting error messages on the dash. I called my husband and he had me pull over and turn off the engine in an effort to restart the electronics. That worked; they restarted. Whew.
So I picked up my daughter from school at 3:30. I then decided that I should probably go to the bathroom before we hit the road, so I made a stop to use a restroom. The car wouldn't turn off. The key wouldn't come out of the ignition. Error codes were back on the dash. Ugh.
I left it running and when I came back out, I called my husband. He thought that electronics were the problem, but that the car was fine to drive. While we talked on the phone, I was able to turn the car off and get the key out. We decided that I should ignore the error codes and forge ahead! So I did.
But not for long. When I hit the four lane and tried to pick up speed I realized that the gears were not changing. I was still in first or second gear, not able to get over 30 miles per hour. Cars and trucks sped past us. The engine was revving but the gear would not change. I felt like this was dangerous. Yep, time to give up. Give. Up.
I turned around and headed home. Not a happy camper. It was SLOOOOOOW-GO. Oh the names I called that car. (I've never been a fan of that particular vehicle anyway. It's always been my husband's wheels, not mine. I drive it only when I don't have a choice. Gas guzzler. Ugly. I wasn't a fan before this incident. Imagine now.) I'm sure I was getting called names too since I couldn't get the car to speed up.
We finally arrived back home and formulated a plan. I'd change out vehicles and take the big Teal truck instead. We unpacked the SUV and packed the truck. It started to rain. This is the downfall of a camping with a pick-up: things get wet in the back if it rains.
Still getting rained on, we unhitched the camper from the car and hitched to the truck. Tested the lights. Nothing. No turn signals, no brake lights. When it rains, it pours.
And it did. It started pouring rain at this point. Yep. That's it. I'm done. I've had enough. I give up. No camping this weekend!
That's when I made the "this camping trip seems ill-fated" comment. I was done.
I went inside and dried off and plopped down on the sofa as the storm continued. Daylight started to fade when the rain finally subsided. I don't know why or how, but I got one last push of energy to TRY to go camping. So, we went back outside to work some more on trying to get this camping trip off the ground.
Wonder of wonders. We eventually found a way around the connection problem we were having. We found a second connection plug in the bumper on that big old wonderful truck. Never even knew it was there! And with enough jiggling and wiggling and messing around, the second plug worked. Lights!
We pulled out of the driveway after 7, over three hours after the time we had planned to leave. The rain had once again begun.
The drive was nuts. Pouring down rain, fog. Narrow country curvy roads that climbed and descended mountains. With Colette behind me, I kept my eyes on the center line and the side mirrors. It was after 9 when we made it to the campground gate. There were no campground maps left, but I knew out site number so we found our campsite without too much trouble.
Camping Lesson 4. Get a campground map. Or at the very least find out where the bathhouse is.
We ran in the rain from the truck to the camper and got inside where it was dry. We dried off some and laughed when we realized that since we didn't have a map, and it was pitch black outside, we had NO IDEA where the bathhouse was at this campground. Oh well. Whatever.
There was something awesome about this campsite; something I've never had before while camping; something I was excited about. Power. Electricity.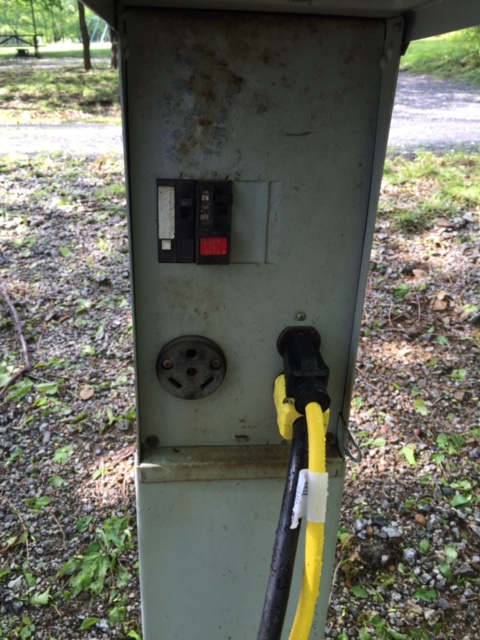 I took the flashlight to figure out how to hook up power to the camper. It was simple. And then there was light! And a microwave. And a mini-frig. This. Was. Pure. Awesome. Thank you, Benjamin Franklin.
Camping Lesson 5. If it's available, get the campsite with power.
I also needed to place the jacks under the camper. It was a muddy mess to get down there and get them set. Then I headed to find the bathhouse. I found a group of campers huddled at a picnic table under their shelter. They told me where the bathroom was. Life is good.
I remembered my husband trying to hand me a gigantic golf umbrella when we were pulling out of the driveway. But no. I said, "I'm going camping. Who needs an umbrella while camping?!" (raises hand sheepishly. me. I do. I need that big red and white striped golf umbrella right about now.)
Camping Lesson 6. Take an umbrella.
Camping Lesson 7. Make sure your first meal requires little or NO preparation.
We ate dinner that night at 10:30 sitting on our beds in Colette, laughing and being goofy. I was glad I had prepared this dish at home. Camping Chicken Nachos is perfect for the first night at camp.
Camping Chicken Nachos
Ingredients for Meat Mixture:
One onion, chopped
Olive oil (1-2 Tbsp.)
Roasted Chicken from the deli, remove meat from bones
Can of black beans, drained and rinsed (15 oz.)
Can of fire roasted tomatoes (14.5 oz.)
Can of enchilada sauce (10 oz.)
Salsa (1/2 cup) (I use salsa verde, but any salsa will do)
Light Brown Sugar (1 Tbsp.)
One chipotle pepper, minced (from a can of chipotles in adobe sauce)
Ingredients for Serving:
Bag of Tortilla Chips (Strips are great for this)
Shredded lettuce
Shredded cheese
Cilantro
Directions:
At home, sauté onion in olive oil over medium-high heat. When tender and translucent, add all the ingredients listed in the Meat Mixture. Let it simmer long enough to blend flavors and reduce to a chunky consistency. Cool and store in Ziploc bag. Can be frozen or refrigerated.
At camp, heat Meat Mixture by whatever method you have. Place some Tortilla Chips on each plate. Put heated Meat Mixture on top. Add cheese, lettuce, and cilantro. Devour. Because you're starved. And maybe tired. And wet. And this is some serious comfort food. That comforts. At camp.
Another great item to take camping with you is MaryJane's organic outback foods. These are quick and easy and delish. If you haven't tried them, you should. They are great to keep on hand for not only camping trips, but lunches at work. Curry in a Hurry is sooooo yum.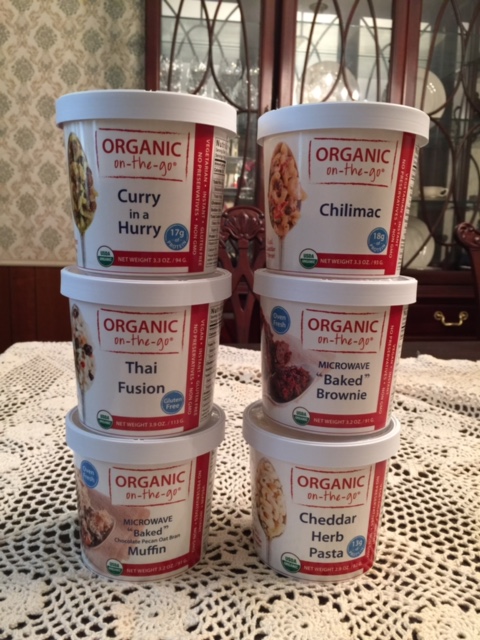 http://shop.maryjanesfarm.org/Meals
The storm continued through-out the night. The sound of rain pounded on the top of the metal camper on and off all night. By morning, the sky had cleared. Our campsite was strewn with leaves and sticks, but the sky was blue.
I hate to keep talking about food, but camping food is part of the fun. There is nothing like breakfast over an open fire or on a campstove. Can't you just smell this bacon cooking? And look at that lovely sunlight shining down through the trees. Like the song says, "oh, what a beautiful morning!"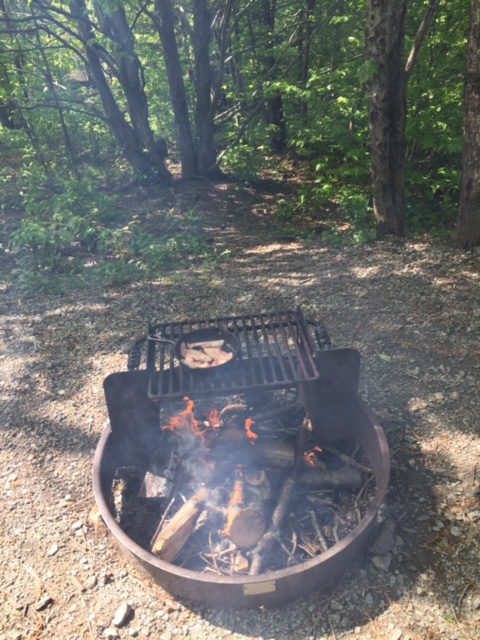 We ate a leisurely breakfast. Eggs from my little chickens back home. And hey, electricity at camp meant a coffee maker. That's huge!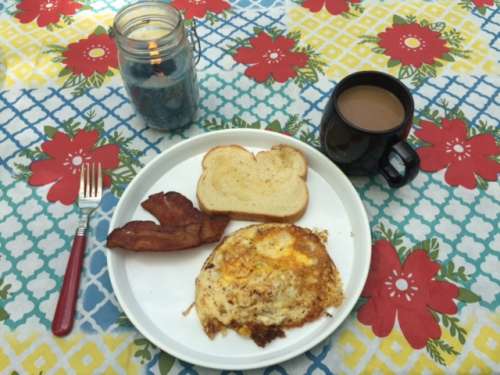 After we ate, we worked to set up camp. We rolled out the rug and put out the chairs.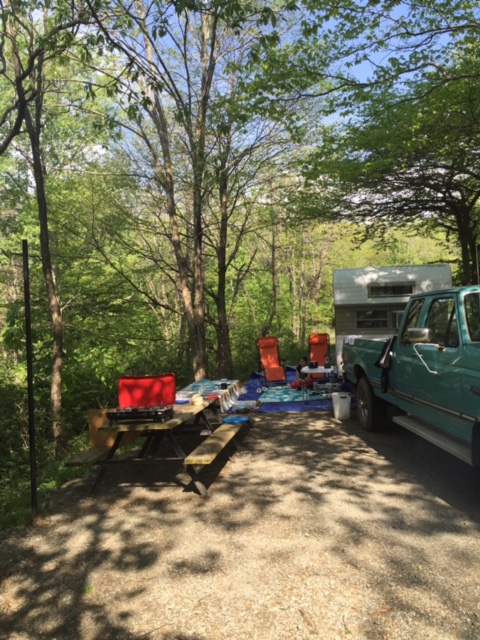 We strung the lights. We enjoyed the ambiance. We talked about which hike we wanted to go on. Or whether we should attend one of the ranger talks that day. There are also wild pony herds at this park, so we discussed heading out in search for one of the herds.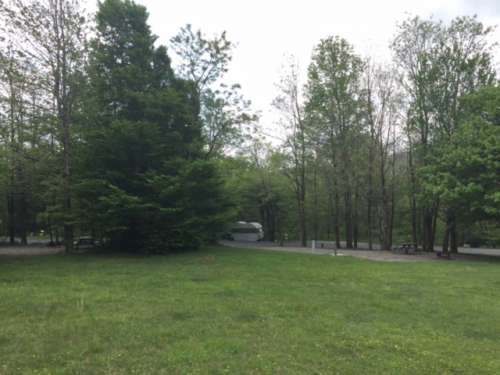 Before we could make up our minds, a strong breeze kicked up. You know the one before a storm? We heard the gigantic raindrops hitting the tops of the trees before the storm arrived at our campsite. We grabbed what we could and ran into the camper as the thunder and lightning began.
The storm continued for hours. Soon hail was pounding on top of our little camper. Bam, bam, bam. The power flickered, but stayed on. I thought about all those storms we had when I was a kid camping in a pop-up tent. For some reason, I was never really afraid with my parents. Not of storms. Not of the bear right outside our tent. I just knew everything was going to be okay. And it always was.
Camping means weathering the storms. And this one was a doozy.
So, we hunkered down and waited.
We emerged from the camper several hours later. The campsite was a mess again. Everything got wet this time. Firewood, newspaper fire starters, chairs, food, my camping file, shoes, tablecloths, you name it—it was ALL soaked. There was even water inside the little bulbs of our string lights.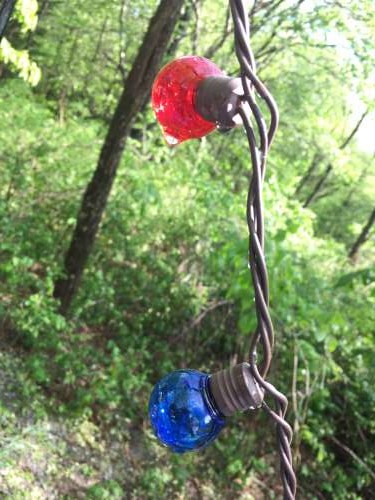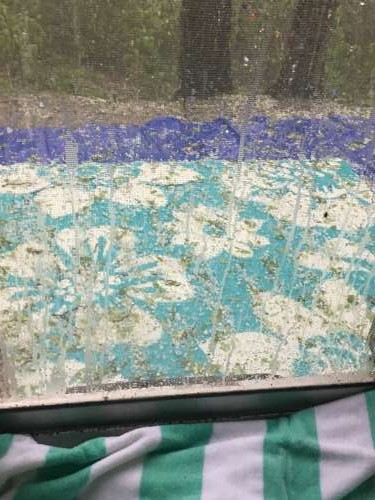 This is looking out our screen door. The rug was covered in hail and leaves.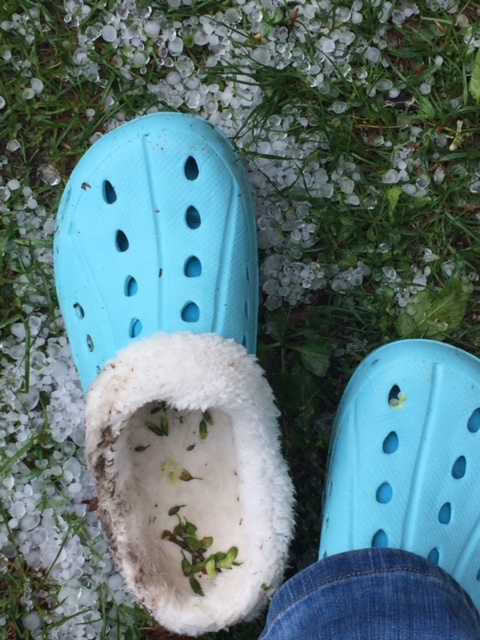 After the storm ended and the sun came back out, this hanging clothes line was a familiar site at the campground. Everyone's clothes were soaked.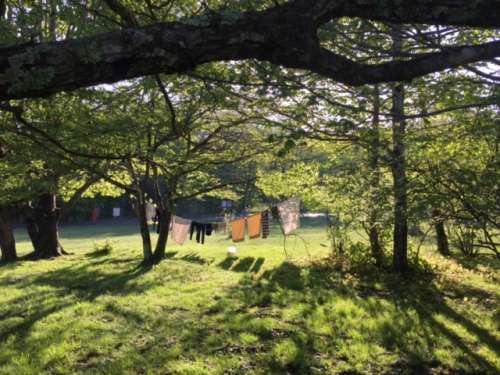 Camping Lesson 8. Bring a clothes line. Your clothes just might have a chance to dry out A LITTLE before the next rain storm.
Saturday night was divine after that storm. S'mores. Stars.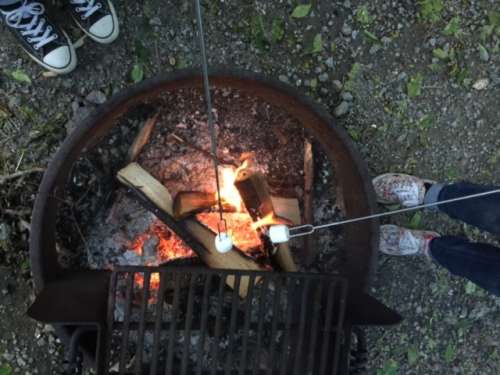 We took in everything about the evening, enjoyed every minute.
Until about 9 o'clock that night when the next round of storms rolled in.
Camping Lesson 9. Fire matters. I think that's why I took so many photos of our campfires this trip. It was so HARD to build one in soppy conditions and then have it rained out. And then we'd build another and finally get it going. Photo op! And then the rain would come again. And I'd get it going yet again. Another photo op! And then more rain. So always, always, always keep your wood and kindling and papers somewhere in the dry. I even tired to dry out some kindling over the fire and would stack up wet logs beside the fire to dry.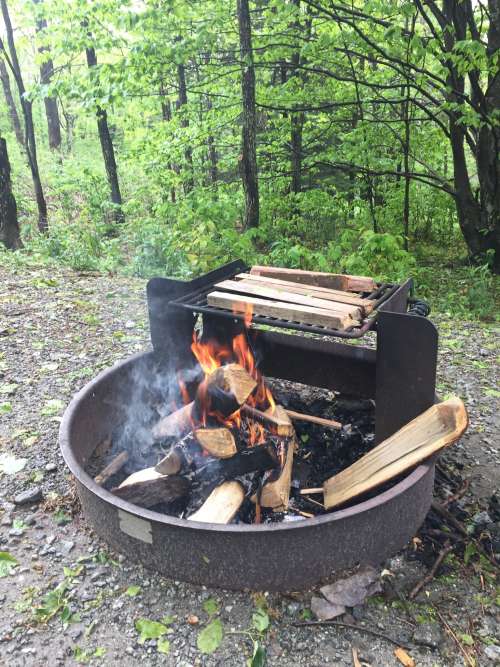 My bucket of newspapers to start a fire with ended up like this. Soaked.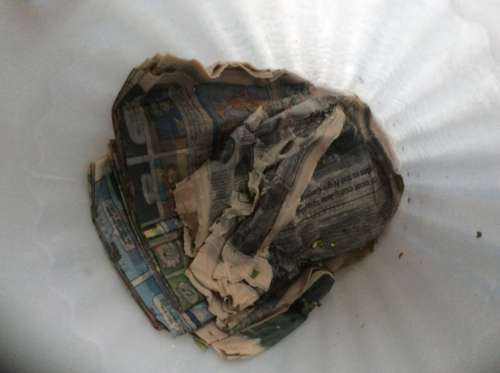 At one point I used my camping file for kindling. Yes, the file with park events and reservations and everything else I had printed out for this trip. That would turn out to be a mistake when I tried to find my way back home down country roads and no signal for GPS.
Like Henry David Thoreau wrote, "The fire is the main comfort of the camp, whether in summer or winter…It is as well for cheerfulness as for warmth and dryness." Comfort, cheerfulness, warmth, and dryness. Yes, all of those.
We walked to the little camp store to buy dry firewood and fire starters. Their computer had been hit by the storm so the clerk was trying to figure out how to make sales without electronics. It was a mess. Remember the old days? When you wrote out a receipt and made change using your math skills? No one here was old enough to remember any of that. Except me.
Eventually we were able to buy a stack of wood and a few fire starters. I admired those fire starters and want to make some of my own. They got the fire going quickly. It appeared to be wax and wood shavings in a little cupcake paper cup.
And finally Camping Lesson 10. From my 16 year old daughter. Never buy crossword puzzle books from the dollar store. They'll make you feel like an idiot.
She speaks the truth. While we were holed up in the camper during the various storms we looked through our boxes and found an old dollar store crossword puzzle book that we'd never used. It was the worst of the worst. Horrible clues that were not clues at all. Non-sense answers that no one could figure out. It'll make you feel quite stupid. These cheap puzzle books are good for nothing—-except maybe kindling.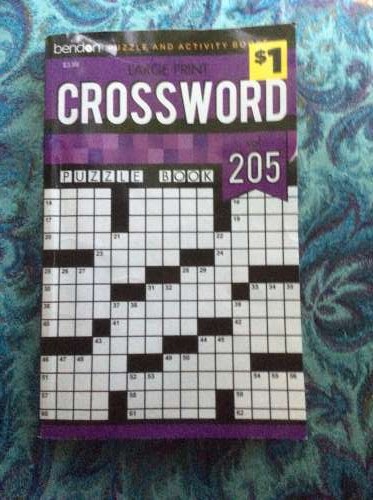 Until next time, Friends, savor the flavor of life!
Lots of love, Rebekah, The City Farmgirl in the Country