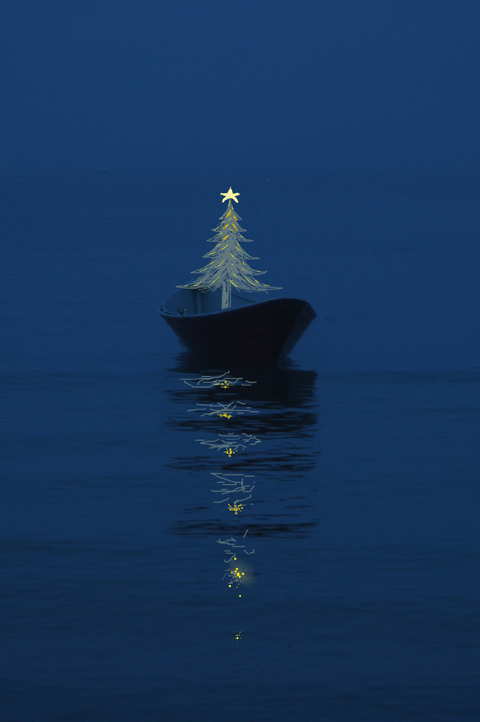 Ahoy and Welcome Aboard America's Hometown Christmas!
 If you've been reading this blog since my introductory post
 " From Sagebrush to Shorelines " you already know I'm a born and bred western farmgirl, raised in the high desert of Northern Nevada. For most of my life the majestic Sierra Nevada's Mountain Range was my playground. Lake Tahoe and its Nordic inspired cabins were only a short 50 minute drive away anytime the mood struck to breathe fresh mountain air, swim, hike, and camp, cross country ski, canoe, or just sight see. Christmas time in the Mountains was always magical. Imagine a six inch blanket of glistening snow resting on the evergreen branches of a hundred foot pine tree with a clear, bright blue sky over head. I can feel the cool air on my cheeks and smell the pungent scent of the pine forest just thinking about it. But, that was then and this is now and I'm here to tell you that a Coastal Christmas has its own brand of magic that'll soak into your " sea level " soul quicker than a hermit crab can run for cover! There's a joyful calm about Christmas near the sea.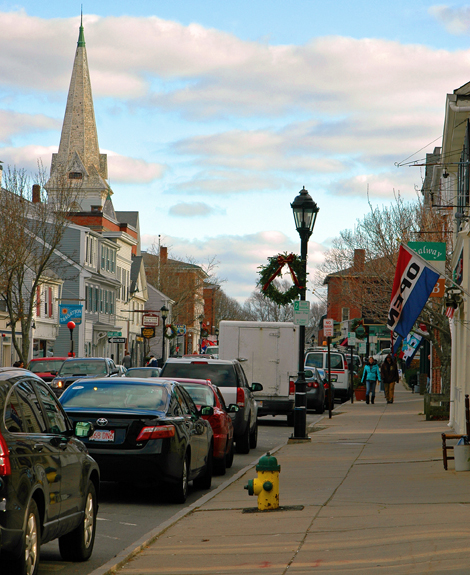 Main Street is hoppin' with seasonal shoppers! Let's take a stroll and see how the Yankee's do Christmas New England Style!  It's easy to get swept away in historic Plymouth, MA. What's not to love? There's plenty parking, everything is within walking distance and you're guaranteed to find something unique for everyone on YOUR Christmas list, and yourself too! Who's up for some good old fashioned window shopping downtown?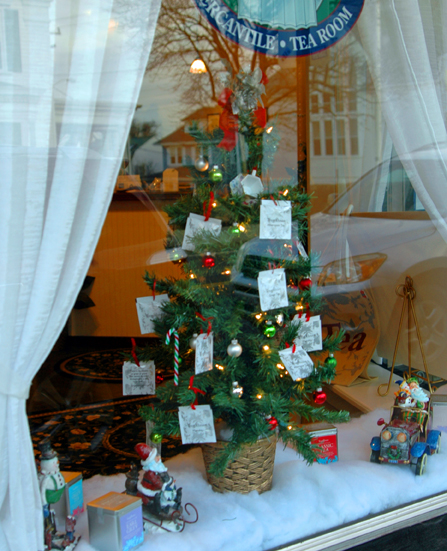 The Mercantile Tea Room is taking reservations! Anyone want to go? I love window shopping along Main Street during the holidays. Shop keepers go all out in a small town way in hopes of getting you in the spirit to loosen your purse strings. I think it's already working on me!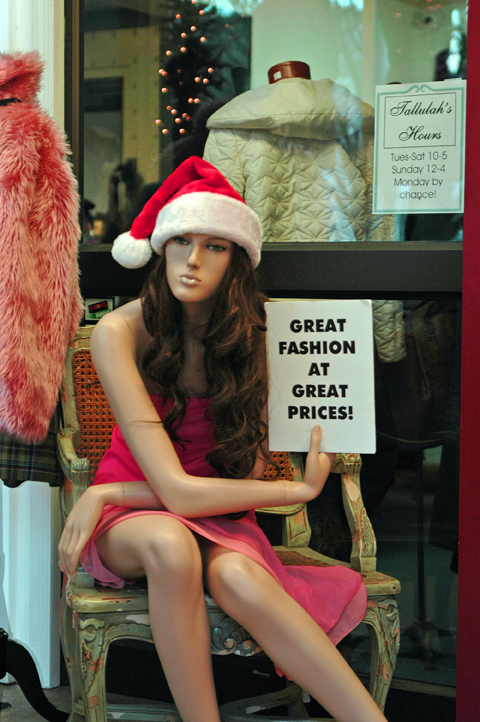 I may have to go back for the chair in the above photo! Shopping in consignment and antique stores is so much fun! Everything old is NEW AGAIN, right? The Antique Mall is the perfect place to go for that special gift with a "vintage touch" and for the collector in your life too!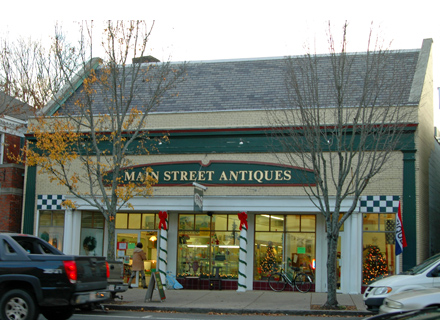 There might even be a fire fighter on your shopping list that would love have this flashy old pumper fire truck. My brother in law has one of these from his childhood days of dreaming to be a fire fighter. These days, he's a retired fire fighter. He gave his hometown 30 plus years of service.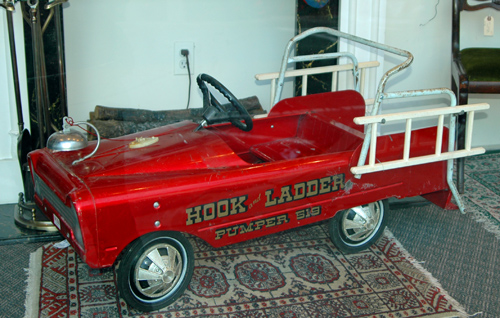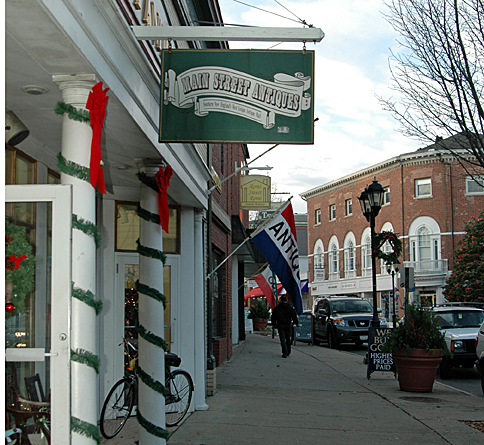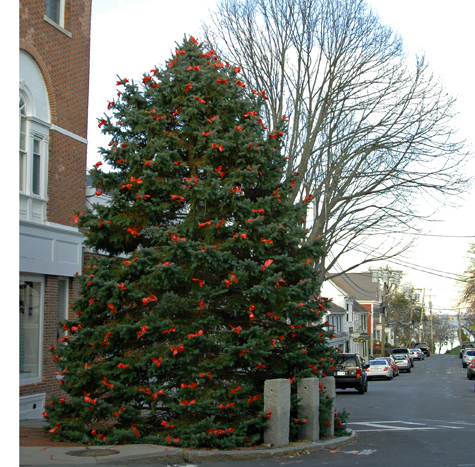 This week was the Tree Lighting Ceremony in Plymouth Center. Every night until New Years, this tree lights up the corner of North and Maine Street. Do you see the water? That's the bay just beyond the end of the road.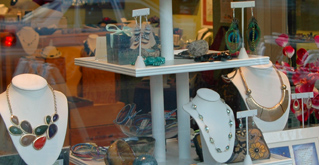 Who doesn't love to give/get something in a Tiny Box? Tiny Boxes Jewelery Store is one of my mom"s favorite places to shop!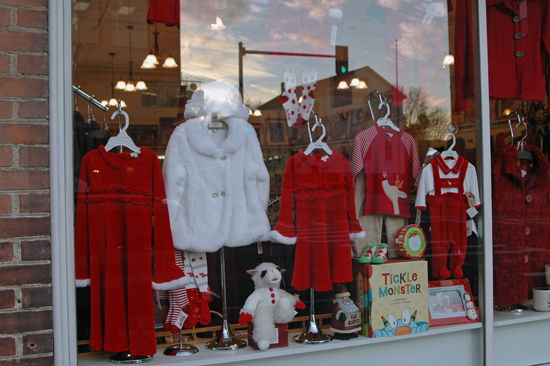 Our kids are well beyond wearing cloths like these but I was ready to jump into my Granny boots when I saw these adorable red and white outfits for young"un's!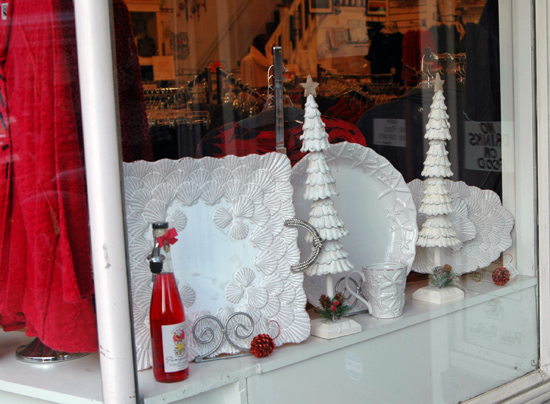 Can't you just imagine a heap of fresh jumbo shrimp with spicy cocktail sauce piled on one of these beautiful shell platters? YUM!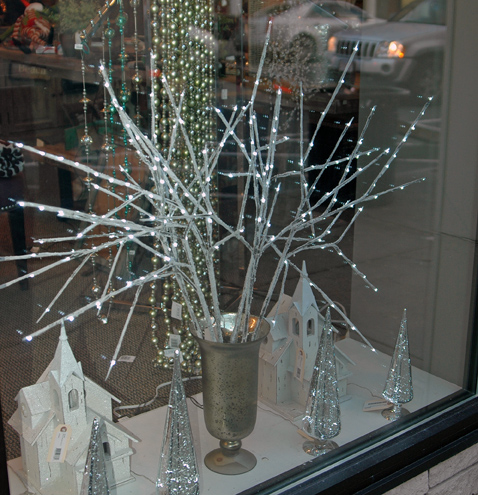 I love things that glitter and sparkle, just as much as I love natural things that don't. I enjoy the contrast of freshly cut evergreens adorned with sparkling lights and ornaments.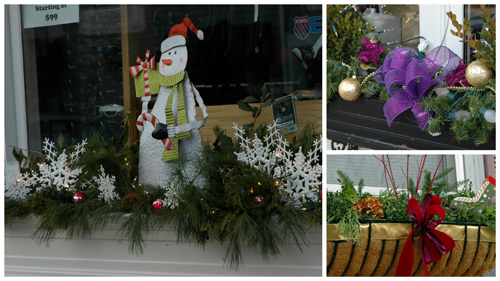 New England has some of the most beautiful window boxes I've ever seen. They are dressed to charm and entice even the most disciplined shopper!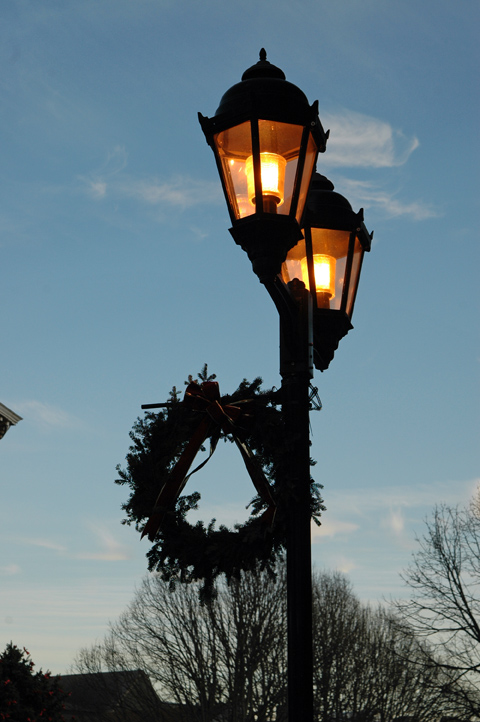 Well, it's been a great day of shopping and the sun is beginning to set on the horizon. What do you say we grab something to warm our cockles at The Blue Blinds Bakery and head down to the waterfront for some fresh sea air!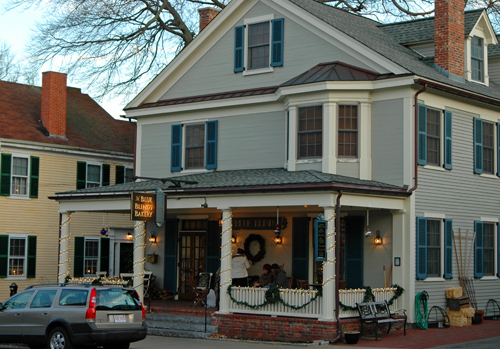 The Caption John Boats are docked in the harbor and so is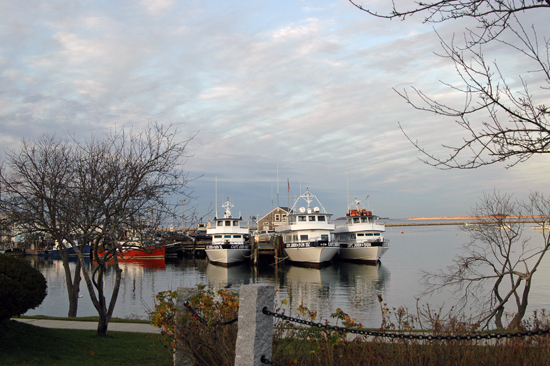 the Mayflower 11 which is an exact replica of the original Mayflower that sailed in 1620. Click here to learn more about the ship, her dedicated crew and their amazing journey from Brixom, England to Plymouth Harbor more than 50 years ago.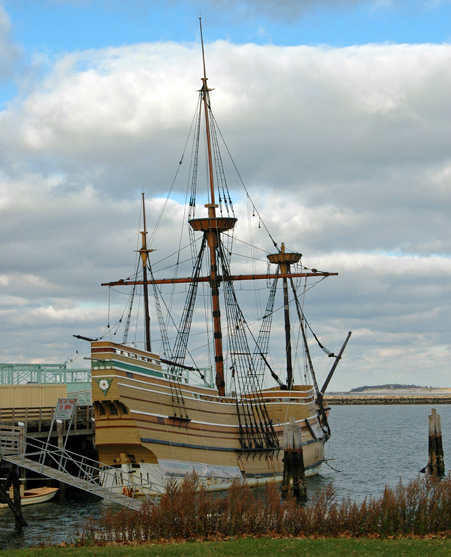 I'm not going to show you a photo of "Plymouth Rock ". You'll just have to come to Plymouth for a Beach Farmgirl Gathering some day and we can go see it together! Wouldn't that be a hoot? Something to think about for next year! In the meantime, I've got to get busy getting ready for my own Coastal Christmas here at home. I'm hosting Christmas dinner this year for my immediate family which adds up to a cozy group of 8! I've got an easy simple dinner ( roasted turkey and honey ham with all the fixin's) planned so we can relax, enjoy the day and each other. We'll start with opening stockings early Christmas day, followed by the Yankee's homemade waffles, syrup and strawberry fruit sauce. Then we'll waddle back into the living room to open a few gifts and have some laughs while drinking our favorite hazelnut coffee and cream with Elvis's Blue, Blue, Blue, Blue Christmas humming in the background!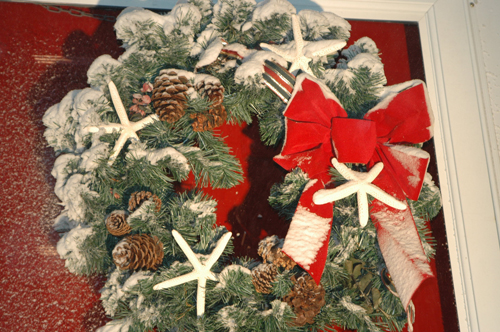 Want to know a quick way to add some beach beauty to your holiday decorating? My Christmas Cottage Wreath is artificial and already had the pine cones attached. I added the bow then hot glued the starfish on in a snap! Shells for crafting can be found at most local arts and craft stores. I've had good luck at Michael's Arts and Crafts store.
Keep your cool sisters! I'm wishing you all  a "joyful calm" this holiday season.  I'll be back for one more visit before we ring in the New Year!
You're invited to my…
Christmas Wishes and Dishes Open House
right here on the shorelines December 23rd!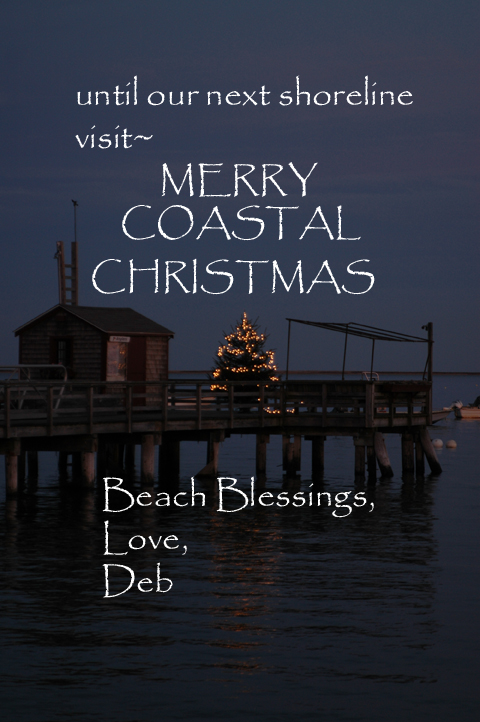 Tell me! How do you celebrate Christmas? What are your tried and true traditions? And, what are you doing different this year just for fun?
P.S. I'm not kidding about that Beach Farmgirl Gathering! Let's see what we can cook up!
PSS. The top photo of this post was created by my Yankee. He took the photo then added the tree and sparkles on the water using the Paint Program on our computer. Isn't he clever?