Long time no see Farmgirls! MJF and co. was kind enough to let me pass on my most recent blog entry because it was my birthday and I was SO TIRED of staring at my computer…but there is more to come on that later.
We just experienced December's full moon–called the "cold moon" by some and the "long nights moon" by others. Either way, it was the longest night of the year and it appeared to be the smallest one of the year.  As an Alaskan, we can go months without seeing the moon, so this show of the moon for 14 or 15 hours is pretty great.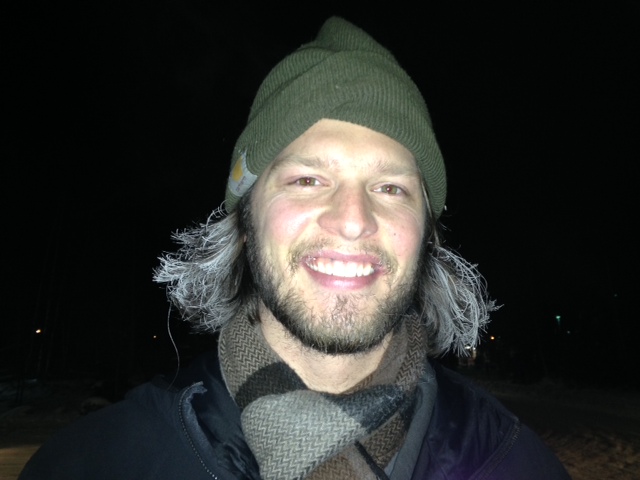 I tried to takea picture of the moon…but it was just a white dot in a black sky. So, here is Evan, all frosted up during an evening walk with Moki. It's this dark around 5 p.m.!
I recently looked at a calendar for full moon dates over the 2013/2014 winter in anticipation of the birth of our first child. His or her due date is Jan. 17, and the nearest full moon is January 15 with the "wolf moon." This, in turn, got me thinking about what these full moons could mean, and I liked the significance of December's full moon. It is a time that is good for thought, introspection and growth.
This makes fairly boring sense when thinking about the month of December. It's when we look back on the year's accomplishments, failures and momentous occassions. In doing so, we prepare for a new chapter in the upcoming year along with all of our resolutions and expectations for this upcoming trip around the sun.
And you know what? I don't care that it's fairly conventional and expected! I am happy that it is forcing me to do some soul searching before the last 12 hours of this year. It has been a BIG year of preparation for the rest of my life!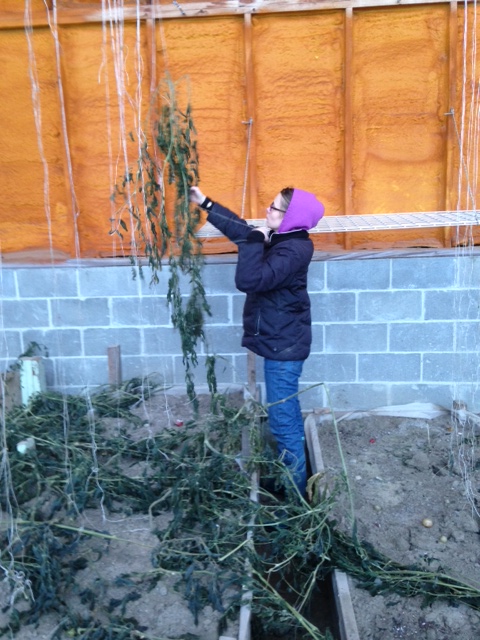 My farmer friend, Amanda, is leaving Alaska! we removed tomato vines from the frigid (-13 outside!) greenhouse as our last farming hurrah. It was cathartic.
Part of why I didn't write the last blog post was that I was frantically working on finishing my Master's thesis for Alaska Pacific University. I am a procrastinator at the central core of my being. I just can't get work successfully completed without the hot breath of a deadline or due date breathing down my neck. After spending September through mid November working consistently on my research, the second half of November and the first half of December were by far the most productive in terms of the volume of pages synthesized.
I have kept my thesis topic quiet until now, but the results were really cool! I ended up interviewing a small group of beginning female farmers in Alaska who practice small-scale organic agriculture. In doing so, I was hoping to uncover some of the areas of improvement for agricultural education in Alaska. It was amazing getting to know some of these farmers and to find out how they all became farmers in this unlikely farming state.
All of the women have college degrees and none of them came from farming families. In fact, most of them grew up in the suburbs, like me! They mostly came upon farming as a career by chance.  Most ended up taking a farm internshp after college because it seemed like a fun thing to try out, and they ended up loving the intimary it provided with their food and community. The educational possibilites are many–from mentorship models to a formlized university degree. However, the questions I ended up asking in my interviews yielded results that went way beyond education. Next time I'll have to ask more pointed questions.
The overall thesis research and writing process was valuable, and I am now a Master of Science of Outdoor and Environmental Education! I can't wait to continue teaching others about exploring the outdoors, getting our hands dirty and relishing time spent in the natural environment, especially through the production of good, whole, organic foods.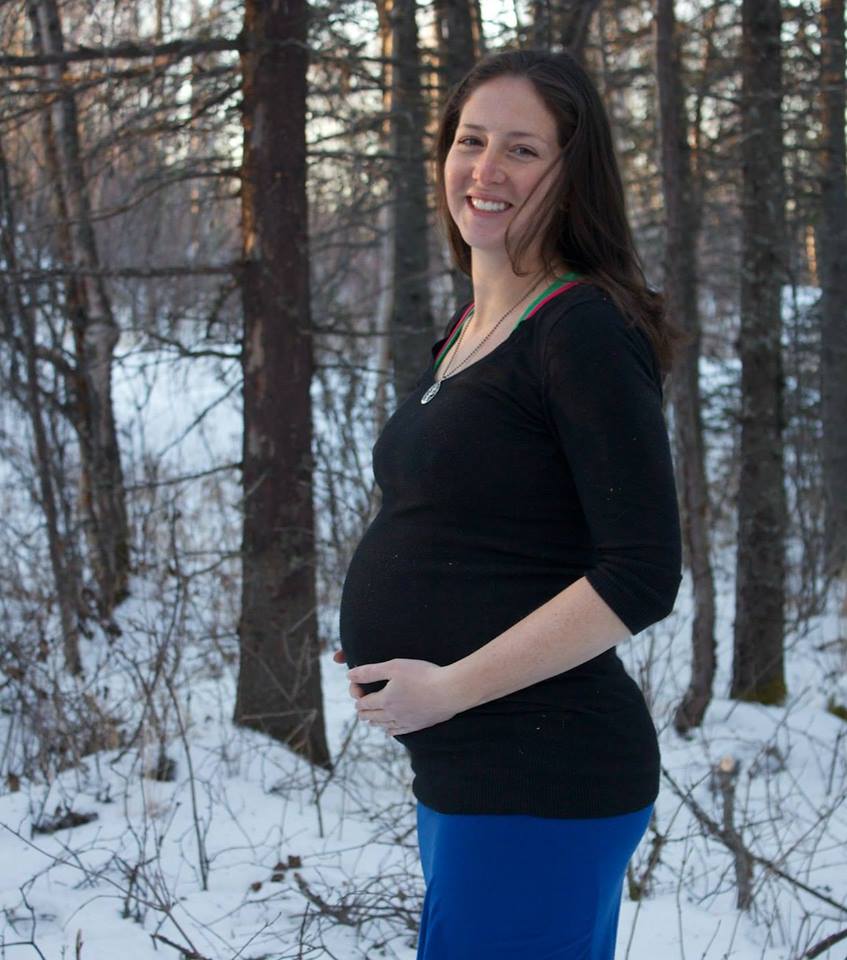 Taking a 35 week bump picture in the icy December cold. This baby is coming soon!
I am also now nearly 36 weeks pregnant! I could be having this baby any day. It feels like I haven't been pregnant long enough to actually grow a whole little human inside my belly. However, the little one has been kicking away and giving me plenty of indigestion, shortness of breath and trouble sleeping, so I'm also ready for him or her to make a grand entrance into the snowy January world of Alaska. As many of you know, there are many physical, mental and emotional shifts that come along with having children, especially the first child. These last few weeks in December are providing much needed time for me to reflect on my life up until now and to anticipate what this new journey will look like. I've never expected much for the future, as it is inherently uncertain. We don't know if jobs will stay or go, if loves will endure or even what the weather will really be like a few weeks from now. I do know, for certain, that I will be a mother within the next month (maybe plus a few days if little one is reluctant to experience an Alaskan winter). It is an empowering, terrifying and exciting feeling!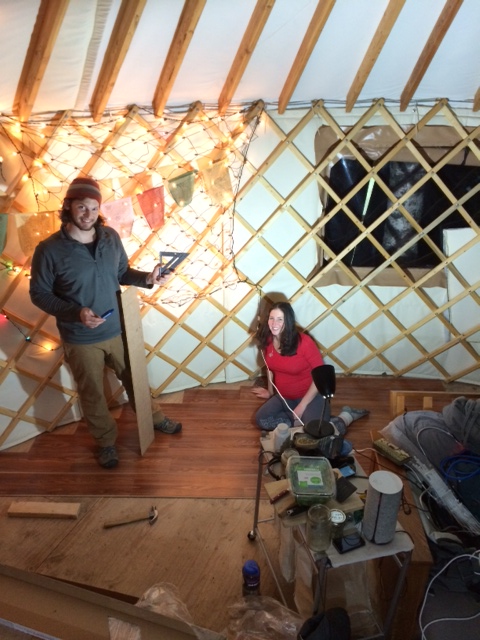 Installing floorboards to cover up the plywood platform. It is SO much easier to keep clean!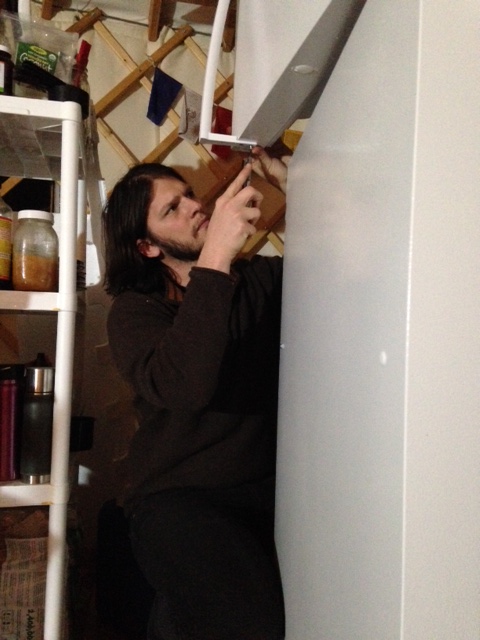 And we have a fridge! The Sears guys were so great–they wheeled it up our snowy/icy/obstacled path and up our front "steps" even after explicitly saying they would not do it. Thanks Sears delivery guys!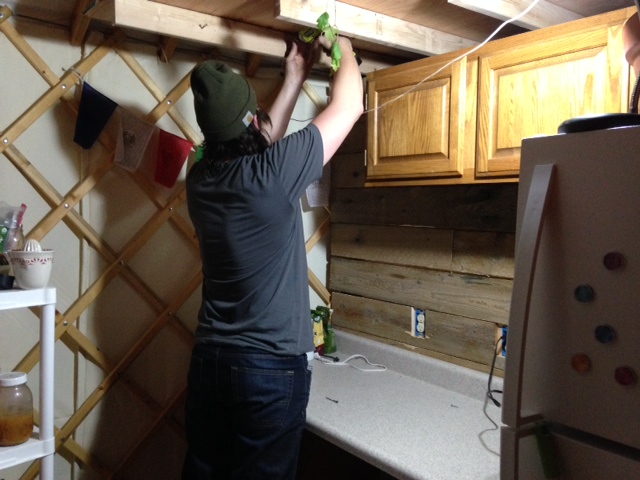 And we have cabinets and a kitchen counter!
Part of the whole excitement/nervousness of becoming a mother rests in the completion of our yurt living space. We are NEARLY there. it is very livable and comfortable as it is now, with just a few boxes that need to be unpacked to add some more decorations to the walls and shelves. We have been working hard the last month installing floors, cabinetry and countertops so that cooking and cleaning is a breeze. One of the biggest highlights is the arrival of a real life refrigerator. It is a game changer. We've put together the crib and have established a kitchen, a living area, and a nursery area. It feels good to be home. I hope the baby likes it, too.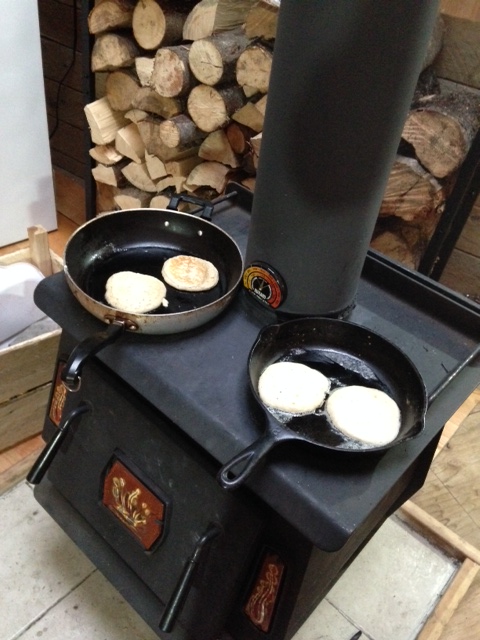 Having a kitchen allows for fun foods like pancakes! Two pans are necessary because of the slow cook time on the stove…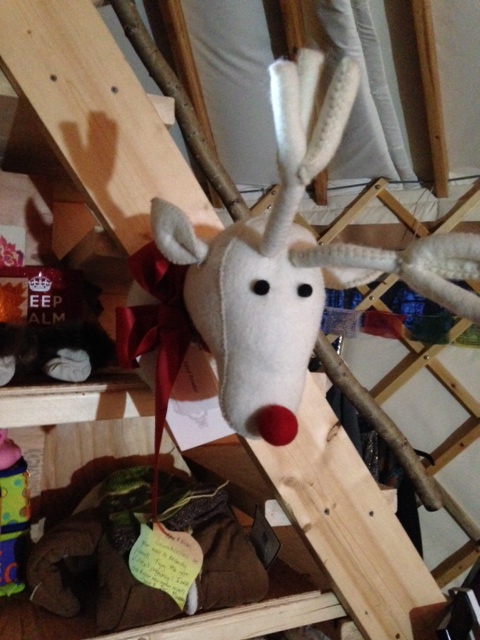 Rudolph will look over us this holiday season as we wait for the baby and celebrate family, friends, love and long nights!
Maybe I will be a mother the next time I write (but I'm kind of hoping to for a couple more weeks of pregnancy…)! Either way, I wish you very happy holidays and a happy New Year!
Until next time, sending you peace and Love,
Alex, the Rural Farmgirl