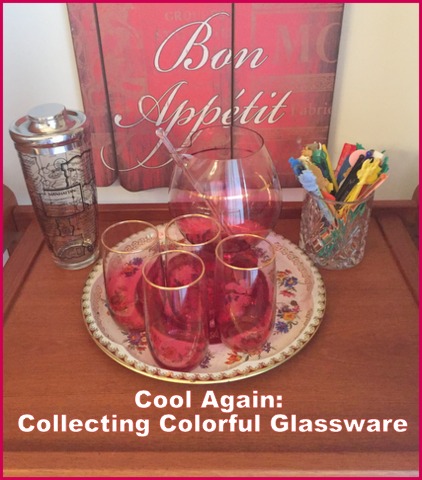 While I think shopping's fun, I've never cared much for a mall. I love flea markets! Tag sales and antique/thrift stores are fun, too. Items that have withstood time or have a past history are interesting. Like many Farmgirls, I'm passionate about vintage items, and love anything glass! When glass is colorful, it's even more tempting!
My childhood kitchen was red, colorful and inviting. Sure, there were gold appliances popular in the 70's, but there were also red-and-white-checked cafe curtains mom had sewn herself, and a big strawberry McCoy cookie jar that was always filled. It was a big eat-in kitchen, but on holidays we sat in the dining room using tableware reserved for special occasions. Mom's ruby-colored crystal water glasses graced the table on those occasions, and then stored in the credenza for safekeeping. The goblets would make the sweetest twinkling sound as we'd tiptoe by the credenza. I remember how I loved the way water looked in those iridescent cranberry glasses! I knew I was a "big girl" when I drank water from one on a special holiday. As an adult, Mom gave them to me as a housewarming present. How they survived shipping is a miracle! Mom bought her water goblets in 1964 from Foley's Department store. Today, they're stored in my china cabinet, but I don't often use them, and my daughter's never sipped water from one! They're so delicate with thin rims – I'm afraid I'll break one! (They still make that familiar "tinkling" sound when my footsteps vibrate the cabinet).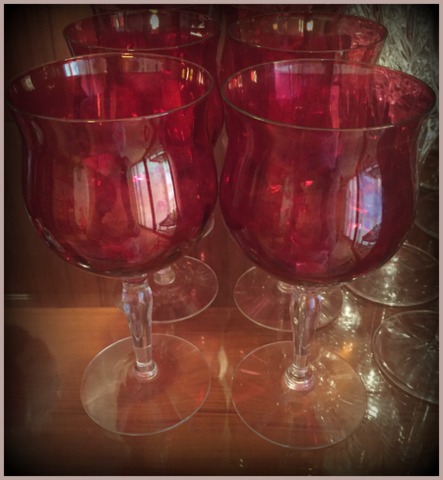 Last fall, I was in a thrift store with one of my friends when she spied a set of glasses and a pitcher. She exclaimed, "Nicole, that just screams "you"! Not knowing what the set was, I could tell it was old, probably from the 1950's. Clear at the top, the bottom half of each piece is a pretty cranberry red.  It was love at first sight, and I was thrilled with the price tag: $4.00 for the whole set! Bringing my new treasure home, research revealed it was a "Blendo" set.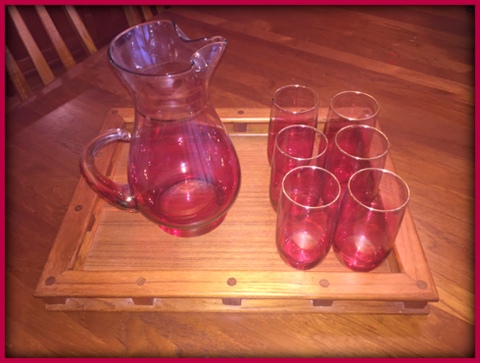 "Blendo" glass, made by the West Virginia Specialty Glass company, was most popular during the 1950's and 1960's, when colorful dresses wore worn with colorful aprons and cocktail parties were a popular past time. Blendo glass came in a variety of shapes and colors, and featured pitchers, glasses, cocktail shakers and serve ware such as salad sets and cruets. Today, Blendo's popularity is increasing again. Collectors can find really reasonable prices on pieces at thrift stores, tag sales, and online through Facebook, Etsy, and Ebay.
It's recognizable by the clear glass that "blends" into a rainbow of colors such as blue, orange, yellow, pink and more. The "frosted" pieces have a cool, refreshing look that begs to hold cold lemonade or iced tea to be served on a hot day. I love my cranberry red set, as it blends (pardon the pun) with spring, summer, or fall decor, as well as served me well (no pun intended again) at the holidays. Just use care to always wash by hand, and do not use harsh detergents, because the color can fade and flake off if handled improperly.
That same friend found another piece of the same color for me at Christmas. This piece is a small footed pitcher with a glass stirrer, shaped like a very large brandy snifter. This was used in the cocktail era to serve large batches of martinis. I think it's adorable!
Another friend and I have a tradition at Christmas, the "Vintage Gift Challenge". Our gifts to each other must be vintage and under $10. This year, she gave me a chip and dip set in the same cranberry color as the pitchers and glasses! Oddly, she found it in a store and put it away before I ever found that first pitcher and glass set! I'm so lucky to have friends that really know me! The shape of the bowls are unique, and if you turn the little bowl around on the stand, it becomes a salad set… genius design!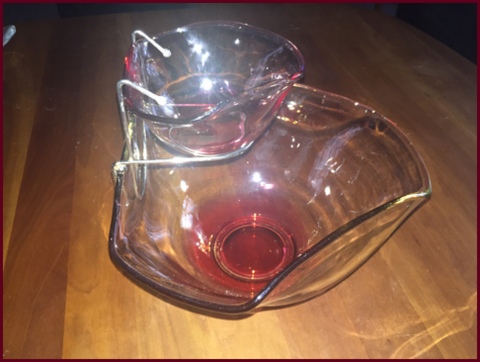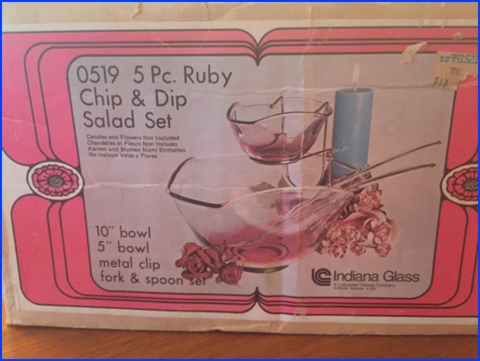 My particular set came in the original box, made by Indiana Glass, but similar pieces are listed on eBay under "Blendo". Can't you just imagine ladies of a bygone time, in pearls and heels, getting together for a game of bridge and serving munchies in colorful glass? If you spy a beautiful, old glass pitcher or serving piece by West Virginia or Indiana glass, snap it up. The pieces recall another era, but are still beautiful today. Try a colorful Blendo pitcher filled with flowers as a vase, or use a bowl as a centerpiece.
Tell me, are you are a Blendo or vintage glassware fan, too? What's your favorite color of glass?
Until Next Time…Farmgirl Hugs, Nicole