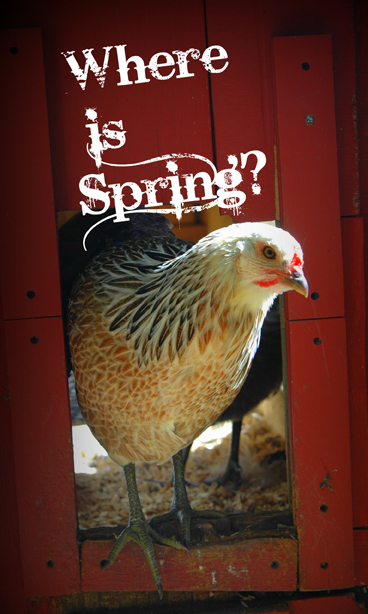 "It was cold and windy, scarcely the day
to take a walk on that long beach
Everything was withdrawn as far as possible,
indrawn: the tide far out,
the ocean shrunken,
seabirds in ones or twos.
The rackety, icy, offshore
wind numbed our faces on one side;
disrupted the formation of a lone
flight of Canada geese; and blew back the low, inaudible rollers in upright, steely mist."
– Elizabeth Bishop, The End of March 
Do your " girls " talk to you? Come on, you can tell sister Deb. I won't have you admitted if you say yes cuz mine do! The other day while I was out doing chores Gladys poked her head out of the coop and asked, "Where is spring?" You mean, sunny, warm days with evidence of new life at every turn? It's on its way, I replied. Gladys clucked back, "good, because I'm tired of being cooped up, looking at colorless gardens and I miss my dust baths in the sun! Me too I said, me too. Except for the dust bath in the sun part…Feeling my toes in the warm sand would do it for me right about now! Let's fast forward to sunnier days to come shall we? I bet we can find spring then!