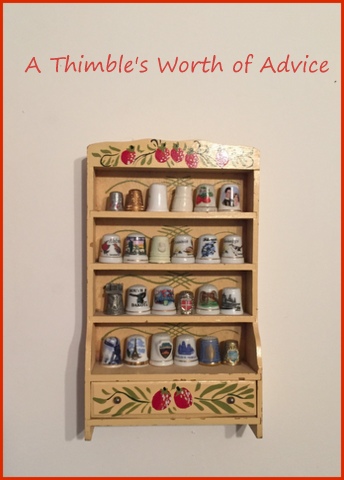 Some of the best things in life are also the smallest! A hopeless collector, I adore thimbles! I've picked thimbles up as inexpensive souvenirs and at flea markets. However, I had no idea that one day a chance meeting at a tag sale and a cigar box of thimbles would lead to a surprise and a life lesson!
Protecting the fingertips from injury during sewing, thimbles have been used for thousands of years, even found among the ruins of Pompeii. Utilitarian in purpose, early examples were made from leather or bone. The first-known metal thimble, made in the late 1600's, was called a "thumb bell". Thimbles were later made from all sort of material – from ivory to silver (which is soft and resulted in needle-pricked fingers) to porcelain, plastic and more. Before, a thimble would've been found in every home (along with a rolling pin and well-worn apron); some people today don't even know what a thimble is!
As a little girl, during the hottest part of the day in the hot Texas summer, I would happily play next to Momma while she used her sewing machine under the cool of the air conditioning. Above her sewing machine was a little rack of thimbles.
I remember shopping with Daddy for that special Mother's Day, 1970-something, at a local gift shop, owned by the nicest, always-perfectly-coiffed-and-perfumed shopkeeper who loved to chat with all her customers. She knew them well, and could suggest perfect gifts for each. I was thrilled to present Momma that little wooden thimble rack, hand-painted with strawberries, complete with a matching strawberry-painted thimble. We'd add thimbles to it on road trips, mostly to the Texas hill country.
Later, when I took up sewing as an adult, Momma gave me the rack and thimbles she'd packed away years before. Not very large, it couldn't hold all the thimbles I had, so some stayed tucked in a drawer.
Awhile ago, my  guest/sewing room had become messy with my tools and patterns. One day, I noticed an old, dusty little sewing cabinet for sale on an online tag sale. Just what I needed to get my sewing supplies organized and out of the way of guests, I decided to purchase it.
Ever met someone and "connected" immediately? The seller was lovely – an empty-nester who was downsizing and soon embarking on an out-of-state move. The sweet little cabinet just wasn't something she could take with her; she was happy I would put it to good use. We chatted on and on about how hobbies like sewing were disappearing nowadays. She told me about her beloved mother, whom the cabinet had once belonged to. Her mother was a very talented lady with a giant smile that I know I would've enjoyed meeting, as well.
After polishing it and organizing my notions, I later texted the sweet lady a photo of the cabinet, thanking her again for selling it to me. Before moving away, she then contacted me, asking if I liked thimbles. She had some of her mother's and thought I would like them, so we met up once more. Chatting again, I was sad my new friend was moving.
At home I unwrapped the thimbles, meticulously packed in a cigar box. I was amazed at all the different thimbles…so beautiful. It was then I noticed paper inside some. Unfolding the slips of paper, I was touched by the sentimentality of the lady who they'd once belonged to. There were little notes about where she had acquired her thimbles. Some were from trips, others gifted to her like the one whose yellowed strip of paper reads, "Old – from Mom's friend".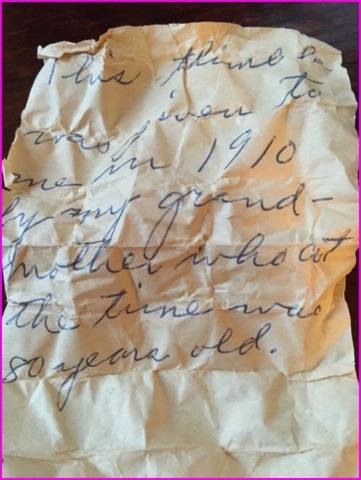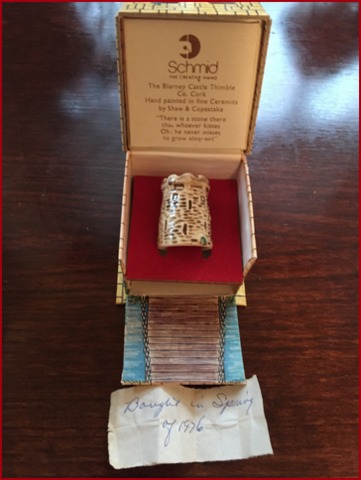 For awhile, I kept them all in the box, until I found the perfect little velvet-lined hanging shelf that I fixed up and stained, to hang next to the rack from my childhood. With them, I put all the thimbles I'd collected through the years, as well.
I feel a kinship to the lady who had liked to do many of the same things I do now, who was so sentimental she tucked notes like hidden treasure in her thimbles. She inspired me to go back and put little notes in as many of mine as I could. A recent addition to my thimbles is from Washington DC. It's note reads, "Acquired as a parent chaperone on the fun Eighth Grade field trip with Newtown Middle School, April 2016."
I love sewing at my sewing machine, and glimpsing at the thimbles on the wall.
No longer just "souvenir thimbles", I'm reminded life isn't just "big" life moments. Some of the best, most special memories we hold dear are also the simplest times spent with those we love.
Until Next Time…Farmgirl Hugs, Nicole