Slugs! What are they good for?  So far, I have determined that they are good at crawling all over the underside of lettuce heads, destroying cabbage, burrowing into cauliflower, bringing down whole sunflower plants and other general mayhem.  But, what are they good for?  The chickens won't give them a second glance, it doesn't seem like the spiders are interested at all, and other birds are just going for the worms and seeds.  However, the ducks do get excited for a tasty slug That is one benefit among many detriments.  So…how am I supposed to justify the presence of these pests?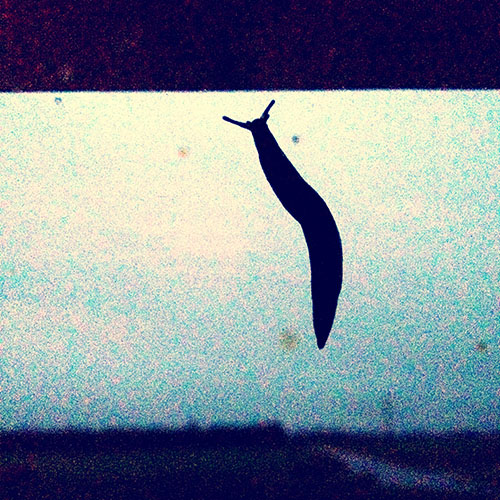 A slug.  On my window.  Nearly seven (SEVEN!) feet off the of the ground.  They are everywhere!
Root maggots can be avoided with proper precautions, the aphids haven't been too bad (and we can at least find good predators for them), the red wigglers really are great for the soil, and other pests aren't EVERYWHERE on EVERYTHING for MONTHS.  It really feels like slugs have taken over my life.  Every time I open the bucket of chicken food–slugs on the lid!  Every time I harvest a cabbage–slugs, every time I weed–slugs in the chickweed, slugs in the grass, every time I wash lettuce heads–a tub full of slugs.
The Master Gardeners we've spoken to in Alaska pretty much say that the Organic fight against slugs is futile.  Coffee grounds mulch, beer bait, diluted dish soap, salt–all of these result in very little slug control.  However, your garden may smell like a grungy bar, if that's what you're going for!  In the end, it sounds like the only way to really control slugs, without chemicals, is to hand pick them and (gulp) destroy them.
Now, there are other predators of slugs aside from ducks–there are toads, geese, snakes and some beetles.  However, we don't have toads or snakes in Alaska…and I'm not so sure about large predatory beetles.  Also, geese only hang around in the early spring and late fall.  We held a farm tour last week, and one woman wondered about the edibility of snails.  "Perhaps they are like escargot?"  I think not, and I will most likely never find out.
In a home garden, it is easy enough to hand pick and destroy slugs once a day (however, if you look at my home garden, you would think otherwise!).  Hand picking on the scale of a farm–no matter the size–is not reliable or efficient, though.  In light of this, we've taken to killing slugs when we encounter them and feeding them to the ducks when possible.
The mostly vegetarian, slightly Buddhist, highly existential side of me cringes at the thought of knowingly killing another creature for seemingly no reason.  At least feeding them to the ducks accounts for the betterment of another living creature.  Every time a kill a little guy/girl (slugs are hermaphroditic–how clever of them), I apologize and move on in my killing spree.  Amanda the farmer and I discussed the many sluggy souls that were weighing heavily on our karmic consiousnesses the other day.  Amanda is a veritable slug slayer, she is ruthless!  She is more brave than I.  We decided that, just like feeding the slugs to the ducks seems to help the betterment of their species, killing the slugs in the field leads to the betterment of Alaskan consumers.  It's survival of the fittest when it comes to defending food.  While slugs can work at eating at all hours of the day and night, they don't have harvest knives and thumbs.
While our battle with slugs will continue for the next several weeks, it is apparent that fall is on its way.  The leaves up here have already begun to change, the fireweed is going to fluff, the crisp morning air beckons me to drink some hot apple cider, and wool socks are feeling ultra comfy.  We went to the Alaska State Fair yesterday and gandered at some of the giant produce–Kohlrabi as big as my head! Seven pound Cauliflower (probably conventionally grown and slug free)!  The Avett Brothers were at the fair–and they put on a fantastic show.  Luckily, there were no slugs in the grass at the fair, so I could dance without the squish of slugs underfoot.
Are slugs a problem this summer in other areas of the United States?  I suspect they aren't bad in the drought areas–but these farmers and gardeners have a lot more to worry about than slugs.  Up here they are horrible due to the nearly constant rain.  Perhaps this will be remembered as the "Summer of the Slug," that I will be forever humbled by.
Until next time my Farmgirl friends–may you stay slug free!
Happy September to you all,
Alex