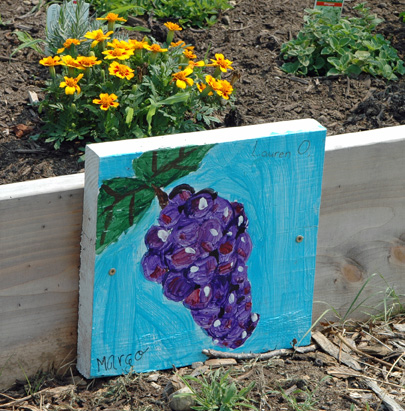 The Beach farmgirl has been out and about on Cape Cod visiting her new farmgirl friend Melissa and The Children's Garden she helped to create at Barnstable Community Horace Mann Charter Public School where her children go to school. She's not an official sister ( yet ) but she's a tried and true farmgirl at heart! With the support of the Principle, students, volunteers, local businesses and a shovel full of can-do spirit she helped design and build 30 raised beds and a blueberry patch to boot! This schoolyard garden is an inspiration to anyone who has ever dreamed about starting a community garden.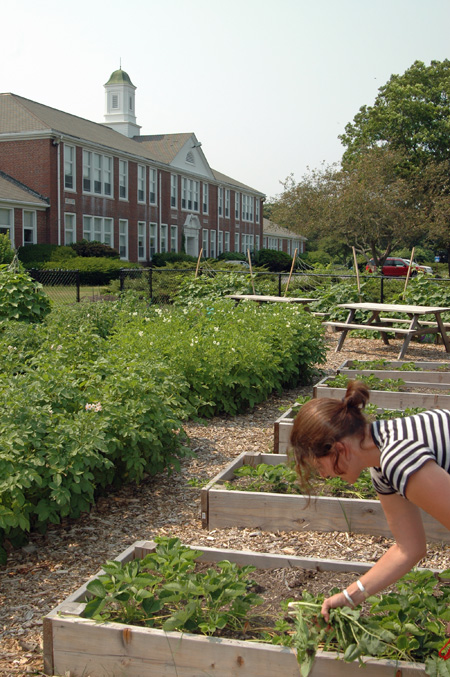 ( Melissa in her garden with school in the background )
Following the trend of the emerging " edible front yard concept "  the gardners chose not to " hide " their veggies behind the school but to plant them front and center for all to see! In the Spring, each bed was filled with organic soil then planted with seedlings the 380 plus children grew in the classroom.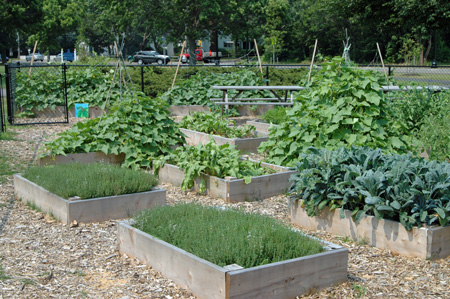 Every week day during the summer several of the volunteers and students come back to work the garden and sell what's harvested that week. All proceeds from sales are donated to a local homeless shelter.
Cucumbers were ready for pickin' during my visit.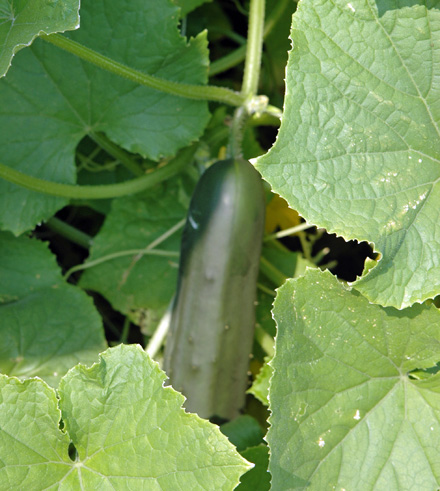 Melissa sent me home with two of the largest cuc's I'd ever seen.
What to do with these huge babies?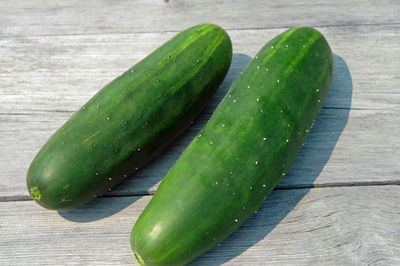 Cool as a Cucumber Summer Salad ~ with a Greek twist!
4 large cucumbers

1/2 cup Herbed Fetta Cheese

10-15 sliced grape cherry tomatoes

1/4 cup sliced purple onion

1/2 cup Greek Olives

1/4-1/2 cup Greek Salad Dressing

5-7 fresh Oregeno leaves
3 fresh Basil leaves cut into smaller pieces
Slice cucumbers,tomatoes and the onion into small bite sized pieces and place in salad bowl. Add the rest of the ingredients then toss it all together until mixed well. Add a dash of Sea Salt and fresh ground pepper on top. Chill for an hour before serving.
* If you have these ingredients on hand this is as easy to make for one as it is for 6. It's great as a side dish or alone for a light healthy meal.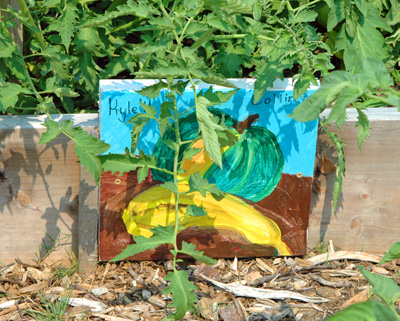 The Children's Garden has all the makings of a successful community garden. It has something else too! Each raised bed is adorned with it's own painting of a veggie created by the children.
Here's a peek at the Garden Gallery!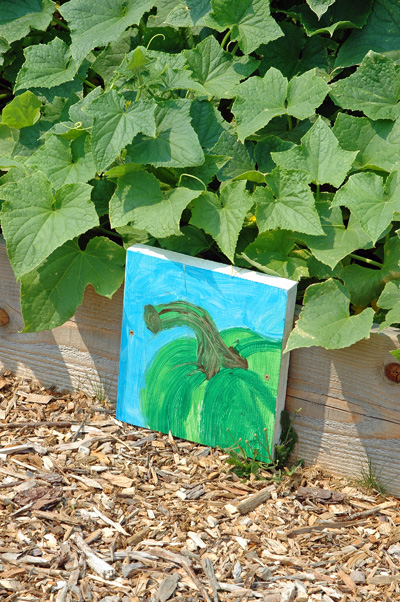 As a homeschooling mom exposing our young children to as much art and time in nature during the wonder years was a high priority for me and I was so inspired to see creativity being nourished and flourishing in this Community School and Garden.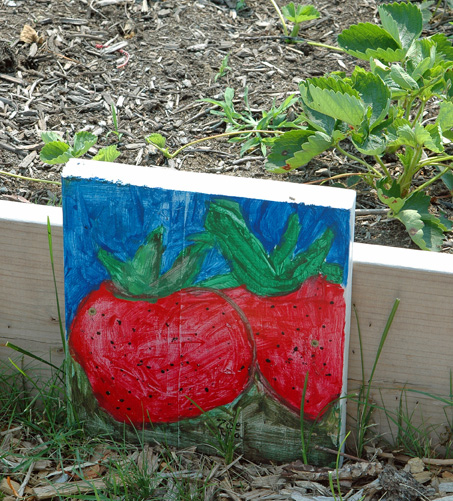 Each plaque was painted on left over wood from the raised beds. This is an idea that can be brought home and " hung" in your garden too!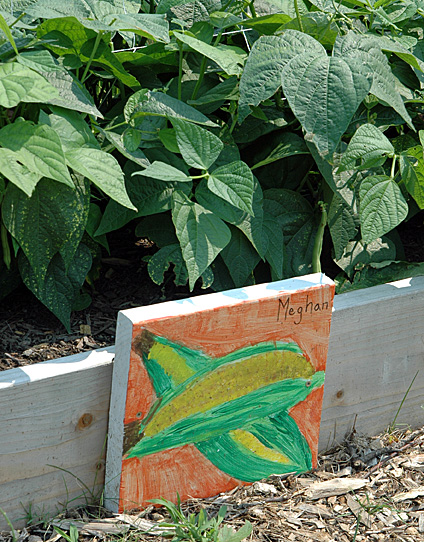 Sweet Summer Corn ~ YUMMY!
Every Gardner, no matter their age needs a place to hang their hat and store their tools!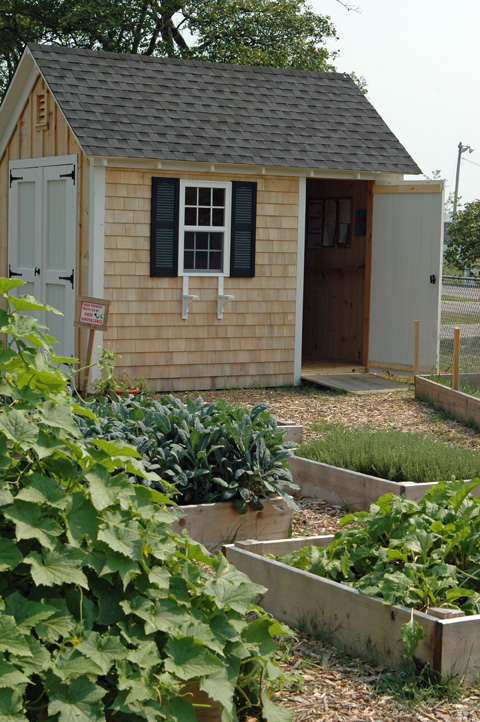 Shovels and a rake hang neatly alongside more whimsical art and a chart for garden rules. Staying organized is a key ingredient in keeping this garden growing smoothly!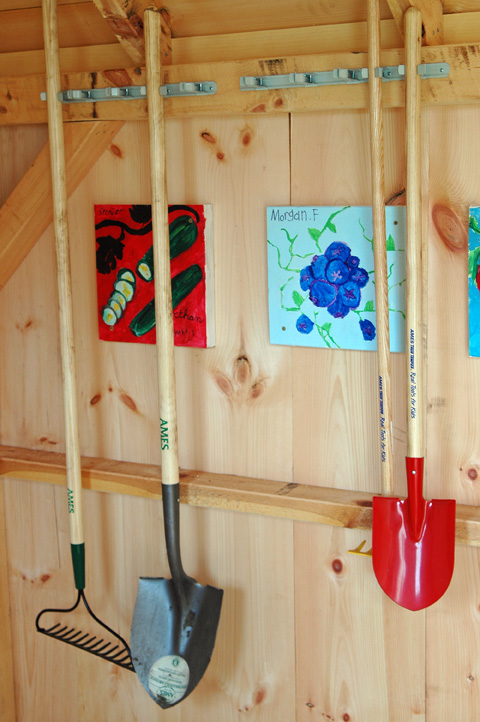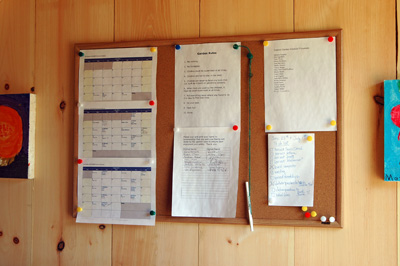 How far reaching the roots of The Children's Garden will be is hard to predict. Who knows? Out of three hundred and eighty plus children, there could be a future organic farmer or farmgirl in the mix!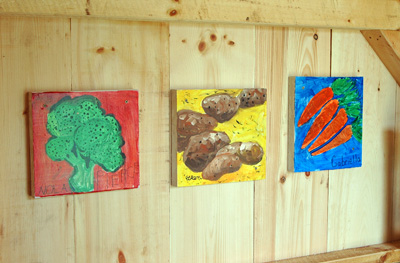 The only thing missing from this post are photos of the young grower's themselves. Please visit The Children's Garden to see the sprouts in action and learn more about how this Children's Community Garden has grown, literally from the ground up!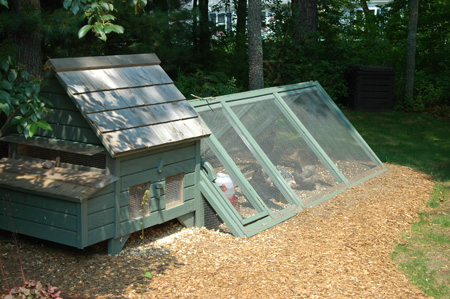 Please be sure to stop by Tilly's Nest and meet my farmgirl pal Melissa and her "girls ". She writes about her adventures (and misadventures too) of keeping backyard chickens. You'll find recipes, stories, tips, coop tours and plenty of cacklin' over there! Melissa's cool coop ( above ) is made from recycled materials by Green Chicken Coop .
Until our next shoreline visit~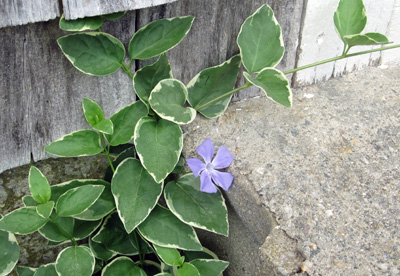 Beach Blessings and HAPPY GROWING where ever you're planted and planting!
Love, Deb
PS. It's Farmgirl Friday at Dandelion House! Come on by, link up and show off your farmgirl flair!