Our vacation through the Midwest is over—and what a momentous vacation it was! Our adventures took us from Bozeman, Montana to Valley City, North Dakota, and finally to Minnetonka, Minnesota. The highlight from all of these lovely places and all of the great things we did was…drum roll, please…I've returned to Alaska an engaged lady! And I'm not just any engaged Farmgirl, I'm engaged to one of the best men out there (in my opinion).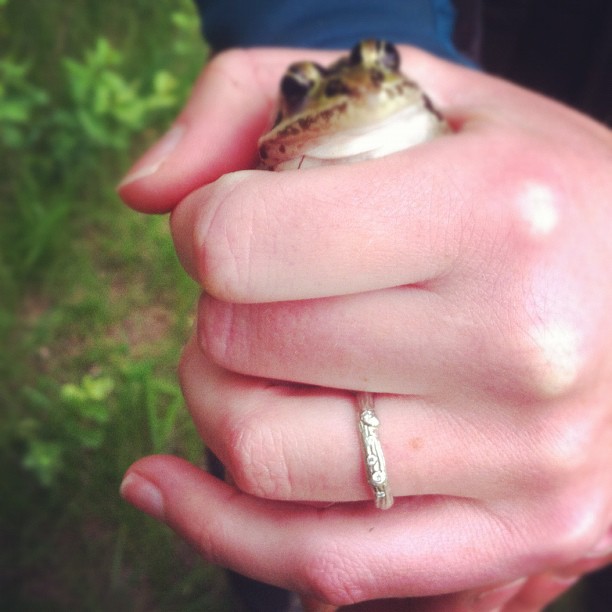 As a young girl, I was kind of obsessed with fairy tales. According to my parents, I watched Disney's Cinderella multiple times a day, every day for much of my fifth year of life. I can vividly remember admiring the movie box while brushing my teeth and playing princess with dress up clothes in my basement. We had life-sized statues of the seven dwarves in our wooded backyard (life sized meaning two feet tall—that's how big the dwarves were, right?). Truthfully, I am still very attracted to the ups and downs, the battles for love, the rags to riches and the happy endings characteristic of fairy tales. Luckily, my partner (now fiancée!) and I have been living our own kind of fairy tale since our happenstance meeting a few years ago…
Once upon a time, a young boy named Evan grew up on a dairy farm in Valley City, North Dakota, completely oblivious of a girl named Alex growing up in nearby, suburban Minnetonka, Minnesota (equally oblivious of him). Their lives were happy, good and full of love. They were both successful students, hopeful athletes—he had a true knack for music and art, she was talented in the ways of the written word. After graduating high school and going to college—he to Montana State University for Vocal Performance, she to the University of Wisconsin-Madison for English Literature, they both discovered that their degrees were fairly useless (especially in the then declining economy).
Thankfully, South Korea was eager to hire all of the English Majors and Music Majors of the English-speaking world. They sought us out to teach their young Koreans how to pronounce the letter L and conjugate verbs. Mostly, they sought us out to get their students excited about speaking English. Evan taught at a private elementary school in Seoul, Alex taught at a public middle school in a small rural town about an hour and a half southeast of Seoul. It seemed unlikely that these two would ever meet, just continue to exist near each other.
This all changed at the Jarasum Jazz Fest in October of 2009. A conga line went bad, and Evan fell; Alex's friends drank too much and went to sleep hours before her, leaving her alone and with extra beer in a crowd of dancing people from all over the world. In an effort to befriend some strangers, Alex offered her beer to neighboring dancers. She didn't even notice the conga line (or she would have joined!). Suddenly a very attractive man was standing next to Alex and she offered him a refreshing drink. And that's where it all began!
(I'm dropping the weird, third person references, here)…From teaching English in Korea, we moved to Minnesota and lived with my mom for more than a year. It was a good time in our young love—we road tripped for a couple months through North Dakota, Montana, Utah and Colorado; we spent amazing quality time with our families. But, once again, our jobs kind of stunk. I decided to apply to graduate school in Alaska, Evan applied to a position up here that he really wanted. I was accepted to school, Evan got his job, and we were on our way to the last frontier!
We've dreamed of the future, reminisced about our individual and shared pasts, and had our share of spats and make-ups. We can talk for hours but still feel totally at ease sitting in the car without speaking for extended periods of time. We've mused about baby names and discussed our perceived strengths and weaknesses as future parents. We do each other's laundry and buy each other's groceries. We've built a chicken coop and shared visions of our future lives in the country.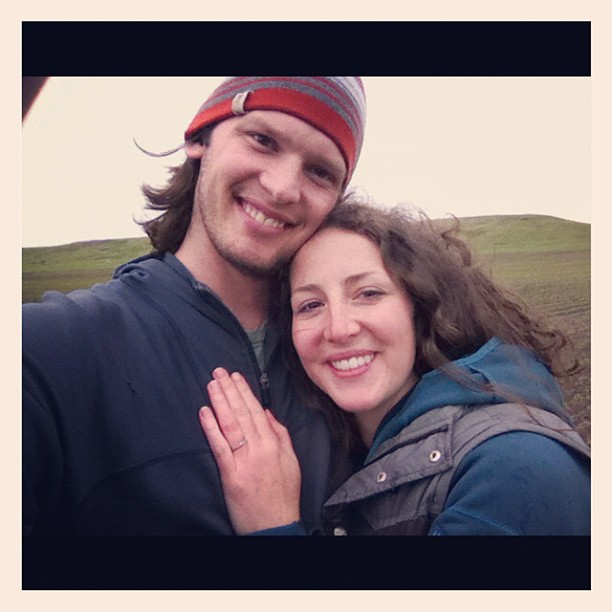 So happy in the corn field.
Last weekend, we were in Valley City for Evan's grandfather's memorial service (rest in peace, Charlie) and his younger brother's graduation from high school (way to go Marshall!). His other brother was also celebrating the purchase of his first home (You're so grown up, Blaine!). On Saturday, we went for a hike in the hills behind my future in-laws home. Their land is absolutely beautiful with a fertile valley floor (now planted with corn) framed by steep walls that give way to rolling hills. The draw behind their home has a small creek flowing through it with beautiful prairie plants, some old cow skulls (it was a dairy farm) and a few stands of trees. I love their farm. Well, we were hiking back there, when Evan turned me around, gave me a kiss and popped the question! I said yes, of course! I am extremely excited and blessed to be able to spend my life with this amazing man. I can only imagine what our future will be like. Watch out world!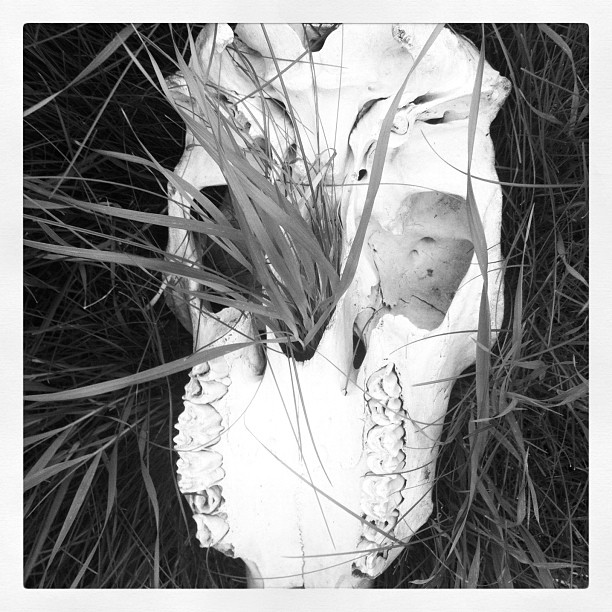 Cow skull in the draw.
Seconds after he popped the question, a leopard frog appeared at our feet; and I had to catch it. We thought it was a perfect accompaniment to the beautiful ring Evan picked out—the band is recycled white gold, molded to appear like a branch, with five small conflict free diamonds flush with the band—perfect for outdoorsy things like catching frogs in muddy creeks. I love it and the man attached to it.
As for the frog—perhaps it harkens back to the ol' prince charming in frog form? Also, for those of you into spiritual stuff, frogs symbolize two pretty good things, 1) they symbolize the beginning of a time of prosperity and abundance and 2) they symbolize a slow transition from one life to another. Rather fitting, yeah? We found that information from an animal spirit guide book that Evan's mother, Gail, has. She is also the one who introduced me to Mary Jane's Farm. She is the first MJFarmgirl I ever met!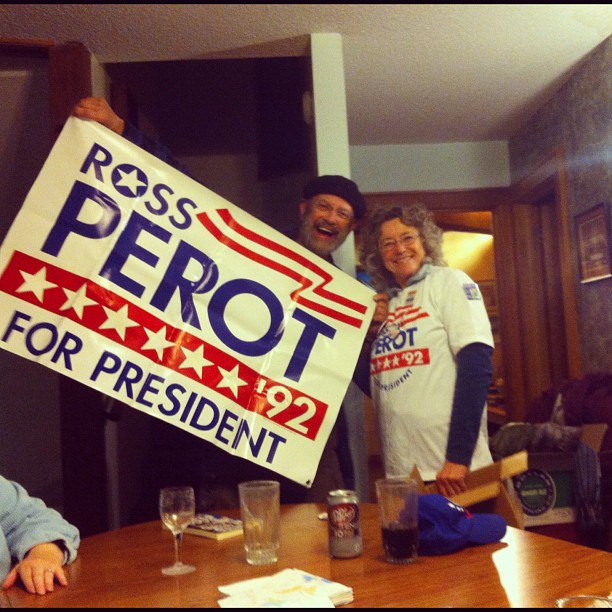 Evan's Aunt and Uncle with vintage perot shwag courtesy of his late grandpa Charlie—what am I getting myself into? haha. Also, this table is where I first read a MaryJanesFarm Magazine!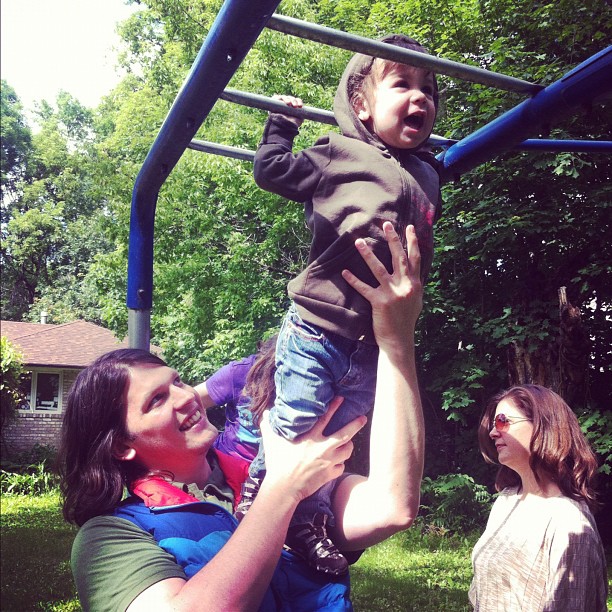 My niece Carolyn with Evan—she's a monkey with Evan's help!
Evan and Nola—he'll make a good dad some day by encouraging his girls to be strong! Love this picture.
As you can gather, Evan's family is great, and I am honored to be a part of their clan. I think Evan makes a wonderful addition to my family as well. My nieces love him, my brothers and sister in law banter with him, my mom loves his good nature and computer knowledge, and my dad and step mom couldn't be happier after meeting and hearing about many of the other previous men and boys in my life. He's perfect in my eyes, and we're getting married! Yay! The date and location aren't set, but it is sure to be rustic and funky with lots of touches ala Mary Jane's Farm…
Thanks for reading, all! I'm looking forward to my happily ever after!
Sending you Peace and Love,
Alex