Every once in a while, I get extremely wanderlusty. Wanderlusty is not a real word, but it is so fitting for what I feel as winter comes to an end … it's different than cabin fever. I don't want to leave this amazing farm at all; yet I still dream about venturing to far-away places.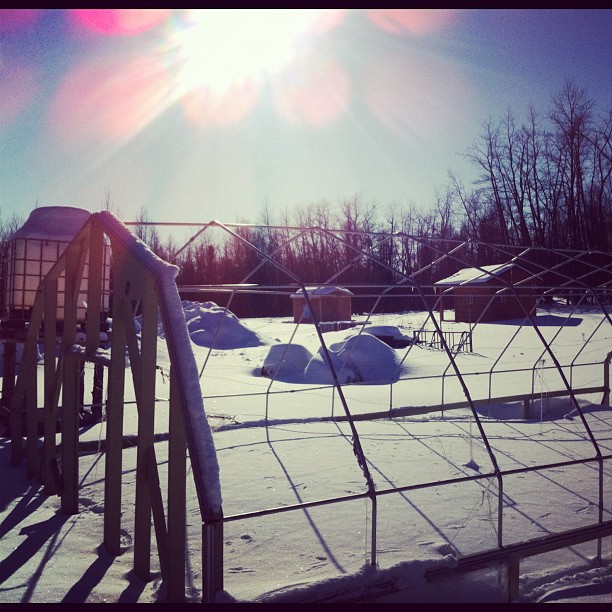 The Greenhouse longs for spring and wind-less days, too!
When I feel like this, it reminds me of my little brother when we were kids. My family went on some very cool vacations; however, he would often gripe and moan the whole time about how he wanted to go to Fargo.
I can see where his internal struggle might have come from. There are amazing things everywhere, and it is hard to not feel conflicted over these amazing things. I want to stay in this beautiful place, but I want to trek the Himal of Nepal, too. I would love to hike the Appalachian Trail or give El Capitan a run for his money, but I also want a cow, a vegetable garden, goats, chickens and an off-the-grid house. All of the latter don't do well when mom and dad are gone for extended periods of time. As humans—particularly American humans—we have been spoiled for choice. I think my generation, especially, hasn't had to make too many definitive choices, we have often pursued and received the best of all worlds. Soon it will be time for me to make a definitive choice: to farm or not to farm? (I think it will be the former).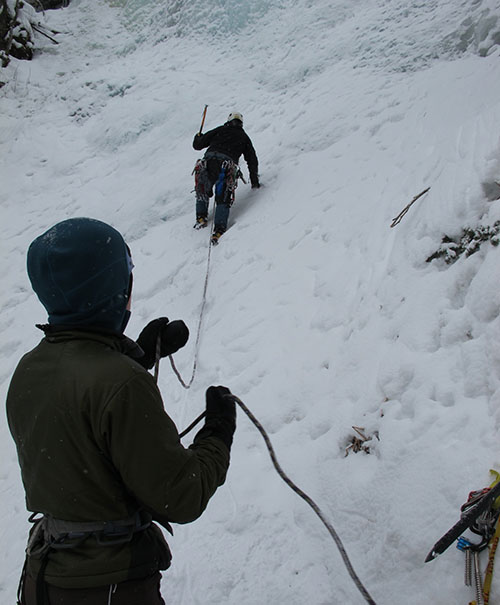 Ice climbing near the Knik River
This feeling of wanderlust isn't foreign to me—it usually comes right before the seasons change. This winter has been long and beautiful and snowy, but I'm ready for some buds on the trees and a patch of grass to sit on. I guess I cope with this by dreaming of journeys to far away places!
That's what it all comes down to right now: Snow. I truly, deeply love snow. It is beautiful and calming, it is renewing and it is special, and it is best appreciated in five month spans of time. We are now approaching five months of snow here, with no end in sight. (It has snowed about eight inches since my last post.) That must be where my yearning for something green and living comes from. I don't mean to complain about the snow, because it is awesome in every sense of the word. I have done some of the best cross-country skiing and snowshoeing of my life up here, and we've found some wintery artistic outlets in the forms of snow sculptures and icicle fences. But my inherent need for spring is creeping in!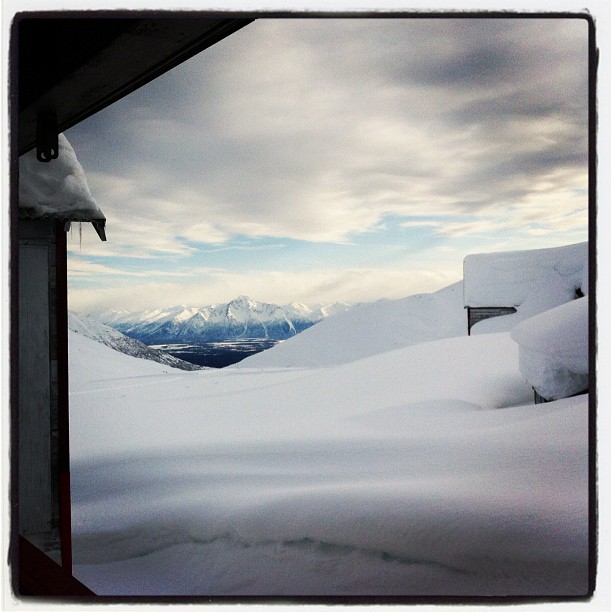 Cross country ski to Independence Mine Historical Park on March 13—Look at that snow!
Luckily, there are hopeful signs of spring everywhere: I spotted some grass growing near one of the houses out here where the snow had blown away. A few of us went ice climbing yesterday and the smell of soil and moss seeped through the slowly melting ice. If the smell of soil isn't the essence of spring, I don't know what is! The farmer here, Amanda, and I did some soil blocking and seeding the other day for the CSA; and I also finished my own seed order. The most exciting sign of spring right now is the incubator full of eggs in my living room! The eggs are for Louise's Farm School (a home school supplement program here on the farm); but all of those kiddos are on spring break now, too. So, the eggs are under my watch for now … and a slightly paranoid watch it is as I haven't incubated eggs since my own pre-K days.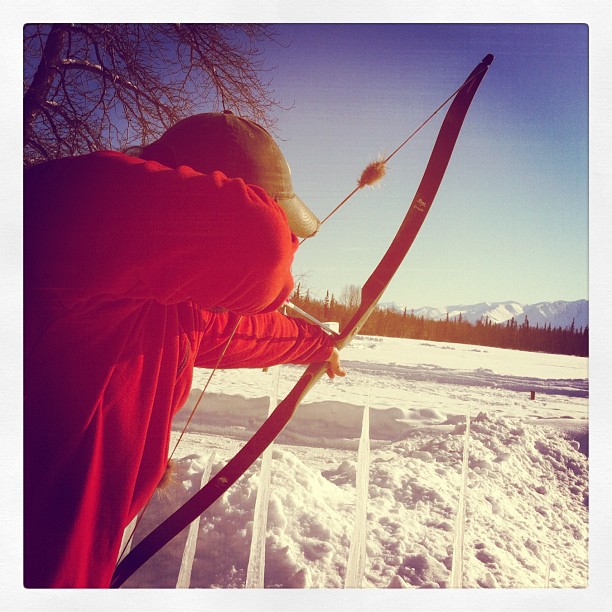 My roommate, Marc, discovered shortly after this target practice that it is hard to find arrows in the snow. See our icicle fence?
While I was musing about writing this post, the word "primavera" kept creeping into my mind. While this word makes me hungry for a light seasonal veggie-filled pasta dish, it is also the Spanish and Italian word for spring, and a lovely word at that. It is a perfect word for this time of the year … as I'm sure the Spanish and Italian knew and know to this day. Just think of it: "prima" means first while "vera" can mean green or truth. Spring does feel like the "first truth" after a long winter. Seeds, eggs, fresh soil, bird migrations, budding trees! These all contain a spirit of first truths and certainly first life. Perhaps the egg did, in fact, come before the chicken.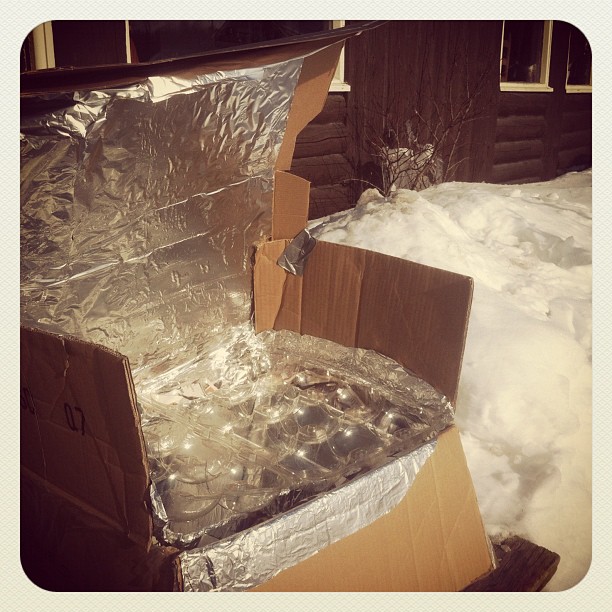 My first attempt at a solar cooker. We got some warm water out of the deal! Next time I'll try a more efficient shape.
While a part of me still longs to get on the move, that part has been fading over the last few years. Fostering new life and being a more intimate part of the continuing cycles of nature, agriculture and animal rearing are calling me a lot louder, now. They are both epic journeys in and of themselves, just with different locales. I'm in the right place to do both—with majestic mountains buddying up with the farm fields. While I don't foresee any epic journeys (near or far) in my immediate path, this coming spring and summer are sure to be some of the best in my life.
Do any of you, fellow farmgirls, get the itch to venture far and wide for extended periods of time? How have you satiated your wanderlust while keeping true to your farmgirl ways?
Buona Primavera to you all!
~Alex
P.S. Thanks for all of the warm welcomes! You are all so inspiring!