[Previous Rural Farmgirl, April 2009 – May 2010]
I traded working in an office for spending time with my girls.
They are the perfect example of how "girls" can get along. Each of them seems to be quite content going about her day in her own fashion. Some of them are a little more pushy then others, some a little more shy, and some a little more adventuresome; yet all seem content in a weird sort of way, like they are all totally "okay with their lot in life." I never pick up on jealousy or cattiness; they just go about their day mindful of each other yet content to be themselves.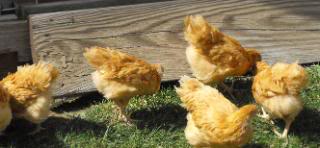 Okay, so the girls of which I speak are chickens, but I am not sure they KNOW they are chickens. I have eight Buff Orpington hens, and as their name might imply, they seem to think they belong to the breed above all other breeds. They even look puzzled at times that their "Buff Orpington" name isn't followed by "the third"… you know, that uppity demeanor that states, "Excuse me, I am from the Buff Orpington III lineage".
Knowing that my Buff Orpingtons are a heritage breed was important when I was choosing them (as was the fact that their feathers match my garden color palette, which is a whole other post that I will get to), but I was surprised that they seemed to know that they are a heritage breed and with that comes (or should come) some sort of homage.
I love having chickens; there is something about them that I find calming. I could sit and watch them for hours. Having been married to a farm boy for 25 years and mothering four boys, I really love saying that I have girls. (And I don't always feel the need to admit to the non-farmgirl that my girls are chickens.)
I have learned a lot by watching "my girls." They seem to have not a care in the world, or else they've found a way to never let it show. We have a good working relationship: I take care of them, and they take care of me. I feed, water and offer them shelter. In return, they offer me a calm and serene environment and eggs. It seems like a perfect deal…a win/win. They seem to agree when they greet me in the mornings with a hello and excitement that I have come to visit and let them out.
As I sit and watch them, it is easy to see their distinct personalities. I call one Snoopy because no matter what I am doing, she has her beak right up in it and no amount of asking her to stop will work; she is fearless. Another is so shy that I call her Shy Ann and always go over and scoop her up. I find myself cradling her in my arms as I walk throughout the yard. Then there is Tenacity; she is the smallest, but the biggest fireball you can even begin to imagine. She will peck me and squawk in protest over the slightest things. Yet with all these personalities, they all seem to find a way to accept each other on their own terms.
So the trade of working in an office for time with my girls has been great. Even now, as I write this, I have laptop in hand and Shy Ann in my lap. Really, does it get better than that?