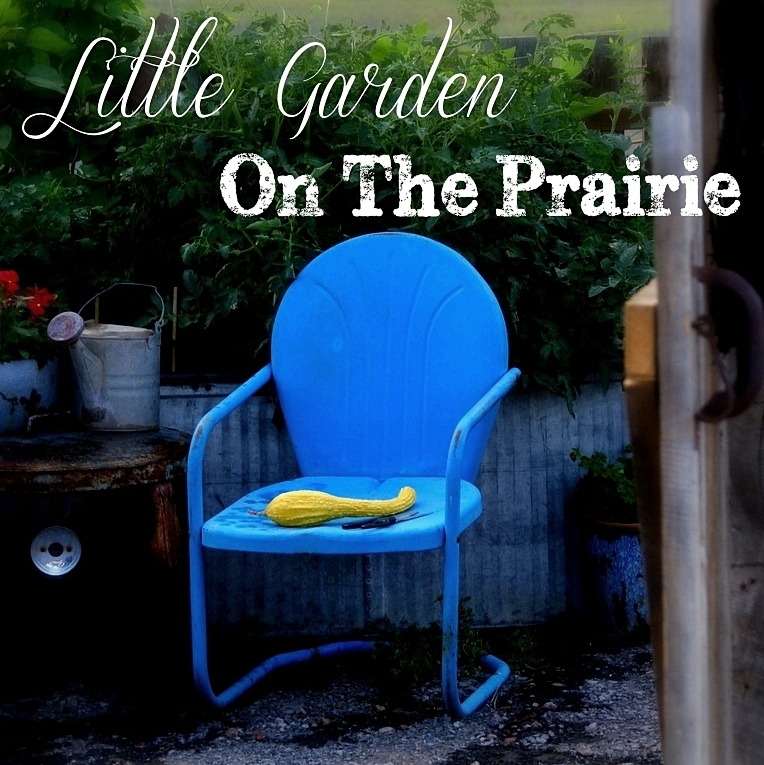 Morning & evening … that is when I get things done in the summer. Morning is when I spend time in the 'refuge' … my little garden on the prairie. Welcome. Early afternoon is siesta time. Napping is a summer hobby. The heat pulls sweat and energy from a body and my favorite cure is retreating to air conditioning, pouring myself a large glass of iced tea, grabbing a quilt and reclining with a book or magazine. Reading doesn't last long. My garden can have the heat of the day all to itself.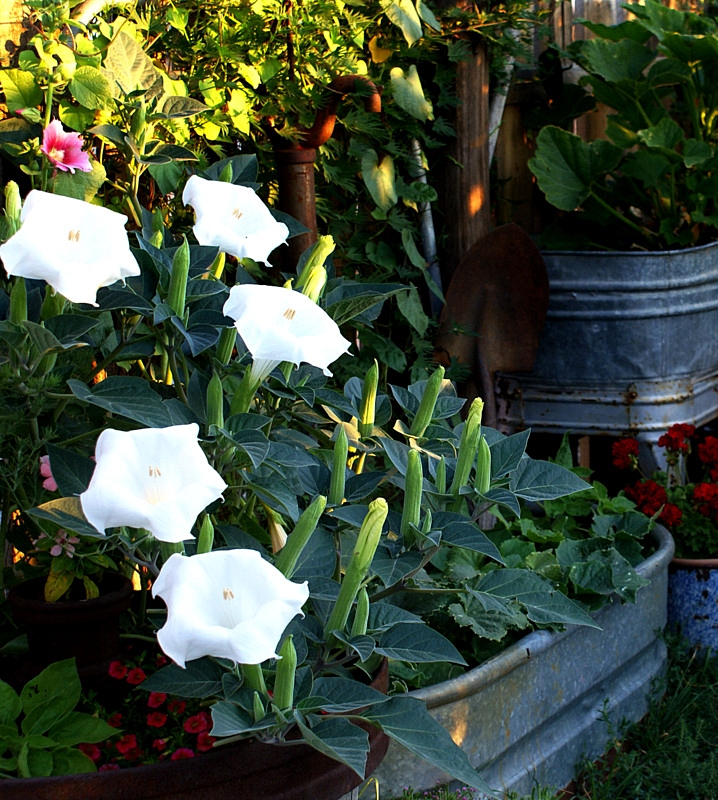 My farmgirl pal, Anita, has a monster garden. I have a mini garden by comparison. I haul water to a stock tank by the garden fence and use a pump to water my garden, so practicality must rule. My garden provides fresh veggies and enough extra to justify canning. But, that is all. It is also my yard – for lack of the real thing. When I walk through my garden gate, it is a different world … especially this summer. Drought turned the entire region to tan very early on. Now we are into late summer and it is dry and very dusty. I've noticed in the last week that there are a lot of dust devils whirling about. Must have something to do with the heat, lack of humidity and extremely dry conditions.
I started hauling water to our cattle in one particular pasture a couple of days ago. The reservoirs dried up. In order to use the pasture for grazing, hauling water is now part of my daily routine. It is important to keep the water level up because the calves can't get to water otherwise. We have two tanks there for this bunch of cattle. The other pastures have well water in tanks.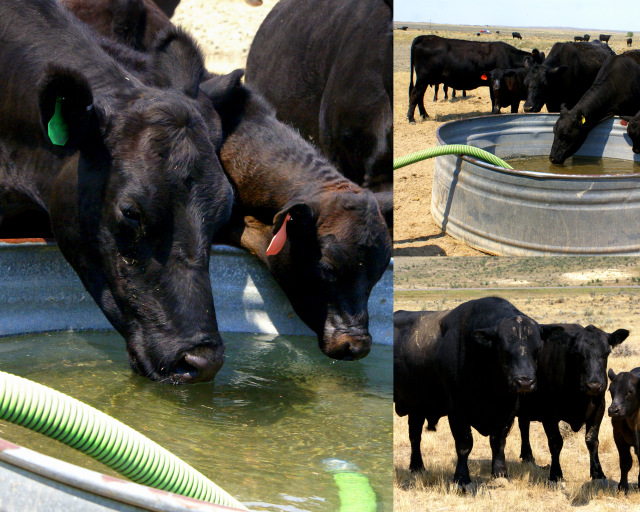 My posse: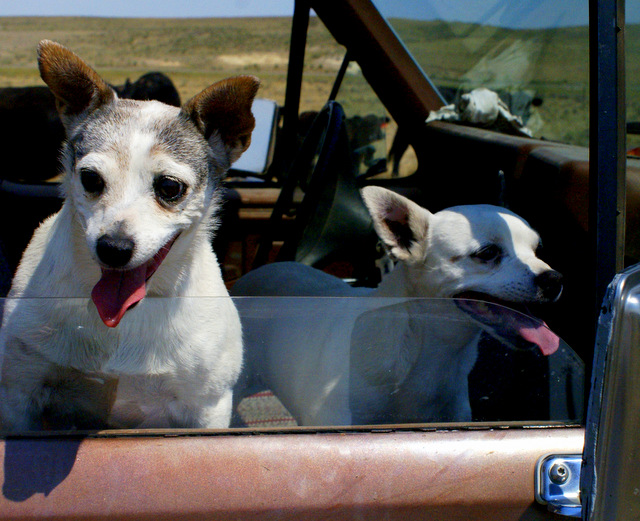 My garden is the place I go to get away from the sad parched earth that surrounds it … for miles, and states. Most of the west is in drought mode. Ranching friends are getting their hay for winter-time feeding from several hundred miles away. And, boy, is it expensive. Generally, this area is a hay crop producer. We are so fortunate in that the place where we get our hay every year received just enough rain to make hay – not quite enough for the whole winter, but almost. And, we paid the usual price as opposed to twice that amount.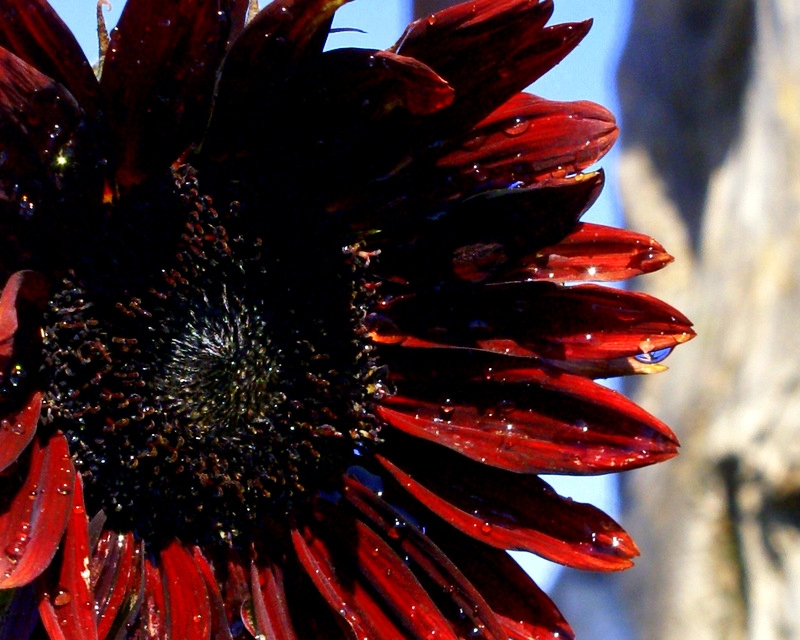 I put my garden in late, due to cold. Then, a hot wind blew the entire month of June. Weird. Last year could not have been any more different. The grass was so lush and tall. It was cool and wet and, well, perfect. This summer is, well, ugly and grim … except for my garden. When it did take off, the heat and a LOT of water made it look like Eden (at least to these green starved eyes).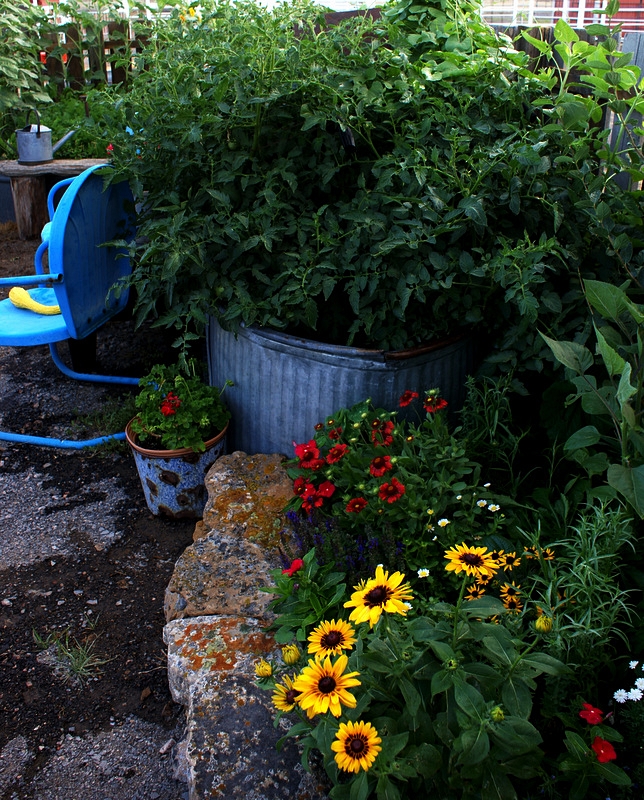 The tomato plants are hiding gobs of fruit under the leaf cover. Carrots need to be thinned. Beets are beautiful. Oh My, the sunflowers! I have a farmgirl craft project planned for Fall-time and it requires dried sunflower heads. So, I planted sunnies everywhere I could think of. The craft? Ok, you'll need 6-8 or so dried sunflower heads, an open basket, a rustic tray or wooden trencher (you get the idea), glass glitter, spray glue or thinned down Elmers glue. Lay your sunnies on newspaper, apply glue and sprinkle on glass glitter – not too thick and don't be stingy … make the sparkle cover 'just right'. Let dry and arrange in your container. It is so earthy and beautiful. Glass glitter makes all the difference in the world. You can order it online and you'll want coarse grit.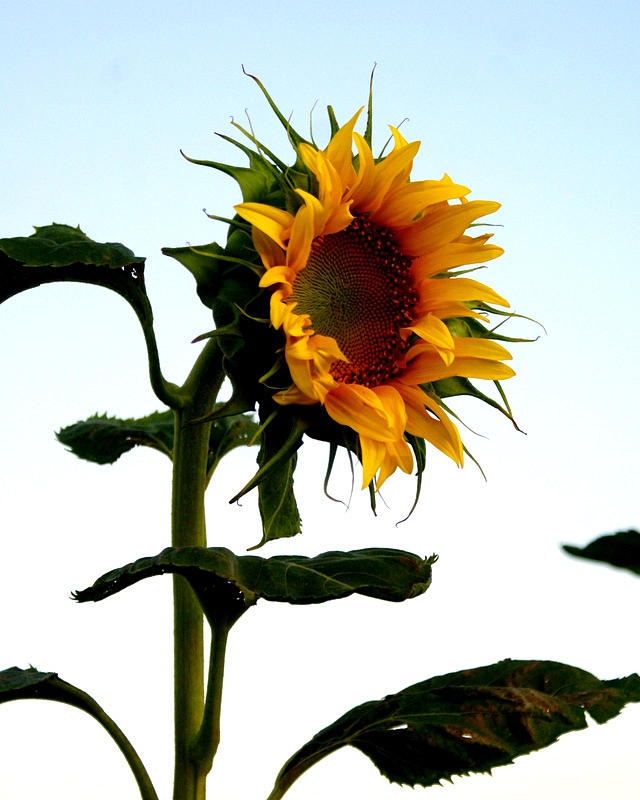 I think I mentioned that I have a new favorite flower for beds: Denver Daisy Rudbeckia. Won't be without them ever again. Anything shaped like a daisy is a Shery flower. Debbie Bosworth (the Beach Farmgirl blogger) loves Dahlias. I'd never given them much thought, but because of her, I took a second look at them. Will try them next year – along with vivid orange Zinna's. Debbie, What kind of place do Dahlias like … or more importantly, what don't they like?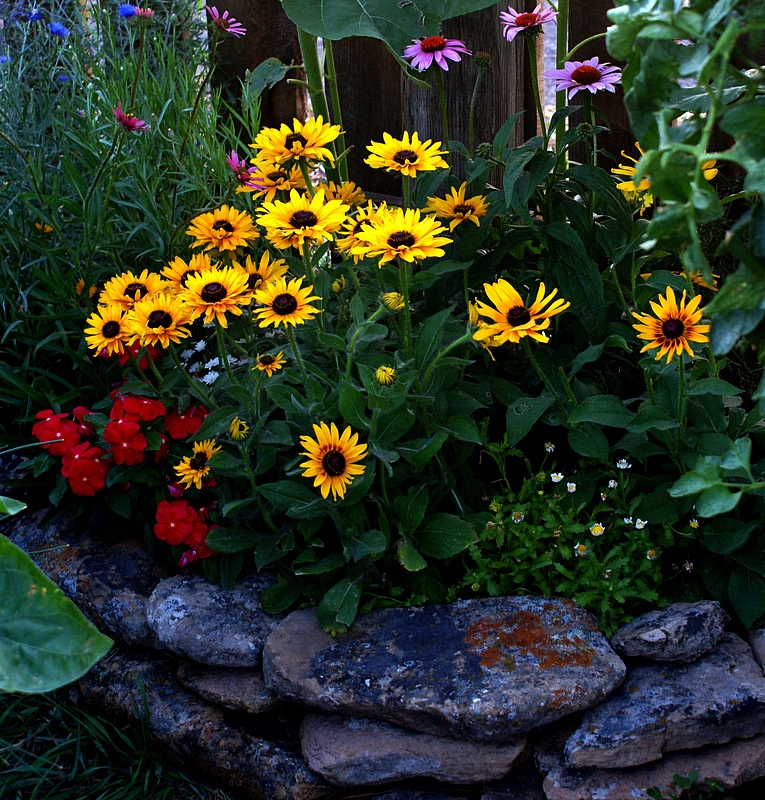 This PomPom Dahlia caught my eye.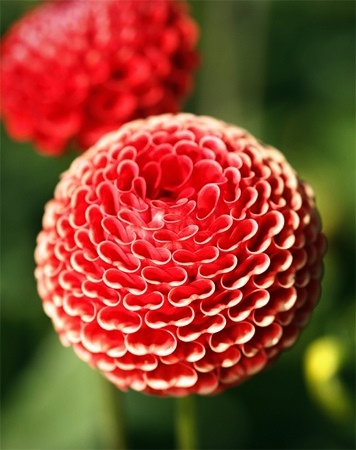 In the morning while and after I water, I have my morning coffee. The redwing blackbirds and mourning doves wait for me to fill an old enamelware roasting pan with seeds for them. I like to linger there and ease into the day.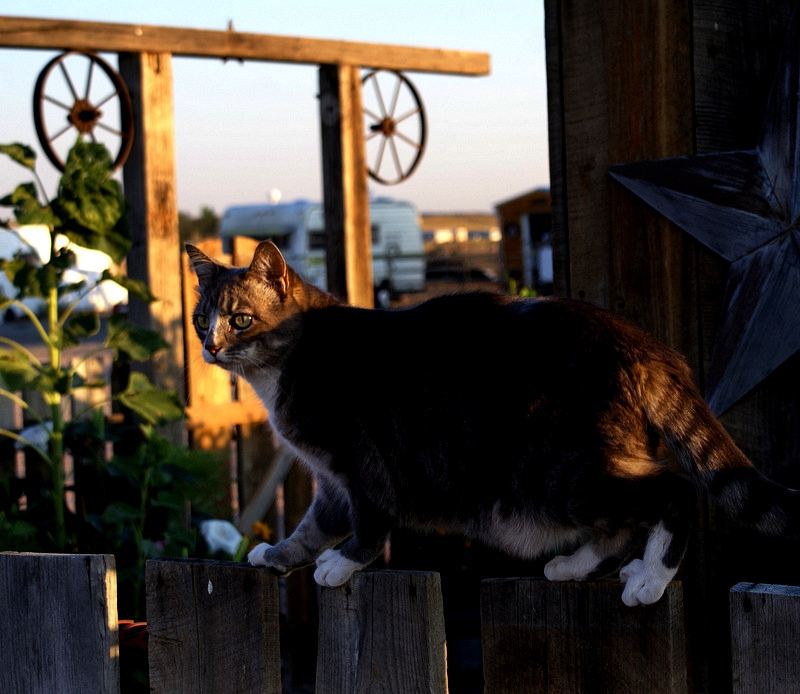 I've SO enjoyed my new garden yard!! It really is my refuge. I liken it to a kid's playhouse or treehouse. One of the big surprises in my garden is Moonflowers. Who knew that such an exotic looking creature would like it here, even thrive?! The blossoms are 6″ across and 8″ long. They uncurl in the evening and stay open until they wilt about mid-day. Seems like an awful lot of work to bloom for such a short time.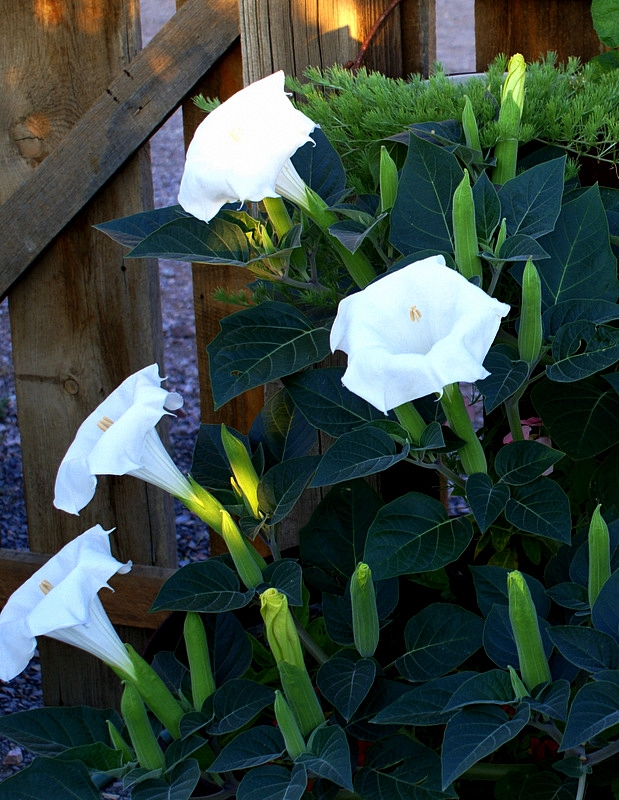 This is just a third of the plant that I planted in whiskey barrels. I placed one on each side of the gate. The nursery told me they would grow here, but they HAVE to have full sunlight to bloom profusely. A lot of plants say full sunlight on their little tags. That takes on a different meaning here. We are 4,500 feet in elevation, it is arid, hotter than Hades and can be windy. We don't just have full sun, we have intense sun. Geraniums burn up, likewise Marigolds, forget Lobelia and several other so called sun lovers. But, these moonflowers eat the sun up!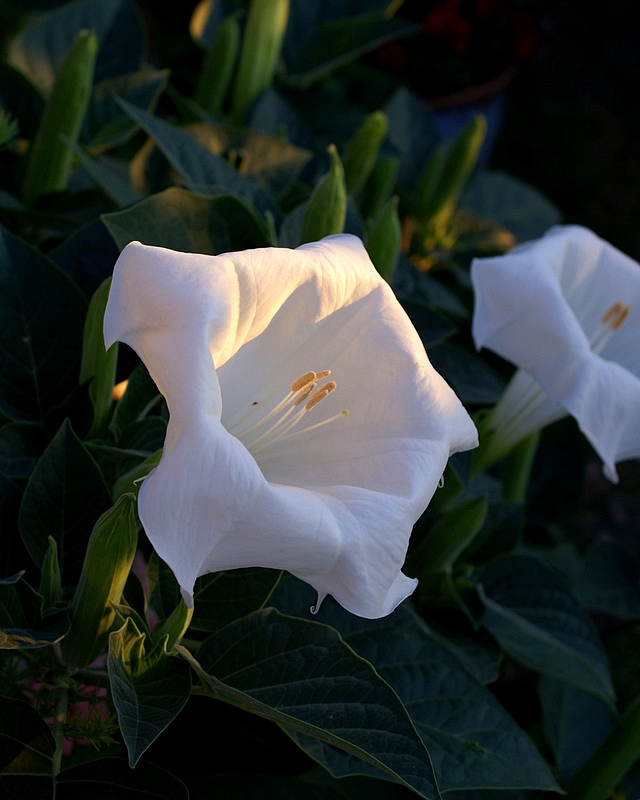 I had planned on sharing photos from our local farmer's market, but someone deleted them from my camera. Arrrrgh. Sorry 'bout that. The thing I was going to mention about farmer's markets is that the other day I heard on Ag Radio that local farmer's markets are up 10%. Ok, that is small, but if you think about it being a nationwide trend, it is a very encouraging number. I frequent them! Since my garden is small, I like to buy what I don't grow … or don't grow enough of to can.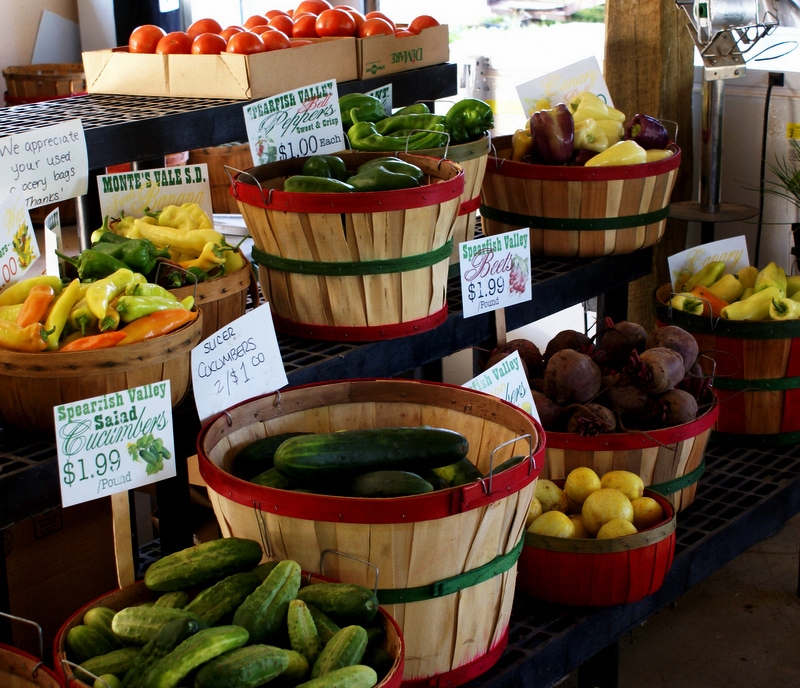 My garden, as I mentioned earlier, is my yard and my garden, so I plant flowers in rocked beds and in the tanks right along with veggies in some cases. Oxalis provide a colorful border for the carrots. Blue sage grows up in the middle of my lettuce etc.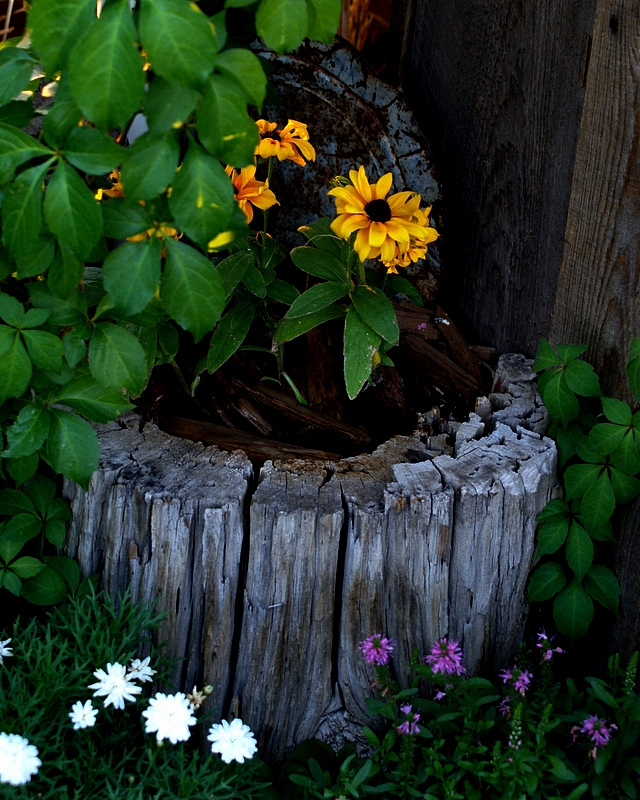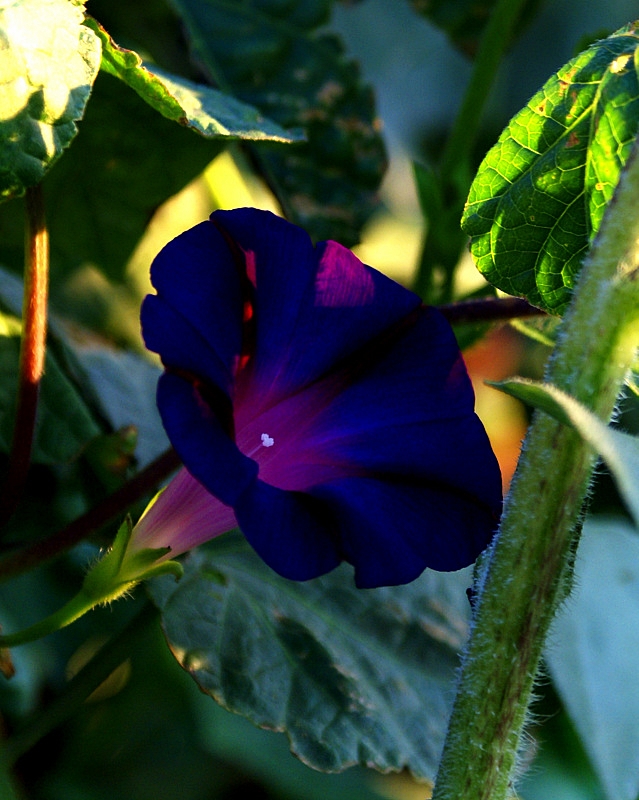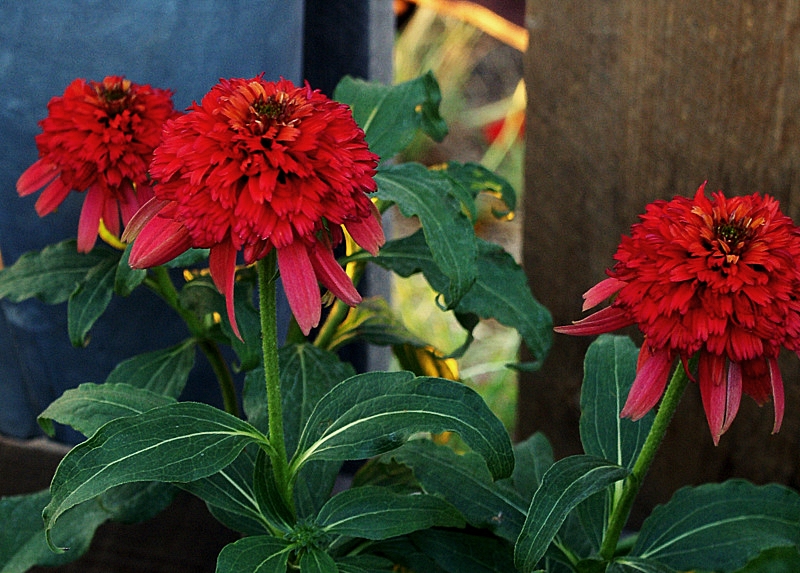 Above: Grandpa Ott Morning Glory and Sundown Echinacea. The latter has flowers that begin as pale orange, deepen in hue and finally change to the shade you see here. The flowers last for almost a month. Below, Purple Coneflower Echinacea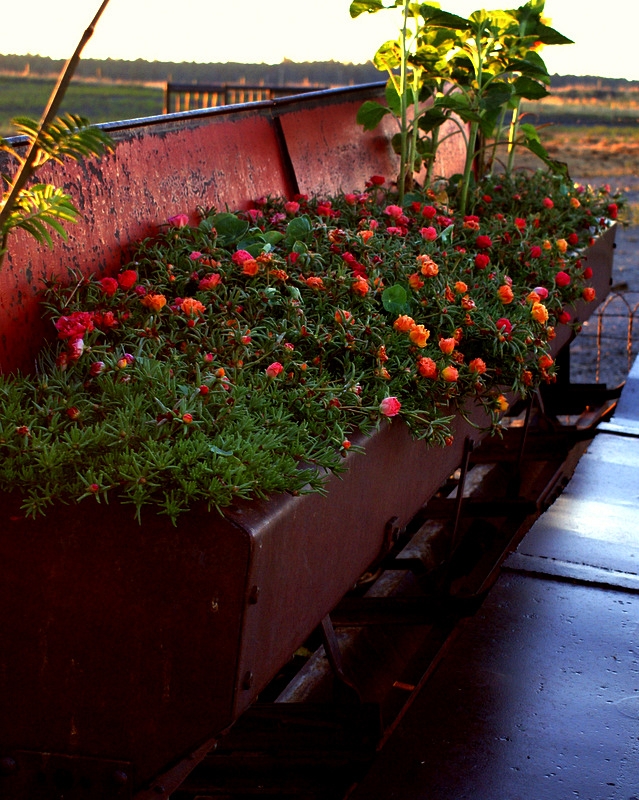 The old grain drill I turned into a planter. I thought that portulaca/moss roses would be the best choice for it and they agreed. I have no memory of planting sunflowers way up there. Maybe birds? I dunno.
I have a new 'collection'. Geraniums. They are my favorite all-around flower. They love outside, but will happily reside inside too, in a sunny window during the winter when I most need GREEN. Below is one of my new additions. Isn't she a dandy!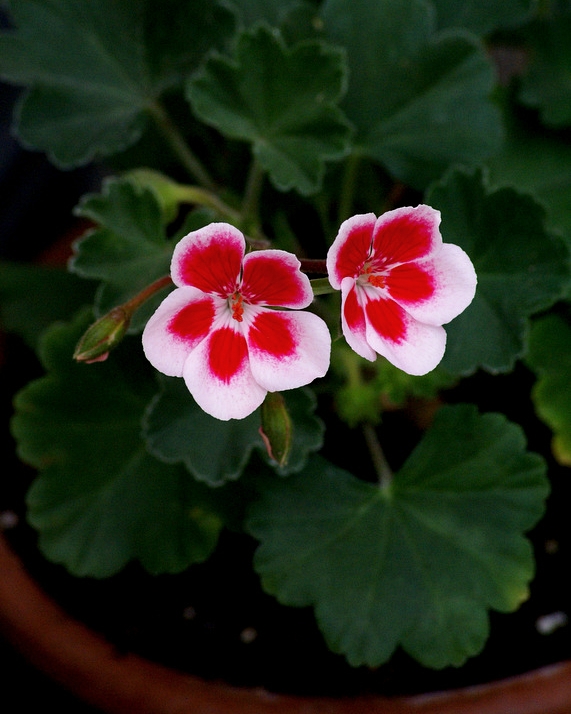 I waited all winter for these three short months of heat [to complain about] :o) and I try to enjoy it while it lasts. But, I'd be lying if I said summer is my favorite season. My favorite is on deck: Autumn. Early fall. And, my farmgirl pals and I, we plan to take full advantage of it this year in the way of going glamping in our newly acquired campers until the weather and snowy roads won't let us. Our maiden journey as a Glamping caravan is slated to take place over Labor Day weekend. It is looking like there will be six farmgirl sisters (with campers), plus three visiting glampers … and a couple of float-in visitors that couldn't stay the whole weekend. We're planning to dress our campsites just like you'd see in the book Sisters On The Fly. We've all busied ourselves getting ready! Michele (in her mid 30s) has youthful energy to fuel her determination to get her handyman Shasta camper project done in time. She told me yesterday that she has the interior painting done. Next, the floor. Then, the fun part: dressing it up. She won't get the exterior done in time for our 1st outing, but her husband is a mechanic and his hobby is auto and motorcycle restoration. When it is done, Michele's glamper will ooze vintage glamor with a true to original, professional looking paint job. The detail stripes on my camper were free-handed by someone who can't see without reading glasses (me), so it is not perfect! But I think she's lookin' pretty darn snazzy if I do say so myself :o) She's gone from 'plain jane' to styley' glamper. Now, she has personality, a name, an attitude … she knows who she is.
As of this morning I can declare that my glamper painting is finished! All that is left to do is apply some custom decals I ordered. The saying below will grace the entire back (above the window) of the camper. The name of my camper will be on the door-side in large, black 'log' lettering (Cabin In A Can). The year and make of the camper will grace the front in very small lettering below the window. There are two blank places on either side of the front windows, and I think I'll put a trio of Evergreen decals there. If I get brave, I'm going to paint a fishing rod on the driver's side. We'll see. All the artwork and lettering will be black. I love personalized glampers, but I don't want mine to be toooo busy graphics-wise.
This is what she looked like the day I brought her home last winter.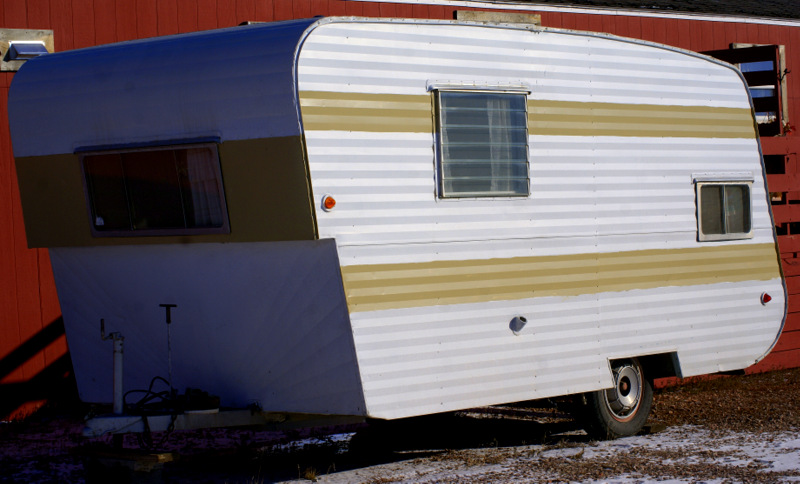 Seems like about everyday, I add something else to my glamper collection or do something to her to get her road-ready. I made a message board out of an old TV tray that is mounted on the wall just as you enter the camper. If you'd like the instructions, they're available in the MaryJanesFarm monthly newsletter, The Cluck.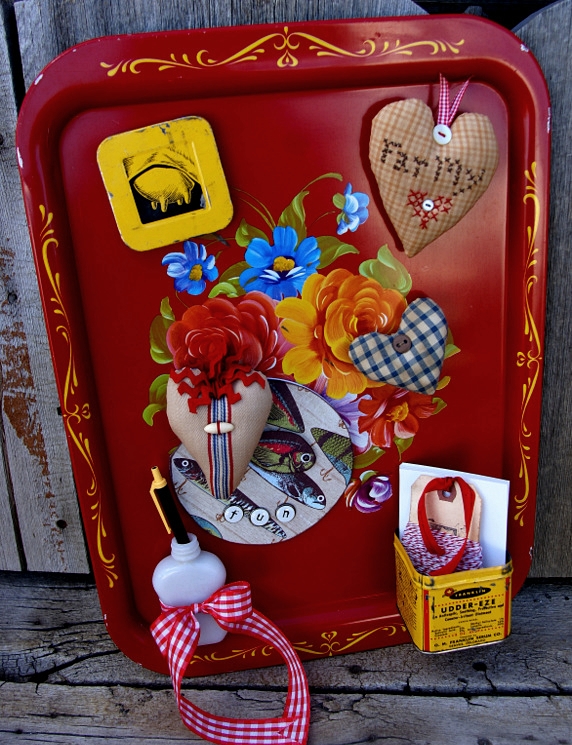 I found a mint condition Woolrich camp blanket at a rummage sale the other day … for the princely sum of $5. The Laura Ashley umbrella was $12 at an antique store and my sister gave the fringe jacket to me years ago (it used to fit). One of my favorite additions is the old handmade sunday-school toy shield (the lesson being 'put on the full armor of Christ' from the scripture verse). Faith is my foundation and my camper wouldn't be complete without it either. So, my shield now lives on a cupboard door. I found the nicest wool granny squares afghan at a 2nd hand store ($7) – it had been washed and put in a dryer, so now it is felted and fuzzy-soft. The old Beacon camp blanket came from an antique store also. They are so collectible nowadays and even old frail things are outrageously priced, but I found this one in colors that I like and it is in good, used condtion for $30.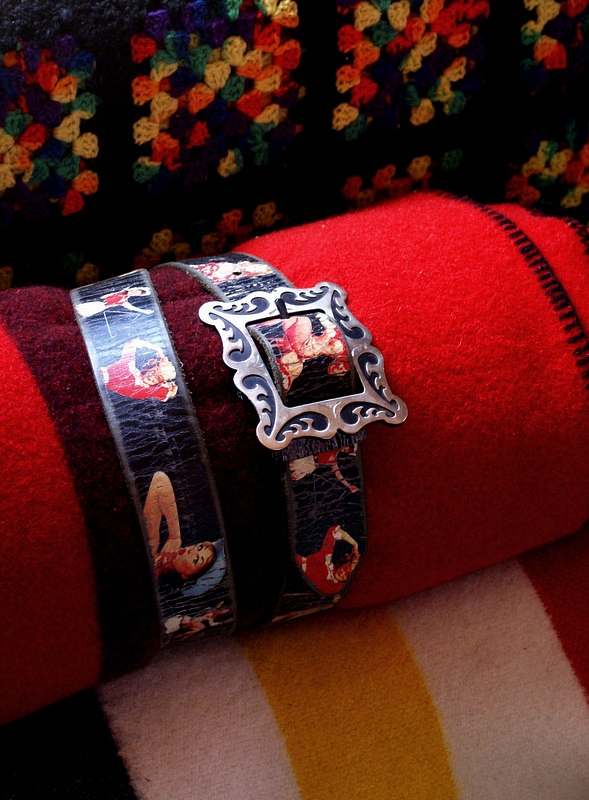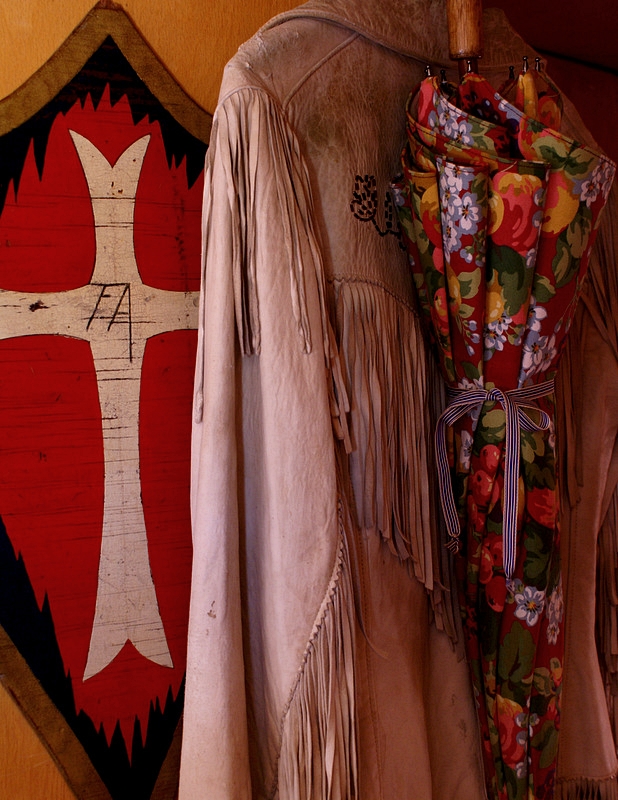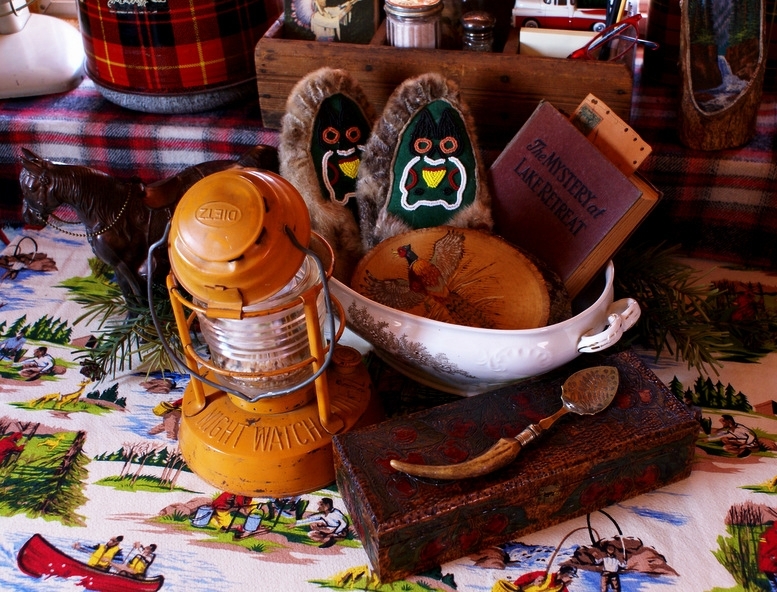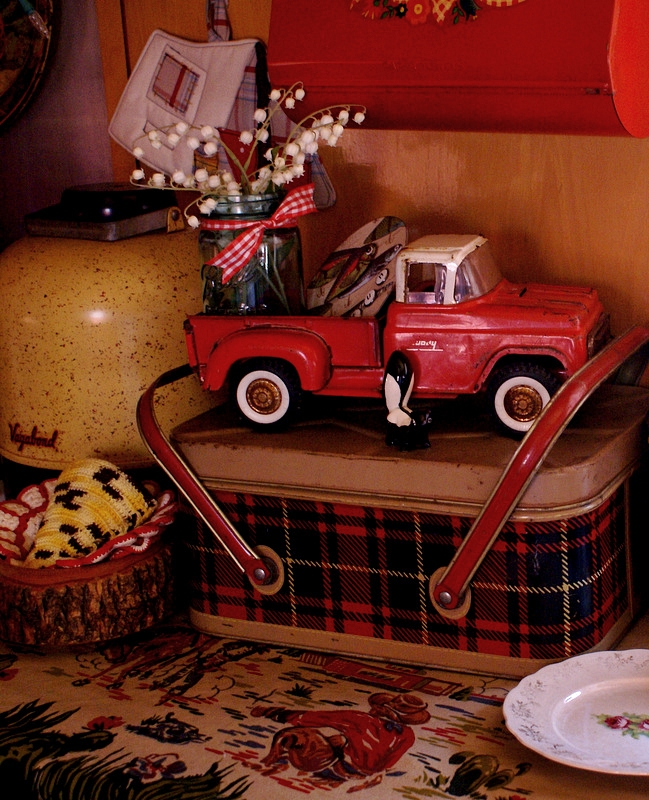 The old western belt with my name on it is now pillow art. I have a photo of myself wearing it when I was 4years old.
So, my summer thus far has been spent close to home … with a garden hose in hand … daydreaming about glamping trips in the not so distant future. Soon, my little home away from home is going to take me to the hill country … to a darling little campground nestled in the Apsen and Fir. We're hoping for day-trips in and around the Black Hills, lunch at a winery, a Glamp-in dinner with all the frills, paddle-boating on a mountain lake, dress-up dinner at a log lodge, spending quality R&R with my farmgirl friends … and falling asleep for the first time in my camper … with the cool mountain air breezing through. I'll tell you allllllllll about it later! For now, enjoy what is left of your summer and if you've taken a fun vacation or are about to, tell us about it in the comments section below.