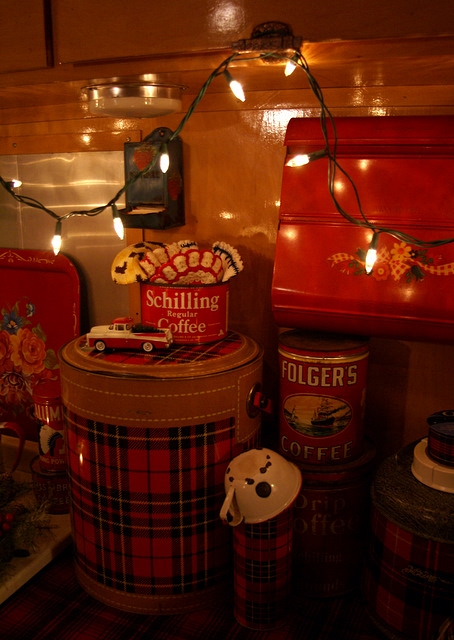 'Clan Plaids & Plaid Cans'. Try saying that fast three times. I can barely get it out once. However, a pattern (literally) has been more prominent in and around my life of late. Plaids. Firstly, my 'new' 1958 farmgirl Glamping trailer has become my playhouse. She has a name now: EmmyLou (after my fave country songbird). Anyway, EmmyLou loves vintage plaid goodies and I've managed to collect some 50s plaid accessories for her. And, now that Christmas is nigh, plaids are back on the scene – wrap, ribbons, table clothes etc. Ever wonder why tartan plaids play a signifigant role in holiday decor? Me neither, but my curiosity woke up.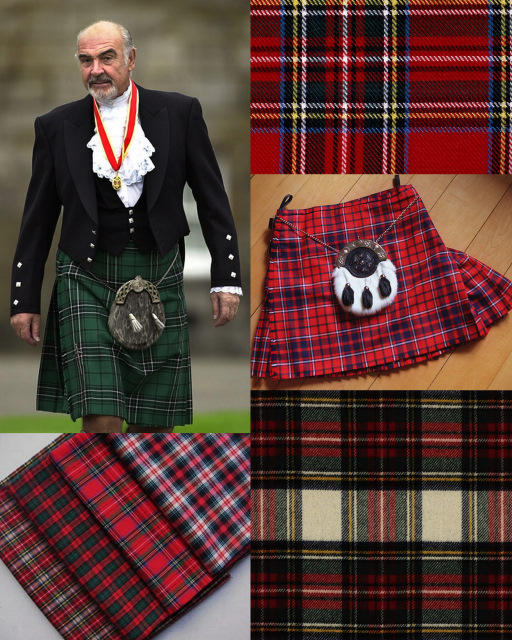 Choosing a model to show off a plaid kilt was easy. 'Nooooo-body does it better' than Sean Connery (to borrow a phrase from a Bond song) :o) Ok, maybe some of you young gals wonder about that, but if you're of my generation, you totally get it. Not all things get better with age, but SOME things age amazingly well … and Sean is surely one of those things. Ok Shery, quit oogling and get back on topic!
PLAIDS … or more accurately, TARTANS. Such a rich and colorful history (pun intended). Tartans are woven patterns of cloth that signify a Scottish family's specific clan. Colored yarns are woven with alternating stripes that cross each other at right angles. The lines create color blocks that repeat in vertical and horizontal patterns.
Tartan has its origin as far back as 100 B.C., when it was created by ancient Celtic folk. Although the print had been around for centuries, it didn't take off as an icon until the late 17th century as the signature apparel of Scotland. Plaid became a sign of rebellion against the English so much so that authorities banned it after the Scottish rebellion of 1746. The Dress Act of 1746 attempted to bring the warrior clans under government control by banning the tartan and other aspects of Gaelic culture. It was not until the mid-nineteenth century that specific tartans became associated with Scottish clans or families. Below: John Campbell. *(Also, someone should've told John that large-scale patterned mini-kilts are not for the portly figure. Just sayin'. I'd look similar. Not going there. Tartan shawl, yes.)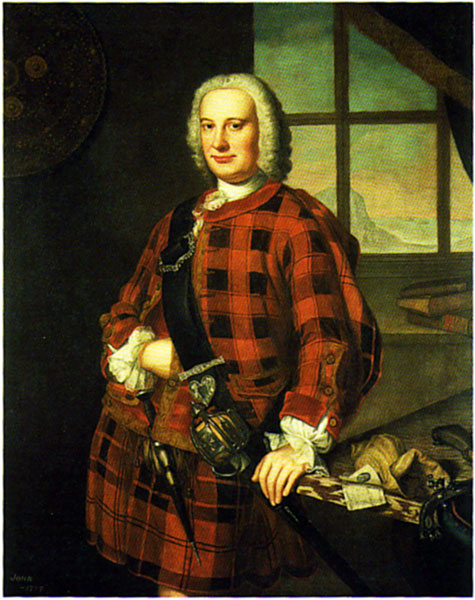 To be spot-on accurate, we need to call plaids by their proper name: TARTAN. In Scotland, the word, 'plaid', simply means 'blanket'. Americans mis-labeled tartan awhile back, but it stuck. It is believed that the word, tartan, originated in France and referred to the pattern of intersecting lines of color in woven fabric. Today tartan is mostly associated with Scotland, however, the earliest evidence of tartan is found far from the British Isles. According to the textile historian E. J. W. Barber, the Halldtatt culture of Central Europe, which is linked with ancient Celtic populations and flourished between 400 BC to 100 BC, produced tartan-like textiles. Elsewhere, tartan-like leggings were found on a 3, 000 year-old mummy in western China.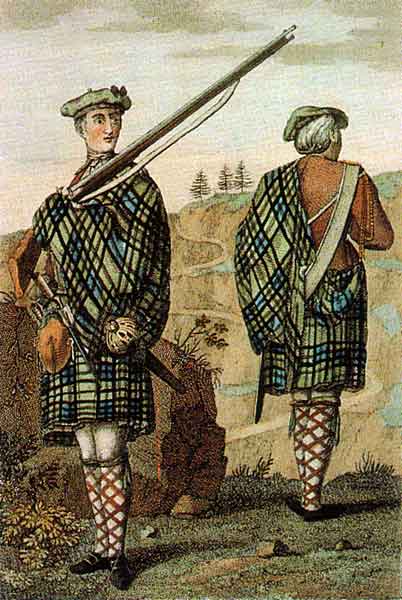 In the absence of an official register, several independent organizations located in Scotland, Canada and the US documented and recorded tartan. In the 1960s, a Scottish society called the Scottish Tartans Society was created to record and preserve all true tartan designs. The society's register, contains about 2,700 different designs of tartan. Some commonly known tartans are: Blackwatch, Stewart, Campbell, Gordon, MacLeod … and my own link to Scottish ancestory, the Douglas family tartan (below).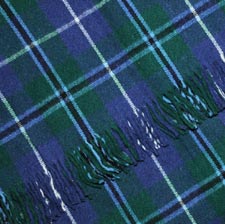 Royal Stewart: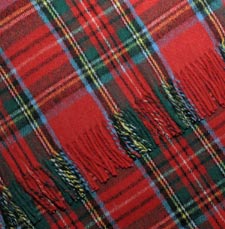 MacLeod: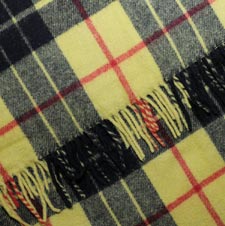 In the Victorian era, tartan-clad garments were featured in fashion catalogues. By then, tartan had shifted from being mainly used for men's garments to become an important part of women's fashion. As a consequence of its association with the British aristocracy and military, tartan developed an air of dignity. Because of this, tartan has made reappearances in the world of fashion many times. Tartan patterns decorate so many things in our everyday lives: dishes, home upholstery, holiday gift items, even 70s era 'punk' fashion. In the here & now, the 'hipster' generation also adopted tartan as part of their thrift-shop fashion statement.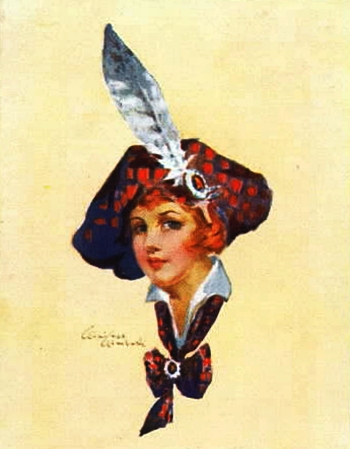 If you've an interest in tartans because of Scottish roots, you might enjoy these websites. The first offers a vast selection of tartan blankets that feature familial/clan patterns. http://www.thescottishweaver.com/
The second site covers every aspect on the topic of tartans. http://www.staonlineshop.co.uk/
Moving right along … I just wanted to share OUR clan's most recent gathering on Thanksgiving. My sister was the hostess. Her 70s A-frame ski chalet style home was bulging at the seams with family. We over-ate, of course. I was in charge of providing the relish tray and fresh salads. I made a cream-cheesy grape salad and a carrot salad. My sister's beau, his mother and daughter joined us for the first time. It was a good day. My little sister deserves a purple plaid ribbon!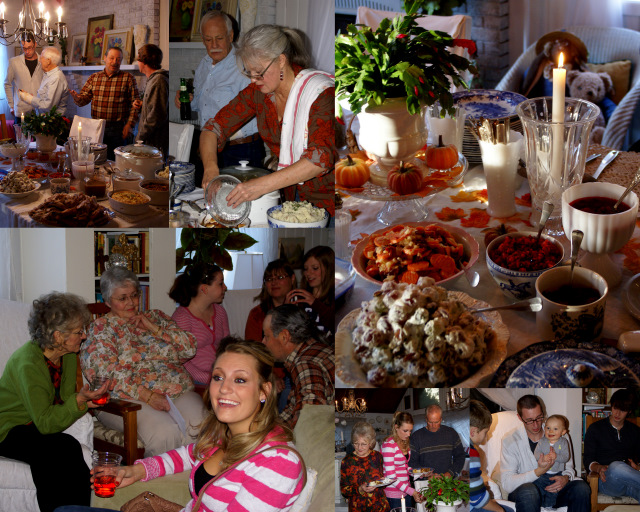 Now back to tartans. In answer to the question I posed at the top of the page – in regards to how tartan became established as a popular Christmas pattern standard – I don't have an answer. Try as I might, I found no information on the subject. So, you get my opinion and it is only that. Christmas customs and traditions, as we know them in this country, are fairly new in the grand scheme of things. The Edwardian and Victorian eras are largely responsible for so many of the historic 'things' we hold dear … including Christmas 'things'. In that opulent time frame, women's fashion included tartans and the female contingent embraced it. THAT is where I think the broad use of tartans may have come into play. But, that's just my 2 cents worth. America was still discovering who we 'are' and much of the cutting edge fashion did not originate here. It came from abroad. So, it stands to reason that we adopted tartan, like so many other foreign goodies. Also, many Americans have roots in the British Isles and we like to maintain ancestral ethnic ties. Americans of other ethnic flavors feel the same way. My roots are exclusively northern European: Germany, Scotland & Scandinavia.
So, how in the world did tartan patterns find their way onto 50s era camping gear? I don't have an answer for that question either. Perhaps, the company owner chose his family tartan as a sort of trademark? At any rate, I've been having a heyday finding tartan goodies for EmmyLou and she's now ready for her unveiling! She is shown in her winter garb. Summer will require flowery vintage linens for a change of face. Whuddya think? I figured on painting the ceiling and walls of whatever trailer I might eventually find — due to the need for it. But, this little beauty's walls, ceiling and cabinets are made of maple and the inside of the camper glows like amber when the lights are on at night. No Way am I painting over that. Seeeee?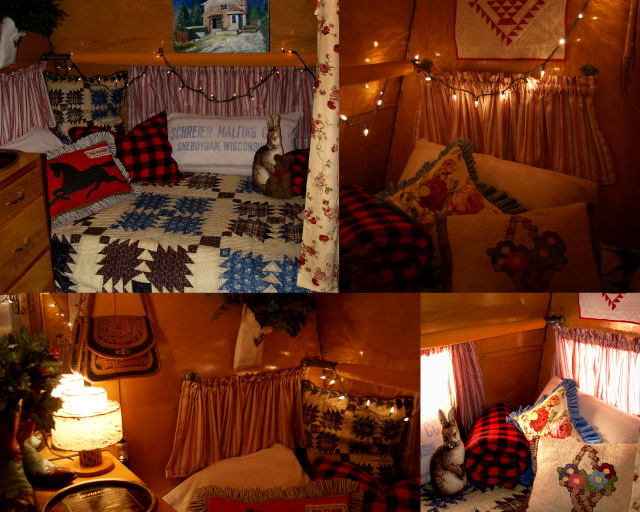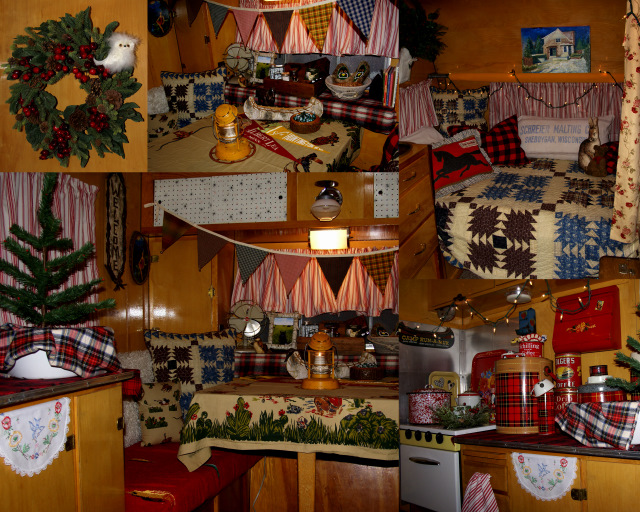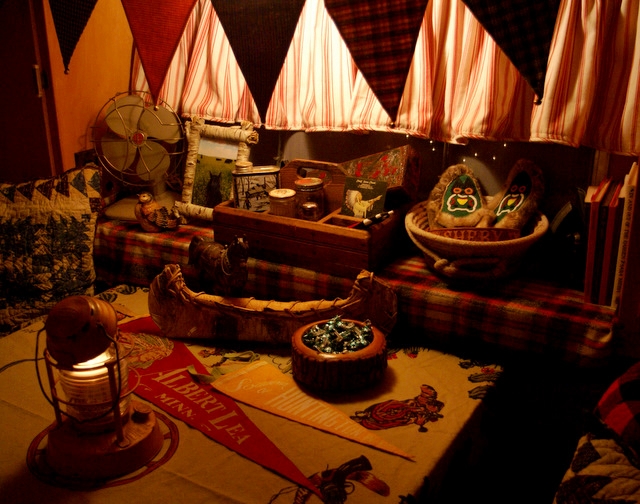 EmmyLou's first social encounter will be our farmgirl flock's Christmas get-together. Now that I have her pretty much squared away, I need to gear up for our farmgirl Christmas craft show and Christmas in the general sense.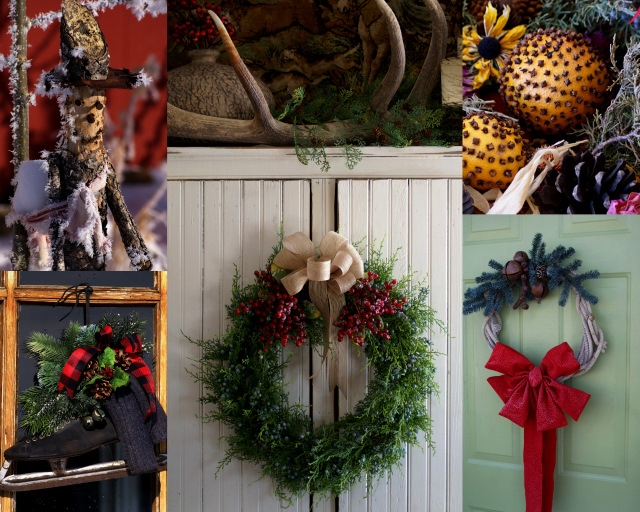 The other day, Anita, Michele and I went on a tree hunting expedition. Anita's grand daughters came along. Rather than get the usual Juniper that grows right here, we decided to drive to a higher elevation and get Fir trees. The weather couldn't have been nicer. First, we stopped to buy permits. I cut a small tree for my parents and a larger one for us. Here are photos of the outing …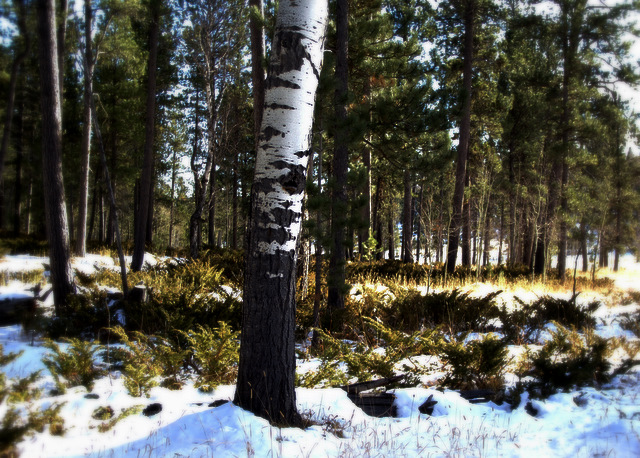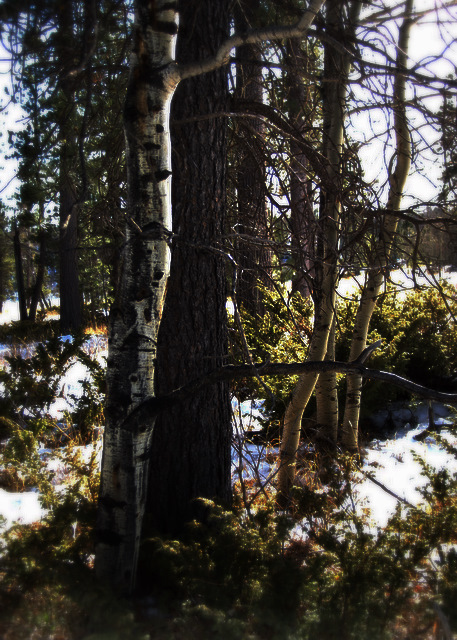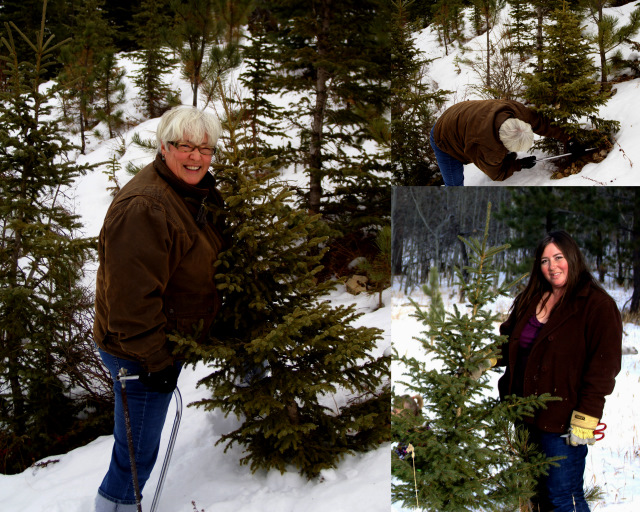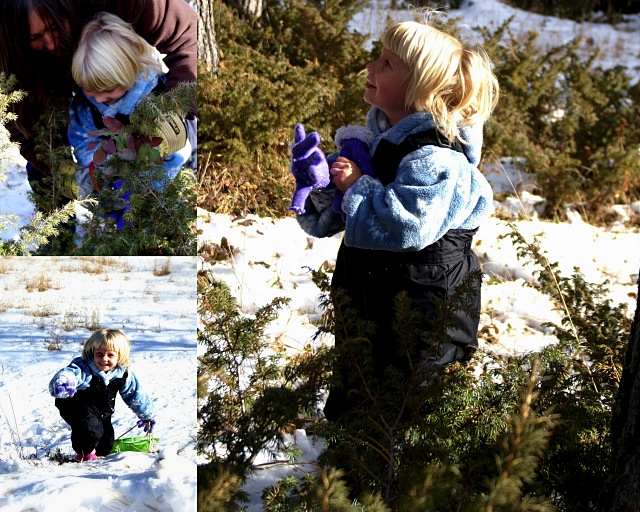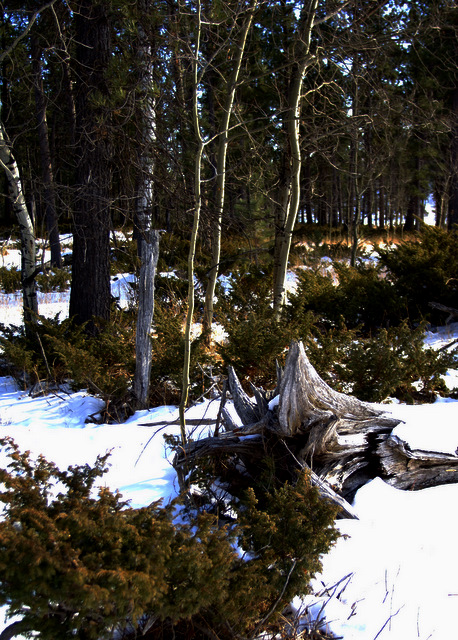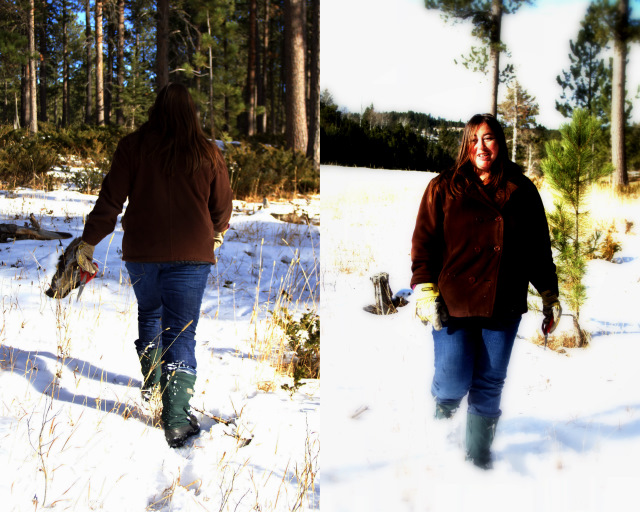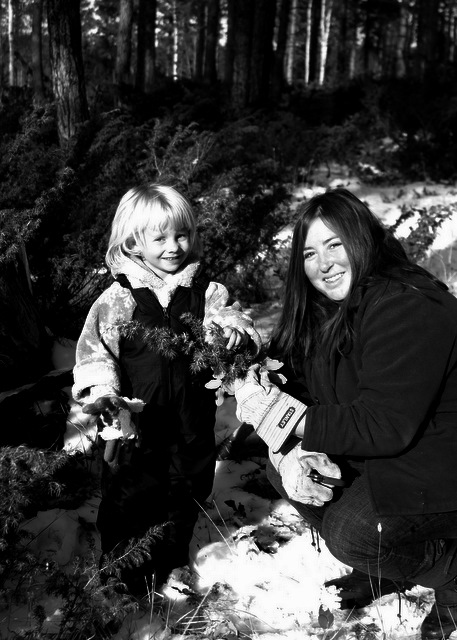 Then, there remained the task of bringing the tree inside. I like to place our Christmas tree in something other than a traditional stand. My great grandmother's saltglaze crock is perfect. But, it is a three gallon size which means the fill-gravel moves too easily – the tree can lean. So, here is how I solve the problem. Maybe you can use it too. Put a smaller (1 gallon) container into the large one, fill the outside space with 'pea' gravel. Then, place the tree into the small crock and fill it with gravel. It is very secure.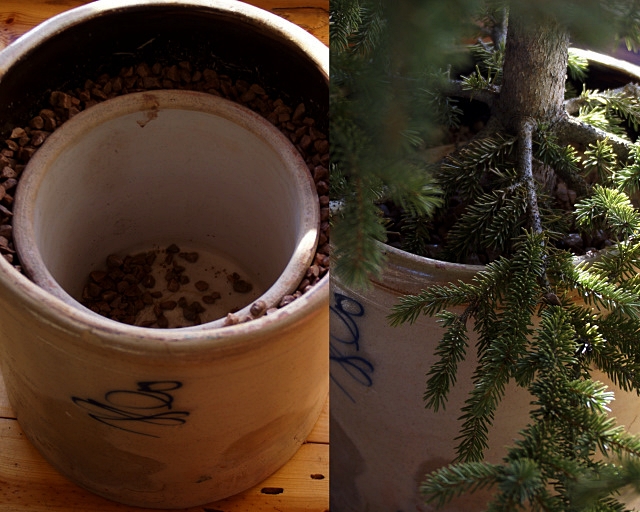 And, Vwah-lah … here 'tiz: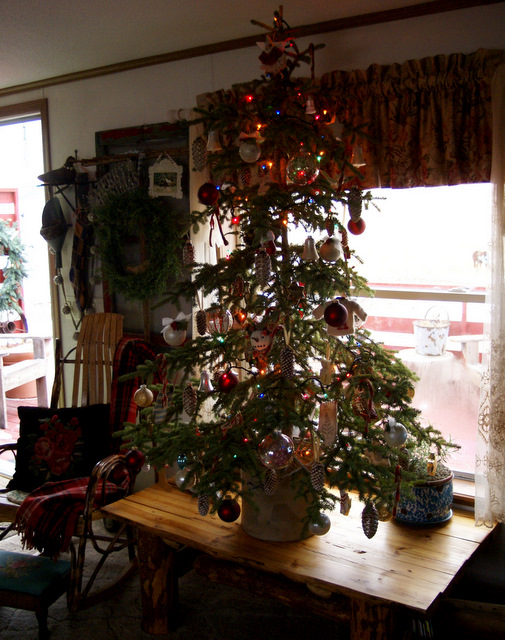 About the only 'ranchy' thing I've been doing lately is feeding our baby 'replacement' heifers. All that remains of our fallwork is to take some odds & ends cattle to the sale barn. My husband has started to feed hay to the cows, but not full-time. There is plenty of grass left over and thus far the snow we've received has melted. Normally, we begin to feed the cattle daily right around Christmas. I'm a kindred spirit with my geraniums this time of year, we like a sunny window. They live on my work-table now. I can't bear to say goodbye and in return they bloom for me all winter. So, here is where I'm 'planted' when I make crafts.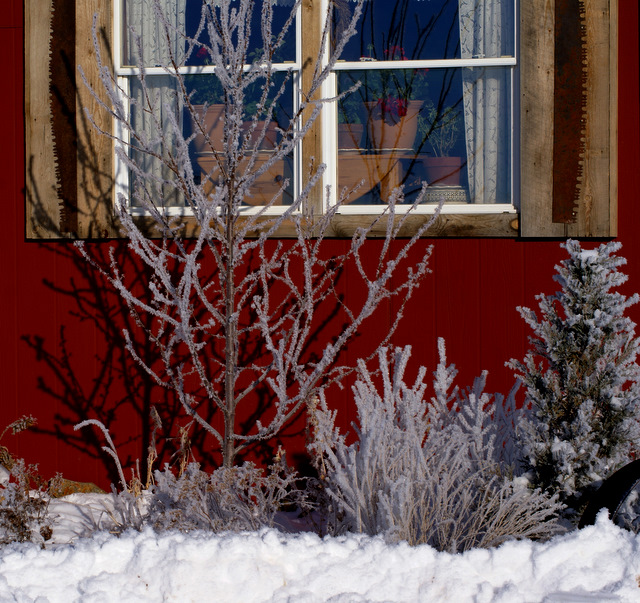 Until next time, enjoy your holiday preparations. The commercialized human rat race can't make you move any faster than you're willing to go. Put on a Christmas CD and let 'O Holy Night' really sink into your soul. Nothing puts peace back into holiday busyness like revisiting an ancient stable. Take time for the little things … like deciding what to wrap your gifts in. Me? Plain brown paper, cheery tartan ribbon and a spray of fresh juniper.