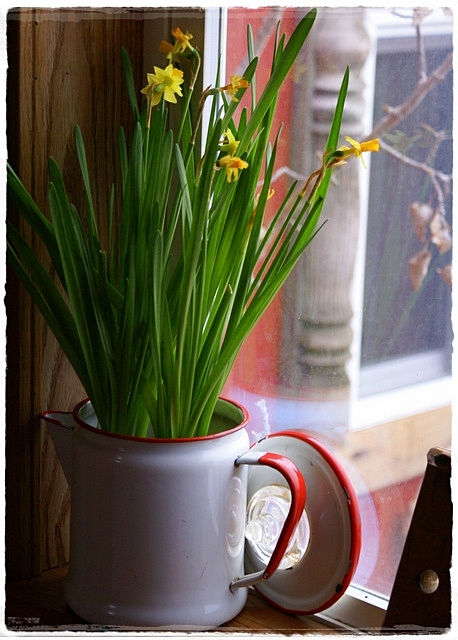 Here in the north, we eagerly anticipate the first signs of spring. For those of us that live on the northern plains of Wyoming, the signs follow each other closely and then one day … it is finally Spring. What are the first signs of spring where you live??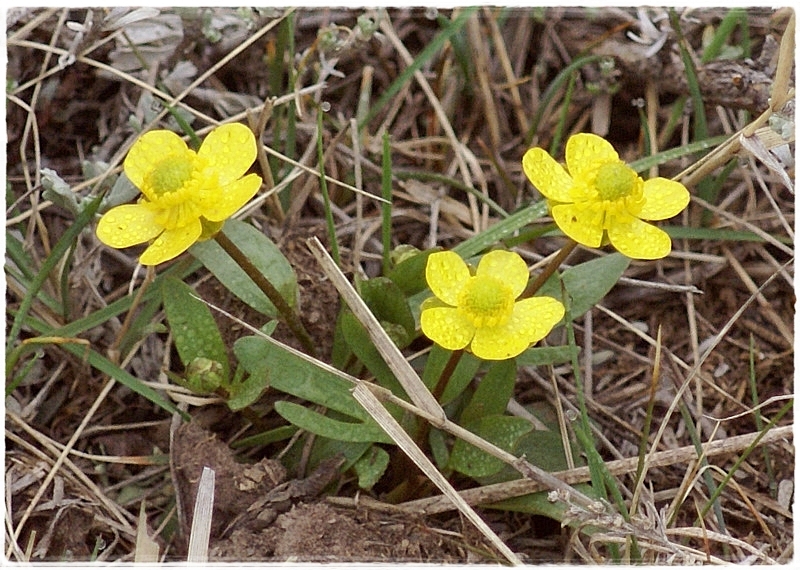 The very first sign of spring here is seeing spring flowers for sale in the store … tulips, daffodils, etc. They arrive long before our own bedded bulbs get brave enough to poke up through the soil. However, the Buttercups just can't wait for warmer weather. They're content to bloom with a dusting of snow as a backdrop. The Canada Geese are the very first harbingers of hope in our area. They arrive at just about the same time the creeks begin to thaw and appear.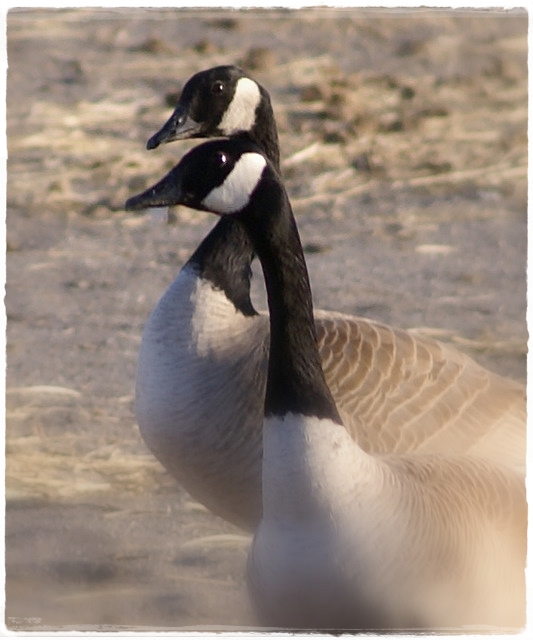 Our creek completely disappeared this past winter under several feet of snow. I love to say that word past. We had more snow this winter than we've ever received. Last week the creek out back returned to being running water. The good thing is the snow disappeared into the earth and it will soon turn everything green.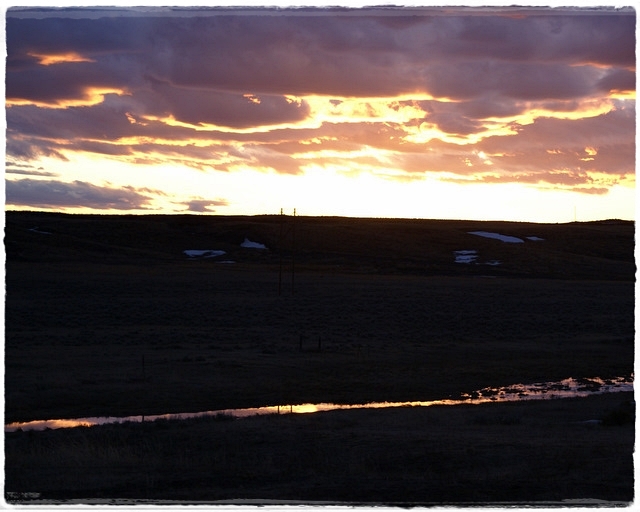 My little garden yard was completely covered in snow … 4-5 feet deep. The headboard in the garden tank was barely visible. I bought seeds the other day and I'm so looking forward to getting my hands in the dirt. I'm also on the look-out for bulbs I planted last fall. I'm grieving the loss of a beautiful little Alberta Spruce that I planted last spring. She's mostly brown. I won't dig the tree up just yet. Is there hope that it will bounce back? Doesn't look like it at the moment.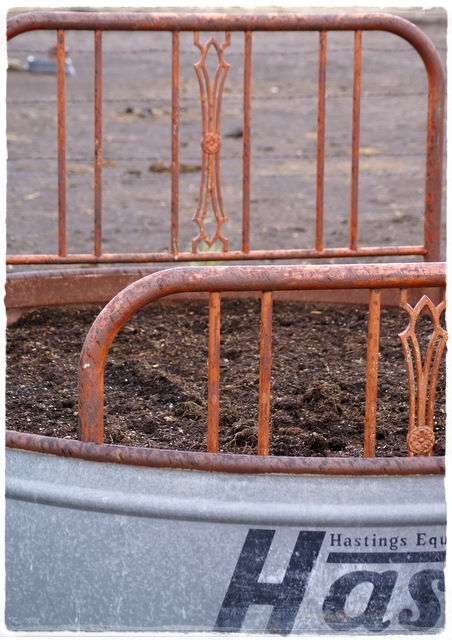 I have to say that this is the ugliest time of year. All the world is dirty and dead looking. But, as of this morning, I noted that that the first leaves of several flowers have appeared: Iris, Poppy, Butter & Eggs. It looks like the Currant bush and Canadian Red Chokecherry survived their first winter here – as did other creeping Junipers and a Mugo Pine. The blue Juniper was nearly denuded by deer before I noticed it. I wrapped it in chicken wire and although it looks tough, it is alive. My flower bed is the first landscaping project I've undertaken in the 17 years we've lived here. I just didn't think it was worth the struggle. But, I was starved for greenery and decided that a garden and landscaping would be worth it after all. I was spoiled by having lived in much more temperate places. Northern Wyoming has many benefits, but "temperate" is not one of them. I knew gardening would be an uphill fight, but last spring I dove in, dug a hole four feet deep x 12 x 14 and filled it with homemade soil: a little sand, and lot of very old barnyard "gold". I figured on losing some perennials and trees over the winter, but I'm determined to have a little Eden of my own!! I chose what are said to be tough plants in this climate. I'll soon see just how tough they were.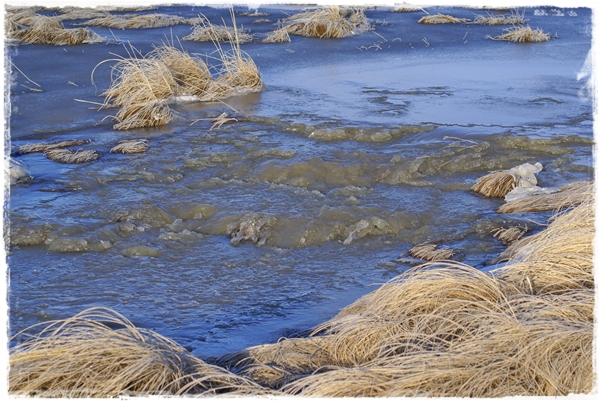 My knee surgery went very well and I'm growing more confident every day about being able to do the many things that lay ahead of me: cleaning the
chicken house, raking everywhere and riding.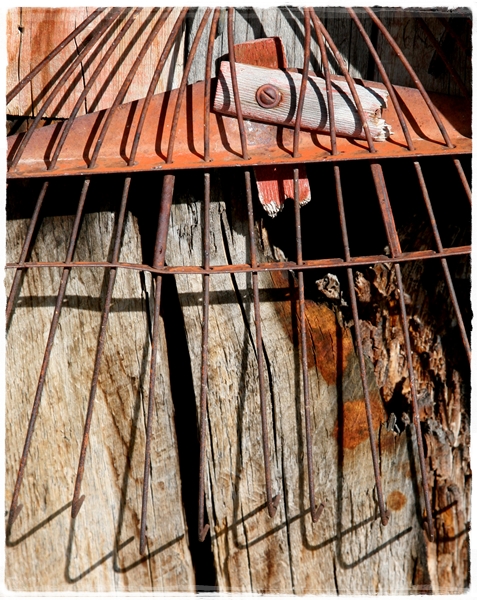 We'll soon be calving and I thought I wouldn't be able to ride until maybe the end of this month. But, my knee is doing so well that I know I'll be able to ride. I'll call it physical therapy. Here is my husband last year at this time.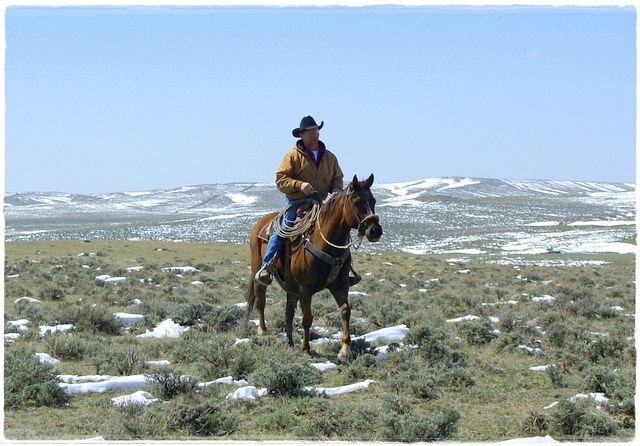 We were well into calving season when a spring squall blew through. We lost a couple of calves, but the rest of them were just fine. Their mamas tuck them into the sagebrush and lay or stand near them.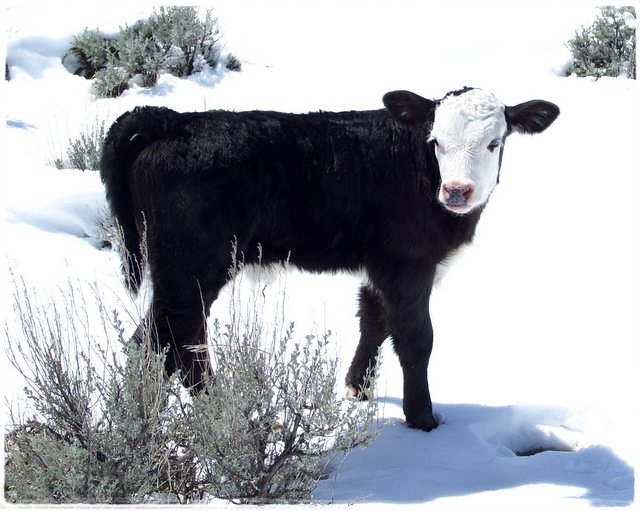 My young mare, Ribbon, will get much more education this year. She's now four and ready for real work. I haven't tidied her up yet due to my knee surgery, but that will happen soon. Lots of brushing, trimming her hairy fetlocks, bridle path and that long hair under the chin. Oh how the horses love to be groomed this time of year. They're itchy and wanting to be rid of all that dead hair.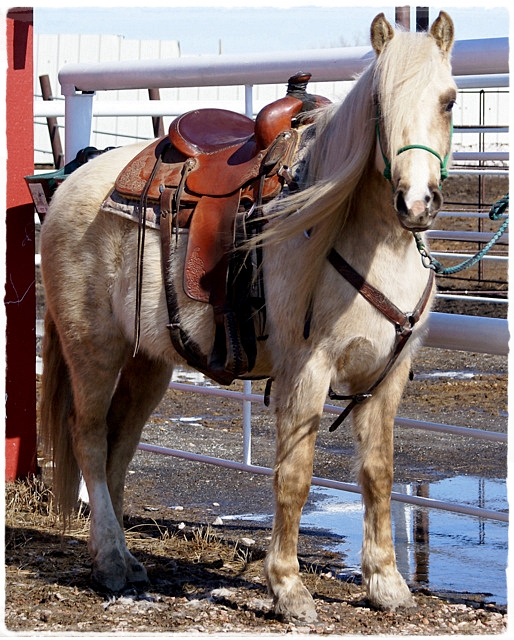 Ribbon will get to follow in her auntie's hoof prints when we move pairs later on in the spring. Moving cow/calf pairs is my favorite ranch chore. The work takes me outside for extended periods of time and while we work, I get to enjoy all the sights and sounds of spring on the plains. The Meadowlark's song is so uplifting. Seeing Bluebirds on the fence line is a thrill <for me>. The surest sign that wildflowers are soon to arrive is seeing Lark Buntings flitting about. They are the last birds to come back.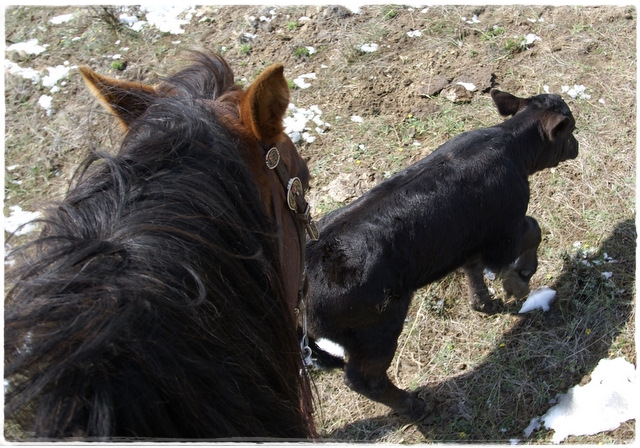 On other fronts, my MaryJanesFarm sisterhood chapter is planning a "spring fling" craft show in a couple of weeks. I'm making jewelry and some sewn items. The other gals are making: soap, baskets, paper art, knitted and crocheted items, bird houses, and we're going to put some "junktiques" in the mix also. It'll be fun.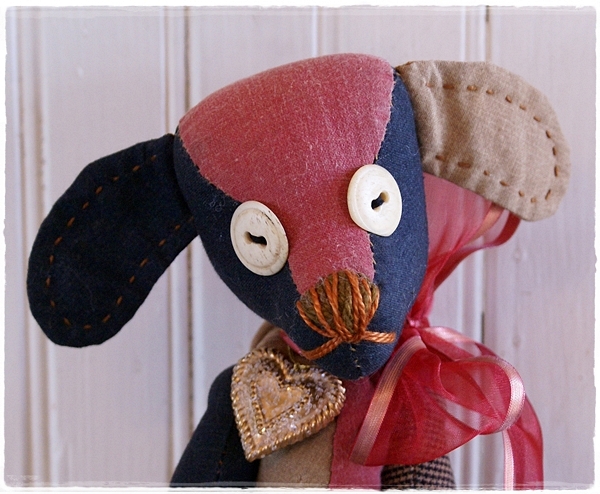 I can already feel the pressure of having too many things to do. But, that's what we wait for all winter I guess … a return to "normal".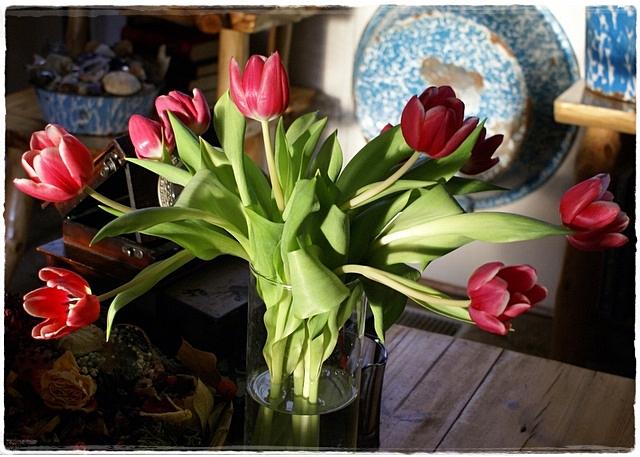 So, what is on your spring agenda? Spring house cleaning is on deck here. Also, I have three pieces of antique furniture I want to refinish. Then, finishing the porch and patio we started last fall – it will hopefully be done by midsummer. I need to oil the barn board trim we put on the house too. Boy, now I'm really feeling the pressure having reviewed the to-do list. Well, one thing at a time and sooner or later it will look like I'm making progress. I'm so looking forward to going to my favorite greenhouses! One of the first green goodies I'm going to treat myself to is a big pot of pansies. That'll get me by until it is safe to plant things outside in mid-May. How about you?