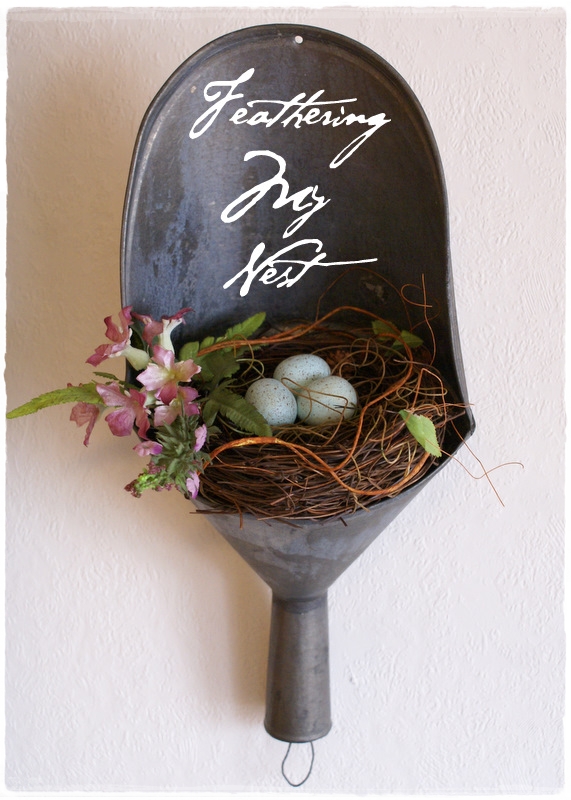 I've been obsessed with "nesting" recently. Actually, it would be more accurate to call it RE-feathering my nest. My old nest had runneth over with 20 years of "stuff" and it was high time to pitch & purge. Please tell me I'm not the only one with a PHD in "stuff". By that, I mean "piled high & deep".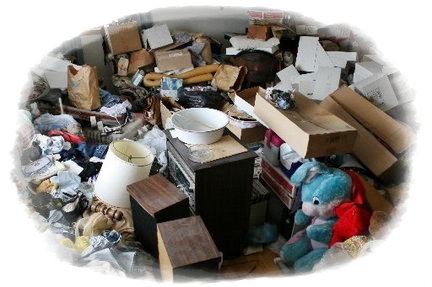 No, the above photo is not my pile. It is what I want to avoid!
So, moving on … how to start this piece? I feel kinda like I did when I was finally willing to own the mess I had made in spare closets and in my old "sweat shop". ACK, where to start?? It took twenty years to create the monster I must now face and own. If you fear, I mean dread the idea of a close friend seeing your hidden messes & piles, you've got issues. Honey, I got issues … with a capital T.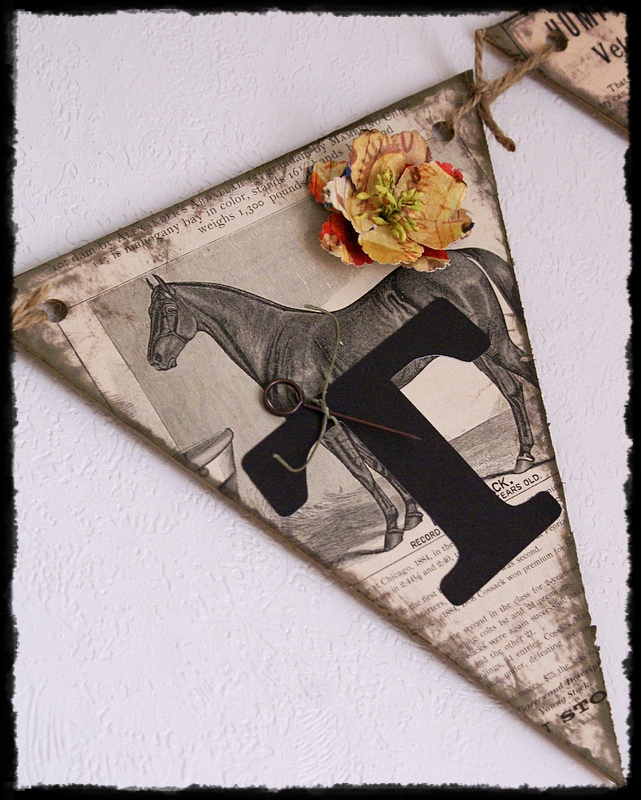 I want to think I'm tidy. Am I tidy? Mmmmm, maybe not so much. I like tidy, I manage to keep a fairly tidy household, but quite frankly my tidy chores get set aside when something more interesting comes into view. I do have to keep things fairly tidy or I feel true anxiety, but, and this is where the piles were born … if I can shut the door on a mess, then I'm off the hook and I can happily skip away. Well, no more skipping off. I'm grounding myself.
So, where to start this article. Oh, I guess I already did that. Well, that is the whole idea … just START. Even if you don't have a plan, just dive in and get going. It's not as bad as you fear. PFFFFFFFFTT — liar, liar with her pants on fire!! Procrastination does not let you off that easy. Having to sift through years of crapola is my punishment and I can't fib, this is a miserable task. Every inch, every piece of paper, photo, ribbon, dried flowers, indian corn, Xmas decorations, odds & ends, blankets, lamps, stuff of every description. WHY DID I DO THIS TO MYSELF? Ok, I need to chill and breathe. The worst of the process isn't over and if I don't get a grip on myself, I'll never get to the light in the tunnel. I'll be trapped in this Twilight Zone of stuff. There is no one else to blame but myself. Stop, go back to getting a grip. Remember the dream ahead …
The good part. Yea, that's what I need … some GOOD vibrations & positive thinking, maybe a John Denver CD. I have the vision in my mind's eye. It is part of an overall BIG picture plan: remodeling parts of the house to include porch and patio…but for now, shuffling furniture around so that I'll have a real guest room AND a charming office/studio. My farmgirl pal, Lisa, inspired me. She recently did that very thing to her workroom and it is a wonderful haven for her and for visitors like me. So, I finally got enough mojo revved up to get moving …
First, I had to go through a bunch of "stuff" before I could make room to move other stuff. Then, the old stuff WENT OUT! Then, shampoo the carpet. I decorated as I went to keep the job interesting. I now feel I've got momentum behind me and I can sincerely say that I WANT to do this thing because the sense of achievement is so worth it. I oiled furniture and old baskets. My work table is by the window that looks out onto my flower bed. I moved my old Hoosier and baker's cabinet in here too. The dark gold paint swatch on the wall will be the color of an old cupboard that will sit there as soon as I refinish and "antique" it. The ephemera banner is one I just made at our farmgirl chapter's last meeting. I thought the word "Create" fit the theme of an artsy workroom. More about our farmgirl meeting in a minute.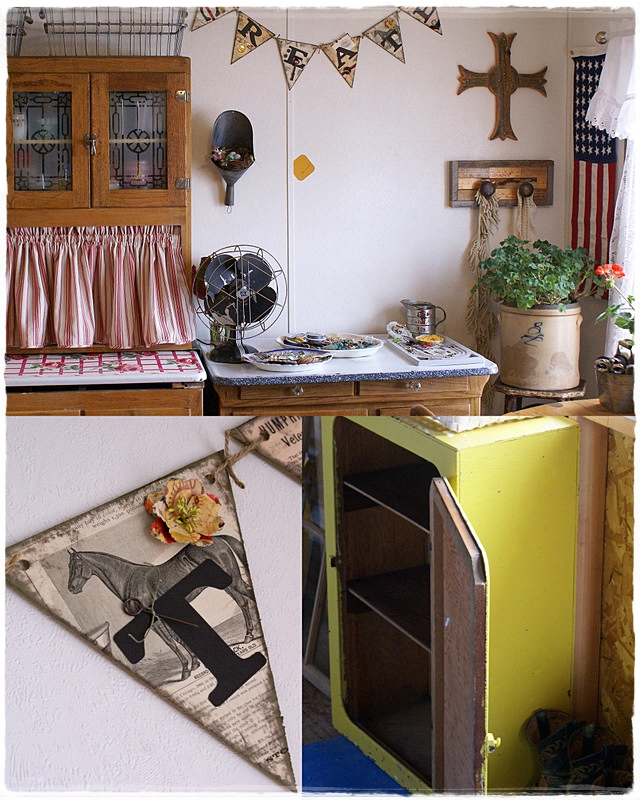 How about you? I've heard so many women express the desire to have a little place in their home that is all their own … a nest nook. If you've been putting it off (like me), I encourage you to get off your duff (like I'm trying to) and git-er-done! If you're not quite at the place in your life where you can give yourself that space, do it later … but do it. My little nest isn't fancy, but it will hold the things I like to do that are inside activities … and I can see the world outside while working: Christmas lights on my Chokecherry tree, summer flowers, birds, falling snow and morning light shining in through lacey curtains. I only have one more thing to say about this: Why didn't I do it sooner?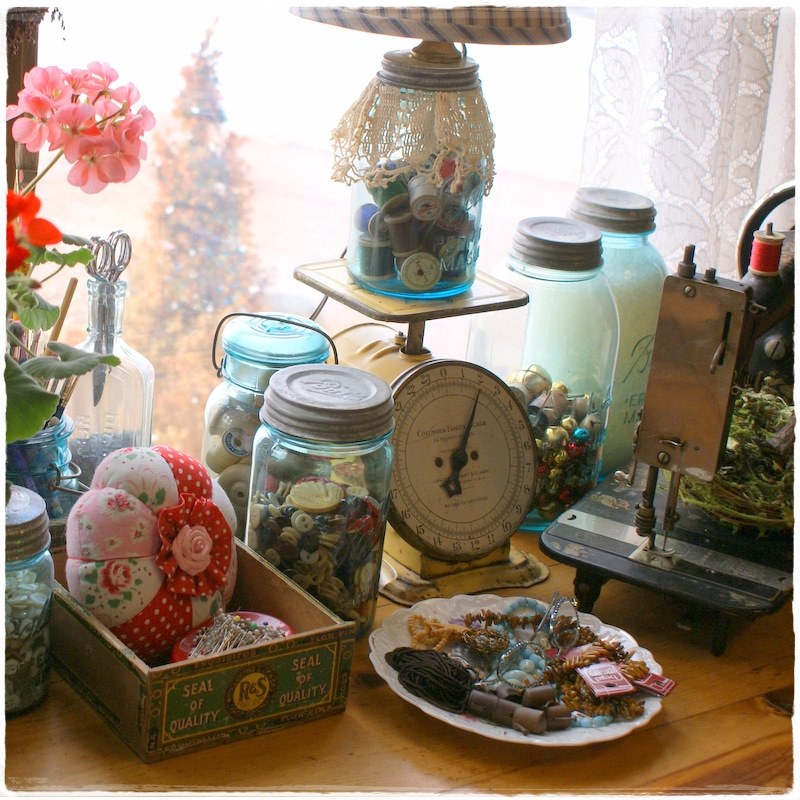 So, do you like my banner? I've seen them around online in a variety of styles. Jennie and Lisa offered to teach the rest of us (Anita, Michele and I) how to make one. They're avid scrapbookers and Lisa is a newspaper owner/editor; her brain is hard-wired for the art of "lay out". She joked the other night about how ironic it is that she finds such pleasure in a hobby closely related to her work. Jennie and Lisa co-hosted the party and it began with saurkraut soup and a cheesy vegetable soup. Fresh strawberries, blueberries and "cukewiches" were also on the menu. We each had a pile of fun gifts at our place settings too: A journal, candy, an apron pattern, rick rack and a little book entitled "Apronisms". My farmgirls are Thee Best. Thank you Jennie and Lisa! Below is Jennie's recipe …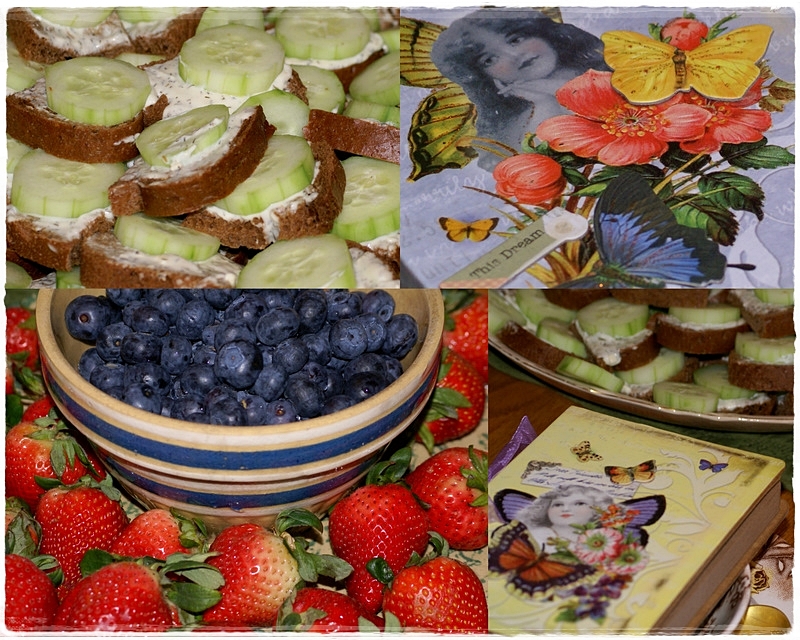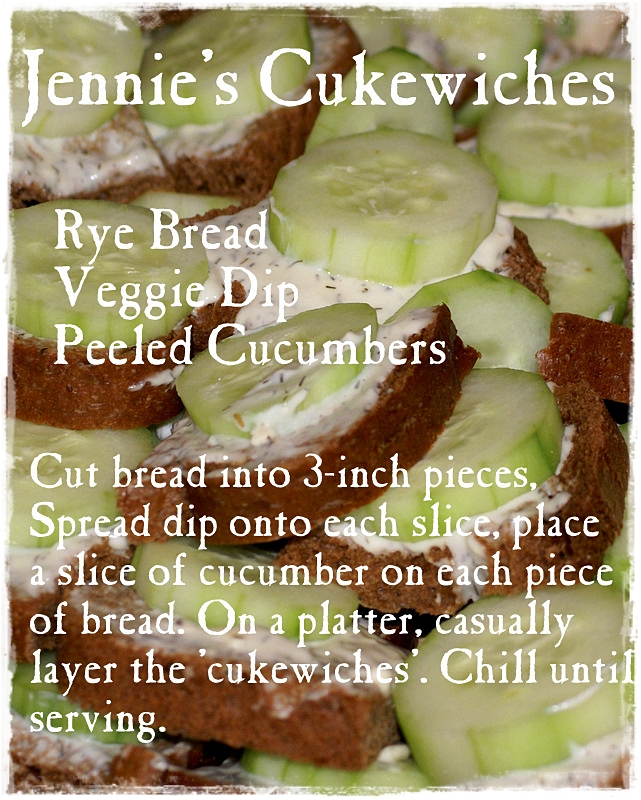 After dinner, we got serious about making our banners. Holey Moley, a serious scrap-booker has a LOT of accessories and Lisa is serious! Boy Oh Boy, did we have a lot of goodies to choose from. Lisa and Jennie were so patient with us rookies. Anita, Michele and I had never set foot in the paper arts. Ok, true confession: the only person that actually required patience from our mentors was me. I've not been thinking outside of the box of my own crafting specialties for a long, long time. I had a mini meltdown over how to plan my banner design. And I mean literally — anxiety stirs up hot flashes. I wanted my banner to look as good as Jennie's and Lisa's work. Artsy ego reality check. Lisa and Jennie coddled and reassured me … but, Lisa said later that she let me suffer a little and admitted to enjoying it. Normally, I know what I like, know what I want and proceed directly. While I struggled, Michele happily chirped away and slid right into making her primitive theme banner. Anita, well, she always breezes along without a fuss – she's the Can-Do girl. I've learned a lot about myself of late. Hi, my name is Shery, I'm a closet hoarder (for real) and when out of my comfort zone, I may have mini meltdown moments. Gee, it would have been nice to learn something like I'm a natural born watercolor painter, but no, I'm a whineybutt pack-rat with piles to prove it. Ouch. Ok, moving on now …
Ta-Dahhh, here they are: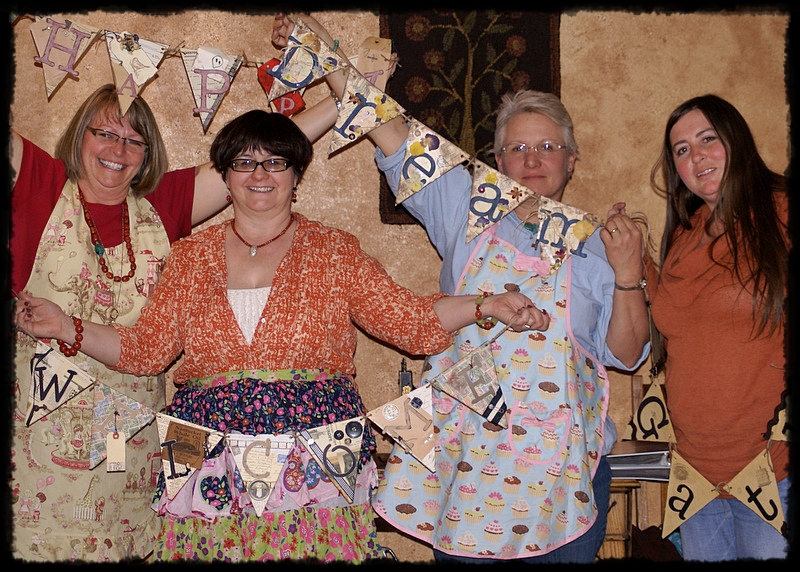 We each had our own vision about what kind of look we wanted, what the banner would say and where it would go. Anita's "Dream" banner is going to be placed above an old window that is on the wall above their bed.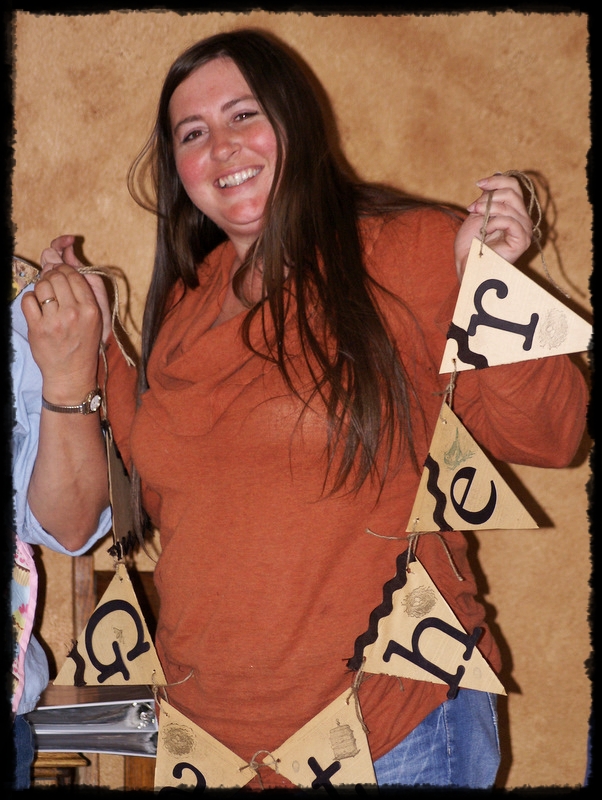 Michele went stamp-happy!! Her banner triangles wore layers of stamps and giant rick-rack. She wasn't sure where her "Gather" sign might end up in her house. She's into primitive decor and it will fit anywhere.
My banner background paper was taken from some old horse magazines published in 1885. I bought an entire lot of them several years ago and after saving those with the best history and information in them (I used to do a lot of pedigree research), I made an executive decision to use the rest of them for crafts. My banner incorporates two of my loves: horses and arts & crafts. If you want to read a little more about the How-To of this fun project, you can do so by subscribing to the MaryJanesFarm sisterhood online magazine, The Cluck. Directions will be in the April edition. Trust me, this really IS an easy project as I found out.
Here and Now: Winter is slowing going away, but there is a LOT of snow left to melt before green will be brave enough to sprout. Here are a couple of photos for comparison … same pasture, different seasons.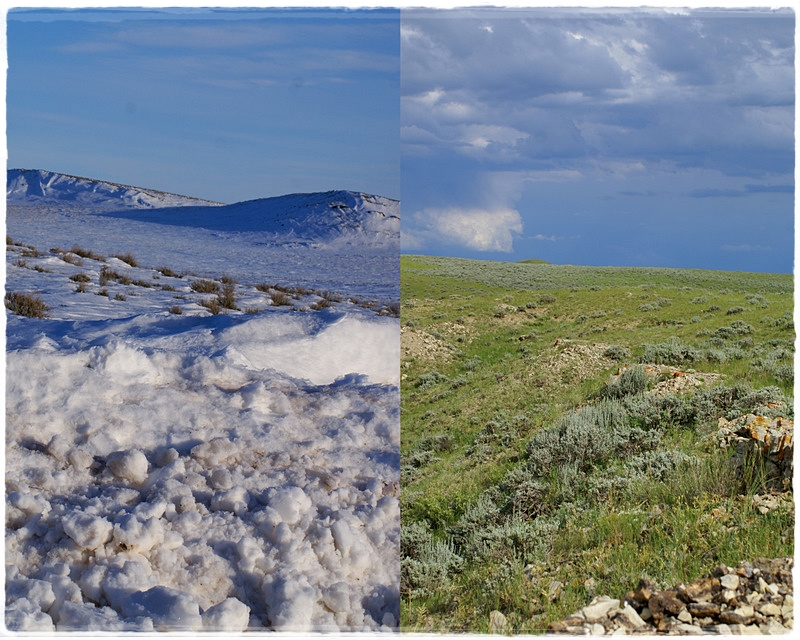 The other: Ribbon in her sleek summer coat and now. Boy, when she turns loose of all that hair it will be like a feather pillow exploding.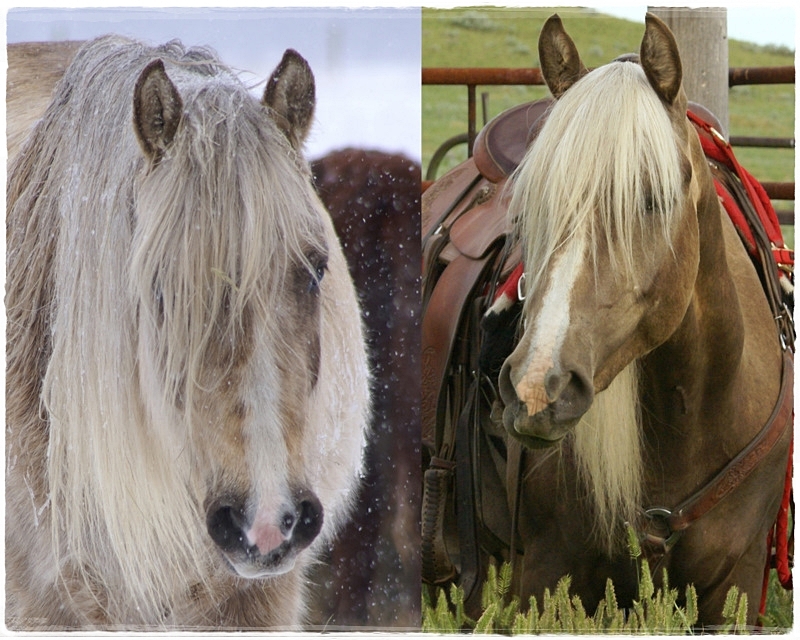 Another here & now thing I have ahead of me this week: surgery. Oh, it is nothing big, just knee repair. Temporary inconvenience. I fell on the ice in January and managed to tear all of the tendons. The good news is that I've got a very good surgeon and he can fix this. But, for several weeks I'll have to get better at another thing I'm not that good at: patience. This surgery is one of the driving forces that motivated me to get my workroom well underway. Afterward, I can putter around doing small chores during the healing downtime. Boy, will I be ready for springtime … and to be able to ride again. I won't be of much use to my husband during calving and we're due to start the first of April. A good friend of ours who recently retired will help him.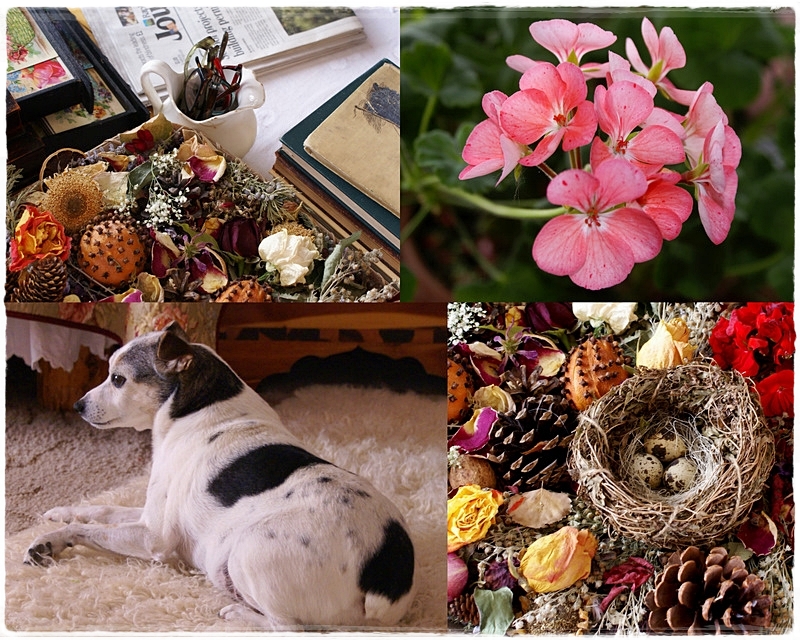 April, I'm so looking forward to our first Farmgirl Handmade Show next month. Yep, we're gonna do it. I'll be getting around pretty good by then and my folks have a vacant storefront room that we're going to "doll up" farmgirl style for a spring-fling flavored craft show. Jenny & Lisa are making paper art items, Michele is making birdhouses and I don't know what else, Anita is making soap and baskets. My friend Connie is making wire wrapped bird nest pendants and earrings. Our Pastor, Sharee, is going to sell gemstones (she's into lapidary) and offer massage and reflexology. I'm making jewelry and a few other nature craft things … faux nests in branches, potpourri and whatever else comes to mind – maybe doggie baubles. But, getting in my own nest in order is #1.
Your farmgirl friend in The Cowboy State,
Shery