"Life isn't long enough to do all you could accomplish. And what a privilege even to be alive. In spite of all the pollutions and horrors, how beautiful this world is. Supposing you only saw the stars once every year. Think what you would think. The wonder of it!"
~ Tasha Tudor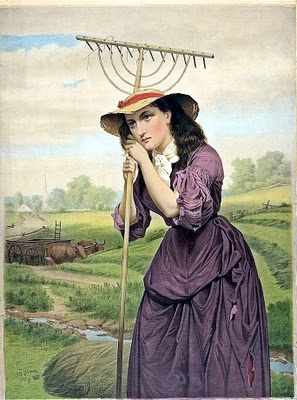 I'm not sure if this farmgirl is daydreaming or just plain tuckered out. Look at the poor girl with her tattered dress and long face. I'll admit, I'm feeling a little sorry for her. That's no way to go into a new season of Gardening now is it? I know it's a stretch, but for the sake of this post let's imagine she's thinking about a tall glass of sweet iced tea dr'd up with fresh lemon and mint while she takes a short break. I mean, no great thing happens suddenly right? Especially, in the garden… I think a little daydreaming is in order!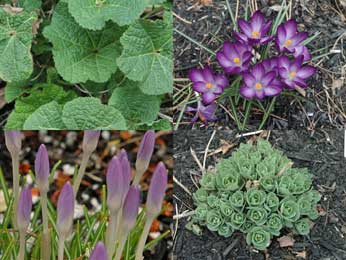 While the ground slowly thaws along the Northeastern south coast and the first blossoms of early spring arrive, I've been keeping busy with some inside tilling. You'll never guess what turned up!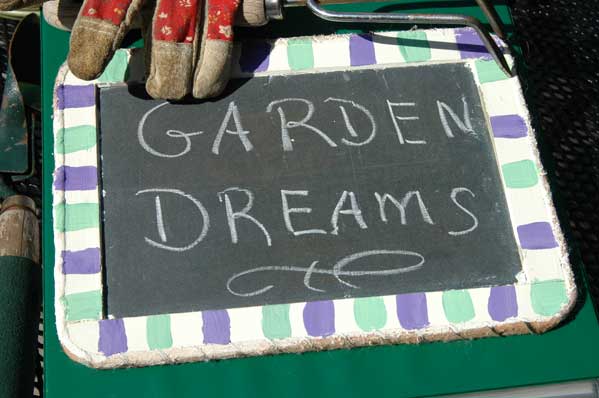 My Garden Dreams Journal!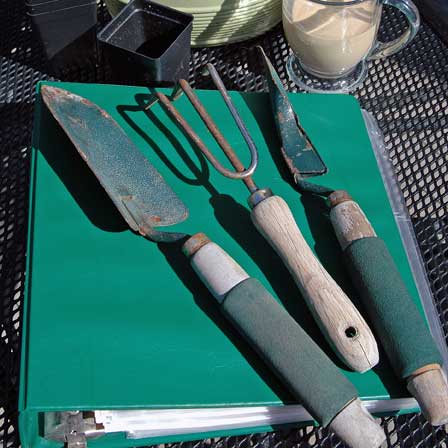 It's nothing fancy but it's perfect for use outdoors. I use a basic three ring binder and clear page protectors for clippings, notes, and plant info.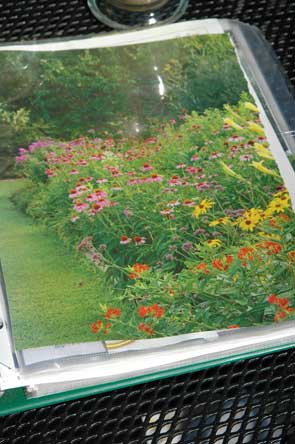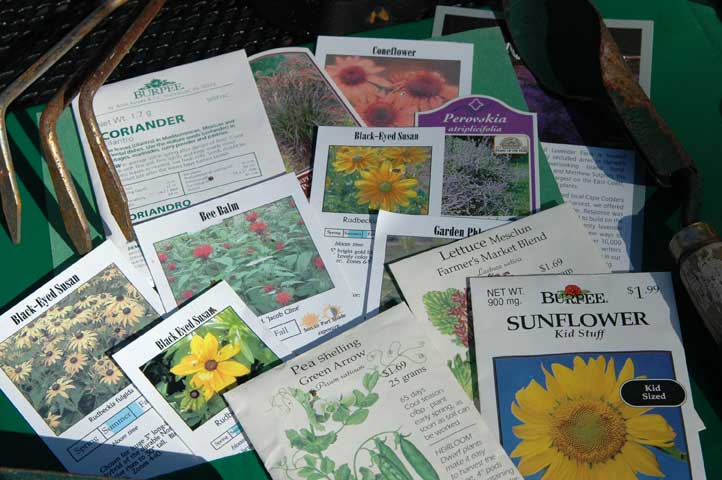 I love to sit down with a cup of hot coffee and flip through the pages of my garden journal in hopes of gathering new Garden inspirations for the coming growing season.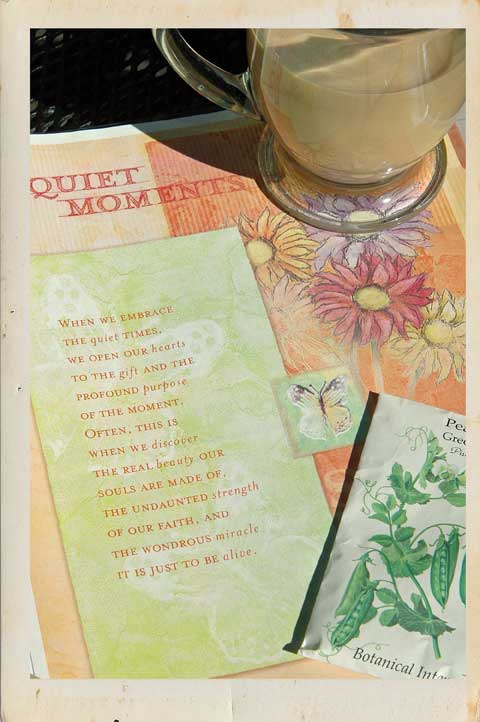 This is also the time of year when I add new clippings from current magazines and seed catalogues. My mind is bursting with ideas for my gardens at home and at the cottage. But before I wear us all out with that let's take a peak at what made it out of DREAM LAND and into the dirt last year!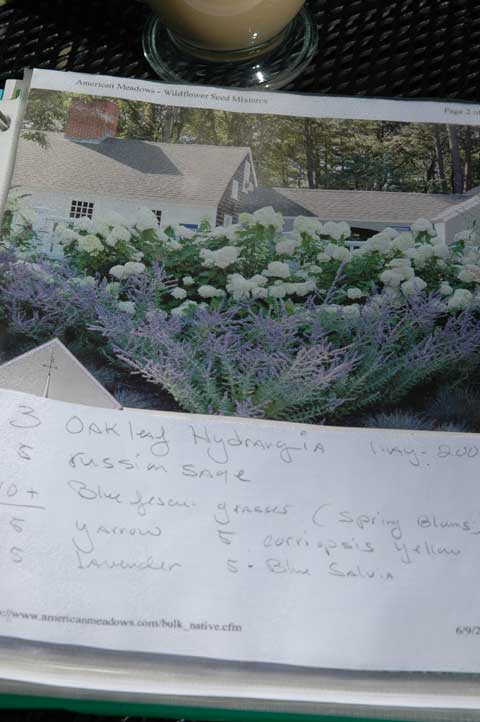 Oh yes! The lovely Russian Sage and Moombeam Yarrow (Achillea Millefolium) I was coveting in early spring last year put on a wonderful show! I have to say girls, gardening in the north east along the shore is a piece of cake compared to the claypacked, rocky earth I cut my gardening teeth on in the high desert. So far, I haven't had to rent an auger to plant anything!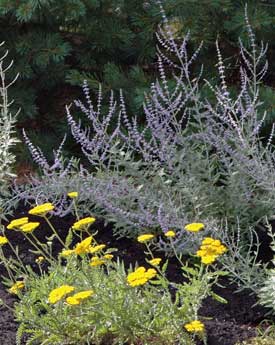 I've borrowed some tips from one of my favorite legendary Gardner's, Gertrude Jeckyll. She was known for planting in mass waves of color much like a painter would approach a work of art, ever aware that her canvas was always changing as she painted with flowers instead of paint. I like to look at my largest garden this way too. I stare and study to figure out how much red, purple, green yellow, blue, orange, white and pink I need and where. It's an ongoing work in progress. But I like it that way!
The "rests" allow for true inspiration to bubble up on it's own. One thing I don't do is fuss too much about correct color combinations… I think it's more fun to just play and let your instincts take over.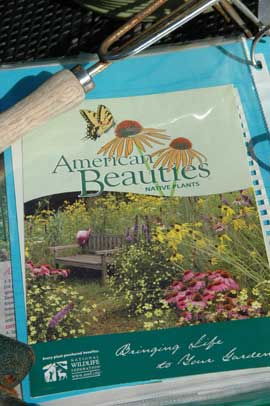 Gardens are a lot like people when you think about it. Some gardens are very tidy and orderly looking, while others are more care free and wild. What kind of Gardner are you? I love a loose, natural look in my garden with lots of color! I also like the idea of planting with a purpose so I created a bird and butterfly garden in the largest sunny patch of our back yard.
Our winged friends love Black-eyed Susans' (Rudebekkia), Coneflower(Echinacea), and bright red Bee Balm (Monarda) which attracts humming birds and bee's too. No Butterfly garden would be compete without a Butterfly Bush. I planted Black Knight because it only gets about five feet tall and the same in width. Although, the plant this male Swallowtail has lit upon is called Verbena — another butterfly favorite!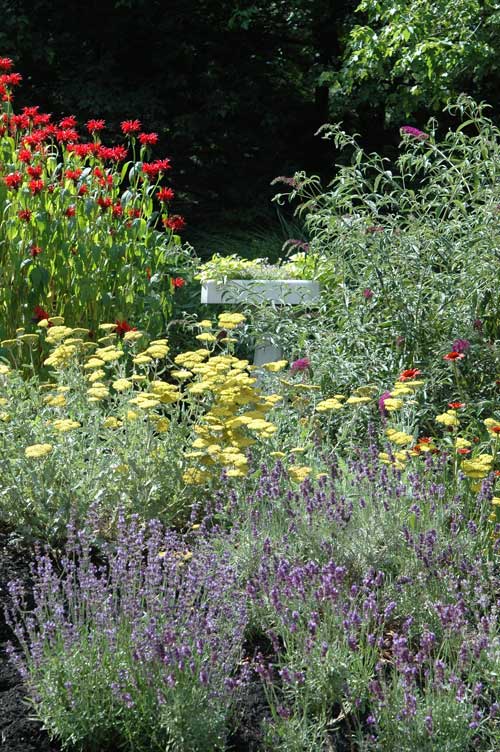 For year round structure and texture I planted Ornamental Grasses (Miscanthus), Lavender (Munstead and Helecote) and a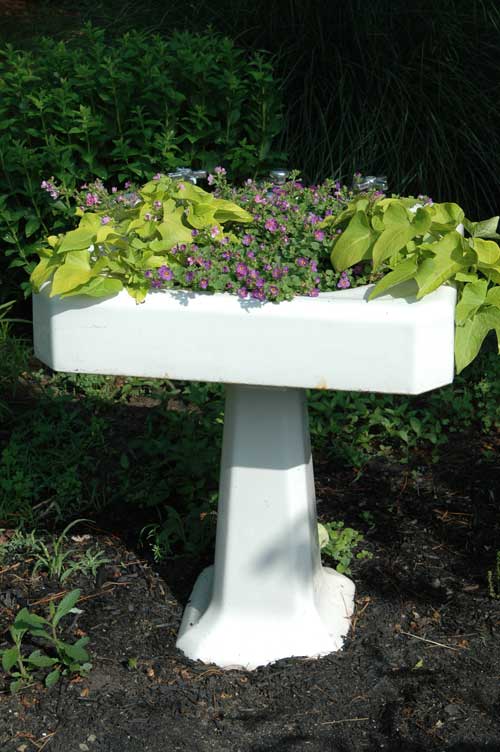 SINK GARDEN!
My hubby dragged this vintage sink home thinking we might use it indoors for one of our bathroom remodels, but it ended up outside after I saw a similar one pictured in a magazine!
Where was I going with all of this? Oh yeah! Garden resolutions for 2011!
I am RESOLUTE about two things: I'm still pinin' for my small section of picket fencing. I'm the farmgirl who wrote A Pinin' for Picket's and I've yet to bring that dream into reality. This is the year and to keep me honest about it, I'll do a post later on after it's up and painted! See? Here it is in my garden journal!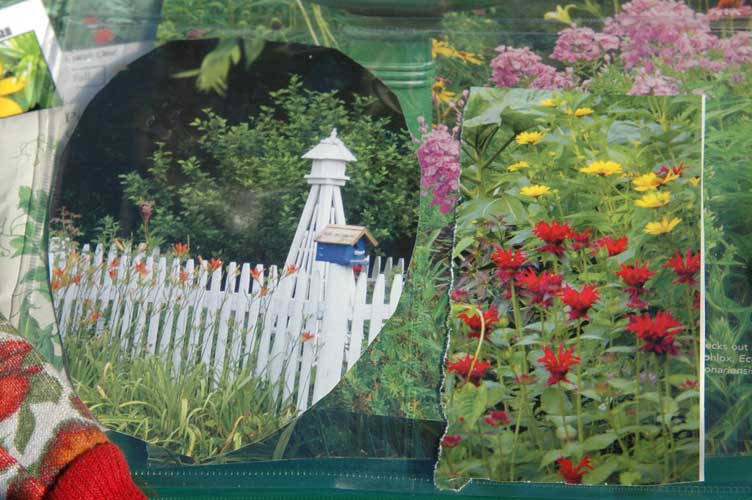 Number two resolution is to add some raised beds for more veggie goodness! A perfect project for our home grown kids and I over spring break. We'll be getting a call any day announcing the arrival that our 10 baby chicks are in. The run will need expanding and the "Three Cottage Hens" will need a talkin' to before we introduce the young 'uns into the flock.
That does it for this time, farmgirl friends! I hope I didn't wear you out too bad!
Here are a few of my favorite links for more garden inspirations!
http://www.gertrudejekyll.co.uk/
http://www.visitcumbria.com/amb/hill-top.htm Hill Top, Home of Beatrix Potter.
http://www.tashatudorandfamily.com/
Be sure to leave a note today! I'd love to hear all about your garden dreams and resolutions too! Big and small, they all count! Tell us, when did YOU get bitten by the Gardening bug?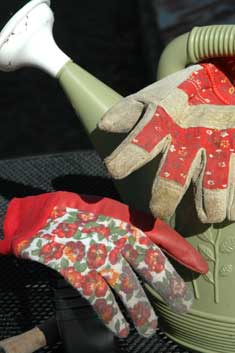 Meanwhile, back at the BEACH there's much to be done as we open up the Cottage for another season of simple pleasures (if I can keep the daydreams to a minimum that is) by the sea. Oh, who am I kidding? That will never happen!
I'll see you on the Shorelines soon! Pack your sunscreen, we're headed to the beach!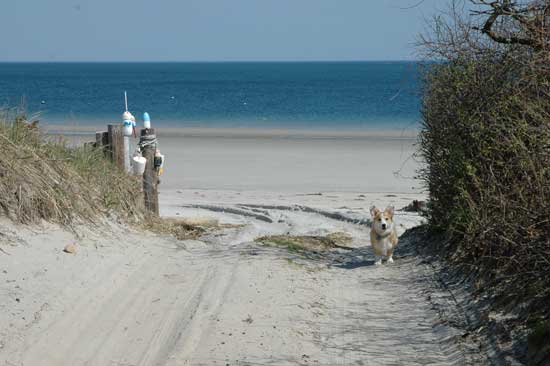 Beach Blessings and Happy Easter!
Love, Deb