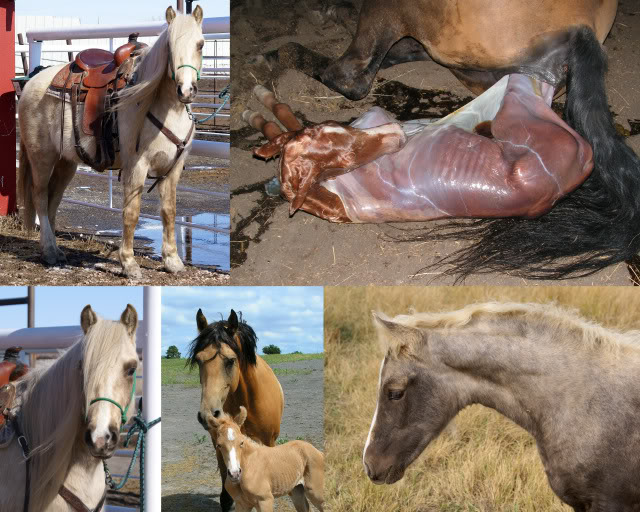 To some, my most recent "glorious moment" may seem more like a molehill than a mountain, but for me, it was an overwhelming and joyous occasion.
Many years ago, after having taken up horse breeding, I dreamed of a special steed for myself…a filly of gold. I already had the horse of a lifetime in my wonderful "Dolly", but as a breeder, I set before myself the goal of creating a custom ride. Not only, would this 'dream horse' be what I wanted in the way of temperament and ease of training, but she would be a she and she would wear a coat of gold. Before we go any further, let me just say that one of the most important aspects of goal setting is to have realistic ones – which for me has always been a challenge. My motto: "Why work your way to the middle?" Sounds lofty, positive and inspired, doesn't it? Well, maybe so, but it sure isn't an easy row to hoe.
Meanwhile, back at the ranch…I bred for a filly of gold twice and the 50/50 chance that genetic dice playing produced, well, I got skunked on both rolls. Ok, now we've chalked up 5 years of crop failure, so to speak. Both foals were healthy and lovely in every way but they weren't gold. And, we can add shame to the equation. I was ashamed that I was disappointed in two gorgeous foals just because they were the wrong color. Vanity, I was guilty as charged. So, I dismissed the dream horse idea and that field of dreams was left fallow…sort of.
Years later, I purchased a beautiful buckskin mare that offered me another opportunity to play with golden genetics. My stallion and the mare were an ideal match in every other way as well. So, the mating occurred, but with a hitch. I promised myself I would be happy with whatever the outcome and it was a truth I honestly believed.
The day of delivery came eleven months later – then add 10 years of waiting too. I could scarcely believe my eyes. In the dark, at one in the morning, my flashlight was telling me I had a Palomino FILLY. Did I do a happy dance around my sombrero? No, I felt humbled. I wept. I was reminded in that moment that although I let go of a silly dream, the good Lord heard it instead as a 'heart prayer'. In His time, not my own, I was given the desire of my heart. When my head and my heart were on the same page and dancing in time with the right attitude…my dream came true.
My golden darling wore a name I had saved for her during all those years of waiting. My grandfather was the last of the cavalry and in his old age, he still whistled "She Wore A Yellow Ribbon"…while he gardened or tinkered in his workshop. And so it was, she was registered as such and nicknamed "Ribbon".
But, this phase of the dream wasn't the momentous occasion I'm writing about. The full-circle experience is yet to come, actually, but it began last week with Ribbon wearing saddle leather for the first time! My ultimate goal was, as I said earlier, a custom ride. I need a willing and safe 'pardner' for ranch work and I can say that part of my plan was positively practical. But, my love of beauty hankered for a "classy chassis". I love a beautiful horse. To me, there is nothing in God's creation more exquisite than equine beauty. And, last week I was blessed far beyond my little dream. Ribbon let me tack her up and work with her on her first day of "kindergarten" with incredible ease and a 'heart of gold'. I'm not bragging, I'm blessing!
My custom tailored gift from above is the one I need to remember when I have a bad day, a worrisome day, a day of grief, a day of disappointment or just a 'loser' of a day. When I find myself in the mud puddles of life, I hope I remember the many times I've slid down the rainbow and landed hip deep into a kettle of golden coins. And then, I will be blessed yet again with comfort and the promise of better days and dreams to come. I hope my little story is two things for you … a story you can relate to in your own unique life, and perhaps an encouragement…if you happen to be holding on to an old dream. Maybe your dream is just waiting for you to make your way there.