My mom recently celebrated a birthday. In her seventies, she is still always stylish, with impeccable hair and makeup, and known for her big, bright, beautiful smile. It's not easy living so far from family, and I so often wish I could just drive down the road to see my mother, or bring her a bouquet of flowers from my garden. When her birthday rolled around, I couldn't wait, because I recently found the perfect gift for her…something I have been searching for her for decades.
I look at old pictures of my mom and think she was the cutest little girl ever. Even then, she was always smiling away.  She is a twin, and my grandmother always sewed her girls the cutest outfits. They looked like little dolls! (My grandmother and grandfather were both twins, as well).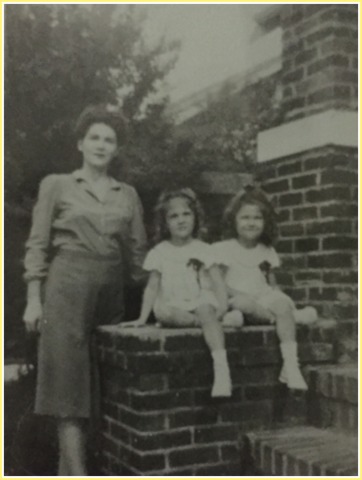 My "Grampa Ray" had his own little sign business. Even after he retired, when I was a little girl, I remember him painting signs in his backyard garage and the beautiful lettering he would do…a lost art today. When my mom was little, he painted signs for Pepsi and Coca-Cola.
I've always loved hearing the stories my mom tells of her childhood. She was raised with her twin and later a baby sister in a modest little house. She had a happy childhood. Sometimes she and her sister would go to the movies. Mostly, she'd play outside with her sister and neighborhood friends, until finally at dark my grandmother would make them come in for the evening. Kids had more freedom back then; they didn't have as many worries as we did, and life was simpler. They did not have much at times, but my mom says "what we did have was precious".
When my mom was nine years old, the buzz in Houston, Texas was the opening of the first-ever Coca Cola bottling plant on Bissonnet. (Back then, Houston had only 500,000 citizens). It was quite the event! The public was invited to attend the grand opening and tour the new plant, but to go on the tour you had to have a ticket. My mom and her family got their tickets for the grand opening. Once inside, they were told to hold onto their ticket stubs for possible door prizes. My mom's ticket was called! She won! She was presented with a Coca Cola music box. It was the first thing she ever remembered winning, and that little music box meant so much to her; it represented a very happy family memory, with her mom, dad, and sister on a special outing.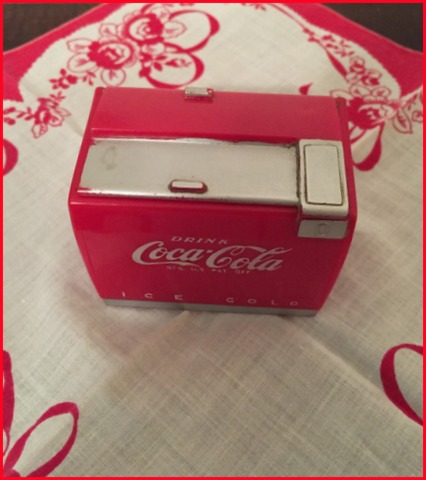 My mom cherished that little music box. She had it a long time, until when she was a teen, it was accidentally thrown out.
My mom never forgot that exciting moment as a child when her number was called, with the thrill of winning something special, nor did she forget her little music box. She's always spoken wistfully about it.
For over twenty years, I've wanted to find my mom that music box, always keeping an eye out at tag sales, flea markets, and antique stores. Once, in the 90's, I thought I found it! It was a reproduction, a music box that looked like an old coca cola machine with the little glass bottles. Though my mother loved it, it wasn't like the one she had as a child.
When eBay was invented, I would search again from time to time. Nothing ever popped up that matched my mom's music box…until recently. All of sudden, there was one that I thought just might be it.
Not wanting to get too excited, I texted a photo of the auction to my mom. She called me, her voice quivering. It was exactly like the music box she won as a child! She wanted to know how to purchase it. I told her sadly that it was already "sold". (I just didn't tell her that it was me who was bidding)!  I bought it, with my brother chipping in; I thought it would be extra-special coming from both of us.  He remembers her always talking about it, too.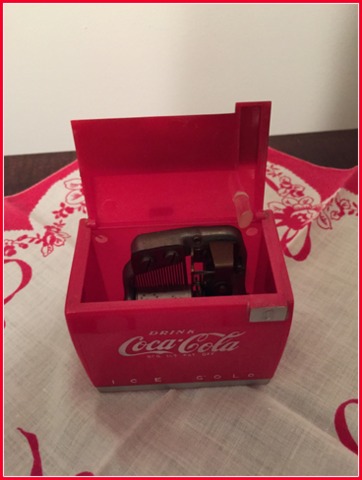 When it arrived, I couldn't resist checking it out. It was tiny, but adorable, and in playing condition. I carefully packed it up and mailed it out the week of my mom's birthday.
I wished I could have seen her face when she opened it! My mom was an amazing stay-at-home mother and later a strong single mom, and taught me how to do many things. She gave me a happy childhood; I wanted to give her back a happy piece of hers.
Have you ever found something from your past (or for someone else), many years later? What was it? Share with me in comments!
Until Next Time…Farmgirl Hugs, Nicole