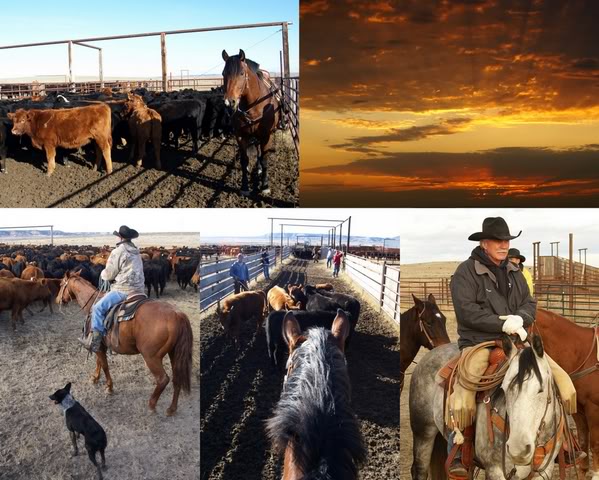 Each "season" of ranch work coincides with nature's four seasons. Autumn, for most folks, is a time to make a to-do list of things they want to get done before winter sets in. So it is with the rancher. The last thing we do as part of our Fall chores is to ship our calf crop by semi-truck to the buyer. The above photo collage of shipping day is made up of images that could be called "the view from my saddle." There is also a photo of one of my horses, "Harley." A typical shipping day begins very early (at dawn).
Fall-work begins with moving cattle to different pastures, vaccinating the herd and pre-conditioning the calves in preparation for selling and shipping. We spend quite a bit of time horseback getting cattle situated in the right pastures. This is also a time to move bulls and do whatever culling is needed.
On the northern plains, shipping time generally takes place in October and November. We shipped our calves to the buyer a couple of weeks ago. My husband and I really enjoy helping our friends, family and neighbors with their fall-work; it gives us the opportunity to socialize. Everyone in our circle has checked off this last item on the rancher's to-do list. It is a great feeling to watch the semi trailers pull away from the loading chute and know that our calf crop is on the road. Holding our annual paycheck in hand is a good feeling, also!
To finalize this last phase of fall-work, we wean our replacement heifers and keep them in a pasture with two-year old heifers; the "little girls" get extra feed and won't have to compete with the older cows. Lastly, we move the cows to pasture to forage on their own until we begin feeding them hay and "cake" in December, if we're lucky to go that long. When the snow cover is hard, we'll bring the main herd of cows back to the feeding-ground pasture which is on the county road and across from the hay stack-yard. Normally we need about 200 tons of hay to get us through the winter. The cows bawl for their calves after weaning, and we leave them be for a couple of days to adjust. When we move them to the early winter pasture, they seem to know the drill and happily mosey along.
Cattle have a very strong location memory; that is to say they remember well what happens where and when. It always amazes me that the older cows know where to go and what comes next, as if their seasonal clock tells them what do…much like the leaves turning color. Soon, when winter arrives in earnest, we won't have to convince the girls to come back to the feeding ground. They'll be more than ready and they know the way. Sometimes, they're ready before we are and they'll rub a gate down and come home on their own. When we go out to check on things, they'll be there "bellering" at us, as if to say, "You're late!!"