Farmgirls have long known that bartering is an effective means to an end. Trading goods for fun or in business fosters pleasant relations, trust and a healthy kind of pride in offering up what you have to trade. Money isn't necessary in a trading transaction.
Bartering was the norm long before money was invented…
During the 17th and 18th centuries, money was scarce, so the colonists relied primarily on bartering, with commodities such as beaver pelts, corn, musket balls, nails, tobacco, and deer skins (from which we get our modern slang term, "buck," meaning "dollar"). Rural folks in bygone days very seldom had spare cash, so they'd trade goods for services too. The country doctor was undoubtedly never short of eggs & produce, as well as being on the receiving end of whatever skills a person might offer up in trade for medical care, such as blacksmithing or carpentry.
This past weekend I drove out to our friend's ranch (Jerry and Anita Shepperson) to participate in a bartering deal. I'm habitually long on horses while Anita is long on garden goods, milk, eggs and a variety of meat products (sheep, beef, poultry). She's a farmgirl deluxe! Their home and buildings are situated on a much older homestead site, which has a mature shelterbelt of trees. We, on the other hand, live out on the windswept plains, not a good place for gardening. The best I can do is to tuck a few containers into spots that offer shelter out of the wind.
Back to the trade…I owned a young Morgan Horse that needed a new home. Jerry had his eye on said gelding. He and Anita had all kinds of edible goodies to offer for barter. It was a no-brainer. Jerry got his horse and I'll have fresh milk and eggs coming for quite awhile, as well as 2 big turkeys, a whole deer, part of a beef and a lot of garden goodies. We spent all weekend butchering a beef and I returned home with coolers fully packed. My freezer runneth over!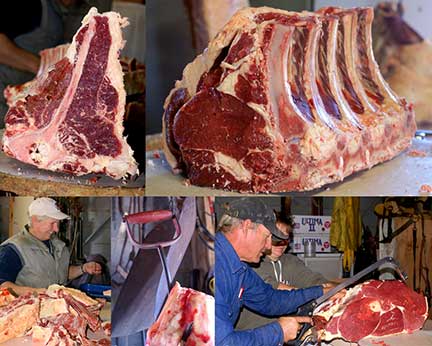 As I was driving back home, I recalled a scene from one of my favorite movies, Dances With Wolves. A Native American had befriended the Cavalry officer and to foster better relations and prevent a conflict over the officer's stolen hat, he suggested a trade between the brave who took the hat and the cavalry officer. The thief was then bound by an imposed sense of honor to divvy up something of equal value, his breastplate. A peaceful transaction was had and the Cavalry officer's friend smiled and said simply, "Good trade." The art of bartering is perfectly summed up by those two words.