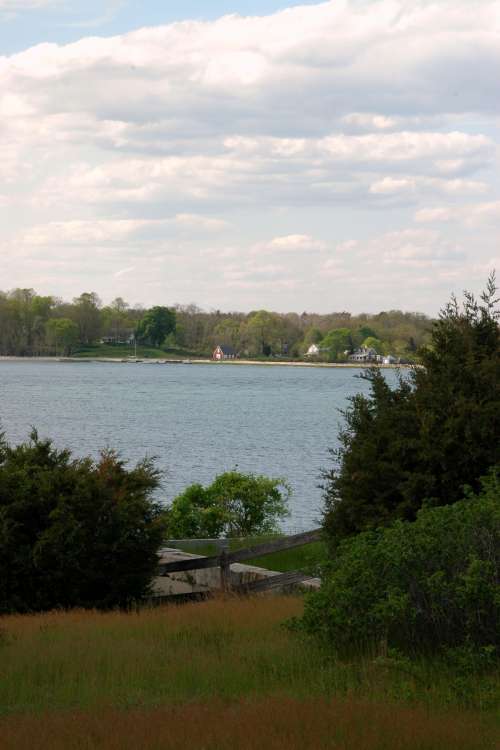 PORCH RULES
MAKE MEMORIES, have a drink, LAUGH, visit with old friends, MAKE NEW FRIENDS, enjoy the view, UNPLUG AND UNWIND, take your time, SIT BACK AND RELAX~
Dear Sisters,
It's a tiny little thing with a sliver of a view, but it's pure heaven. Come sit on my porch and catch the sea breeze. It's spring break!Welcome to the beach farmgirls! Many of you have asked to see more of the inside of our tiny off-grid beach cottage so this post is for you! In my last post I shared our cottage kitchen and dining area. Today is all about the porch.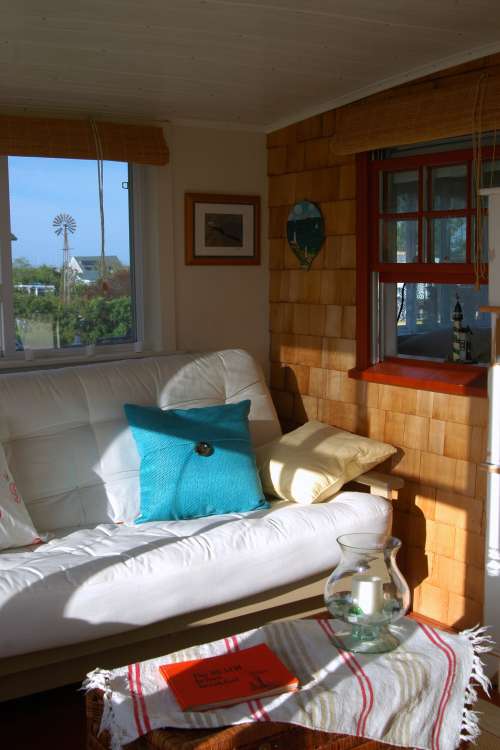 Our porch is a mere 8 feet by 16 feet wide with windows that wrap all around to maximize the view and let in sea breezes on hot and humid summer days.
About 12 years ago the porch got a much-needed makeover. Prior to that the walls ( and built-in bunk-beds) were clad in dark walnut paneling that was so popular in the 1970's. The original painted pine plank flooring was covered in tan linoleum, the windows were smaller (and there were less of them) and floor to ceiling drapes hung over the slider and wrapped around the narrow windows. Back then, the porch felt more like a cave than a cottage but we loved it the same! Still, when the time came for the porch makeover we were thrilled to wave goodby to the funky 70's and welcome in a fresher, more functional  playful pallet. My brother-in-law ( my sis-in-law helped too ) did all of the heavy construction. He replaced the old aluminum framed windows with larger white vinyl ones, letting in more light and expanding our view. The old water stained ceiling tiles were replaced with fresh white-wash paneling. My hubby and I helped with the finish work and decorating. We also ripped up the dated vinyl flooring ( my favorite part of the renovation) and painted the floor a rusty-red color to brighten things up.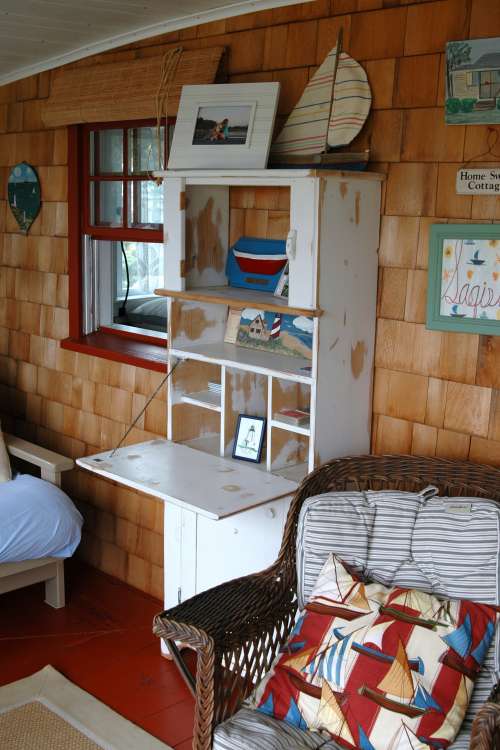 One of our favorite features on the porch is the inside shingled wall inspired by the original porch design prior to the 1970's re-do.  It gives the porch a cozy feeling and casts a warm glow when the afternoon sun shines in. My second favorite feature is this peek-a-boo window ( see above )  in the shingled wall. The original porch was changed entirely during the 1970's renovation but this vintage 1960's photo below shows the cottage from the outside in its original condition and you can easily see the interior window which was covered up by the built in bunk-beds.  No doubt the owners at the time thought that the new and improved products of the 70's would be a huge improvement. Thank goodness for the re-purposing revolution!
My brother-in-law had an old window hanging around that worked out perfectly for this space. Now we have a view of the ocean from our bed and we can catch a cross breeze off of the porch too!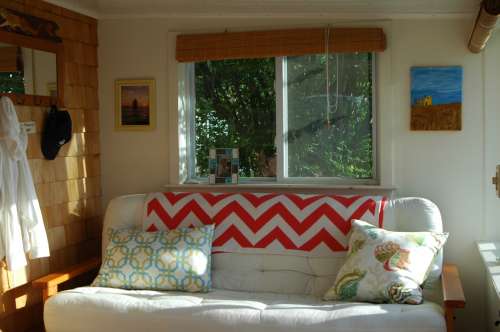 As with all small spaces it helps to jot down the key functions of a space before you head out on a big shopping adventure.  Because we have two tall teens we outfitted the porch with two queen size futons. Our renters appreciate an extra place for sleeping too and couples enjoy the porch for reading, knitting, and napping! There's a trunk for storing blankets and pillows, a mirror with hooks for hats and sweatshirts and simple matchstick blinds for window coverings. I'm on the hunt for a tall, skinny chest of drawers to replace the yard-sale shelf we put on the porch a few years ago. We could use some additional clothing storage out there.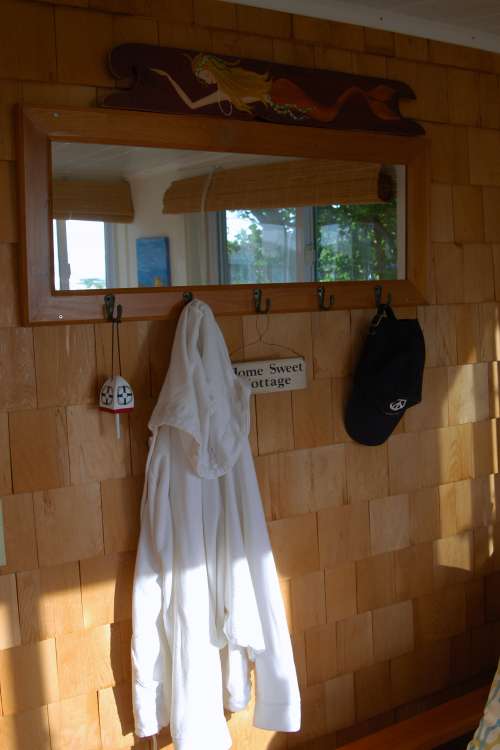 A porch isn't a porch without at least one rocking chair and that's all we have room for. Ours is vintage wicker rocker which we plump up with cushy, coastal style cushions.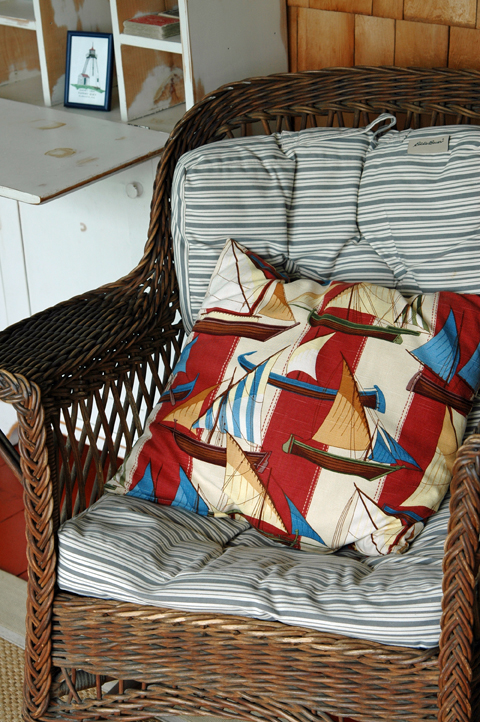 It's my handsome Yankees' favorite place to sit. When the sun gets low on the horizon he plants himself there like a cat and soaks up the sun.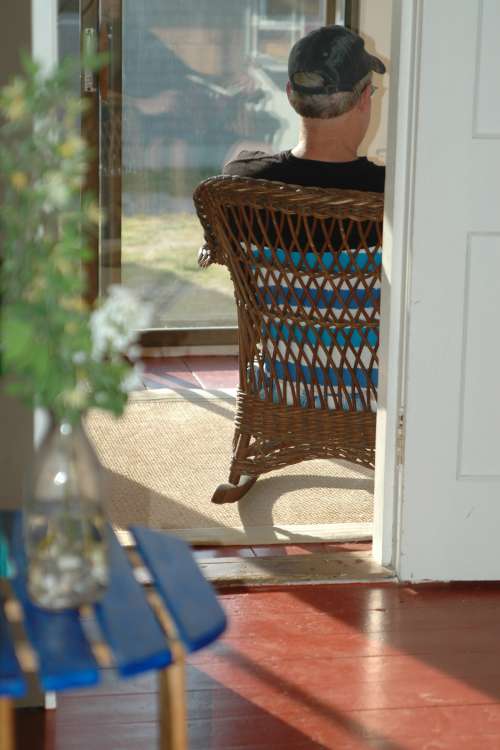 Once you get your comfort and sleeping needs met it's time to decorate! There's nothing trendy, manufactured or pretentious about our cottage style. The simpler the better. That's what summer is all about! I love soft cotton fabrics for bedding and pillows. Easy- care indoor out-door rugs, and cotton throw rugs are ideal. A quick shake out the back door makes keeping the floors tidy easy. Let's face it. We'll never get all the sand ( and dog hair ) out.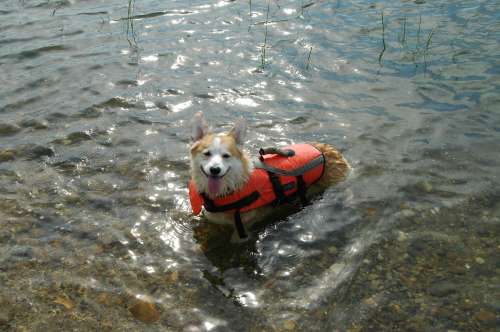 You know how I feel about creativity and nurturing the artistic pursuits of others, especially my own crew. Everyone is a featured artist in our cottage by the sea! Our kids used to spend hours painting sea shells at the kitchen table either as a solitary activity just to relax or with friends who wanted stretch their artistic muscles. They are sprinkled throughout the cottage on the windowsills and bookshelves as a reminder of their wonder years by the sea.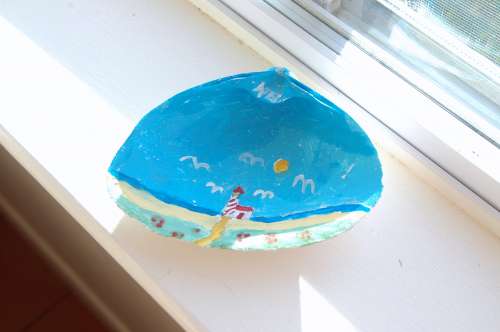 My mom painted this cheery, yellow cottage in art class last year and gave it to us for Christmas. I love how it could be plopped in the middle of the prairie, a sea of golden dune grass, or a field in the French countryside. It's right at home on our porch.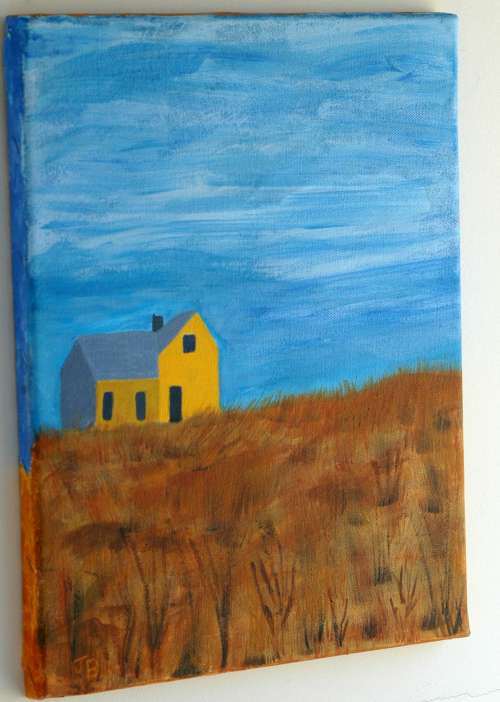 A few of my handsome Yankee's photos are also proudly displayed throughout the cottage. Although small in scale because of space limitations, they still reflect his deep love for this very special place.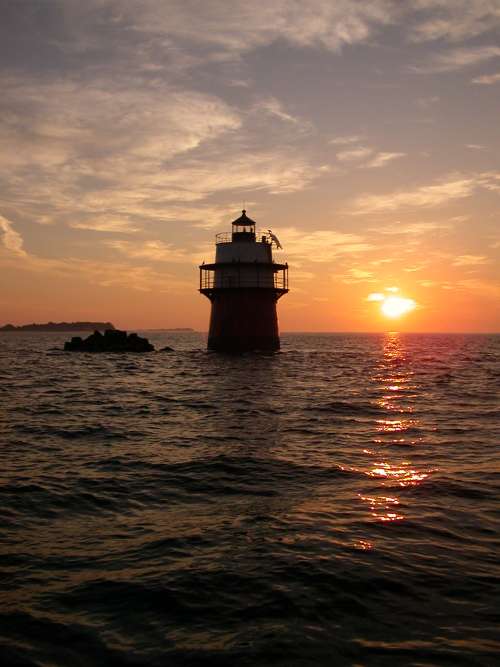 Having a tiny cottage by the sea ( under 400 square feet y'all) is a blessing in our lives and has taught us many things over the years. But one thing stands out more than all of the others.
ALL you REALLY need at the beach is LOVE and we've got plenty of that.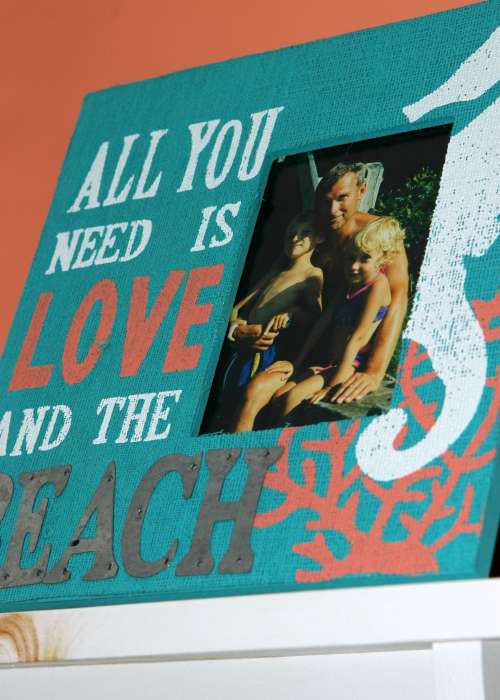 I hope you enjoyed your spring break at the beach. When you find yourself running ragged remember to practice the porch rules.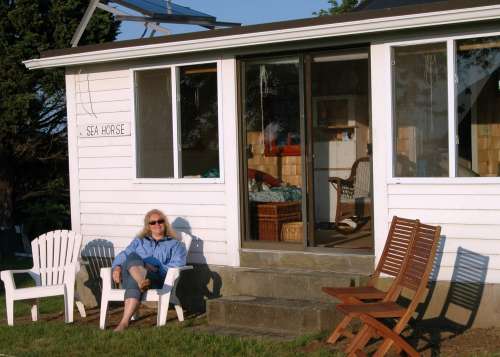 Until our next shoreline visit~ Don't let the little things in life sail by you unnoticed. They're what matter the most.
I always love it when you stop by and say howdy!
Beach Blessings and much love,
Deb # 1199