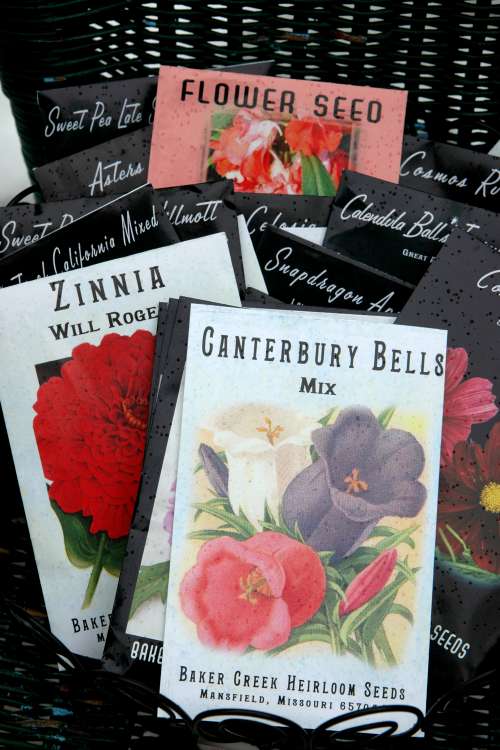 Dear Sisters,
See the raindrops on those beautiful seed packets? You know what that means don't you? The New England thaw has officially begun! With every raindrop that falls, another inch of frozen snow washes away exposing a little more bare ground and our garden furniture!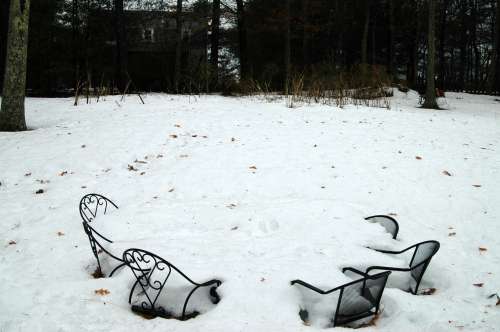 This was the view from my kitchen window this morning.We had a hard rain last night which brought down the drifts of snow by a foot or so. The chairs have been a great marker for measuring snow. Up until this morning all we could see were the tip tops of them.There's a patio under all that snow! It seems like forever ago that it looked like the photo below.
I was able to sneak away to The Boston Flower and Garden Show with a friend a couple of weeks ago and that helped get the garden mojo juices going! Silly me, I left my monster NIKON camera at home and wouldn't ya know as soon as I stepped inside the door and saw all the amazing garden displays I wanted to share it with all of you! I'll bring it next year! Promise.
There must have been over 100 vendors! There were the usual seed companies, garden shops, carnivorous plants and plant experts, garden accessories, bird houses, garden sheds, greenhouses, and garden tool people.
I was in need of new garden gloves and pruners for cutting small branches and flowers. The ATLAS gloves have a great fit and are water proof. I got green for spring, pink for summer and red for fall! They were a steal at 3 for $20.00!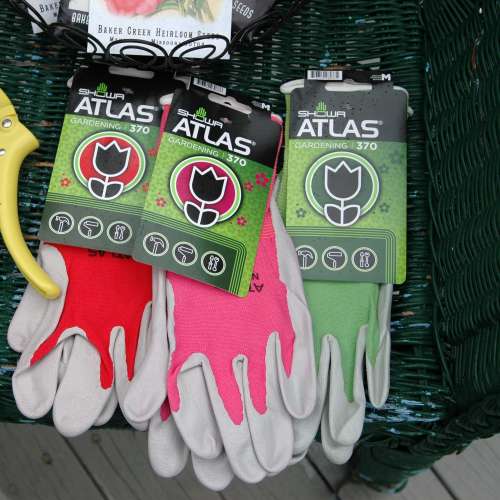 The founder and inventor of the Florian 701 Ratchet Pruner ( handmade in the USA)  had a booth a the show and we stopped to catch a demonstration he was giving on his ratchet pruners.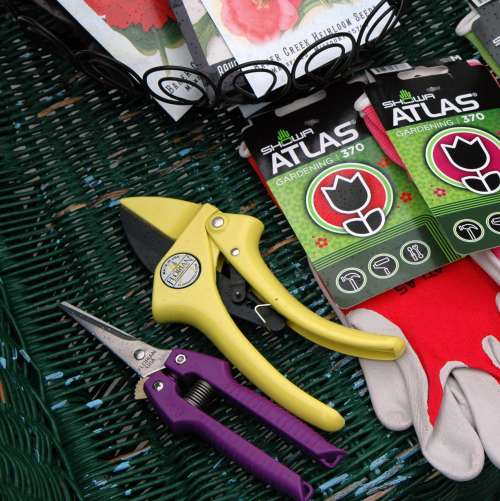 It was refreshing to meet the man behind the product in person. He had an aura of down home ingenuity and confidence with a little pride on the side! After watching how his ratchet pruners worked on small twigs and branches I decided to get one and added a fine nose pruner to boot. It seems like I'm forever replacing them because they lose their sharp cutting edge or get sticky, or the parts fall off. All of the Florian products come with a lifetime repair/replace warranty. Ya gotta love that! I can't wait to try out the nose pruners on my flowers this year!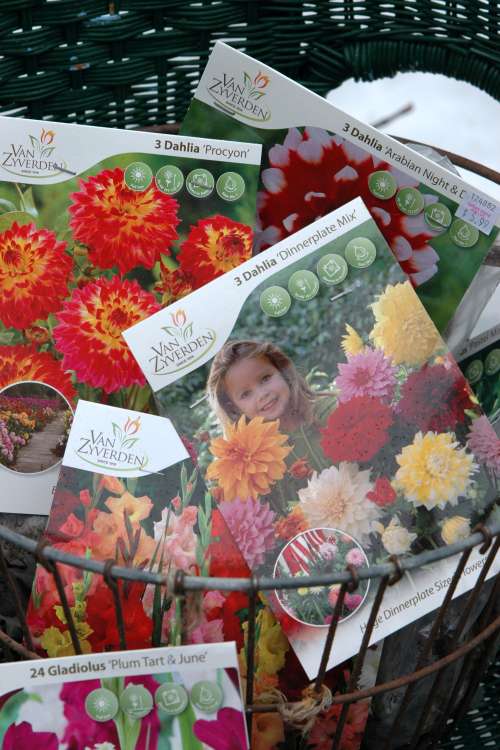 Speaking of flowers! I purchased the first of this years dahlia tubers and gladiolus bulbs last week.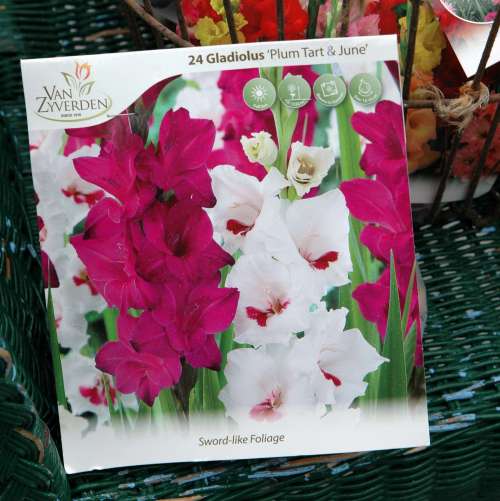 I fell madly in love with this jaw dropping hot pink and white color combination! SWOON!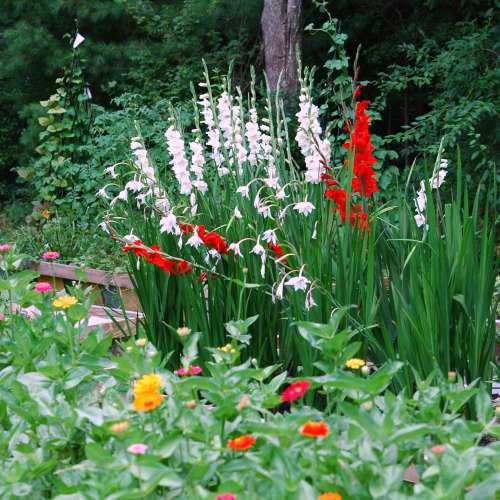 The contrast of red and white is also very dramatic in the garden. I grew these two years ago and I struggled making them fit into my casual backyard bouquets but when placed all together in a clear tall vase they are stunning! Sometimes simple is best.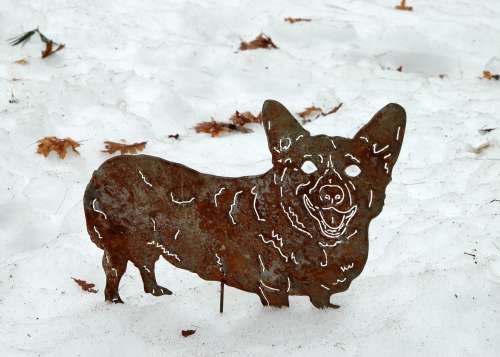 The most darling thing I bought at the The Boston Flower and Garden Show is this rusty ornamental pet stake created by the company Rustica Ornamentals. You can send in a photo and they'll make a pet stake in the perfect likeness of your favorite pet. Is that not the cutest rusty corgi you've ever seen? You've got to check out the link above! They can make anything!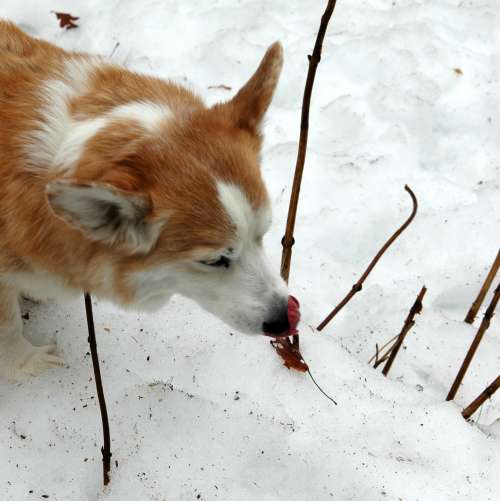 Max tasted the snow this morning and told me it's gonna be slow growin' this year. But that's okay. When if finally does melt, we'll be ready!
How are your farm and garden plans shaping up for this spring?
Max and I are waiting to hear all about it…
Until our next shoreline visit~ WHAT SHORELINE? We still haven't seen it this year!!!
BEACH BLESSINGS and Much Love,
Deb ~ The Beach Farmgirl
# 1199