My daughter jumped in the car at the carpool line after school.
"You know how they tell you to never ever change your answer?" she asked me.
"Yeah…."
"Well, I did on my test today. And I'm glad I did. I changed a wrong answer to the right answer."
Mmmm. So you CAN change your answer? And maybe SHOULD change it?
Well, that's excellent news, isn't it!
We are taught not to change our answers. To make a decision and stick with it. No matter what. No matter the cost. I recently got a moving and precious note from one of you about wanting to change your life. Do you know what I say?
Do it.
If you want to, then do it.
I think we have to allow ourselves the freedom to do that. It is okay. Give yourself the freedom to be wrong, to have been wrong. Change that answer. We can't be so stuck in the decision we made~so attached to having to be RIGHT~having to MAKE it right~that we don't see that it was the wrong decision. One of my favorite sayings, and I'm sure I've told you before, is: If we don't change directions, we might wind up exactly where we're headed.

I know, right! If we don't change directions, just look at where we are headed.
But wait. There are so many possible issues that arise when we consider changing directions. It is so….uncertain.
Ifs. Ands. Buts. Butts. Right? I know.
If onlys. And onlys. But onlys. Only butts.
That is negative thinking.
And negative thinking stinks. Negative thinking is like having concrete blocks for feet. Keeps you stuck.
I used to have to be around someone who is the most negative person I've ever encountered. He/she/it would suck me dry. Every sentence out of the mouth would be if only, what if, oh no, but. Butt.
Don't allow yourself to think that way. Imagine the possibilities!
There are BIG things you may want to change your answer on. (I wish I may, I wish I might…)
There are SMALL things you may want to change your answer on.
You are allowed to change your answer on ALL things. YOU. ARE.
Be a river…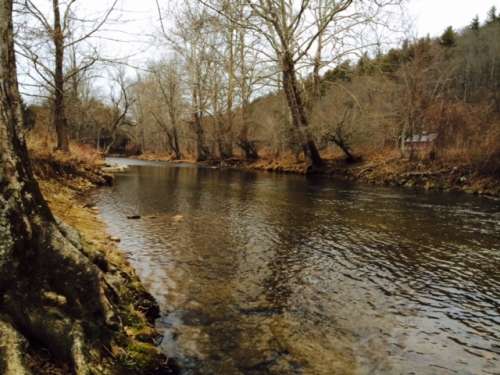 A river. Flows. Rolls. Moves. Strong. Powerful. Adaptable. Energetic. Ever changing.
There is no easy way to do it. There is no risk free way to do it. You just have to do it. And hey, you might have to change it again. So what. That's fine.
So if you ever want to change your answer, to hit the "undo" button. First, make up your mind. Then, follow through.
One way to build the courage to CHANGE is to start with little things. Get used to moving forward even when it scares you. That builds up your confidence, acts as a pep rally for your CAN DO spirit.
So, I'll start. Here's mine. My little thing I want to change. Well, first let me explain how I came to it, how I realized it.
This morning I spotted a sole deer tip-toeing among the Christmas trees beside my farmhouse. He or she was small. "Where is your family?" I whispered under my breath. "Find your friends," I quietly urged.
Blue, my dog, heard me whispering and looked up from his nap on the sofa. He saw me looking out the picture window and came running to see what I saw.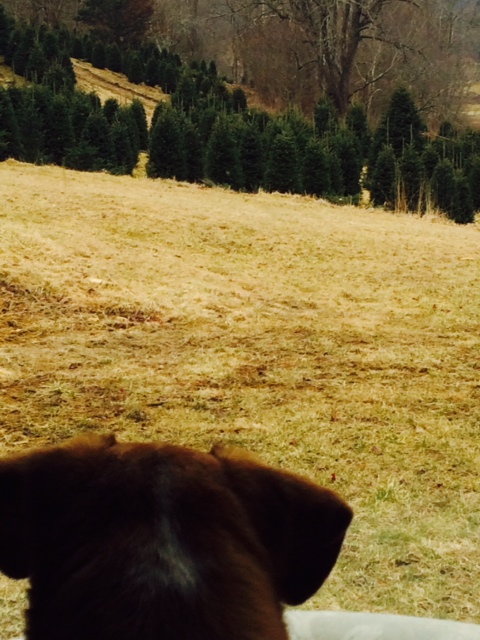 When he spotted the deer, he began barking loudly. The deer turned around and looked at us. Right at us through the window! So close. It hesitated, paused, tried to decide. Should I flee? And then all of a sudden, it did. Like lightning.
Something about that encounter pulled me outside. I love outside. And it has been a long, cold winter. Today it is cloudy, and sprinkling, but not freezing cold. So I did. I headed out. All alone. Well, with my dog, Blue. But I took no other beings who talk.
Alone. That is when I can think. dream. pray. think some more. listen to my soul. listen to the nature.
Soon I heard a familiar honking sound. I looked up. Geese.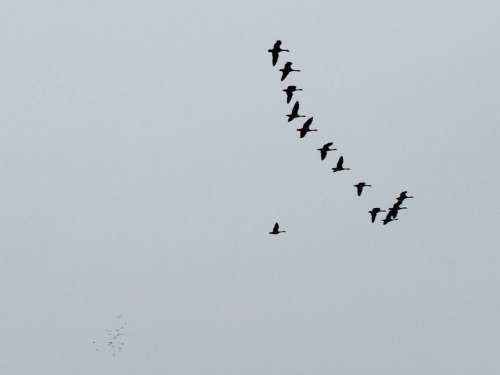 If you look closely, you'll see another flock of birds in the lower left corner. They were not geese. Their flock flight pattern was chaotic, unlike the pattern of a flock of geese.
Quite some time after they flew over, I heard another honk. I looked up and there was one.
One lone goose.
Honking, honking, honking.
You are late, My Friend. You missed the party. They have formed a group, established the "V" and left.
Two things about the "V" pattern of flying geese.
One is from my Mom. Why is one line of the V of flying geese longer than the other?
Punchline: Because there are more geese on that side. lol.
The other tidbit is from my Daughter. Why do geese fly in a "V"?
Answer: So that all the birds can see the one leading the flock. In the V formation, they are each able to see the leader.
Those were added for your reading pleasure, no other reason.
So back to this lone lonely goose.
It called and called and no one answered. I watched as it flew in one direction. Its honking faded. Yay, it found its flock.
And here it came back again. Honking and flying, all alone. It had not found its flock; it was still searching.
I felt sorry for that little goose, just like I had for the deer. All alone. In the great big world.
I feel like there is safety in numbers for deer and birds, that it is not natural for them to be alone. But I realize that it IS natural for PEOPLE to spend time alone. Natural and necessary.
When I was a little girl I remember my Mom telling me to learn to spend time alone. I had many playmates within easy reach, just down the street, so I was constantly busy with one or more of them. Always going to their houses, or them to mine. That stuck in my head at the time because I remember thinking–why would I want to be alone when I can go across the street and play with a friend? I didn't get it.
Now? I get it.
Yes, what I do know NOW is that it is healthy for a person to spend some time alone. And they should never (have to) apologize for it. Alone is okay.
So, yes, HOSPITALITY is definitely my word of 2015, but so is SOLITUDE. I need both of these in my life. That's my little change. I'm changing my word by adding to it.
They are opposites, I think. There is no hospitality in solitude, being alone. But I believe there is value in solitude. For me and my personality, I think it is necessary. I have a need to get away. To be with my thoughts. To be uninterrupted. To walk in the woods alone.
Oh, and by the way. The goose joined a small flock while I was still walking outside. I took a photo with my phone, not sure you can make it out, but there is a group of about 5 or 6 geese over that barn in the distance. So yay.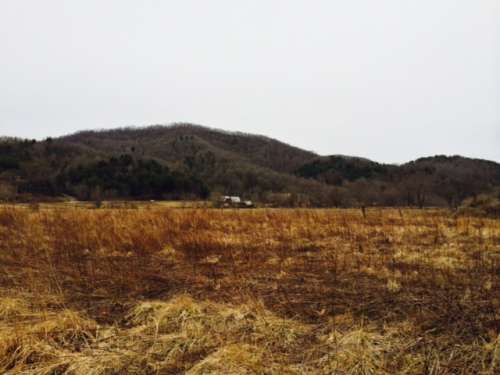 Talk to me.
Until next time, Friends, savor the flavor of life!
Lots of love, The City Farmgirl (in the Country), Rebekah