Today I'd like to tell you the story of our farm. As I've been pondering this blog post, I keep thinking I need to leave out the beginning of the story, as it is very personal, but it's a big part of how we came to the place of buying our farm so I can't really leave it out.
.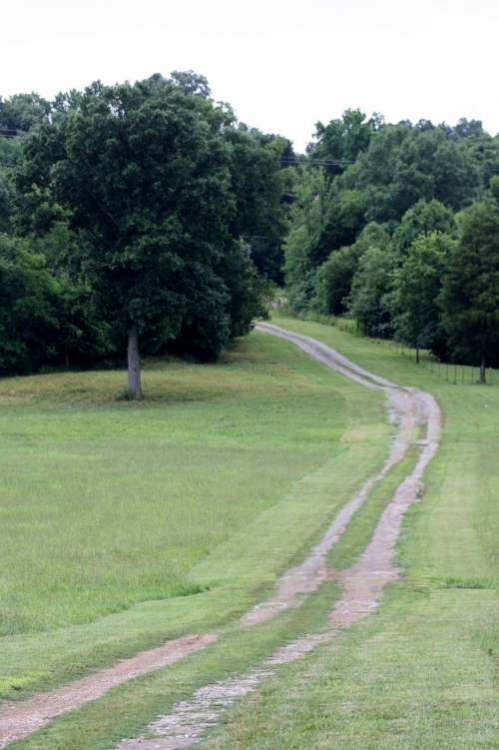 The entrance to our farm
.
But FIRST!  I'm sure you're waiting for the winner of the Milk Cow Kitchen book.  I chose the winner the old fashioned way – wrote all the entrants names on paper, threw them in a jar, and pulled out a name!  And the winner is….
.
Jill 
.
Congratulations Jill!  I will be contacting you for your mailing address and the book will be on its way.  Thank you to all our amazing readers that commented!
.
Our farm story starts like this: before my husband and I ever got married (33 years ago) he told me he wanted to buy a cattle ranch or farm someday. So, during our first 20 plus years of marriage when he had a good job as a Mechanical Engineer and we were raising our two children, we would talk often of retiring early and buying a farm. In January 2005, when we were just a few years from acting on that dream, the unplannable happened: I was diagnosed with Breast Cancer. I was 42 years old. Our daughter had just married, our son was in his first year of college.
.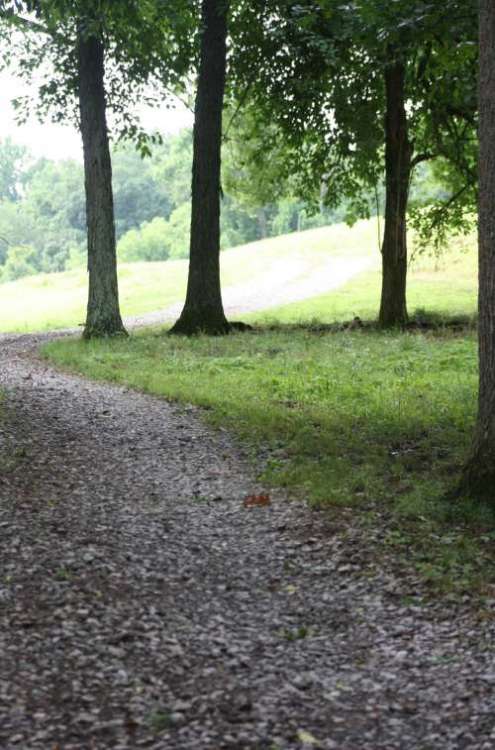 Our driveway through the woods
.
I remember clearly the first words that came out of my mouth when the Breast Surgeon gave me the news. I said, "My husband and I were going to buy a farm. I'm afraid that now this will change everything in our lives and we won't be able to buy our farm." I'm sure he wondered about this crazy woman, but he was kind and said, "Lets just take it one step at a time".
.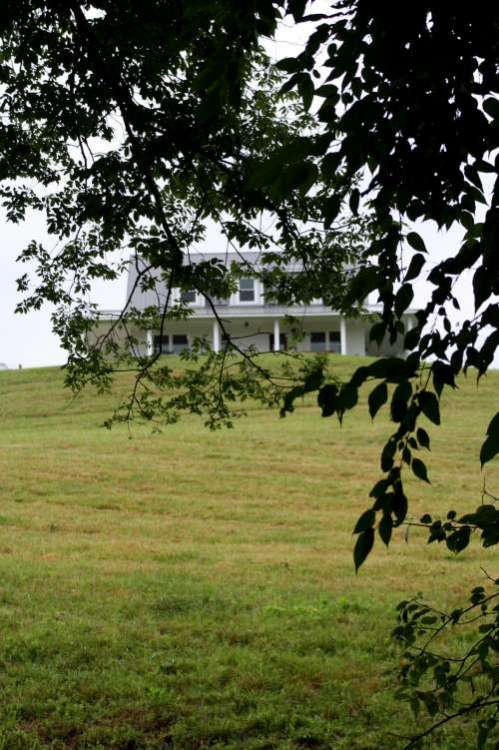 The first glimpse of our house as you come through the woods
.
Fast forward a year over the surgeries and the chemotherapy to my last check-up with the Breast Surgeon and his words to me, "Dori, it's time for you and your husband to buy your farm." I had actually forgotten my words to him and it tells you what an amazing man he was that he had remembered.
.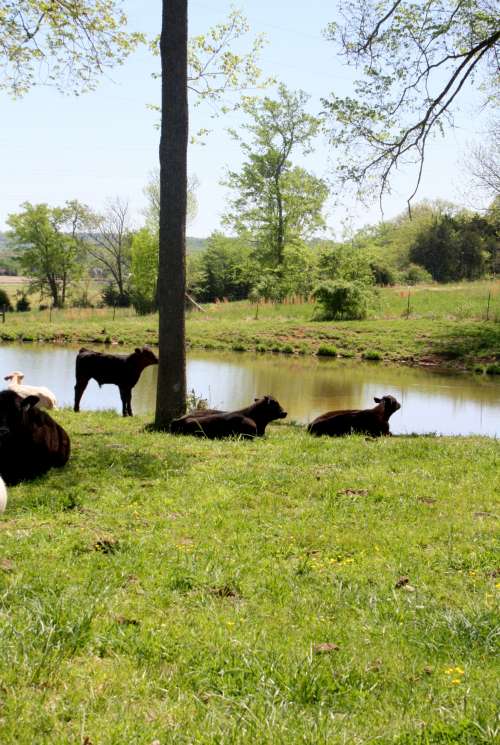 Our pond and the main source of water for our cattle
.
So… the hunt was on! We had always dreamed of moving to the Southeast and with a daughter and son-in-law in Alabama we decided Tennessee would be the place to start looking.
.
Our beautiful flower garden at the bottom of the hill
.
Long story short, it was Thanksgiving 2005 that we followed a sign on the highway that said "Farm For Sale" and we drove across a pasture, through the woods, meandered up a hill, slowly climbed another hill to the hilltop.
.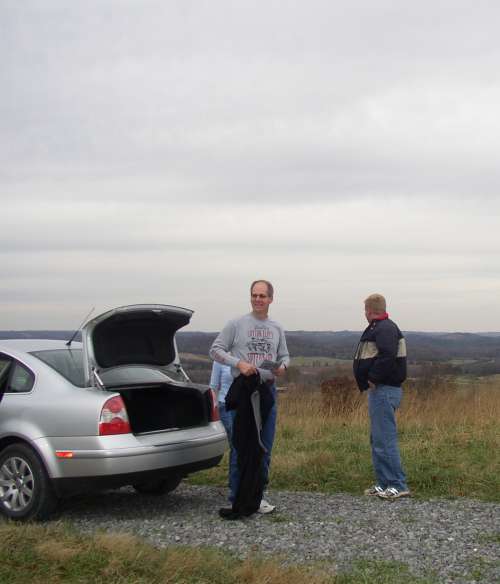 Our first glimpse of the hilltop – notice my husband's smile
.
Our daughter and her husband, and our son were with us and we got out of the car and stood there with our mouths hanging open. We looked at each other and said, "this is it". And 4 months later, it was!
.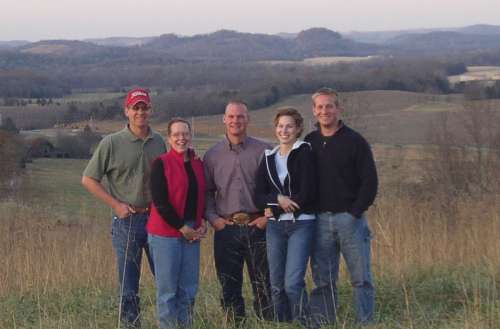 Thanksgiving 2005 – our family
(My hair just growing back from chemo!)
.
It was six long years, in 2011, before we were actually able to retire and move to our farm, where the work really began!  My husband and I built our home on the hilltop, all by ourselves.  And I do mean All.By.Ourselves.  (Someday I'll tell you that story too!)
.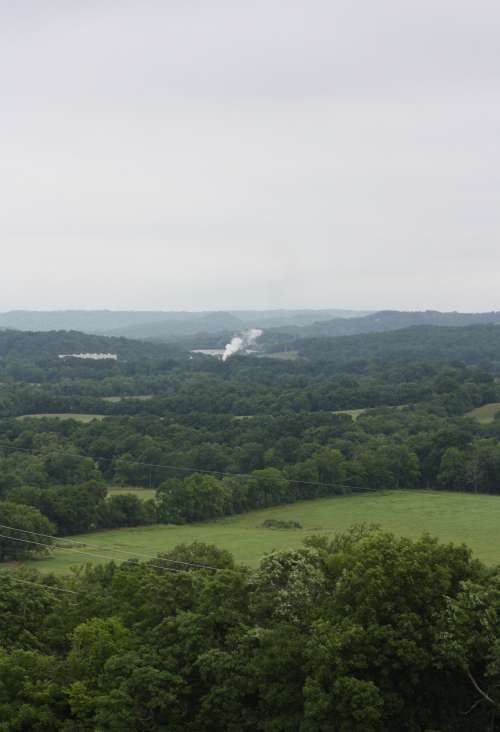 The view north from our house
.
During those six years before we were able to move, our daughter and her husband drove out to the farm from their home across the border in Alabama, to hike around and check on things. It was on one of those trips that the farmhouse they had always admired just down the road, was for sale! Long story short – they bought it and moved a few years before we did! We cannot see their house from our farm, but we can see the the red rooftop of their neighbors house!
.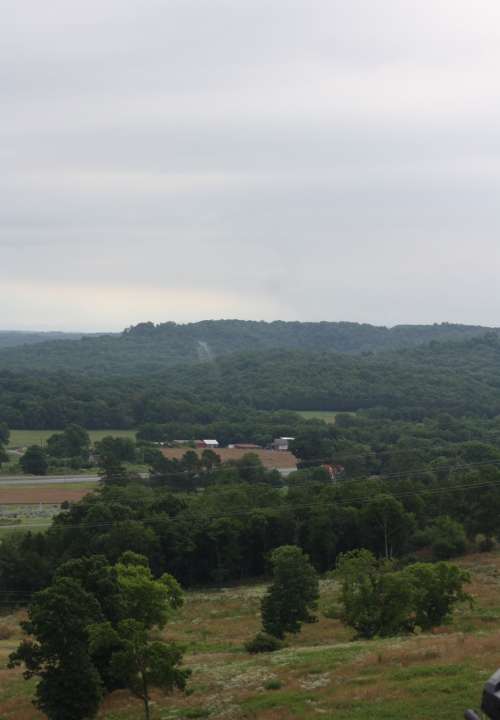 The view east of our house, towards our daughter's house
.
Maybe you can understand why this farm means so much to us. It was a lifelong dream for my husband, a miracle for me, an incredible and amazing bonus to have our grand-babies just down the road, and it felt like we belonged from the first time we stepped foot on it.
.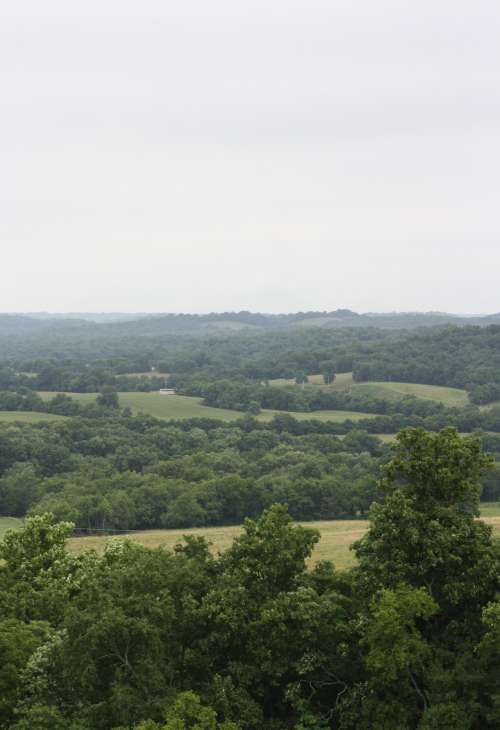 The view west from our house
.
We love that we have an ever changing view (in every direction) from our house. We love that we have a taste of the smoky mountains by the "smoke" that rises from the hollows. We love that we see our cows every day. We love the friends we've met that, in just three short years, feel like family to us now. We love living so close to our grown children. We love everything about being here on our farm…. listening to the birds during the day, the sounds in the woods at night, and how everything grows! We even love to mow (and mow and mow)!
.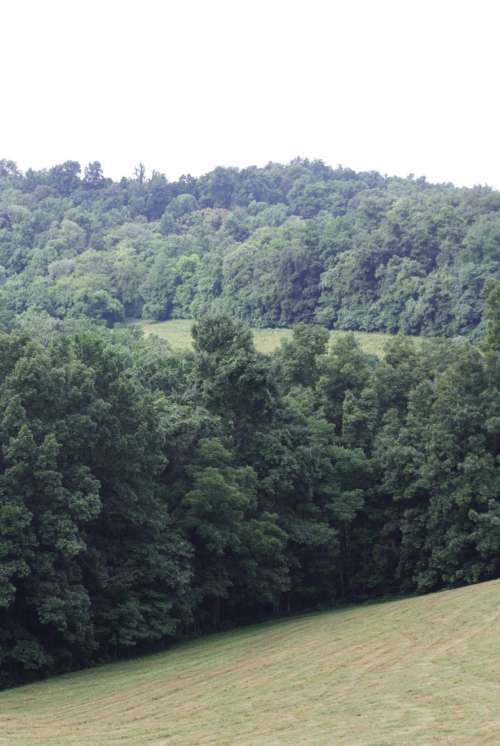 The view south from our house
 .
Thank you for visiting our farm and listening to my farm story.  I would love to hear yours!
.
Until our gravel roads cross again… so long.
.
Dori
.
P.S.  Did you notice that all my pictures are summer pictures?  Think I might be just a little bit anxious for summer?  Smile!