Last week there was a very fun and lively discussion on Farmgirl Chit-Chat about what we Farmgirls name our cows. Every name that was thrown out there made me think of a beautiful, clean and shiny milk cow. Which we do not have. We have a small herd of beef cattle that are probably not particularly beautiful to most people. But to us they are gorgeous! Each one is an individual and each one makes us happy for different reasons. Their names reflect that.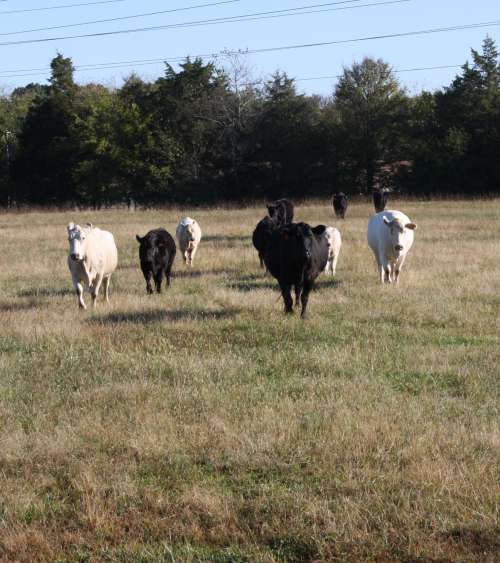 In walking among our cows, talking to them, (my husband admitted that he sings to them!), treating them to a bucket of grain, doctoring them, and loving them, we have gotten to know their individual personalities. Their names haven't come immediately – with some of them it has taken months before a name sticks!
So I thought I would introduce some of our cows to you and tell you how their names came about!
I will start with our beautiful Angus Bull. After all, he is one of the most important cast of characters in the whole herd! We named him McKinley. My husband is from Alaska and Mount McKinley, the highest mountain in North America, was an important part of his childhood growing up. It was kind of like this big, beautiful thing that he loved greatly, but admired from a distance. That is our McKinley. He is big, beautiful and an amazingly wonderful bull. But we give him the respect that is due and allow him his space. And he gives us the same in return.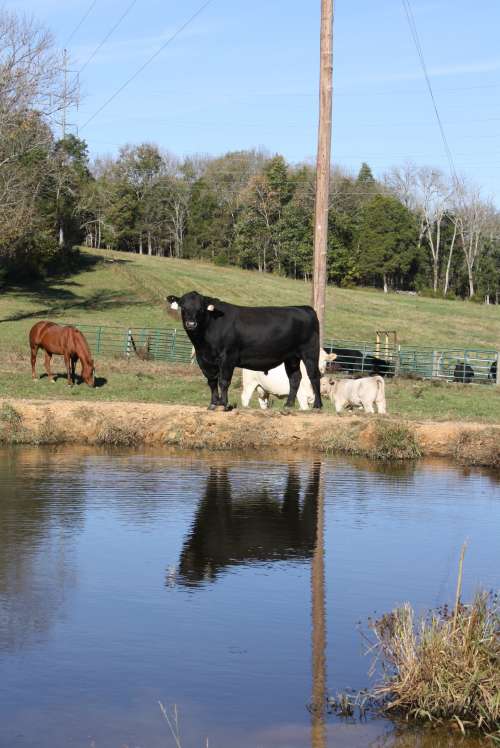 My favorite Momma cow is Princess Kate. I think she has such a soft, beautiful face. When we purchased her I said to my grand-daughter, "Isn't she beautiful? And she is pregnant with a little calf. What shall we name her?" That little 4 year old girl said, "Let's name her Princess" (of course, what little girl wouldn't say that?) and I immediately thought of Princess Kate, who was pregnant with her first baby at the time. So that beautiful momma cow became Princess Kate!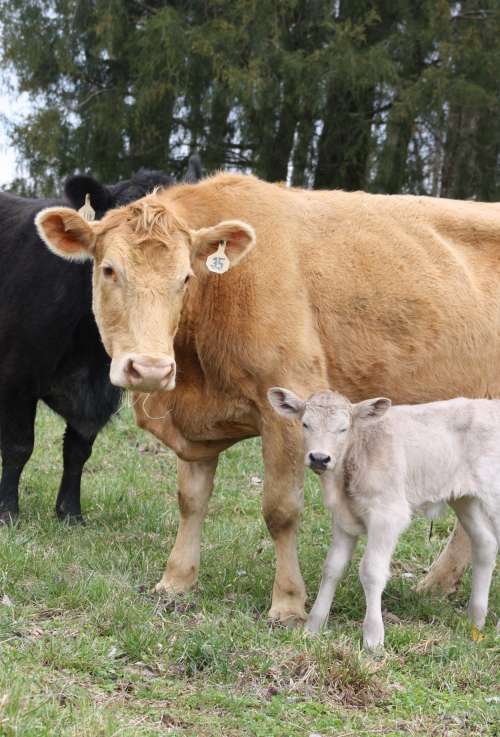 Then there is our red cow that is elderly and wonderful. We called her "the old red cow" in the beginning and of course that evolved into Old Red and fit her perfectly. She is the cow that will always, always be the first to come when we call, the first to check out something new on the farm, the first to be nudging me through the fence when I'm working in my garden. And she is a seasoned, amazing Momma. Just look at that bag on her!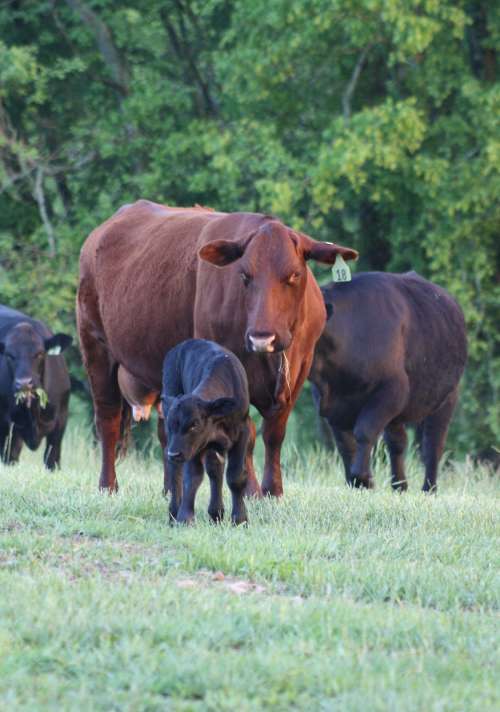 And String Trimmer. WHO names a cow String Trimmer? That would be my husband. This funny Momma keeps the grass trimmed down to the ground under our yard fence. In the summer she comes to the hilltop every evening and slowly works her way around the fence doing such an amazing job of trimming that we never have to use our string trimmer on our yard fence! The name stuck and I think she likes it!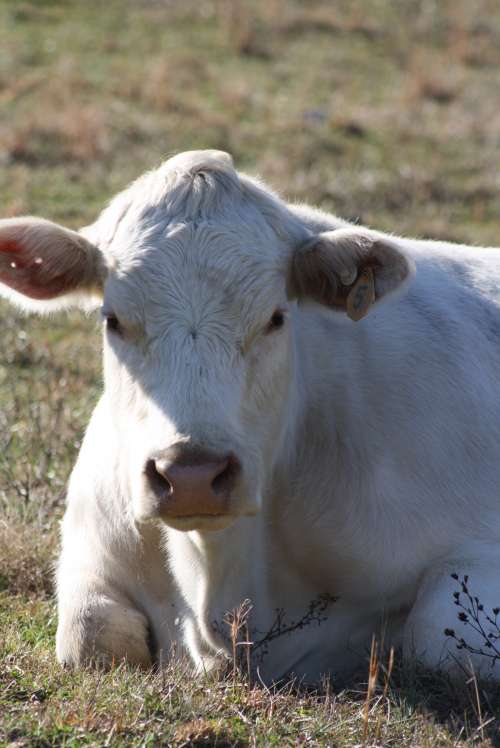 We also have a Momma cow that is blind in one eye. She came to us like this. Her blind eye is very blue, almost glass looking. She is named Blue Eyed of course! If you look close in the picture below you can see her blue eye.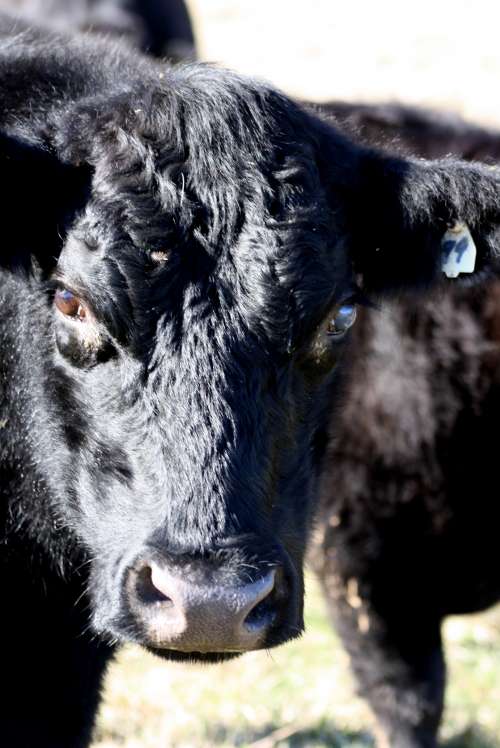 The little calf in the picture below is the first calf that was born after we bought our first group of Momma cows almost 3 years ago. She was born on Martin Luther King day and we named her Holiday. We kept her as a replacement heifer and she is now pregnant and will be having her first calf this spring! It was the best holiday ever when she was born!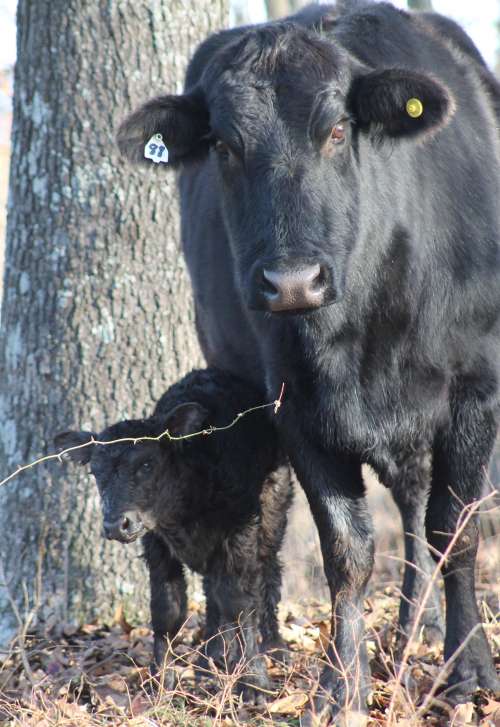 And then there are the calves. Since we are in the beef cattle business, we don't keep our calves much beyond eight months of age (except for the steers we sell as grass fed beef at 18 months of age). A lot of people have asked how we could name our calves, get so attached to them and then sell them? Our response is that while they are in our possession we give them the very best life. We name them, we love them, we provide them with green grass and a beautiful farm to live on and we always treat them humanely. And yes, we cry when they leave. Here are some of our favorites.
One winter when I went to Birmingham to watch my son and daughter-in-law run in the Mercedes Marathon our Momma Cow #173 gave birth to twins while I was gone. When I returned home and took one look at those precious little black calves laying side by side in the grass, I named them Mercedes and Marathon! It just seemed so appropriate! Unfortunately Marathon didn't live but just a few days. Can I just tell you that I bawled for days over that?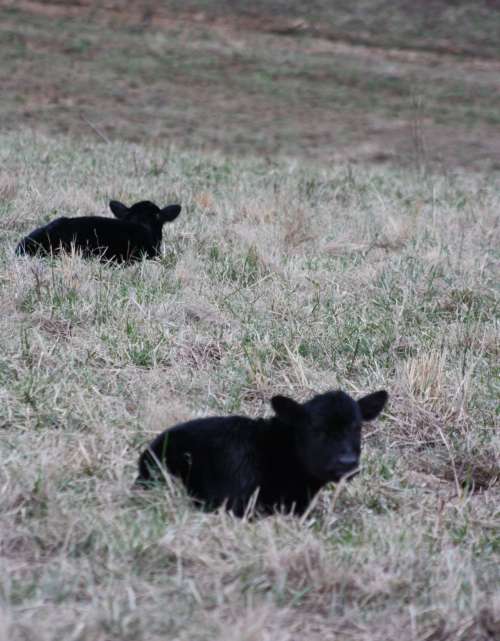 We had to call our local Veterinarian to pull a calf for us last year. That calf was the biggest surprise when he came out. When we purchased his mother, a Charolais, she was already pregnant and we had no idea what she had been bred to. Imagine our surprise when a huge Brahma calf was pulled from his Momma. We had never met this particular Vet before and he was a quiet man that answered all questions in one word (under his breath in a strong Southern accent) so when I asked him his name and he replied, "Walter" that was the name that came out of my mouth the next morning when I was sitting on the ground nuzzling that darling calf. So, Walter he became. (Incidentally it was months later that we discovered the Veterinarian wasn't Walter… but Dr. Walker!) Our grand-girls loved little (or rather, big) Walter, probably because we could spot him from two pastures away! When we sold Walter at eight months of age it was a sad day indeed.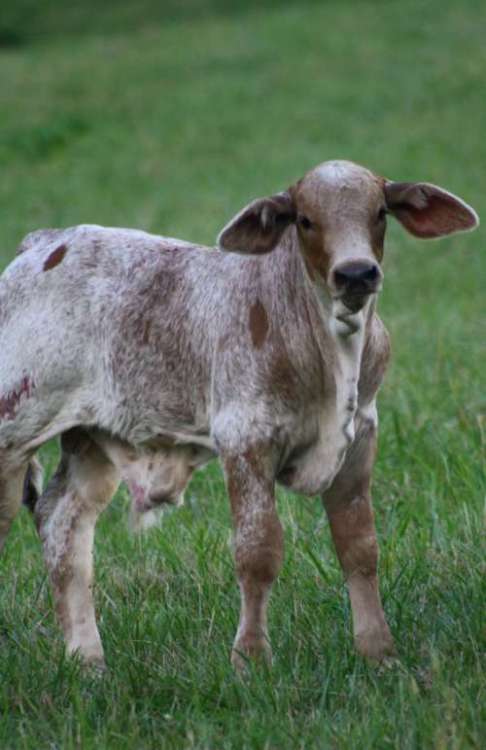 And then we ended up with a little Hereford calf, he was a big surprise too. (We had a lot of surprises the first year we bought Momma cows that were already bred. Now that they are all bred to McKinley it is a little more predictable!) But this little guy was an immediate favorite of all of us. He was positively the sweetest, softest most gentle little calf. One day my grand-daughter named him Sam. She was dead set on the name. I don't think it was a coincidence that we have a very special elderly friend that also has a sweet, soft and gentle nature… who has the name of Sam.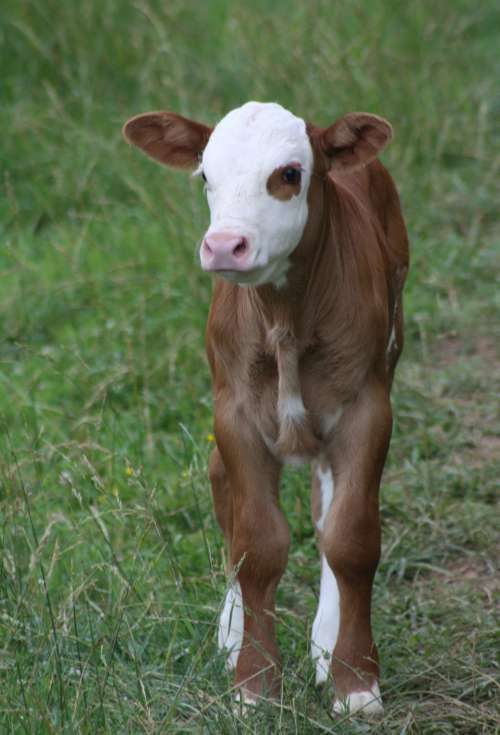 Incidentally Sam and Walter were best friends. This was a common sight around our farm for about six months.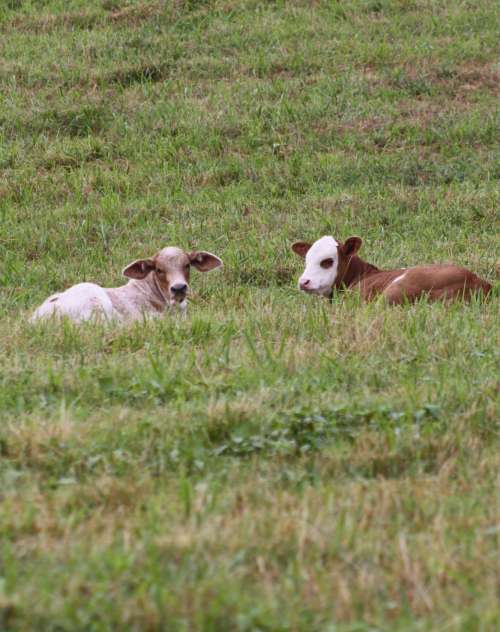 I love that calves tend to have best friends that they hang out with on a regular basis. The two little steers below spent every waking minute together and naughty? Oh my goodness, they were always up to something. It reminded me so much of my son and his best friend when they were little kids … so I named them Matt and Logan!
And then there is the name we call our cows when we are calling them all to come to the feed bucket. I bet you can hear it now. "Sook, Sook, Sook!!!"
I think it's not necessarily in the name itself so much as in the fact that when we name our cows, they become an individual to us and they feel the attention and love they get from that. I think it is a part of good cow stewardship to name our cows.
What are your thoughts – and cow names? I can't wait to hear!
Until our gravel roads cross again… so long.
Dori