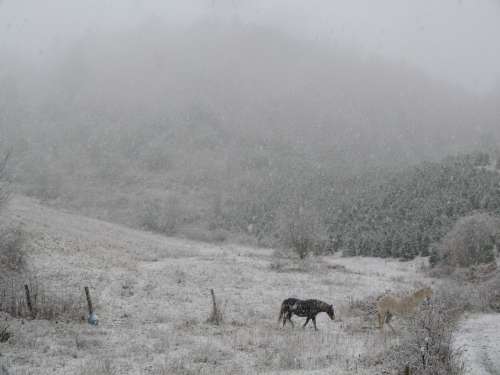 I realized it when I said it.
A friend called because it was snowing. She said that whenever it snows now, she thinks of me because I love the snow so much. And I said, "I was just outside walking in the snow. It felt like I was in church."
That's when I realized it for the first time, I think. Or maybe the first time I articulated it? Snow = Church.
Oh dear. Did I offend? Are you rolling your eyes. Or giving me the tsk,tsk,tsk with your tongue. Or calling me a heathen. Or for my friends who detest the snow, are you shaking your head because you disagree with me.
But hear me out. This is a very personal thing.
Before I go on. Know that I've spent a lot of time in the structures we call "church." Know too that the "church" structures I've been to have had a lot of different signs out front. A lot. You name it, if it says "visitors welcome," I've most likely attended. Some small and simple. Some grandiose and resplendent. Most are just fine and dandy. Though a few were barely tolerable as they espoused more hate than love. Some bring me feel closer to the Holy; some don't. Maybe it's me; maybe it's not.
But.
For me, being outside when snow is falling is being as close as I ever have to the Holy. The quiet stillness of snow makes my heart and soul quiet and still, if only for a few minutes. The peace that is so hard to find pours into me and settles in my chest. It fills me with a sense of contentedness. Satisfaction. Okayness.
What a wonderful time of the year this is. What a perfect time to seek out the Holy. And to find.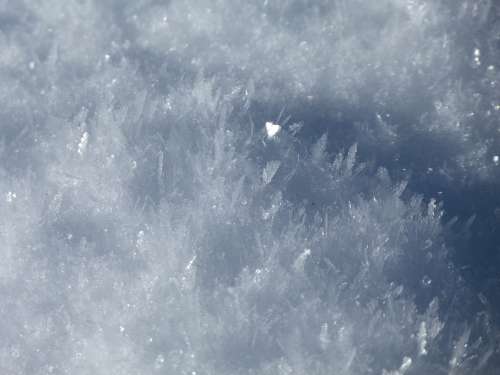 The other night my daughter said, "Hey! Let's go for a walk in the snow through the Christmas trees." Honey, it is cold (in the teens). Honey, it is dark (no moon). Honey, it is late (10 pm).
…….Okay. Yes! What an inspired idea! Let's go!
So we bundled up and headed up the hill behind our house. I lit an old oil lantern with a handle, one like our grandparents probably used to head to the outhouse in the middle of the night. We walked through the trees and crunched in the snow. It was precious. This felt like church to me. It felt like prayer. It felt like "encounter." It was a family event, but it was definitely an encounter. As we tramped in the snow paths between the Christmas trees, I started to sing a Christmas song. (I don't sing well; I love to sing, and I sing whenever I can, but it isn't something you'd want to hear. I remember my husband looking at me with a weird look on his face the first time he heard me sing. He thought I was kidding. I wasn't. Anyway.)
The snow walk in the dark night was a beautiful experience. I was eager to go again. When will night fall? When will darkness come again?
The next night. I set out again into the snowy night, but this time, I went alone. Frankly, being out there alone in dark night felt, felt, felt what? Eerie. I thought about the night before, when my husband accompanied us. He was armed. I wasn't. I hadn't asked, but wondered now what he thought we might encounter. Should I be afraid? I didn't really feel afraid. I felt something different from FEAR. I felt what? What did I feel? I identified it and said, out loud. "Kinda eerie out here."
And then decided it wasn't. Eerie was not a good word for what I felt. It wasn't "creepy" or "scary" or anything negative.
It was.
Deep. Close. Emotional. Vulnerable. Open.
I sat down in the snow between the rows of Christmas trees. The cold wetness of the snowy ground soaked right through my too thin jeans. "That was a mistake," I thought. But since I was already wet, I stayed put. I heard a whinny in the pasture below me. It was Merlin, the herd leader and my soul horse. He is the white one here (grey actually, because his skin is grey not pink, technical distinction in horseland), with mahogany young Jessi.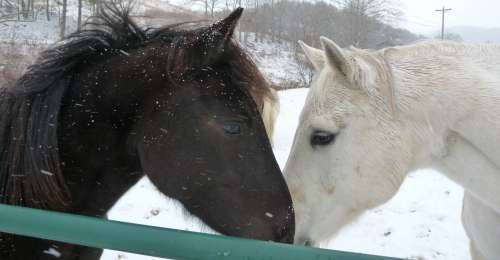 I knew it was Merlin's whinny because he has a very distinctive voice, high-pitched and lyrical. I cupped my hands around my mouth and hollered down into the pasture way below me, "Merzey, Handsome! My Boy! It's me!" I wanted him to know it was me up here, nothing to be afraid of. A low whinny answered me back. That was Snickers, our friendly, obese Rocky Mountain horse.
I soon grew accustomed to the cold wetness and my eyes and mind adjusted to being out here in the night. I didn't feel alone, especially now that the horses had spoken to me. I laid back. And I looked up at the stars.
The stars here in the country are unbelievable. Living most of my life in a place with too much light pollution to see much more than the first layer of the very brightest of stars, I had no inkling that there were so many stars in the night sky. It really is magnificent to me still, to look up and stare into the sky and see more and more and more stars. I remember buying my daughter a constellation book when she was younger. We tried to star gaze, but could never see much of anything other than the Big Dipper. Too many stars were missing to make out constellations. You can't see many stars in or near a city.
But here. Now. Oh my. There was no moon, so the star show happening right above me was breath-taking. Silent night. Snowy night. Holy night. Wow. I could enjoy. I could communicate. I could appreciate. I could be.
I.
could.
just.
be.
in.
the.
presence.
in.
the.
present.
Ah.
Awe.
Oh beautiful star. Christmas star. Shining brightly. Which one are you? How bright were you? How did they follow it? Could I follow a star? Imagine how difficult that would be.
Eventually, but too soon, I got up and made my way back inside. Silent night. Wet night. Cold night. Wintery wonderful night.
The next day, I made a little fire ring so we could have some outdoor fires in the snowy nights this winter. It is nothing special. I just took some rocks and make the circle. And then drug some chairs over. Sweet and simple. And free. I collected scraps from the cutting of all the Christmas trees and built a fire. An altar. A fire in the darkness is another one of those things that I experience and feel closer to the Divine.
Church.
I can tell now. I'll be spending a lot of time in church this winter.
Is there something or some place or some experience that brings you close to the Sacred?
Like snow. Or a powerful river. Or a deep canyon. Or the vast ocean. Or the dense woods. Or a kitten. Or a deer in your yard. Or a visit to a nursing home. Or a nativity. Or a bonfire. Or caroling. Or a home altar. Or your barn. Or a church building. Or a tiny baby.
Find it. And go there this holiday season. Physically or mentally or emotionally, go there. Find, cultivate and create sacred spaces and places.
Celebrate winter. Celebrate life. Celebrate weather. Celebrate night. Celebrate love. Celebrate that special December feeling. Celebrate family. Celebrate that snakes are hibernating. (I just had to throw that in there. Because there is NO WAY I'd be lying flat on the ground on a pitch dark night in the middle of summer. No way. But here I was, in winter.)
Until next time, My Friends, savor the flavor of life!
Lots of love, The City Farmgirl, Rebekah